Bristol Beaufighter TF.X
by David Harmer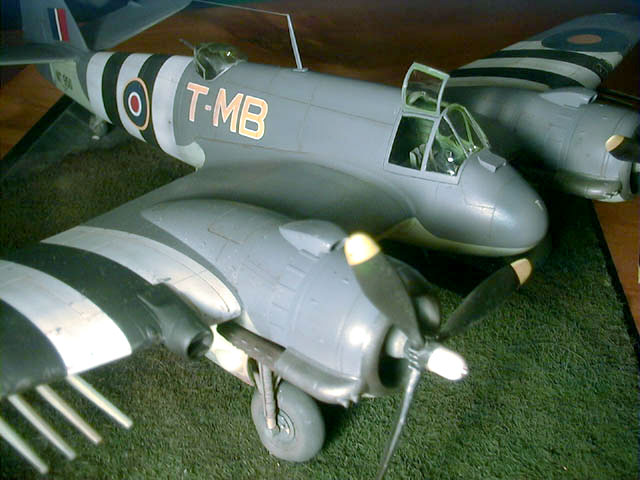 Bristol Beaufighter TF.X


Tamiya's 1/48 scale Beaufighter TF Mk. X is available online from Squadron.com
Here is my 1/48 Tamiya Bristol Beaufighter Tf Mk. X. I was determined to build this model after seeing one built up in my local hobby store. I often find inspiration in the work of the builder who is very accomplished.

This is my first submission to HyperScale and, as this kit has been reviewed a number of times before, I wonít bore you with detail about fit and accuracy (besides, I didnít pay as much attention as I should have to the references I had so I canít really claim to know what Iím talking about!).


In my case, the Beaufighter didnít exactly fall together but I think the blame for this can be laid squarely at the feet of the builder, rather than the manufacturer. For the most part, this is an excellent kit.
I started with the cockpit, faithfully following Brett Greenís recipe for painting and shading a cockpit from one of his articles. I pre-shaded all the interior detail in black, taking care to hold my airbrush at an angle to ensure a fairly prominent ďshadowĒ behind the raised detail.
After this, I sprayed interior green, using a mix of Tamiya enamels recommended to me by Tom Cleaver - who is always prepared to answer my questions even though weíve never met. I applied an oil wash then dry-brushed the surface detail to bring it into relief.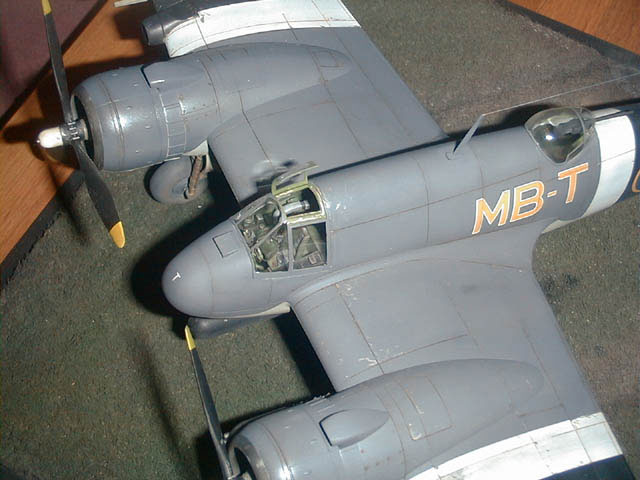 After finishing the interior and completing the rest of the assembly I moved on to painting and markings, pausing only to remove the battle-damage plates molded into the wing surface by the manufacturer and rescribe the panel detail on the upper wing.
Yet another HyperScaler provided me with instructions in order to be able to do this. Unfortunately, I have lost his contact details but thank you for this information whoever you are.
Iíve been keen to finish an aircraft with invasion stripes for a while now, so decided to go with the kit markings. Painting was done with Tamiya enamels and went smoothly until I rather stupidly cracked the leading-edge join on the starboard wing. As complete misfortune would have it, the crack ran the length of the invasion stripes and required much sanding, gnashing of teeth, swearing and re-painting to repair.
Click the thumbnails below to view larger images:
---
This in turn, resulted in damage to the roundel applied to the wing, which meant I had to remove and replace the starboard-wing decal. Of course, the only after market replacement I could find was noticeably different in colour to the kit decal, so both wing roundels ended up being replaced. Lesson: donít hold a model aircraft by the wing, towards the wing-tip, unless you are also supporting the fuselage.
This was a hugely satisfying project, in part because I finally triumphed over adversity and finished this model, but mostly because Iím happy enough with the finished product that Iím prepared to submit these photos. If nothing else, they are a small tribute to all of the things Iíve learned from other HyperScalers in the past two-or-so years to improve my level of skill. Still a long way to go yetÖ but Iím learning.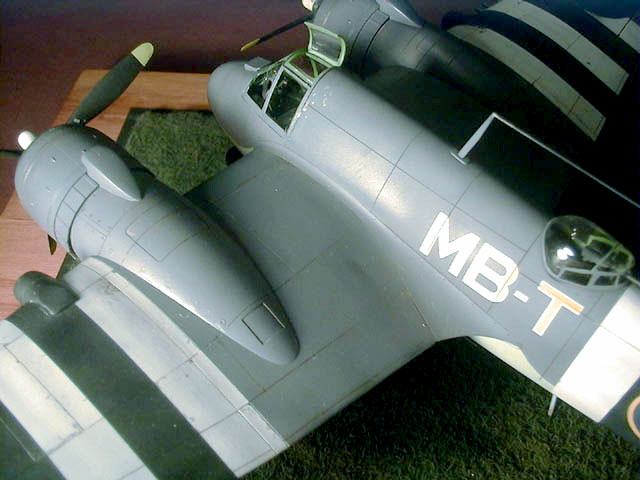 Thanks to all the people who contributed to the completion of his model in ways they donít know about. The HyperScale forum is an incredibly instructive place at times.


---
Model, Images and Text Copyright © 2002 by David Harmer
Page Created 24 October, 2002
Last Updated 04 June, 2007
Back to HyperScale Main Page
Back to Features Index