Three Turkeys
Scratchbuilt Grumman Avengers
by Arlo Schroeder
Text by Ben Backes


HyperScale is proudly sponsored by Squadron
Arlo Schroeder has a special connection with the Avenger, yet he never planned to scratch build three of them! As a member of VT-10 "Buzzard Brigade" during WWII, Arlo made two cruises as the turret gunner of an Avenger crew.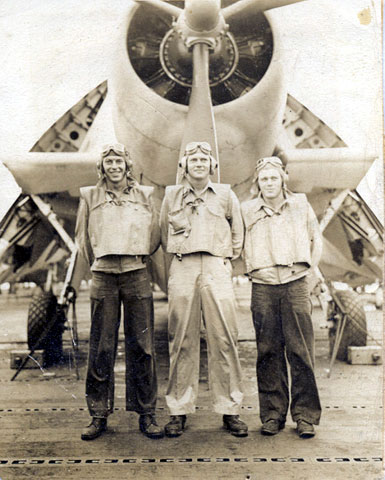 This crew photo shows (from left to right) Gunner AMM2C Arlo Schroeder, Pilot LtJG O.C. Guthrie, and radioman Earle Lowell.
Turkey No. 1 - 1/32 Scale
This is a scratchbuilt 1:32nd scale TBF-1C BuNo 47826 of VT-10 aboard CV-6 USS Enterprise February 1944. The aircraft was flown by the Commanding Officer, Cmdr. William I. Martin.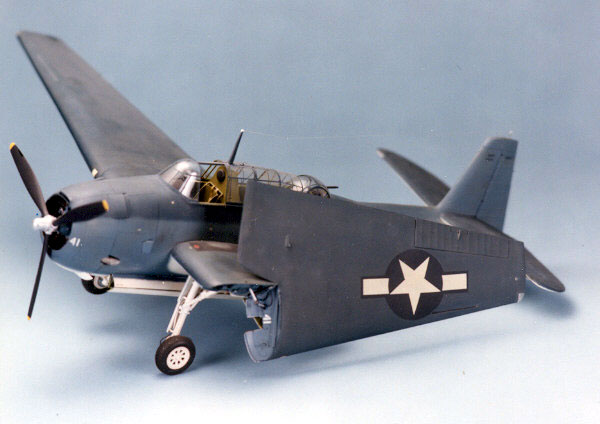 Arlo had entered it in the IPMS/USA Nationals in San Francisco one year and won first place in the scratchbuilt category. By the time the next year rolled around he hadn't finished his next project so instead he took his Avenger again, but just for display. This time the National convention was in Washington, DC. At the show Arlo was approached by Robert Mikesh, a curator with the National Air and Space Museum who asked if Arlo would donate it to the museum.
Arlo said no, but that he would make another one for them. They agreed but Mikesh asked if he could make it twice as large.
Turkey No. 2 - 1/16 Scale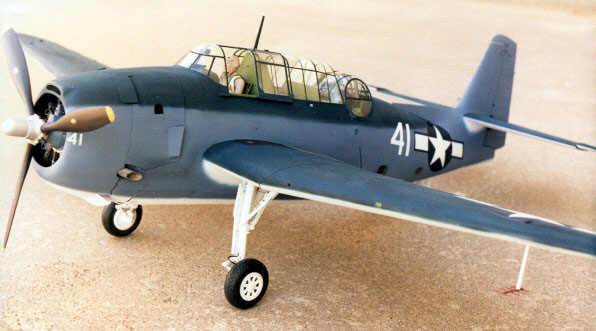 Taxiing around the porch with Ensign G.I. Joe at the controls. 1:16th scale. Same aircraft as above
Here is a small selection of construction photos and cockpit detail shots. The angles of the wingfold were critical to keep the wings from hitting the ground, so Arlo made a wooden jig to make sure everything was right. The rest of the construction follows Arlo's usual method. See other articles on his models for more information.

Click the thumbnails below to view larger images: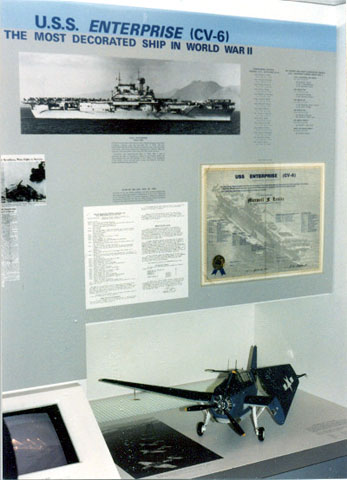 On display at the NASM

After delivering the model, the museum again asked Arlo to build an Avenger model, but this time as a gift for someone who had flown them. Arlo agreed but on the condition that he could meet the person.
Turkey No. 3 - 1/32 Scale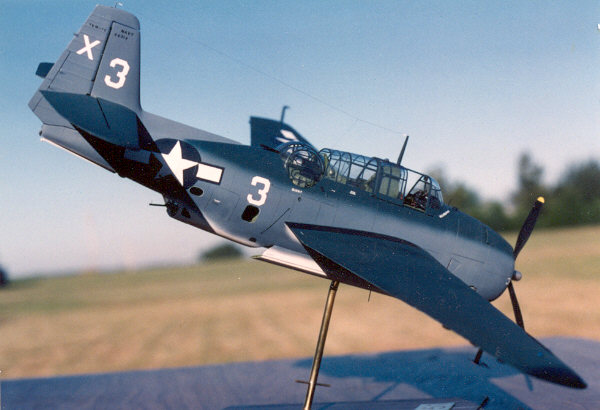 1:32nd scale TBM-1C BuNo 46214 of VT-51 aboard CVL-30 USS San Jacinto flown by George Bush.


For this project Arlo elected to eliminate many of the working features and instead mounted the model on a stand going up into the bomb-bay. It was designed so that President Bush could change the angle to display it how he preferred. In addition to the name "Barbara" under the windscreen, the gunner also had his girlfriend's name, Ginny, under the ball turret.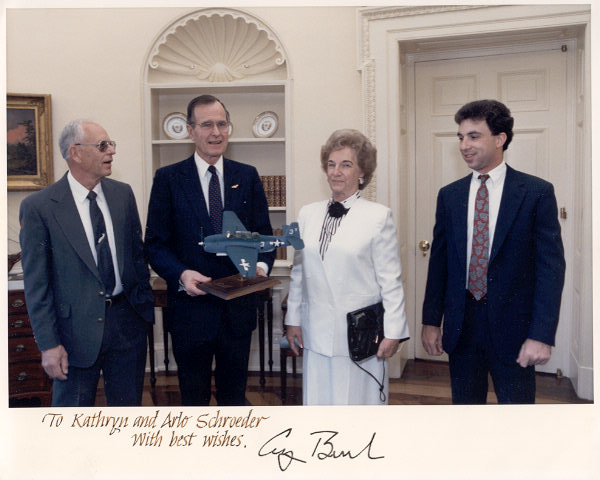 Arlo and Katherine Schroeder visit President Bush on 4/5/1990 with the NASM's Tom Dietz to present the model.


Okay, so you and I may not be able to build an Avenger like Arlo, but if you have this Accurate Miniatures kit, then you can build Arlo's Avenger. That's him in the turret on his second cruise.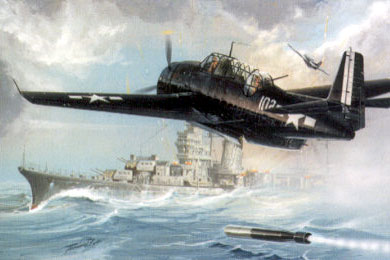 ---
Model and Images Copyright © 2002 by Arlo Schroeder
Text Copyright © 2002 by Ben Backes
Page Created 28 February, 2002
Last Updated 04 June, 2007
Back to HyperScale Main Page
Back to Features Index