Douglas A-4G Skyhawk
by J.D. King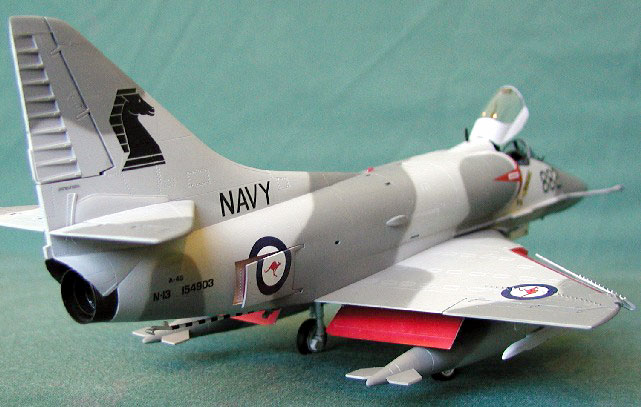 Douglas A-4G Skyhawk


Hasegawa's 1/48 scale A-4E/F Skyhawk is available online from Squadron.com
ROYAL AUSTRALIAN NAVY A4-G
In 1965 the decision was made to replace the De Haviland Sea Venoms and Fairy Gannets used by the Fleet Air Arm of the Royal Australian Navy (RAN). The aircraft chosen were the Douglas A4 Skyhawk and Grumman S2 Tracker. Initially an order for 8 single seat and 2 trainers, listed as A-4E's, was made. In 1970 a second order of similar size and composition was made, but the aircraft were listed as A-4F.

In RAN service the aircraft were designated A-4G and were modified to suit Australian requirements. Based upon the USN A-4F the G retained the strike capability of 250/500 lb bombs and 2.75 or 5in rockets plus other maritime strike stores, but it was also intended for fleet defence duties. The result was the aircraft's ability to be fitted with a pair of AIM-9B missiles. The avionics were also updated and consequently the USN dorsal 'hump' was not required. Other external differences included a lack of the numerous electronic sensors seen on the chin, behind the nose gear and above the jet pipe. The G also lacked the chaff and flare dispensers found around the arrester hook on late F's and M's.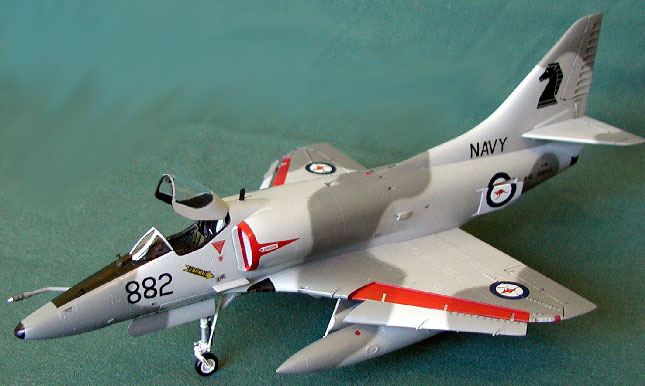 Whilst in Australian service the Skyhawk retained their USN serial numbers but a RAN prefix of N13 was added. A three digit call or buzz number was also given and painted upon the nose. All 20 aircraft were delivered in USN gloss light gull grey and white. This scheme was retained until 1979 when replaced by the two-tone scheme of aircraft grey and light admiralty grey.

The Skyhawk's were formed into two squadrons, VF-805 operating from HMAS Melbourne and VC-724 the Operational Flying Training School operating from Nowra on the New South Wales south coast. In 17 years of service between 1967 and 1984, 10 Skyhawks were lost. Six to crashes as a result of aircraft or crew failure and five to either catapult/arrester failure, or loss from the flight deck.

The Skyhawks RAN career ended in the mid 1980's when a replacement for the aging HMAS Melbourne was sought. The British Harrier equipped HMS Invincible was at the time up for sale and considered, but the 1982 Falklands war intervened to show the RN how valuable her carriers were and she was withdrawn from sale. The older HMS Hermies was offered instead, but the decision was deferred. A month later a General Election was held in Australia that resulted in a change of government. The day after the result the new administration announced that a replacement carrier would not be sought ending RAN fixed wing aviation. The last Skyhawk sortie was flown on 30 June 1984. The surviving 10 Skyhawks were not completely lost, as they were sold to the Royal New Zealand Air Force in the same year.
Hasegawa's 1/48 Scale A-4E/F Skyhawk
Like many before me I can only say good things about Hasegawa's 48 A-4 offering. Moulded in plastic that is easy to work with, covered in finely engraved panel lines and more than sufficient detail. After opening the box and seeing the detail I decided that for a change no after market goodies would be used, the kit cost also helped make this decision. All that would be used would be a decal sheet from Hawkeye models.

The raised cockpit detail was sufficiently accurate for my taste and was very easily picked out with some dry brushing. Some additional scratch built plumbing was added to the tub mostly upon the rear bulkhead along with some items on the sidewalls and panel sill. To the seat I added some PE seat belts from the spares box and some plumbing found in my reference photos.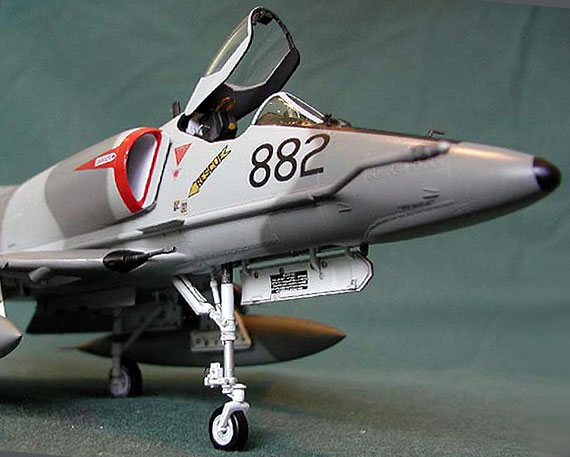 Moving to the intakes I found the only area I was not quite happy with. I found that the three-piece intakes went together well and with some careful clean up all the seams could be removed. But dry fitting before assembly found the problem, I had a seamless intake but the join between the internal ducting and the intake was plainly obvious. In the end I carefully and painstakingly added fine grade milliput (white) with a toothpick through the intake after assembly. This was then smoothed with a cotton bud and water to produce an acceptable, but not what I would call 'good' finish.

The remainder went together very well with the only filler required was to remove panel lines not seen on RAN aircraft around the arrester hook. All unfiled weapons stations (left outboard and centre) were drilled and carved to show the openings visible when without ordinance. Plumbing was added to all undercarriage legs and doors. The raised panel lines on the external fuel tanks were removed and rescribed and an AIM-9 mount (included in the kit) added to right outboard. (no missile at time of writing and photographs).
My model is finished as N-13 154903 (882) of VF-805 operating off HMAS Melbourne in 1982. Having built a number of 1/72 Skyhawks in the two tone scheme before, I departed from what many would call convention. My references state the colours are Aircraft Grey BS 381C-693 / FS16187 and Light Admiralty Grey BS 381C-697 / FS15414 but though these are probably very correct they just don't look right.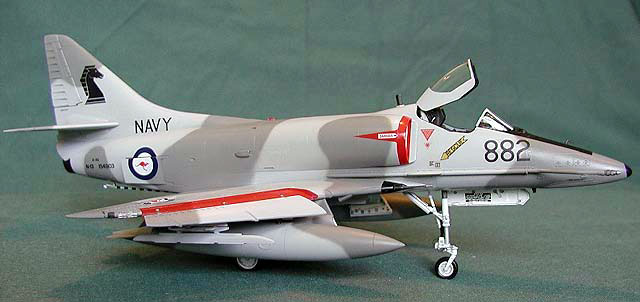 On a small scale they seem to produce a very blue appearance. But from my memory from airshows, private photos and references this blue appearance is not present when viewed full size. So through test painting an old kit with just about every grey I had, a combination that looked right was found, yep no FS, no BS no RLM, it just looked right. Light Admiralty was replaced with Aeromaster Warbirds Light Ghost Grey and Aircraft Grey with Humbrol 140 Dark Gull Grey and sealed with Tamiya clear. All intake warning red and anti glare panel black was masked and painted rather than applied using decals.
Decals were from the Hawkeye RAN A4 sheet. I am not 100% sure but I think the sheet is printed using an ALPS pronter (I've never used these before so I could be wrong).
I found that any dark coloured decals (buzz numbers, checkmates emblem and serials) were fine but anything requiring white was not. A small white backing decal sheet is provided but when two decals are combined they become excessively thick. As a result I did not use the sheets roundels or intake warnings. Decals from the kit or Aussie Decals were used instead. If I was to use the sheet again I would mask out the required areas during finishing and spray the required white. Another problem encountered was the carrier film. It is a single piece across the sheet which is no great challenge, but it is very thick and it seemed that no amount of setting solution would get it into panel lines.
Hasegawa's 1/48 A4 is an excellent kit. It beats the old Monogram A4 hands down in all but one area, price. It goes together very well, sits right, looks right and can be finished as a very effective display piece. Hawkeye models decal sheet has some minor failings but it gives you the opportunity to build every A4 the RAN ever had and up to six aircraft from the one sheet! If you are like me and prefer to build kits with blue and white roundels or Red/Black kangaroos rather than stars and bars or black crosses this kit and sheet is for you.
Aungst D.W, Douglas A-4E Skyhawk, Hypescale http://www.kitparade.com/features00/a4skyhawkda_1.htm

Campbell G. A4 walk around photographs, Aircraft Resource Centre, www.aircraftresourcecenter.com

Gallemi F, A4 walk around photographs, Aircraft Resource Centre

Stohr S.R. A4 walk around photographs, Aircraft Resource Centre

Wilson S, 1993, Phantom, Hornet and Skyhawk in Australian Service

Click on the thumbnails below to view larger images:
---
Model, Images and Text Copyright © 2002 by J.D. King
Page Created 19 May, 2002
Last Updated 04 June, 2007
Back to HyperScale Main Page
Back to Features Index