"Sexy Spitfires" &
"Eastern Front Fighters"
Preview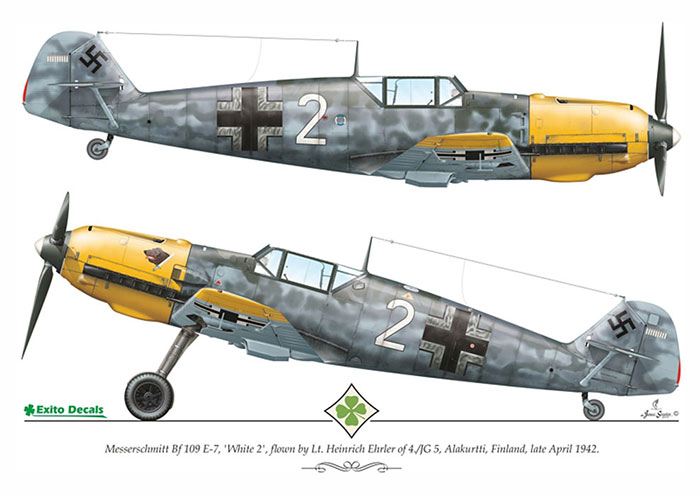 Exito Decals, 1/32 scale

We have received information and images of two new releases from Exito Decals:
Sexy Spitfires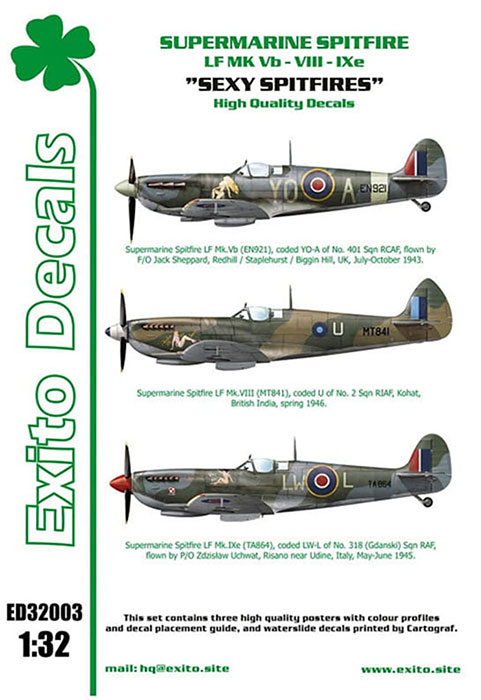 Exito Decals is proud to announce the release of the first two decals sets in 1/32 scale. There have been a lot of requests for these, and we have decided to give them a try, preparing the large scale versions of some of our previous releases. This includes the set entitled "Sexy Spitfires", which contains markings for three aircraft:
Spitfire LF Mk.Vb (EN921), coded YO-A of No. 401 Sqn RCAF, flown by F/O Jack Sheppard, Redhill / Staplehurst / Biggin Hill, UK, July-October 1943.

Spitfire LF Mk.VIII (MT841), coded U of No. 2 Sqn RIAF, Kohat, British India, spring 1946.

Spitfire LF Mk.IXe (TA864), coded LW-L of No. 318 (Gdanski) Sqn RAF, flown by P/O Zdzislaw Uchwat, Risano near Udine, Italy, May-June 1945.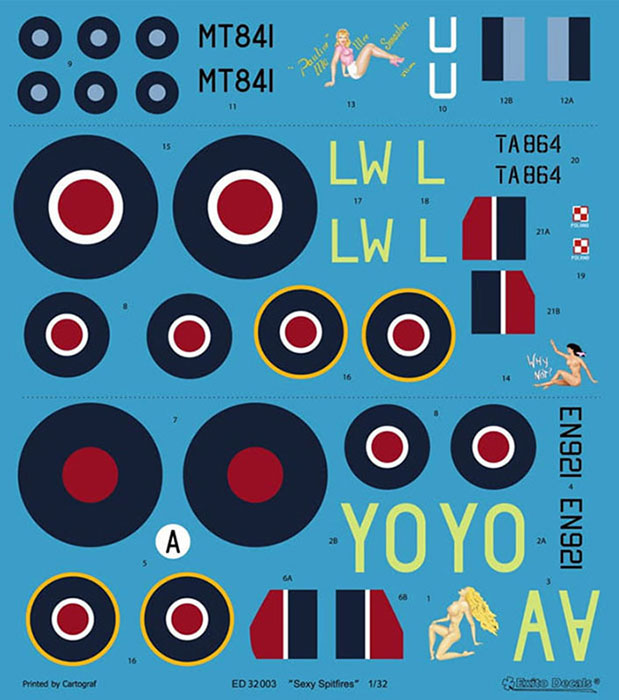 Illustrations were created by Janusz Swiatlon. All aircraft feature sexy nose art which is rarely seen on Supermarine Spitfires. For the very first time, artwork and markings of MT841 are correctly reproduced in decal form. This 1/32 scale set is available directly from the manufacturer:
---
Eastern Front Fighters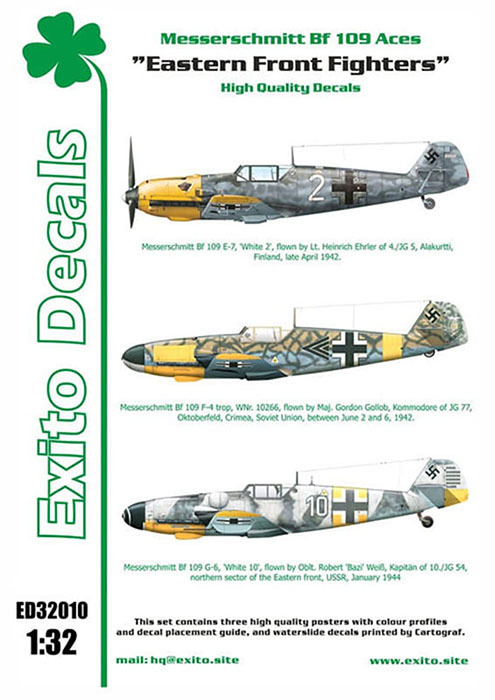 Our second 1/32 scale release is en?titled "Eastern Front Fighters" and covers three different Messerschmitts flown by notable Luftwaffe aces in the East:
Messerschmitt Bf 109 E-7, 'White 2', flown by Lt. Heinrich Ehrler of 4./JG 5, Alakurtti, Finland, late April 1942.

Messerschmitt Bf 109 F-4 trop, WNr. 10266, flown by Maj. Gordon Gollob, Kommodore of JG 77, Oktoberfeld, Crimea, Soviet Union, between June 2 and 6, 1942.

Messerschmitt Bf 109 G-6, 'White 10', flown by Oblt. Robert 'Bazi' Weiss, Kapitan of 10./JG 54, northern sector of the Eastern front, USSR, January 1944.
Illustrations were created by Janusz Swiatlon and Anders Hjortsberg. The markings for Ehrler's 'Emil' and G-6 of 'Bazi' Weiss have never been reproduced in 1/32 scale decal form before, whilst Gollob's Bf 109 F-4 trop did not receive enough attention from other manufacturers. To our knowledge, this is the first decal set on the market that contains the 4./JG 5 emblem (including a bonus one). This se?t is available di?rectly from the manufacturer.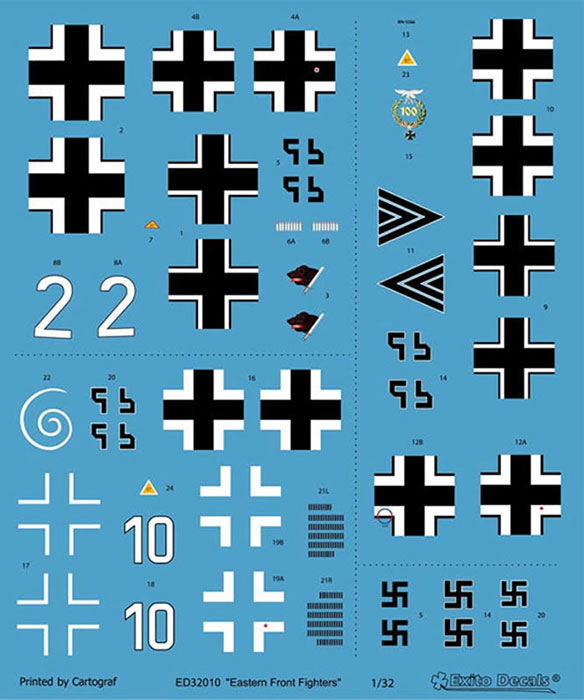 As previously, the decal sheets are printed by industry leader, Cartograf of Italy, which ensures top printing quality and ease of application. These are complemented by instructions that differ from the plain market standard. What you get are essentially high quality posters with accurate and inspiring illustrations. Each subject is presented on an A4-sized sheet, with large side aircraft profiles printed on the front, and the remaining artwork, reference photos and all necessary information laid out on the rear side. This way you not only get some cool decals for your model kit, but also attractive posters to adorn your man cave, at the same time!
Further releases are already in preparation – please follow us on FB not to miss the latest news: https://www.facebook.com/Exito-Decals
Thanks to Exito Decals for the information and images.
---
Text and Images Copyright © 2020 by Exito Decals
Page Created 23 October, 2020
Last updated 23 October, 2020
Back to HyperScale Main Page
Back to Reviews Page