Evolution Silverline Solo Airbrush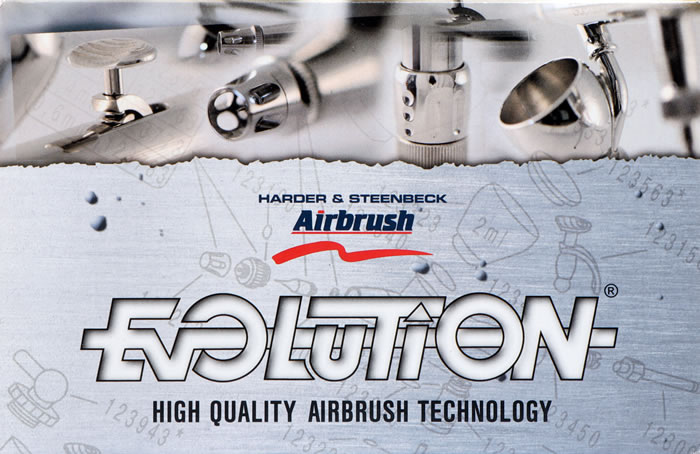 Harder & Steenbeck
S u m m a r y

Catalogue Number, Description and Price:

Harder & Steenbeck

Evolution Silverline Solo Airbrush

USD$154.30 with free shipping offer available online from Model Paint Solutions

Contents and Media:
Double action, nickel plated airbrush; 0.2 mm nozzle; 2 ml colour cup; paint volume control; PTFE seals.
Review Type:
FirstSpray
Advantages:
High quality, simply designed fine to medium duties airbrush; easy disassembly and reassembly including a nozzle of manageable size; useful paint volume control; versatile 0.2 mm nozzle/needle.
Disadvantages:
Conclusion:

A versatile, robust modelling airbrush for fine lines up to medium coverage.

Reviewed by Brett Green

HyperScale is proudly supported by Squadron.com

I have only used three brands of airbrush in the last 35 years or so.
The first was a syphon fed, double action Paasche VL that I bought in the mid-1980s. I never really mastered that airbrush and did not use it very much for that reason.
Next was a Testor Aztek airbrush. I bought this one after I had seen the results that my friend Chris Wauchop achieved. This airbrush transformed my modelling.
I used the Aztek airbrush for nearly 20 years, replacing it a couple of times under Testor's Lifetime Warranty, but in the end I could not find parts here in Australia so I bought an Iwata HP-C Plus airbrush.
I bought a few other Iwata airbrushes over the years too and I have generally been very happy with them.
My airbrushes endure a fairly hard life as I paint 20 models or more per year with all sorts of paints and thinners. I usually buy a new airbrush every few years as the old ones seem to suffer from a loss of airflow and precision, even after nozzles and needles have been replaced. I don't blame the airbrushes for this - I think it is likely to be seals being either eroded or swollen by aggressive solvent thinners.
I was just about to buy another new replacement when John Miller from Model Paint Solutions sent me this airbrush for review. I hadn't seen a Harder & Steenbeck airbrush close up, so I looked forward to putting this one through its paces.
Harder & Steenbeck offer two families of airbrush - the Evolution and the high-end Infinity.
Variations in the Evolution range include an airbrush with a lightweight aluminium body, nickel-plated and chrome plated models, suction and gravity feed configurations and even a twin airbrush option.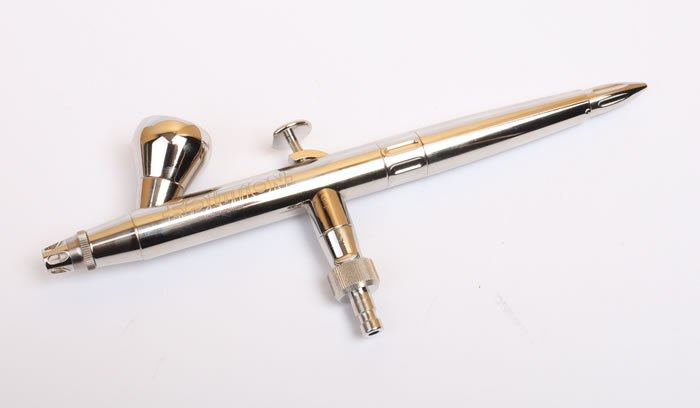 Today we are taking the Evolution Silverline Solo for a test drive. This is a double action, nickel plated airbrush with a top feeding 2 ml colour cup and a 0.2 mm needle and nozzle. The airbrush is presented in a yellow plastic storage box.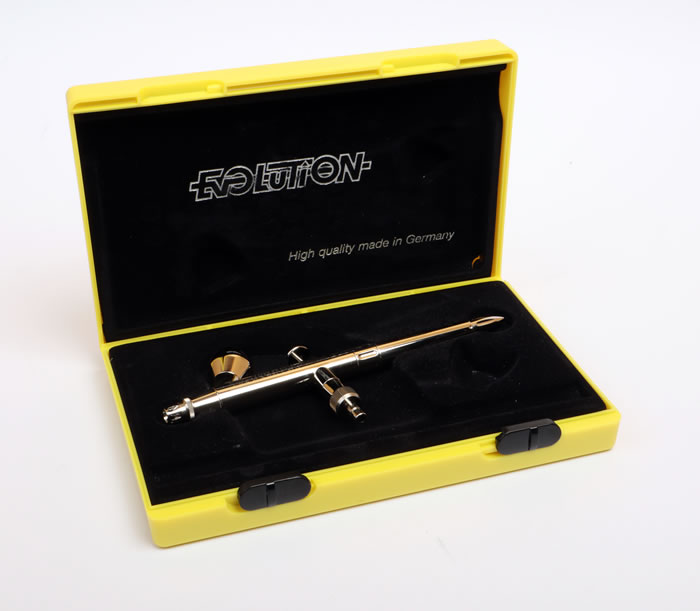 This is a simple airbrush without gimmicks. It feels solid and looks like a high quality product.
One useful feature of note is a paint volume control at the rear end of the airbrush. simply dial the control clockwise to restrict the paint flow, and anti-clockwise to increase the flow.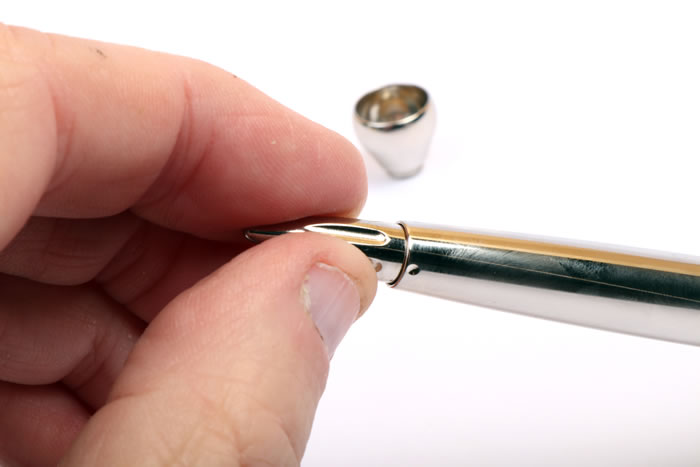 The design of the Evolution Silverline is also interesting. The 2 ml paint cup is attached by a screw thread to the upper front body of the airbrush. This thread is compatible with a 5 ml paint cup, available separately, or you could mix and match with other paint cups included with other Harder & Steebeck airbrush packages.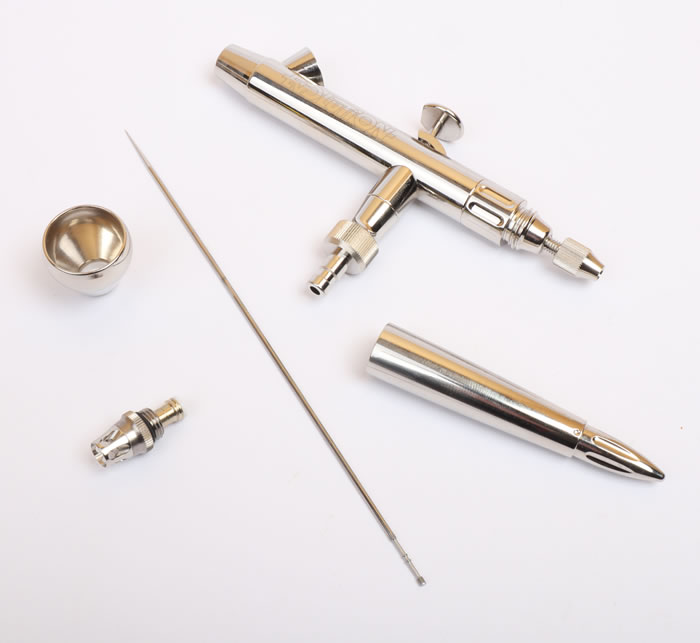 The paint cup is seated with a PTFE seal. PTFE (Polytetrafluoroethylene) is a synthetic fluoropolymer of tetrafluoroethylene better known under the proprietary name of Teflon. This is a chemically inert material that will not be damaged by the majority of solvents and chemicals.
The nozzle and cap are an interesting design too. Instead of having a tiny, delicate nozzle that screws directly to the front of the airbrush body, the Evolution features a nozzle with a manageable-sized metal body, a narrow 0.2 mm opening at the front and a PTFE seal at the rear. The nozzle is then sandwiched between the front of the body and the threaded cap. As the cap is screwed on, it presses the nozzle back into the body until it seats snugly against the PTFE seal.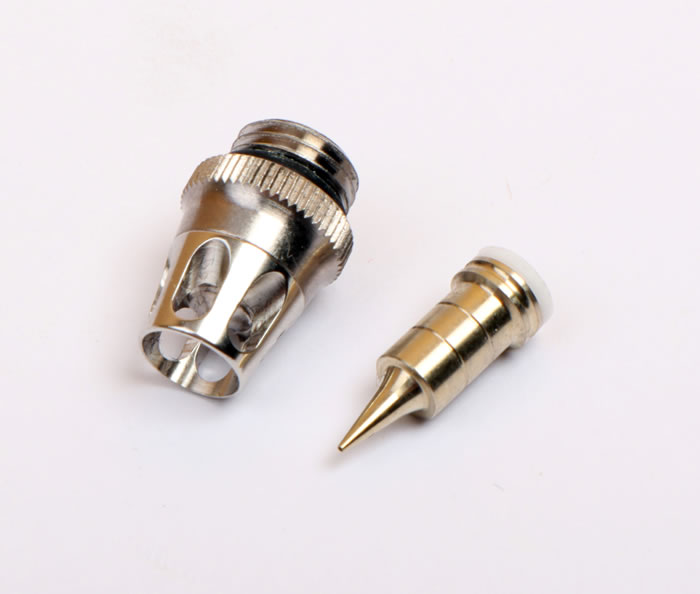 This design has a number of benefits. First, it is easy to handle (and see!) this larger nozzle assembly. Secondly, you don't need any specialised tools to remove and replace the nozzle. Also, you will not risk snapping the thread off a fine, delicate nozzle (I have broken off a few nozzle threads on other airbushes in my time).
The threaded cap features a built-in needle tip guard.
The needle may be removed by loosening the textured needle chuck after unscrewing the rear body cap.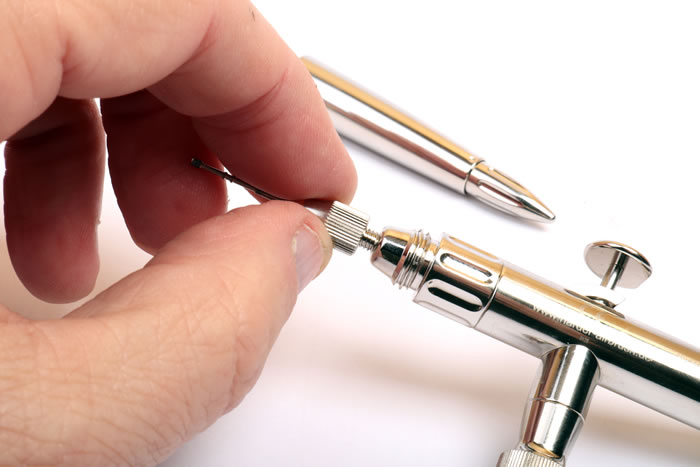 The action of the trigger is very smooth, even using my strange thumb-trigger technique.
---
Test Spray
I think the only way to really evaluate an airbrush's performance is on a real live plastc model, but I was curious to test out the Evolution today.
I loaded up the airbrush with a mix of around 75% Tamiya acrylic thinners and 25% acrylic paint (Tamiya XF-5 Flat Green), and airbrushed a number of squiggles from fine to wider.
Performance was very impressive. The paint flow was consistent and I could achive reliable fine and medium lines.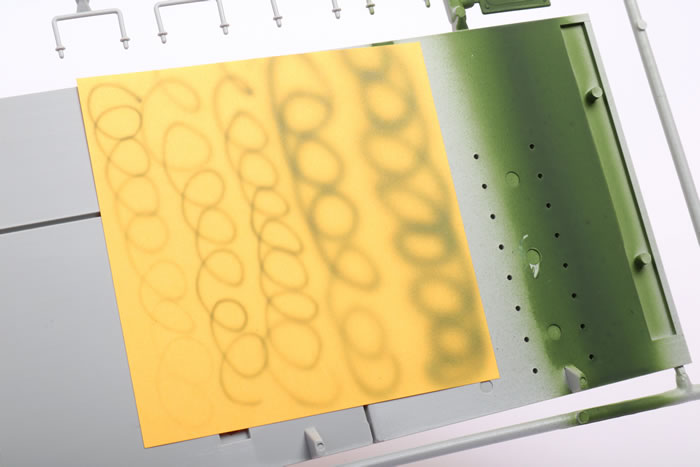 Even broader coverage areas were quite achievable, but I would probably use a larger nozzle for overall tasks such as flat coats, or for 1/32 scale and bigger models. Larger nozzles and needles are available separately in the Harder & Steenbeck range for these jobs.
Harder & Steenbeck's Evolution Silverline Solo is a versatile, robust modelling airbrush for fine lines up to medium coverage.
I'm looking forward to testing this one out on my next modelling project!
Thanks to Model Paint Solutions for the samples.
---
Text and Images Copyright 2019 by Brett Green
Page Created 12 August, 2019
Last updated 13 August, 2019
Back to HyperScale Main Page
Back to Reviews Page