'The Duellists' – Halberstadt Cl.II & RE.8 "Harry Tate"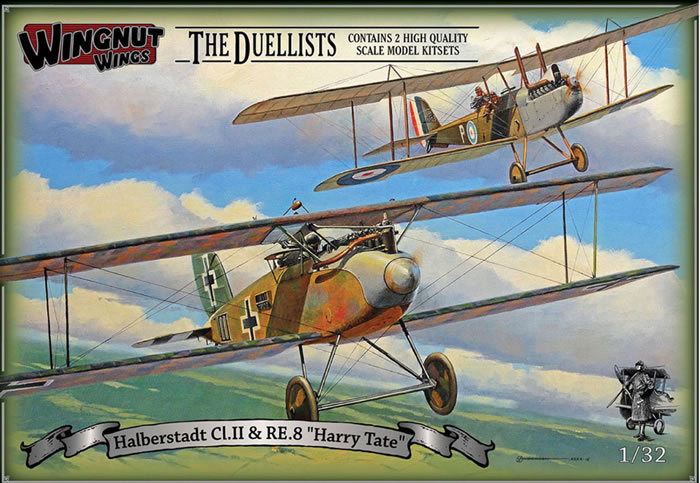 Wingnut Wings, 1/32 scale
S u m m a r y

Catalogue Number:

Wingnut Wings Kit No. 32804 - 'The Duellists' – Halberstadt Cl.II & RE.8 "Harry Tate"

Scale:

1/32

Contents and Media:

496 injection moulded plastic parts for two aircraft.

Price:

USD$229.00 plus shipping available online from Wingnut Wings' website

Pre Order GBP£228.99 EU Price (£190.83 Export Price) plus shipping available online from Hannants

Review Type:

First Look

Advantages:

High level of detail; outstanding representation of fabric, rib baton and general surface textures; high quality mouldings with fine sprue attachments; comprehensive decal sheet in perfect register with minimal carrier film; full-colour instruction booklet doubles as a one-stop reference.

Disadvantages:

Conclusion:

It is great to see the RE.8 making another outing.

Both models are superbly detailed and will provide countless hours of pure modelling pleasure. Add to that the historical element of these particular machines, and you know you really are recreating an actual snapshot of aviation history, gone forever except for the old records and photos that are now there for us to see.

I really would go and treat yourself to this one before it too becomes hard to find!
Reviewed by James Hatch

The Halberstadt Cl.II was a highly successful lightweight German two-seat escort fighter and ground attack aircraft that entered service in July 1917. It was initially tasked with escorting traditional two-seat C type reconnaissance and artillery spotting aircraft up until March 1918 when they transitioned to infantry support. The RE.8 was designed as a two-seat reconnaissance aircraft and entered service with the RFC in late 1916 and remained in use until after the Armistice. Aircrew gave it the affectionate nickname 'Harry Tate', RE.8 rhyming well with the popular Scottish music hall comedian's name and, possibly, because of its similarly comic appearance. In the hands of confident and aggressive aircrews the RE.8 was capable of putting up a fight almost as well as the great Bristol Fighter. Late in the morning of 9 June 1918 the crew of RE.8 D4689 "P" from 3 Squadron Royal Australian Flying Corps encountered late production Halberstadt Cl.II 15342/17 "III" from Royal Prussian Schlasta 13 over the Somme battlefield...
This is the fourth 'Duellist' release from Wingnut Wings, and of course, featuring two more protagonists that met in combat on the same day in history. You'll notice with this release that WNW have simultaneously released their brand new Halberstadt Cl.II as a part of this package, but alongside the currently out-of-production RE.8 "Harry Tate" kit. I know that the latter kit is very much lamented since it became unavailable some 5 years ago, so for that reason alone, this new kitset will become a very attractive purchase.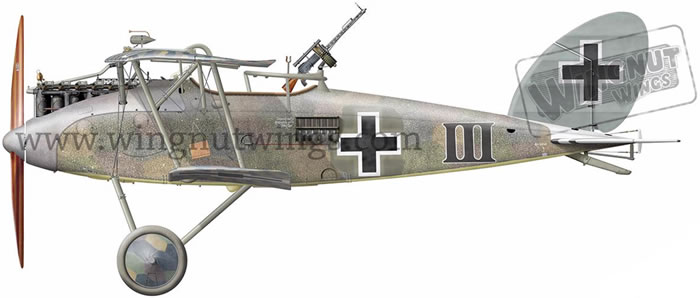 The box for this is large. Whilst the same depth as either the Halberstadt and RE.8 boxes, it has twice the footprint of either, due to the nature of the release. Steve Anderson's very attractive and evocative artwork adorns this large lid, showing the rear gunners of these two aircraft opening fire on each other above the fields of the Western Front. Being a Duellist release, there is only one scheme available for each of the aircraft, and these are depicted on the side of the box. We'll look at these a little later.

Lifting that lid reveals a compartmented interior, with each section being given over to the sprues for one particular aircraft. Whilst all of the sprues for the Halberstadt are all individually bagged, the RE.8 has further packaging with all bagged sprues being packed into a large, clear bag. A single PE fret contains the parts for both machines, and three decal sheets are also provided, with one of them having decals printed for both aircraft, and another being a lozenge sheet which is common to the other Halberstadt releases. A small, additional sheet contains just a handful of decals. In total, this release contains fourteen light grey styrene sprues and two clear ones. The spiel from WNW gives the following statistics:
496 high-quality injection moulded plastic parts for 2 aircraft.

Halberstadt Cl.II plastic parts are the same as new model 32062 Halberstadt Cl.II (Late).

RE.8 "Harry Tate" plastic parts are the same as 32012 RE.8 "Harry Tate" which sold out in June 2014.

18 photo-etched metal detail parts.

Highly detailed 180hp Daimler-Mercedes D.IIIa and 150hp RAF 4a engines.

36 page fully illustrated instruction manual.

2 high quality Cartograf decal sheets including fitted lozenge camouflage and markings for 2 aircraft that met in combat.
Now, I'm not going to reinvent the wheel here as I only just reviewed the Cl.II (Early) release in this last day or so, and you can find the full suite of photos and that review HERE. However, the Halberstadt in this particular kit is actually the LATE version, so there is a slight difference in supplied sprues. This LATE version doesn't have Sprue F of the previous review, but instead has a new Sprue G, and that is the one we'll be looking at here. Everything else remains the same, with the exception of a few parts from the common sprues which aren't to be used here.
---
Sprue G
Like the Sprue F of the EARLY kit, this also contains parts which are not too dissimilar, such as cowl parts and guns. However, we also have many parts which further set this one apart.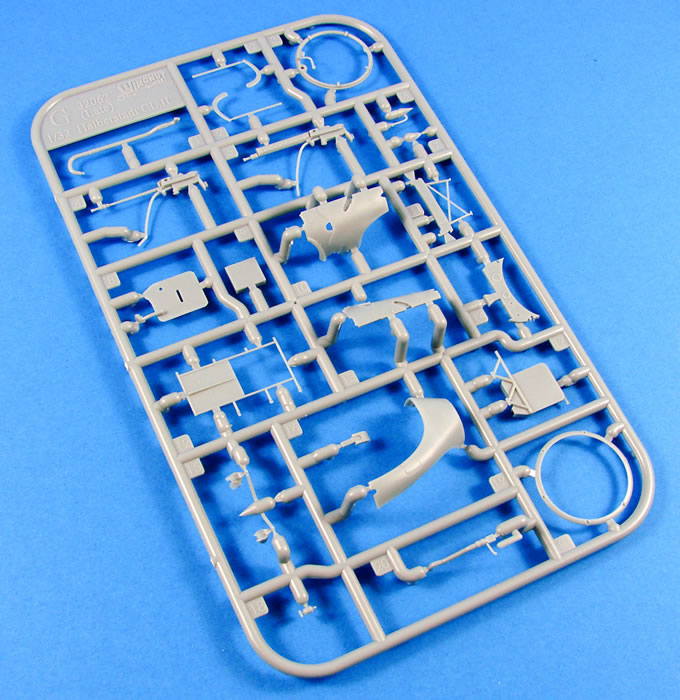 Here you will find the standard/late production instrument board, magazine and empty belt container, grease pump, gun rings (not used), magneto fairing, radiator header tank and bracket, late aileron control rods, and late radiator shutter etc. Apart from those gun rings, everything else on here is for use with this release.
Out of all the sprues in this set, the RE.8 is the one with most plastic real-estate, so to speak, with 10 sprues in total. It's hard to believe that this particular part of the package is now 9yrs old, but of course, such are the standards with these kits, that the plastic quality and detail could make it look as if it was released only recently.
Sprue A
This sprue mainly, but not exclusively, deals with the multitude of cockpit parts for Harry Tate. The largest and most obvious are the cockpit sidewalls. As with numerous parts on this kit, you'll note little tags that need to be removed here and there. This is designed to keep ejector pin marks away from delicate details and is an elegant solution that the frustration that those marks usually incur. Rifling through the cockpit parts here, you'll notice the firewall, ammunition drums, 6-gallon oil tank, foot boards, rudder bar, flare case, instrument board with integral frame, RL tube, flare pistol, control column assembly, wireless accumulator, passenger seat, wicker pilot seat, 37 ½ gallon fuel tank, camera, etc.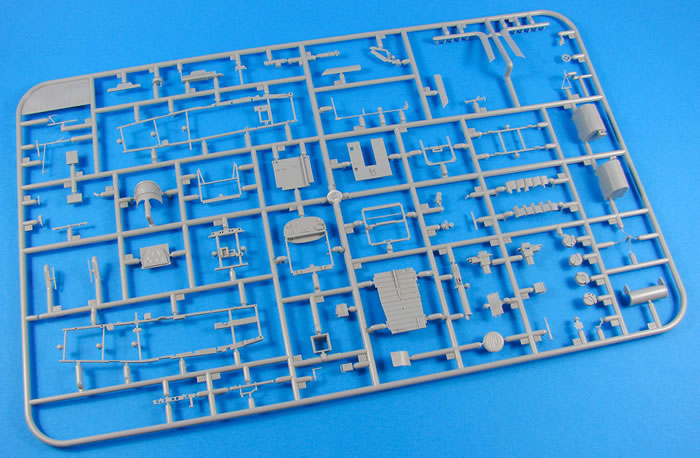 We aren't solely limited to cockpit parts, with the two exhaust manifolds moulded here. Note the end of these has a separate part, creating the hollow appearance required.
---
Sprue B
A number of parts on here aren't to be used, such as various permutations of lower engine cowl, optional set of undercarriage v-struts and some cowl parts. The one to be used has a series of holes at its rear, and it's suggested that these be drilled out for more realism. What will be used is that gorgeous 4-blade airscrew, engine bearer frames, centre plane struts, interplane struts, and upper cowl parts.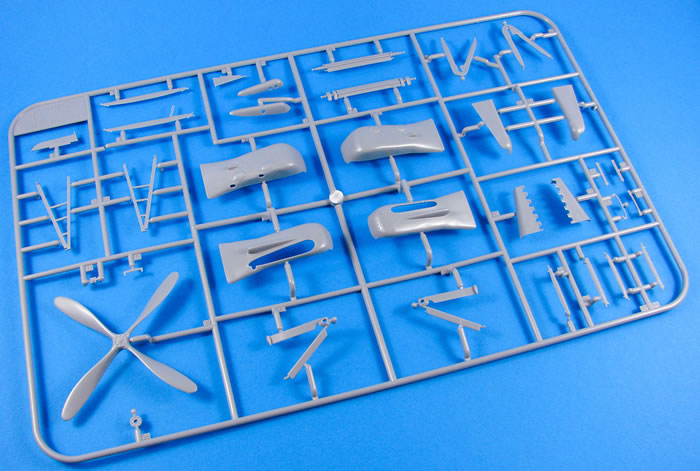 The parts map doesn't show part B7 as shaded out. This is an alternative undercarriage spreader bar and NOT to be used with this release!
---
Sprue C
This large, clear sprue has a number of parts on it, including some upper wing centre section parts, but there are only TWO parts that will be used, and these are the forward windshield and a lens for a camera.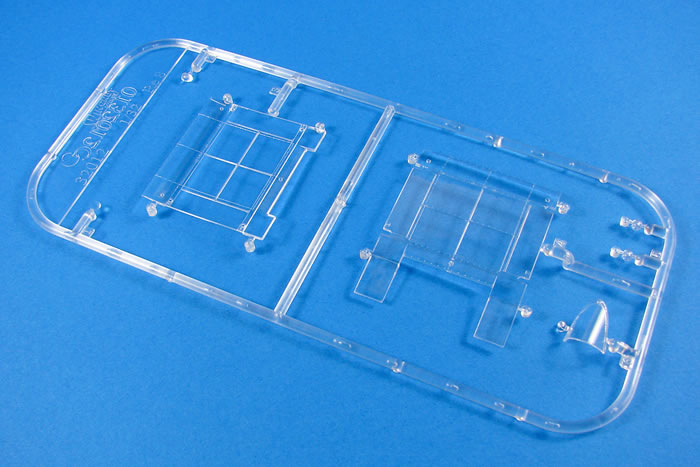 Clarity is excellent, as can be seen on the unused wing parts.
---
Sprue D (x2)
Where duplicate parts are to be used, WNW usually splits these across two identical sprues, such as this.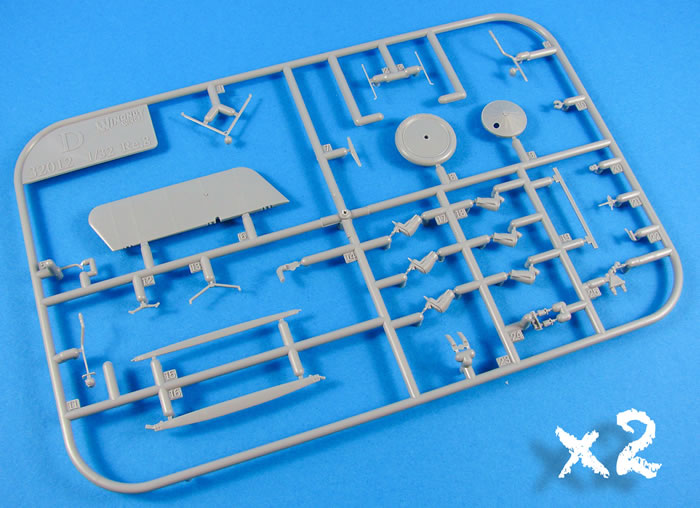 Here we have the wheels and separate outer hub, elevators, wing struts, alternative engine cylinder parts, king post struts, pulleys, Brown & Barlow carburettor, control horns etc.
---
Sprue E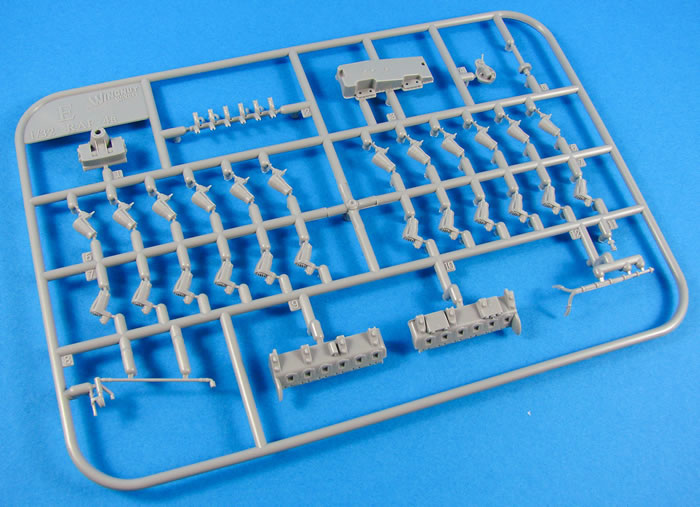 The Royal Aircraft Factory RAF 4a air-cooled V12 engine is a project in itself, and this sprue is dedicated to building the engine which slightly underpowered this beautiful aircraft.
---
Sprue F
A large sprue, this moulding contains both fuselage halves and the outboard, upper wing panels. The RE.8 had a fabric covered fuselage, and this is superbly recreated in plastic, with lacing details along the sides of the fuselage, and also where the fabric has wrinkled under tension at specific points, much like they recreated on their SE.5a kits. Of course, the engine cowls are separate items. Internally, there isn't anything to really see as the detail is provided with the cockpit tub installation.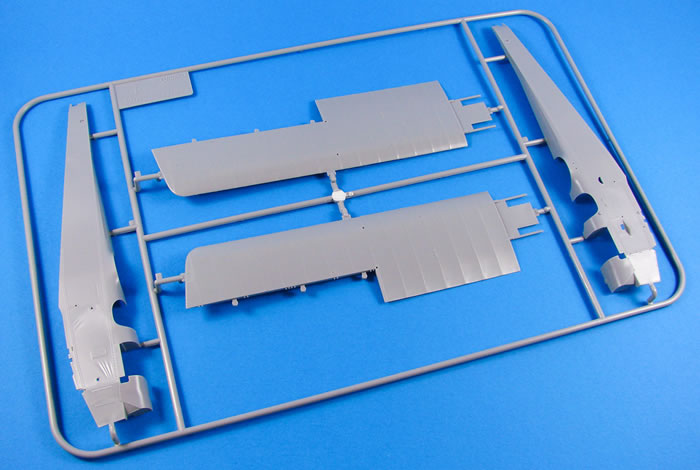 When it comes to the wings, these guys know how to render that specific fabric and rib appearance, as you can see here. Notice also the shorter leading-edge ribs between the main ribs. It can be hard to get the camera lighting right for this, but you can see it in these photos. Wing strut location points are also shaped, making strut orientation a cinch. Holes also exist for rigging, but you might want to just use a small drill bit to deepen them slightly. Be careful if you do as these wings are moulded as single-piece items and not upper and lower panels. They are also reasonably thin. Ailerons are moulded separately too.
---
Sprue G
The lower wing of the RE.8 is a much shorter span than the upper, but here you can see the lower wing moulded as a full-span item, with fuselage centre section. Even with the shorter span, it's still quite large. This is again moulded sans ailerons, with are included on this sprue, along with the upper wing ailerons.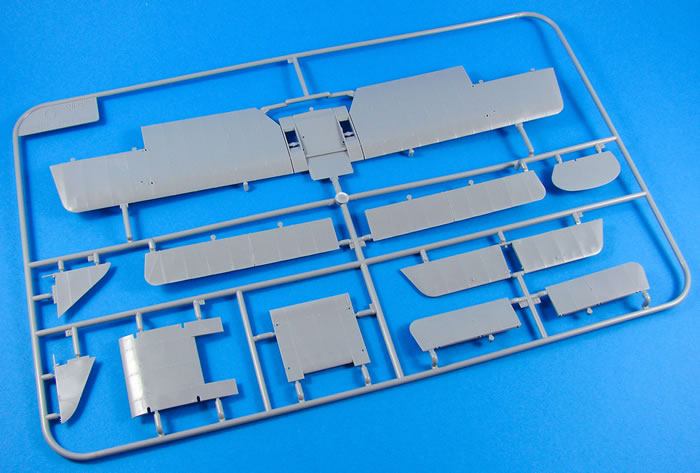 All surface details are commensurate with what we saw on the upper wing panels just now. Also included here are the wing centre section parts, rudder and two fin options, although only one of the latter is destined for use.
---
Sprue R (x2)
This sprue is also labelled as 'R.F.C. Armaments' and contains a variety of parts that are common to other releases too.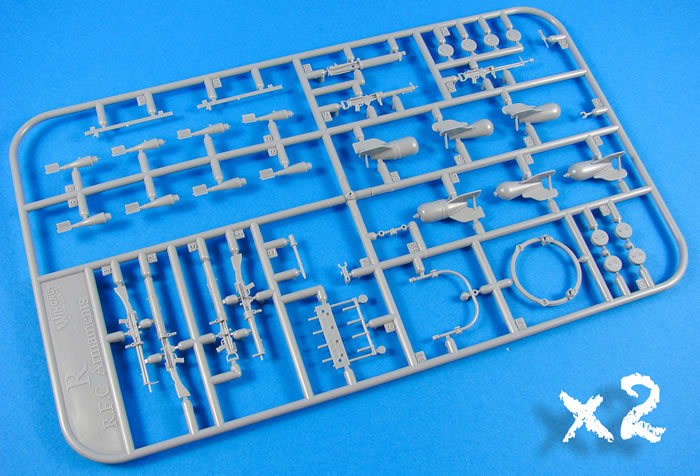 That being, most of this sprue will not be used on this kit, with only the Scarff ring, ammunition and bomb carrier parts to be used.
---
Photo Etch
I don't know why WNW chooses to manufacture a joint PE sheet instead of just using the original release ones, but it certainly shows some attention to detail for what is essentially a new release. Here you will find lap belts, MG jacket for the high detail version of the Spandau LMG, Vickers gun cocking handle and parts, Lewis gun ratchet mount for scarff ring, and rudder cable grommets.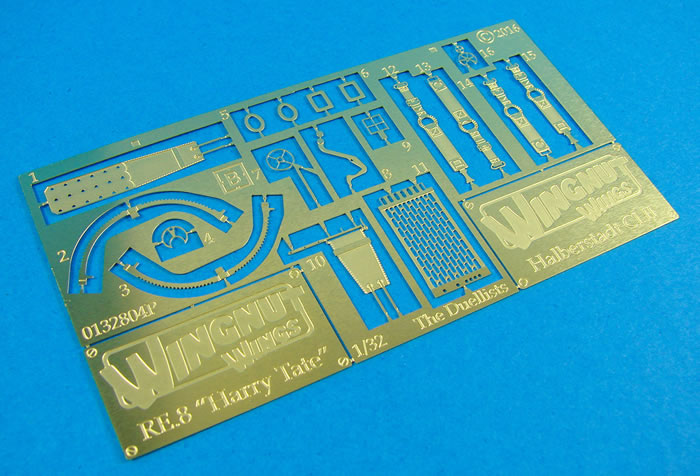 Two plates are also included for displaying your finished models. As per usual, production quality is first rate, with just small tags holding the parts in position.
---
Decals
As with the PE, despite there being two separate models in this release, the decals are on a shared sheet. The top half of this first sheet concerns the RE.8 and contains decals for almost the entire model, such as the national markings, serials, cockpit instruments and some stencils. National markings are split into sections where they overlap from wing to aileron etc. making application far easier to handle. The lower section of this sheet contains all national markings, stencils, instruments etc. for the Halberstadt Cl.II, again with national markings that are split to cater to ailerons, rudder etc. You will also see how these have been printed to portray the change from the old-style cross to the straight-sided later cross, including the painted-out portions. Some of these also have indicators pointing to orientation.
A small supplementary sheet contains a few decals for the RE.8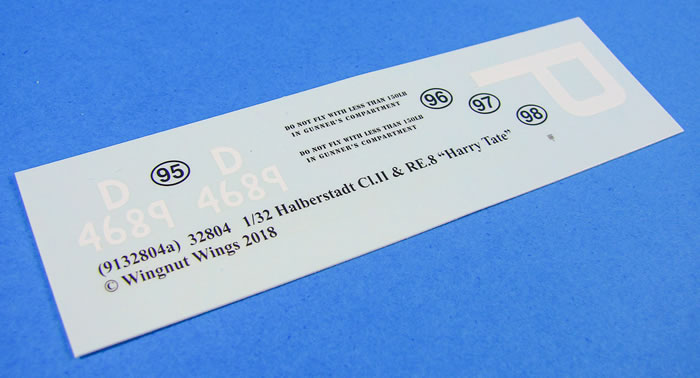 Lastly, a large sheet contains all of the large lozenge panels required to cover the upper and lower wings, ailerons, fin/rudder, stabiliser and elevator, plus the wheel hubs. Everything is printed with rib tape strips in place. All printing is of high quality with solid and authentic colour, nice thinly printed inks, and perfect registration. Carrier film is also minimal.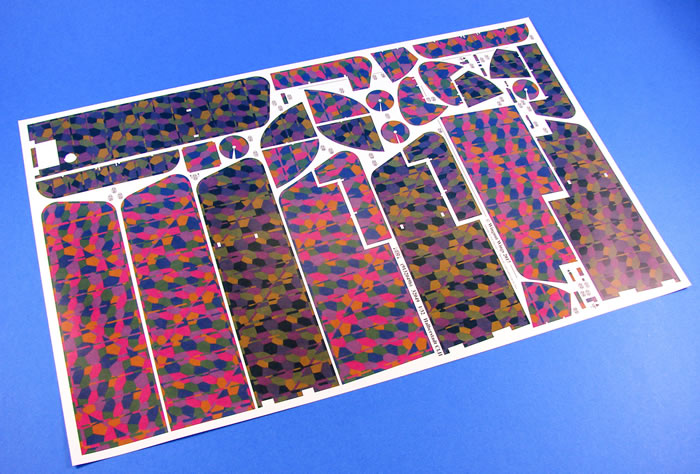 The two schemes in this release are:
Halberstadt Cl.II 15342/17 "III", Kuesler & Müllenbach, Royal Prussian Schlasta 13, 9 June 1918.

RE.8 "Harry Tate" D4689 "P", RC Armstrong & FJ Mart, 3 Squadron Australian Flying Corps, 9 June 1918.
---
Instructions
The manual for this release is a hefty 36-page effort, in WNW's usual, sumptuous style. Starting with some info on each type on the front page, we are then presented with a paint reference guide which has codes for Tamiya and Humbrol Paints, plus FS codes. The following two pages have the sprues, decals, PE map for each kit. Any parts not to be used are shaded out, making reference a lot easier from the outset. Construction then begins with the Halberstadt Cl.II, taking over a total of 12 construction sequences that also contain numerous other stages. A rigging diagram and Ronny Bar profile is then supplied to help you complete your model.
The RE.8 construction begins next, and takes up almost the remainder of the manual, in the same style as the Halberstadt. Interspersed amongst the assembly illustrations are also full colour graphics which depict painted sub-assemblies, plus some nice period imagery for reference. Decal placement illustrations are simple to follow, and painting references are supplied throughout construction.
It is great to see the RE.8 making another outing. I suspect it's only a few eBay scalpers that won't be too enthused! Both models are superbly detailed and will provide countless hours of pure modelling pleasure. Add to that the historical element of these particular machines, and you know you really are recreating an actual snapshot of aviation history, gone forever except for the old records and photos that are now there for us to see. I really would go and treat yourself to this one before it too becomes hard to find!
Thanks to Wingnut Wings for the review sample.
---
Review Text and Images Copyright © 2019 by James Hatch
Page Created 7 January, 2019
Last updated 18 January, 2019
Back to HyperScale Main Page