Halberstadt Cl.II (Early)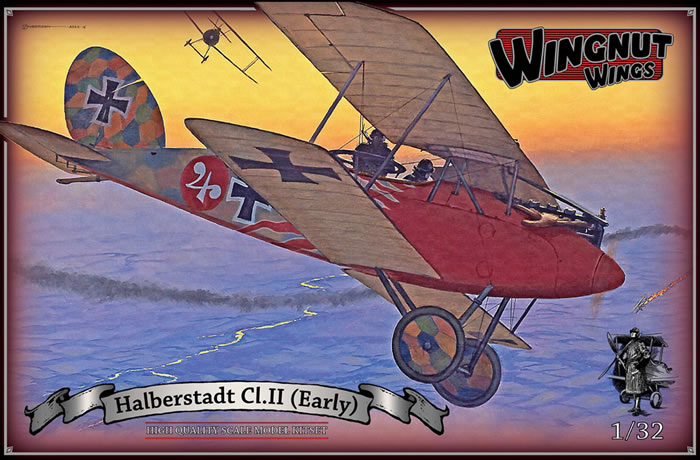 Wingnut Wings, 1/32 scale
S u m m a r y

Catalogue Number:

Wingnut Wings Kit No. 32049 - Halberstadt Cl.II (Early)

Scale:

1/32

Contents and Media:

197 parts in grey injection moulded plastic; two parts in clear; nine photo-etched parts; markings for five aircraft on three decals sheets.

Price:

USD$129.00 plus shipping available online from Wingnut Wings' website

Pre Order GBP£116.09 EU Price (£96.74 Export Price) plus shipping available online from Hannants

Review Type:

First Look

Advantages:

High level of detail; outstanding representation of fabric, rib baton and general surface textures; high quality mouldings with fine sprue attachments; comprehensive decal sheet in perfect register with minimal carrier film; full-colour instruction booklet doubles as a one-stop reference.

Disadvantages:

Conclusion:

It really is great to see these key gaps being filled by WNW, when it comes to important German types, and the Halberstadt Cl.II is, in my opinion, one of the more graceful from the period.

Like other WNW kits, this is stuffed to the gills with details, and there really is no need to buy aftermarket from the outset, as everything you will need is right there in the box.

Whilst it is true that most of the schemes will need you to master the application of that splatter camo, WNW has provided an attractive alternative scheme for those who dare not tread in that area, and I admit the stripey one is actually very tempting.

Totally delicious!
Reviewed by James Hatch

The Halberstadt Cl.II was a highly successful escort fighter and infantry support aircraft that entered German service from late July 1917. It was very well regarded for its good visibility, climb rate, manoeuvrability, stability and ease of internal communication afforded by the close nature of the pilot and gunner. Early production aircraft had the main gun mounted to the left of the engine while late production aircraft had it mounted to the right.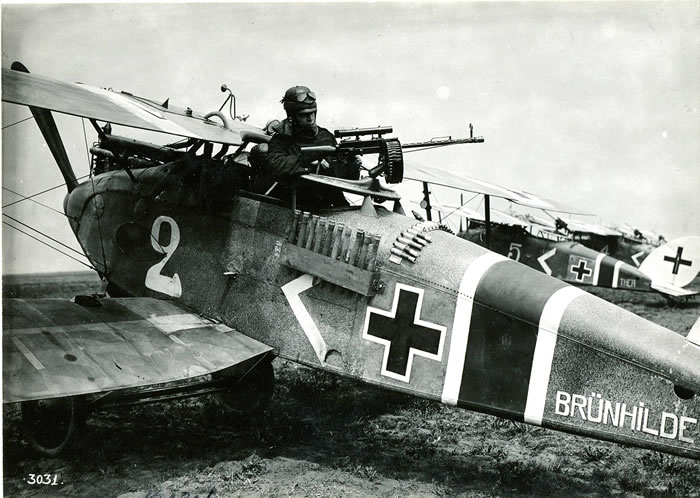 Halberstadt Cl.II were initially tasked with escorting traditional two-seat reconnaissance and artillery spotting aircraft, often being assigned to a specialised Schutzstaffel (Protection Squadron) which were renamed Schlachtstaffel (Battle Squadron) following their transition to infantry support from March 1918 until the Armistice.
193 high-quality injection moulded plastic parts including 14 that are exclusive to early production aircraft.

9 photo-etched metal detail parts.

Optional Daimler-Mercedes 160hp D.III, 180hp D.IIIa or 200hp D.IIIaü engines.

Optional radio, generator, rudders, propellers and armament.

28 page fully illustrated instruction manual.

2 high-quality Cartograf decal sheets including fitted lozenge and markings for 5 colour schemes.

This particular release, along with the Halberstadt Cl.II (Late) and the new Duellist kit, were unleashed onto the model-buying public in the weeks running up to Christmas 2018, as WNW's usual seasonal model kit launch that we have now become accustomed to. Not only was it good to see a whole new type making it to plastic in the form of the Halberstadt Cl.II, but also the return of the very popular RE.8, along with the Cl.II, in the Duellist. We'll be looking at the latter double kit within the week. Today though, we'll peruse the in-box contents of the Halberstadt Cl.II (Early).
Steve Anderson's emotive artwork really sets the mind running here, with a dusk encounter with what appears to be a Camel in head-on view, and another unknown aircraft trailing smoke, somewhere over the war-ravaged Western Front. Of course, the silver gilt edging of the art, along with the same style used for the aircraft name, always gives these kits that special feel of quality to them. On the edge of the box can be seen the Ronny Bar profiles for the FIVE schemes that are offered with this release. Whilst four of these have that spatter/speckle finish that we'll look at later, for those who feel they can't achieve this, a simpler yet stunning scheme is also provided which will doubtless be the option you'll choose. This particular release contains FIVE light grey sprues, and one clear sprue, all individually packaged so avoid damage, plus a single PE fret to complete the parts count. Two decal sheets are included, as well as the beautifully designed instruction manual that we get with each release. As with many WNW kits, you will need to choose which machine you will build from the outset due to a number of changes/options that you will need to initiate from the outset. Let's get our hands dirty and take a look at the plastic.
---
Sprue A
Without doubt, this is the most parts-heavy sprue and one which you will need to take care when it comes to removing a number of these elements due to their fragility or proximity to the sprue itself, via a short sprue gate. A good quality razor saw is what I tend to use for these specific sprues, and I've never had a part break yet. Like most sprues in this kit, this one is included in both of the new Halberstadt Cl.II releases (both Early and Late), and there are only three parts not for use with this particular kit. With the exception of the base interior parts, such as the cockpit floor, two-part fuel tank and rear bulkhead etc, pretty much the rest of the interior is represented on this sprue.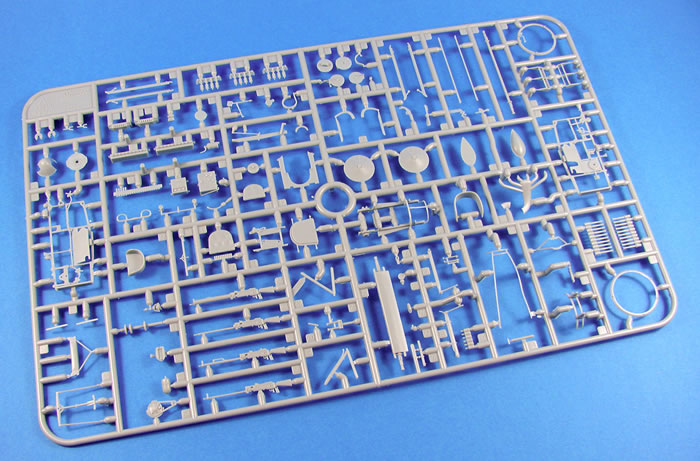 Parts on this sprue include pretty much everything for the cockpit, such as the crew seats and associated parts, wireless aerial cardboard tube, control column assembly, highly detailed sidewalls, wireless set, wireless aerial reel, fuel tank pressurising pump, rudder pedal bar, forward engine bearers with integral forward fuselage former.
Other parts include engine flywheel and generator belt pulley, undercarriage spreader bar, outer wheel hubs, spinner, flare pistol and flare rack options, etc.
---
Sprue B
All four wing panels are moulded here, in single pieces, so no upper and lower panels due to the section and thinness of these parts. This means that the trailing edges are superbly thin too. Upper wing panels are moulded without ailerons, and these parts are also included on this sprue. One of the many things that WNW has honed to perfection is the depiction of the rib/fabric details, and this is no exception, with suitable textures and details such as the rib capping strips. Also note the compass position in the lower port wing panel. Some machines had these external to the cockpit so as stop any local interference. Some of the sprue attachment points look a little wide, but they are actually fairly thin. Note also the shaped holes for the wing struts, plus the adjacent rigging holes. I would opt to drill these out a little more if you wish to add something like Gaspatch turnbuckles.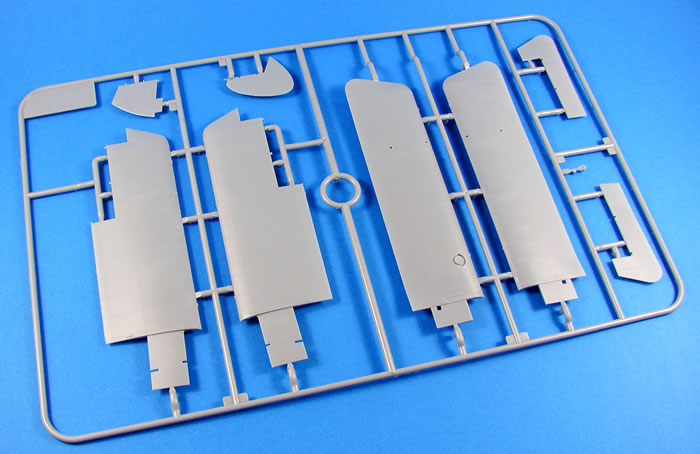 This kit contains two rudder options, and the production version one is to be found here, along with the standard and universal fin, also exhibiting the same restrained fabric and rib details.
---
Sprue C
We have just two small pieces on this little, clear sprue. One of them is for the dainty and curvy windscreen, and the other for the glass fuel tank sight gauge that's located on the upper wing centre section.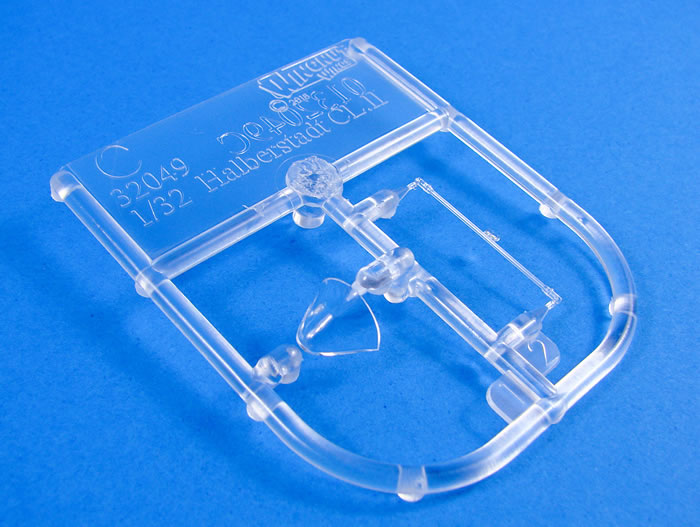 Optically, these are about as clear as you could ever wish for, with superb moulding quality and minimal sprue attachment points.
---
Sprue D
The kit's big-hitter parts are to be found here, such as the fuselage halves etc. Before I look at those, the one part that really draws my attention is the single-piece tailplane. Not only has this been moulded with the stabiliser integral with the elevator, but also the cable attachment horns and the tailskid rear bumper fork. That is a seriously nice and very impressive piece of moulding, right there!
The undercarriage v-struts are also moulded here, with the rubber bungee wrap nicely depicted.
Here is the upper wing centre section with integrally moulded radiator and fuel tank details. This part is moulded as upper and lower panels, but the lower panel is more of an insert that won't interfere with the leading or trailing edge details.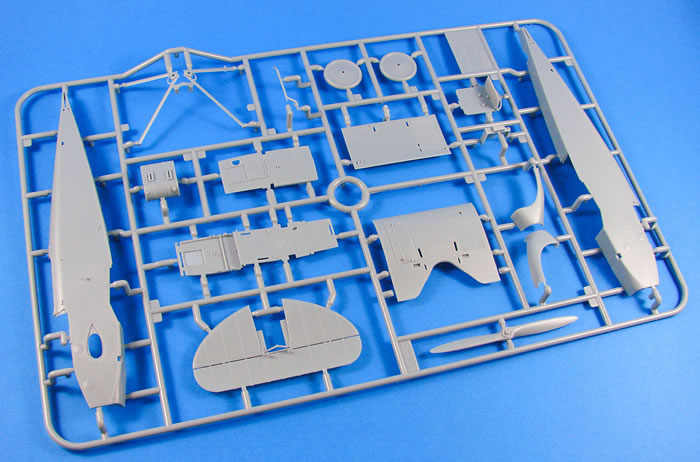 A Garuda airscrew option is provided on this sprue, accompanying the two further options available on the engine sprue that we'll look at next. These are moulded with hub details in situ.
Here we see the fuselage port side with its cut out for the protruding generator access cover. Of course, we don't have the typical panel line detail we see on a stressed metal skin, but instead we have access port, strap, nail and foothold details, plus leather trim coaming running around the double open cockpit area. Of note is the separate engine panel details, allowing the modeller to show that engine off in its full glory. Internally, details are limited, but that's because this is more or less just a covering skin, with the real details being provided by the cockpit tub assembly that locates here.
Other parts to be found on this sprue include the cockpit floor, fuel tank, rear cockpit bulkhead, engine cowls.
---
Sprue E
E is again for engine, as this frame contains the various generic parts for different versions (160hp and 180/200hp) of the Mercedes D.III/a/aü. Of course, a number of parts here aren't to be used, including two propeller options, electrical generator and drive unit, etc. Pretty much everything else is though.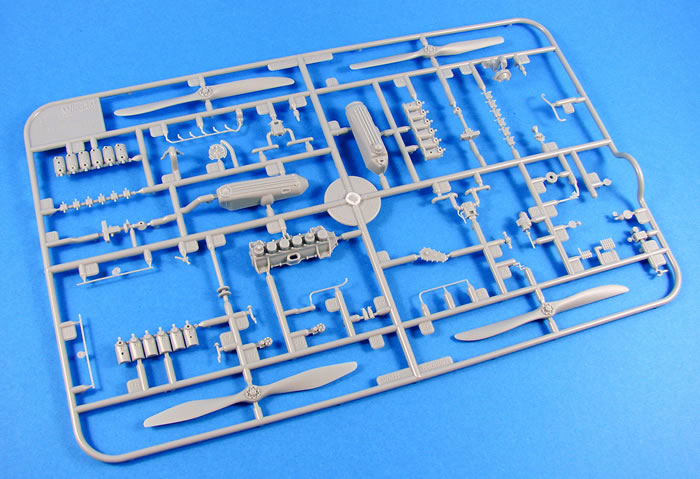 Two crankcase options are included, again depending on which D.III engine you build. A page each within the manual is dedicated to both engine variants.
---
Sprue F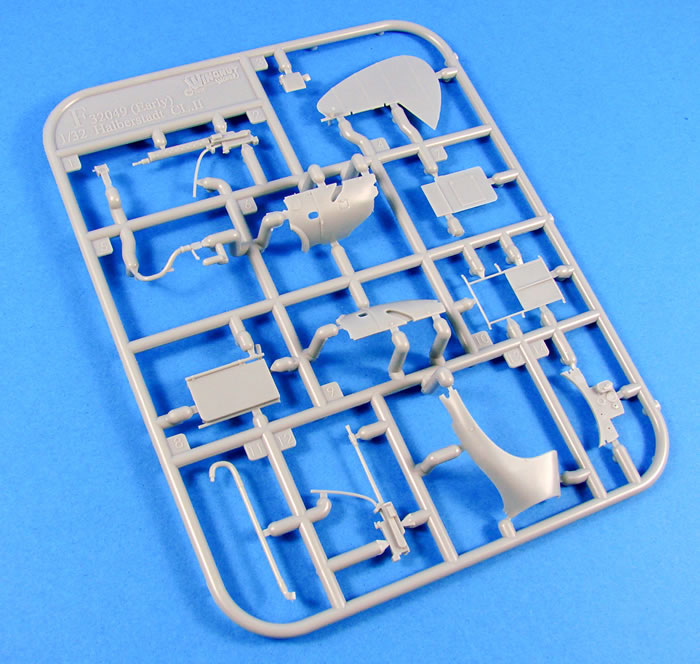 This sprue is specific to this release only and won't be found in the Late version of this kit. It contains the very early rudder option, alternative rear cowl parts, early cockpit instrument board, two options for forward-firing Spandau, radiator water pipe, early radiator shutter.
---
Photo Etch
One fret is supplied, containing parts for the detail versions of the Spandau/Parabellum guns, plus two sets of crew lap-belts. Another part is included for an optional flash guard which fits to the engine cowl.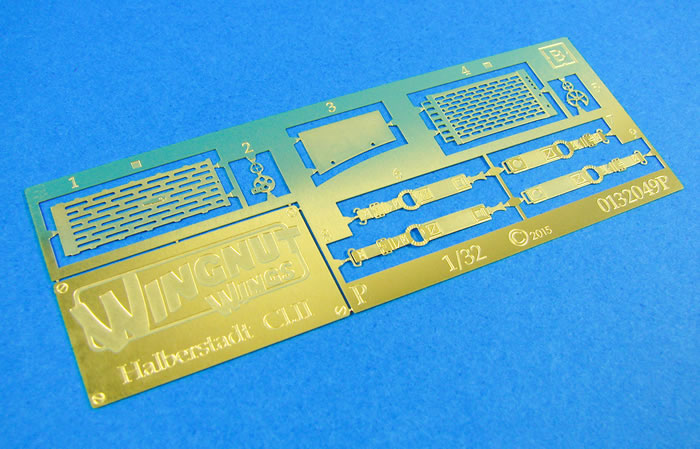 Production quality is first rate, with nice, small tags holding things in place.
---
Decals
Two sheets of Cartograf-printed decals are supplied with this release. The first sheet contains the necessary markings for the individual five schemes, with each machine being sectioned off in its own area, making them easy to locate. Also note a section which contains decals for the instruments and various emblems/stencils. National markings are split where they overlap the fun/rudder separation, and the same for the wing/aileron markings. There are also cut-outs for cable horns etc.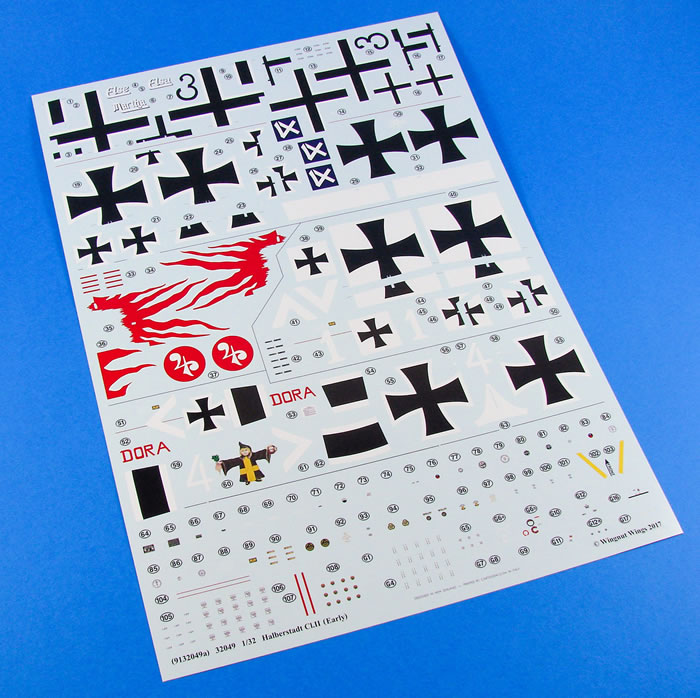 The second sheet is common to both the early and late incarnations of this kit and provides the large lozenge panels required to cover the upper and lower wings, ailerons, fin/rudder, stabiliser and elevator, plus the wheel hubs. Everything is printed with rib tape strips in place. All printing is of high quality with solid and authentic colour, nice thinly printed inks, and perfect registration. Carrier film is also minimal.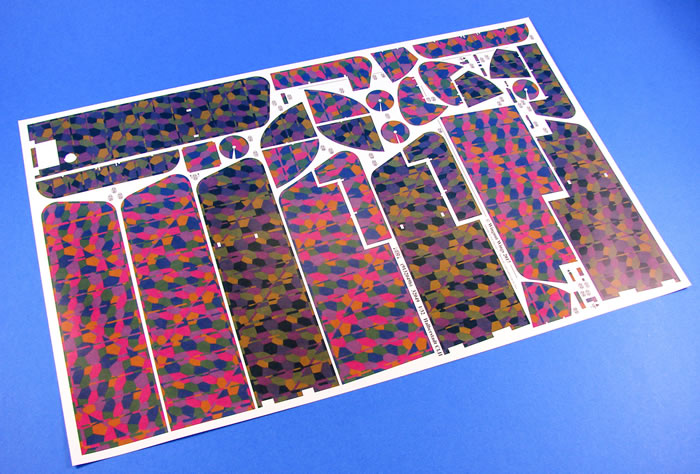 The five schemes supplied for this release are:
Halberstadt Cl.II 5720/17 "3 Martha & Else", Max Niemann & Rudolf Kolodzicj, Royal Prussian Schlasta 21, October 1918
Halberstadt Cl.II "4 Rosi", Royal Bavarian Schusta 23b, early 1918
Halberstadt Cl.II "4", Royal Bavarian Schusta 26b, late 1917
Halberstadt Cl.II "1", Fridolin Redenbach, Royal Bavarian Schusta 27b, September 1917
Halberstadt Cl.II "4 Dora", Royal Bavarian Schusta 27b, March 1918
---
Instructions
These are always something very special in their production, and this glossy, 28-page production is no different. Starting with a concise history of the Halberstadt Cl.II, and then a detailed parts map and colour reference chart, the model itself is broken down into 13 constructional sequences. That doesn't sound a lot, right? Well, that's true, but each step contains several sequences, such as Nos 1 and 2. These, for example, illustrates the complete cockpit construction, comprising around half a dozen separate stages. There is certainly a good amount of building to be had with this kit, and the levels of detail could never possibly disappoint. Whilst the construction illustrations are in a drawn, grey style with blue to illustrate new parts additions (and red for modification), several colour illustrations annotate the manual, showing what assemblies should look like under a coat of paint. Of extra use are the numerous period images that are dotted throughout the manual, illustrating specific points of construction/detail.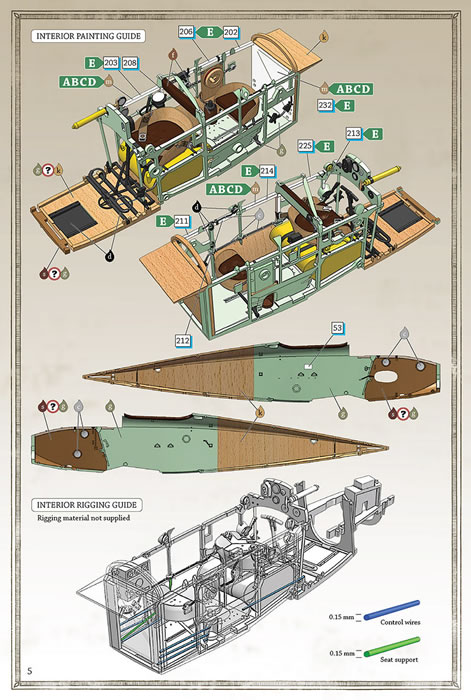 A full rigging chart is included, with two colours used to define the differences in cord type. It is crucial with these kits that you decide exactly which machine that you will build from the outset, due to the numerous differences that can pertain to one or more scheme. The last pages contain the scheme illustrations, ably presented by the amazing Ronny Bar. Technical and historical notes are supplied with the schemes, as is a little period imagery.
Some options will clearly require some minimal surgery too, such as for various engine installations, and where required, this is clearly shown in the manual.
It really is great to see these key gaps being filled by WNW, when it comes to important German types, and the Halberstadt Cl.II is, in my opinion, one of the more graceful from the period.
Like other WNW kits, this is stuffed to the gills with details, and there really is no need to buy aftermarket from the outset, as everything you will need is right there in the box.
Whilst it's true that most of the schemes will need you to master the application of that splatter camo, WNW has provided an attractive alternative scheme for those who dare not tread in that area, and I admit the stripey one is actually very tempting.
Totally delicious!
Thanks to Wingnut Wings for the review sample.
---
Review Text and Images Copyright © 2019 by James Hatch
Page Created 7 January, 2019
Last updated 7 January, 2019
Back to HyperScale Main Page