Gotha G.1
Wingnut Wings, 1/32 scale
S u m m a r y

Catalogue Number:

Wingnut Wings Kit No. 32045 - Gotha G.1

Scale:

1/32

Contents and Media:

349 parts in grey injection moulded plastic; two parts in clear; nine photo-etched parts; markings for five aircraft.

Price:

USD$199.00 plus shipping available online from Wingnut Wings' website

GBP£199.00 EU Price (£166.66 Export Price) plus shipping available online from Hannants

Review Type:

First Look

Advantages:

High level of detail; outstanding representation of fabric, rib baton and general surface textures; high quality mouldings with fine sprue attachments; comprehensive decal sheet in perfect register with minimal carrier film; full-colour instruction booklet doubles as a one-stop reference.

Disadvantages:

Conclusion:

A very unexpected surprise, but a very welcome one!

When you consider the G.IV they released, it does make sense to visit thee subject that got them into bomber production.

This large model is certainly odd to look at and it's hardly surprising that only 20 were built, but it is an important subject, and one that WNW have managed to make very attractive with the sheer detail levels they've included.

With a 63cm wingspan, this is no shrinking violet either, so you'll need some space to display it, but should you give it a go, then you really won't be disappointed.

Totally stunning!
Reviewed by James Hatch

The Gotha G.I was a heavy bomber used by the Luftstreitkräfte (Imperial German Air Service) during World War I. In mid-1914, Oskar Ursinus, the founder and editor of the German flying magazine Flugsport, began designing a large twin-engine seaplane of unconventional configuration. While most biplane designs have the fuselage attached to the lower wing, Ursinus had a snub-nosed fuselage attached to the upper wing, and twin engine nacelles mounted on the lower one. Apart from the aerodynamic benefits claimed by Ursinus, the aircraft's unorthodox layout provided excellent views for the three crewmen and broad fields of fire for the gunner. The design also matched the specifications that the Idflieg had issued in March that year for a "Type III" large military aircraft, and the construction of a prototype was ordered. The prototype first flew on 30 January. However, the aircraft was difficult to fly, lacking in structural integrity, dangerous to the crew in the event of a crash landing, and underpowered. Despite its shortcomings, it was sent to the Russian front in early 1915. With the design proved under service conditions, the Idflieg issued a contract on 1 April for series production to Gothaer Waggonfabrik AG, which acquired a license from Ursinus, who held the patent to the design. Gothaer chief engineer Hans Burkhard simplified and refined the design, which was originally known as the Gotha-Ursinus-Heeresflugzeug (Gotha Ursinus Army Aircraft), or "GUH," later known as the Gotha G.I or Gotha-Ursinus G.I. The first production aircraft was completed on 27 July 1915. These aircraft were powered by two 150 hp Benz Bz.III engines. Gothaer Waggonfabrik built 18 G.I aircraft in three batches of six before production ceased at the end of the year. The final batch was powered by 160 hp Mercedes D.III engines and featured an extra defensive machine gun and nearly double the armour of previous examples.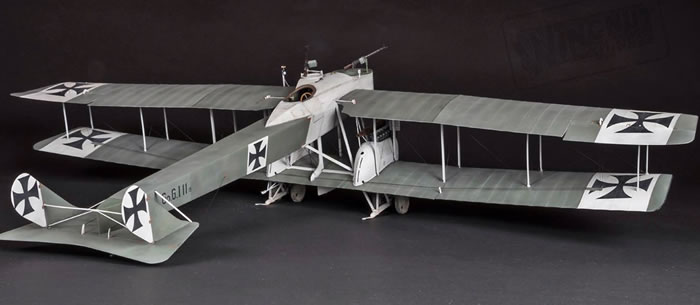 A single example of the UWD, or Ursinus-Wasser-Doppeldecker floatplane version of the G.I was also built, ordered by the Navy in April 1915, and delivered in February 1916. It was used operationally until 2 October when it was written off after a hard landing. Today, little is known about the G.Is service history. Idflieg records show only small numbers ever in service on the front at any one time. By the time it reached the front, the Gotha G.I was already an easy target for faster and more manoeuvrable fighters, and the few pilot recollections that have survived are largely unfavourable to the type. The UWD seaplane is known to have participated in a successful air-raid on Dover sometime in 1916, bombing Langton Fort and the Shoulder of Mutton battery, but the exact date is not now known.
Well, this was certainly a surprise when announced. I don't think I could recall a single person who said that a G.1 was going to be available to build in this scale! Not only that, but the Gotha UWD which is quite different in many ways. I also wasn't expecting the box to drop through my metaphorical letter box either, so this was definitely a summer surprise. Now I had to beat the hot weather and give this my best.
The G.1 was a large aircraft, so it's no surprise (this time) that WNW needed to use one of their larger sized boxes to fit it all in. Whilst the box isn't ram-packed full to the brim, some of those sprues are almost the entire footprint of the box. The Steve Anderson artwork depicts two G.1 aircraft (over 10% of their entire production!) being defended from a roving Airco DH2, by a solitary Fokker Eindecker. Steve's art is always an event with WNW releases, and this beautifully atmospheric image captures the strange and ungainly lines of the G.1, in all its, er, beauty! For WNW, the G.1 and Gotha UWD represent a milestone in their company history. The following text is from their emailshot to customers before kit release:
"We are pleased to announce that our 10th anniversary celebration release models, 32045 Gotha G.1 & 32053 Gotha UWD (our 68th and 69th releases) are now available for pre-order from shop.wingnutwings.com with shipping hopefully from late April or early May 2019. Pre-order deposit payment in full with 100% refund available upon request up to 26 April 2019 (NZ time). They should also be available from your regular preferred Wingnut Wings supplier.
The extraordinary Gotha G.1 design of 1915 was the first in a line of famous twin engine bombers built by Gotha in the First World War. The high position of the partially armour-plated fuselage offered great visibility and effective fire positions for the gunner(s) but very little protection to the 3-man crew in the event of a nose over crash. The G.1 was initially conceived as a heavily armed fighter but was very quickly re-assigned to bombing duties and began the famous association of Gotha with First World War bombers."

Kit specifics for this particular G.1 release are:
349 high-quality injection moulded plastic parts.

9 photo-etched metal detail parts.

2x Benz 150hp Bz.III engines.

63cm wingspan.

20kg & 50kg Carbonit bombs, optional propellers, LMG 08 'Spandau', LMG 14 'Parabellum' & 2cm Becker cannon armament and mountings.

20kg Carbonit bomb dropping cage or underwing fairing.

28 page fully illustrated instruction manual.

High-quality Cartograf decals included for 5 colour schemes
Under that large lid, there are EIGHT sprues of grey styrene, all individually wrapped, plus a small fret of PE parts that's tucked in with the single decal sheet for this release. WNW's typically beautiful instruction manual completes the ensemble.
---
Sprue A
This is one of the two largest sprues in this release, with some serious moulding to be seen. It is also common to the G.1 and UWD versions. WNW has designed the rear fuselage to be separate to the nose section containing the crew. Here we see the rear fuselage in two sections (lower 3-sided section, and upper deck). Externally, detail is sparse, of necessity. There are some lacing details on the lower section, and a cockpit rear fairing section on the upper deck. However, internally we have more details with fuselage formers and what look like to be bracing cable detail. There some ejector pin marks in this area, but I can't see anyone modelling this so any internal detail will be seen. If you do wish to, removing the marks won't be too difficult with a fibreglass scratch pen or a small section of plasticard to hide them.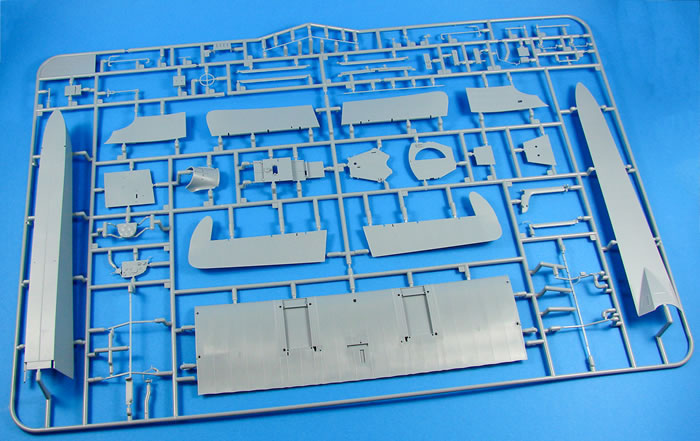 Two sets of ailerons are moulded here, but we will only use one of them. The larger, balanced option is for the UWD seaplane version. All other parts on this sprue will be used with this G.1 release. The span of this model has caused WNW to break down the wing into sensible-sized sections, with the lower wing centre section being found here. This is where the two Benz 150hp Bz.III engines will be mounted in their nacelles. Through more necessity, these wing panels are moulded as single pieces due to how thin these wings were, so no upper/lower sections to glue together. This also allows for the superbly-moulded and super-thin wing trailing edges as seen in these photos. A delicately scalloped trailing edge depicts the wire which would have been pulled tight between the ribs due to the doped fabric. Rib detail/cap strips are also nicely represented. Also of note are the plugs in the underside wing-joint areas. These are, of course, designed to fit into the sockets that are moulded to the lower wing panels on Sprue B.
There are some forward fuselage and cockpit parts included on this sprue, such as the pilot's seat and cushion, control column and separate wheel, cockpit floor, internal walls (fuel tank wall, bulkheads etc.), map/document case, commander's seat, magazines, inner wall frames, engine controls, fuel tank pressurising pump, super-detailed instrument board with rear face detail, etc. Decals are supplied for the individual instruments, as is standard with WNW kits. No crappy raised moulded details to negotiate here.
Other parts include the struts which support the forward nose section from the lower wing centre-section, fuel gauge (alternative mounting positions), modified upper wing inner trailing edges, and a tail strut support.
---
Sprue B
Another sprue which is common to the G.1 and UWD. The remaining wing panels are moulded here, with the same level of finesse as seen on the lower wing panel with beautifully thin trailing edges. You can see on the lower wing panels the sockets which allow these to fit to the lower section, and the angle of the tab which creates that characteristic appearance of the G.1.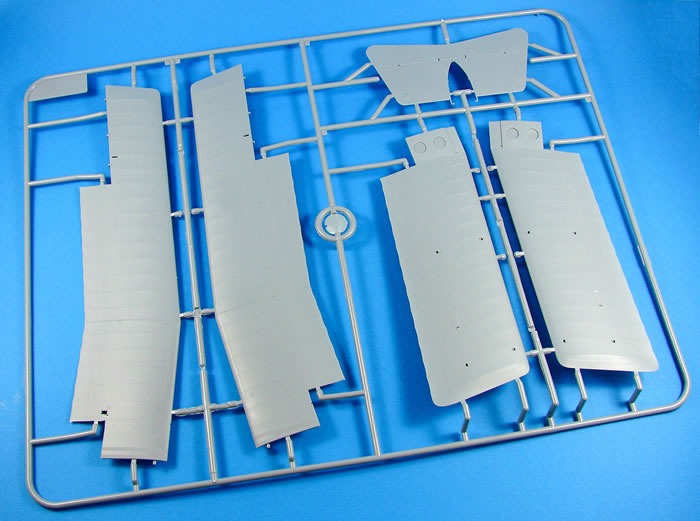 With the upper wing panels, you can of course see the separate aileron provision, but also how the inboard trailing edge is separate, to accommodate the initial design and the modified version which allowed for better downward vision for the crew.
WNW have provided the stabiliser as a single part, incorporating the elevator. I know some modellers would want to give the elevators some deflection, as can be seen in a few of the period images within the manual. With some care, I don't think that would be too difficult.
---
Sprue C
This clear sprue has just one single part, and that's the windscreen. Only one machine has this fitted, and you'll need to open up a small hole to fit this part.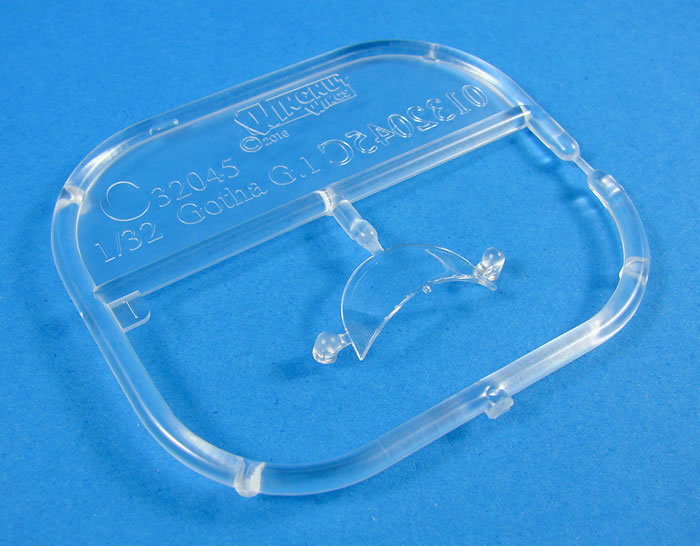 Part clarity is excellent as always. To further protect this part, the sprue is also wrapped in an adhesive film that only tacks to the plastic.
---
Sprue D (x2)
We have our first sprue, or two of, which is specific to the G.1 release. There are many parts here that relate to the engine mounting and other engine errata, such as the radiators (single and paired core options) and their own mounts. Of note are the options for the forward nacelle cowls. One of these is specific to the very early machine on Scheme A. As this model also sits on wheels and not floats, this is where you will find some undercarriage parts, such as the wheels with their separate outward hubs.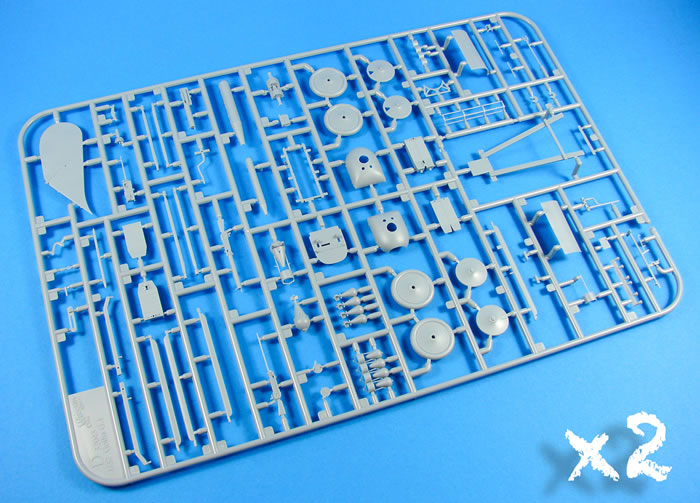 Other parts include the interplane struts, machine guns, tail plane struts and control horns, dual fin/rudder, Carbonit bombs and racks, two-part bomb dropping cage, and also some ground equipment too in the shape of the tail skid trestle.
---
Sprue E (x2)
Of these two sprues, only half of them will be used, and those are the engine parts (the gun rings, propellers etc aren't used on the G.1). As with all WNW kits, the engines themselves are little works of art, being highly detailed and really calling out for the very best of the modeller's skill to bring them to life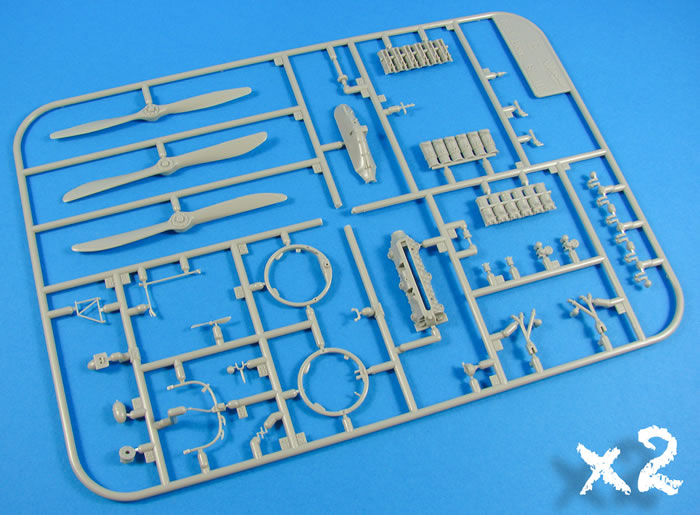 Cylinders are moulded separate to the crankcase, with separate magnetos, water pump, oil filter, intake manifold and rocker arms/springs completing the ensemble.
---
Sprue F
Our last sprue is also specific to this G.1 release, and again is another full box size moulding. A number of cockpit-related parts are moulded here, including the fuselage floor, bomb cage hatch, commander's instrument board and document shelf, optional racks for internal 20kg Carbonit bombs. Parts for the G.1-specific forward fuselage are also moulded here, including the side panels, coaming, optional cupola etc. To fit the latter, you will need to modify the standard part, carefully.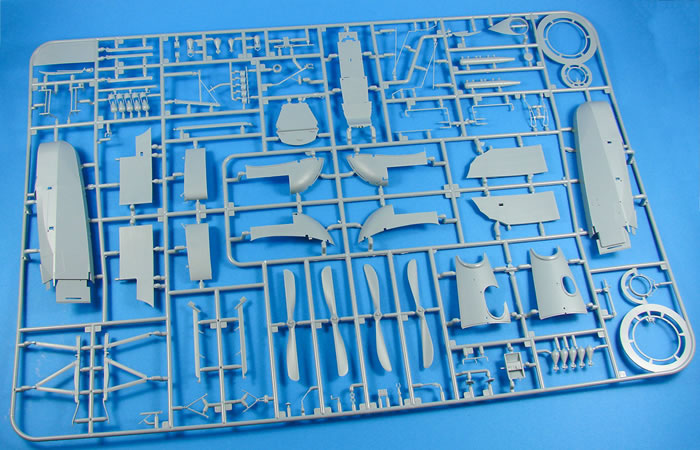 Two propeller options are included here (Integral and Reschke), and you'll also find the parts for the engine nacelle bodies. An option to mount Carbonit bombs externally is also included, and these were mounted within a fairing, moulded here.
Other parts include more undercarriage struts, pulpit gun ring, engine control rods, cooling water pipes, tail skid, 2cm Becker cannon.
---
Photo Etch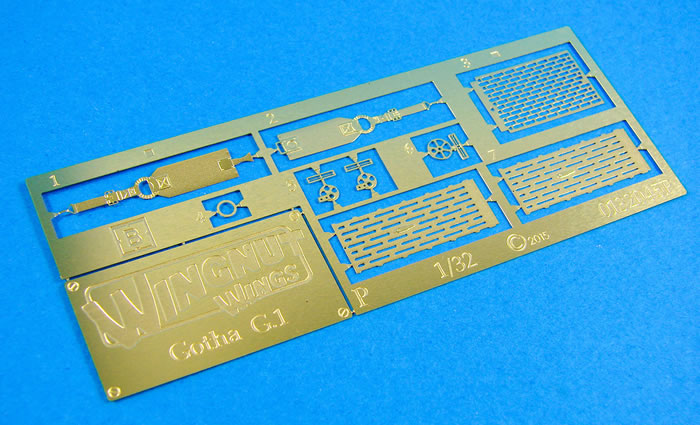 Parts are included here for the pilot lap belts and there are options for the neater and more realistic cooling jackets for the machine guns, plus their reticules. A name plate for the display base of your model, is also included.
---
Decals
The schemes for thee G.1 are very similar in many respects, and all five schemes are included on this single Cartograf-printed sheet.
Crosses are supplied for the upper and lower sides of both wings, and scheme-dependent crosses for the fuselage, and of course the specific serials. Stencils and instrument decals are supplied.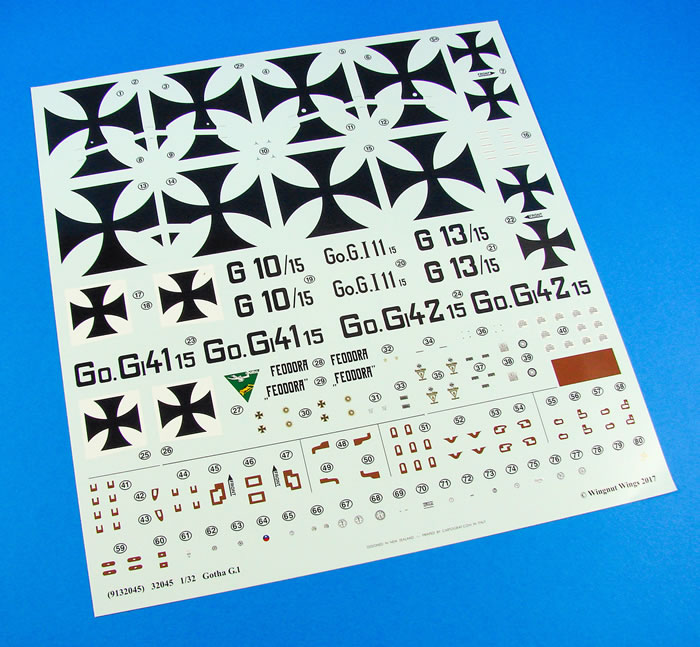 Printing is excellent, being nice and thin with minimal carrier film and a nice glossy finish. Colours are also solid. The five schemes supplied are:
Gotha G.1 10/15, Fliegerersatz Abteilung 7 Sonderstaffel S.1, 1915

Gotha G.1 11/15, Fliegerersatz Abteilung 7 Sonderstaffel S.1, 1915 & 1916

Gotha G.1 13/15, Feld Fliegerabteilung 37, 1915

Gotha G.1 41/15, Kagohl 1, 1915

Gotha G.1 42/15 "Feodora", Fliegerersatz Abteilung 3?, 1916
---
Instructions
WNW's instruction manuals are always an event, with their shaded assembly illustrations which clearly depict newly added parts, and colour illustrations designed to give the modeller an idea of what the finished and painted assemblies should look like. Annotation is clear and easy to follow, with paint codes supplied for Tamiya and Humbrol colours. FS codes are also supplied. Period images are also supplied showing details and whole airframes. One note here is that it's clear from the rigging illustration that this model is very involved in that area. It's actually suggested you dispense with turnbuckles on this and simply do dot-to-dot rig with elastic cord.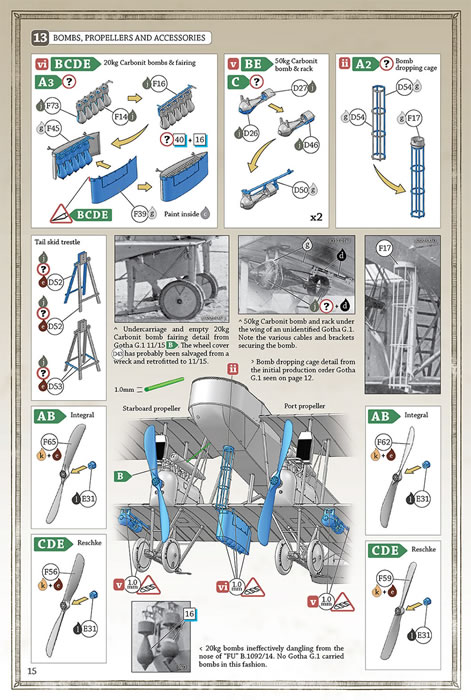 The last pages of this 28-page manual are given over to Ronny Bar's excellent profile work and contain some history of the machine, as well as colour call-outs and clear decal position information.
A very unexpected surprise, but a very welcome one! When you consider the G.IV they released, it does make sense to visit thee subject that got them into bomber production. This large model is certainly odd to look at and it's hardly surprising that only 20 were built, but it is an important subject, and one that WNW have managed to make very attractive with the sheer detail levels they've included. With a 63cm wingspan, this is no shrinking violet either, so you'll need some space to display it, but should you give it a go, then you really won't be disappointed. Totally stunning! Now, as WNW like esoteric and will venture outside their comfort zone, I'd like to ask where my Pou du Ciel is!
Thanks to Wingnut Wings for the review sample.
---
Review Text and Images Copyright © 2019 by James Hatch
Page Created 29 July, 2019
Last updated 29 July, 2019
Back to HyperScale Main Page