McDonnell F3H-2 Demon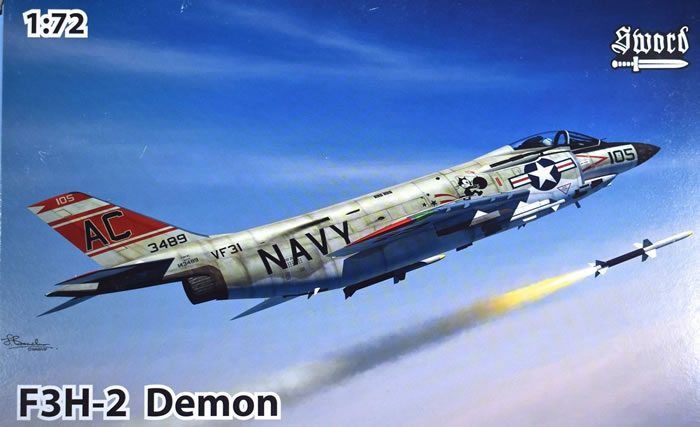 Sword, 1/72 scale
S u m m a r y

Description and Catalogue Number:
Sword Kit No. 72122 – McDonnell F3H-2 Demon
Scale:
1/72
Contents and Media:

Two grey sprues, bagged canopy parts; a photo-etched fret; resin exhaust; two different types of seats, both in resinwith markings for four options.

Price:

Available online from these stockists:

£14.16 Plus Shipping at Hannants

$33.29 Plus Shipping at Hobby Link Japan

and hobby retailers worldwide

Review Type:
FirstLook
Advantages:

The kit features nicely molded surface details, a beautiful PE fret, and colorful decals.

Disadvantages:

Some parts clean up required and the gun ports under the nose will have to be hollowed out.

Conclusion:

This kit won't be a fast build but it will be enjoyable and produce a very nice looking model. Sword must be commended (again) for producing a quality model of a lesser-known aircraft that I've been wanting on my shelf for a while.
Reviewed by John Miller
Sword, one of my favorite model companies, has lived up to its reputation for producing quality kits of lesser-known aircraft with this McDonnell F3H-2 Demon. The Demon is a nice-looking airplane and this kit does it justice. Well done, Sword! As usual, my copy came from the evil proprietor of Skyway Models who always seems to know my taste in aircraft.
---
Background:
The McDonnell F3H Demon was a subsonic swept-wing United States Navy carrier-based jet fighter aircraft. The successor to the F2H Banshee, the Demon was redesigned with the J71 engine after severe problems with the Westinghouse J40 engine that was part of the original design but ultimately abandoned. Though it lacked sufficient power for supersonic performance, it complemented daylight dogfighters such as the Vought F8U Crusader and Grumman F11F Tiger as an all-weather, missile-armed interceptor until 1964.
It was withdrawn before it could serve in Vietnam when both it, and the Crusader, were replaced on Forrestal-class and similar super carriers by the McDonnell Douglas F-4 Phantom II. McDonnell's Phantom, which was equally capable against ground, fighter, and bomber targets, bears a strong family resemblance, as it was conceived as an advanced development of the Demon. The supersonic United States Air Force F-101 Voodoo was similar in layout, but was derived from the earlier XF-88 Voodoo, which was also influenced by the Demon's layout.
---
Variants:
XF3H-1: Prototype single-seat, clear-weather interceptor fighter. Powered by 6,500 lbf (29 kN) (9,200 lbf (41 kN) with afterburner) Westinghouse XJ40-WE-6 engine. Two built.
F3H-1N: Initial production version. Single-seat, all-weather fighter version, powered by 7,200 lbf (32 kN) (10,900 lbf (48 kN) with afterburner) J40-WE-22 engine. 58 built.
F3H-1P: Proposed reconnaissance version of F3H-1. Never built.
F3H-2N: All-weather fighter powered by 9,500 lbf (42 kN) (14,250 lbf (63.4 kN) Allison J71-A-2 engine and equipped to carry AIM-9 Sidewinder air-to-air missiles. 239 built. Redesignated F-3C in 1962.
F3H-2M: Derivative of F3H-2N armed with four AIM-7 Sparrow air-to-air missiles. 80 built. Redesignated MF-3B in 1962.
F3H-2: Single-seat, strike fighter version, retaining Sidewinder and Sparrow capability of −2N and −2M and adding payload of 6,000 lb (2,730 kg) bombs or rockets. 239 built. Redesignated F-3B in 1962.
F3H-2P: Proposed photoreconnaissance version of −2: Unbuilt.
F3H-3: Proposed version with the General Electric J73 engine: Unbuilt.
(Edited from Wikipedia)
In the end-opening box that is typical of Sword are 2 grey sprues, bagged canopy parts, a PE fret, a resin exhaust, and 2 different types of seats, both in resin.
Surface details are nicely rendered and scale appropriate. The recessed panel lines are of a consistent depth and width.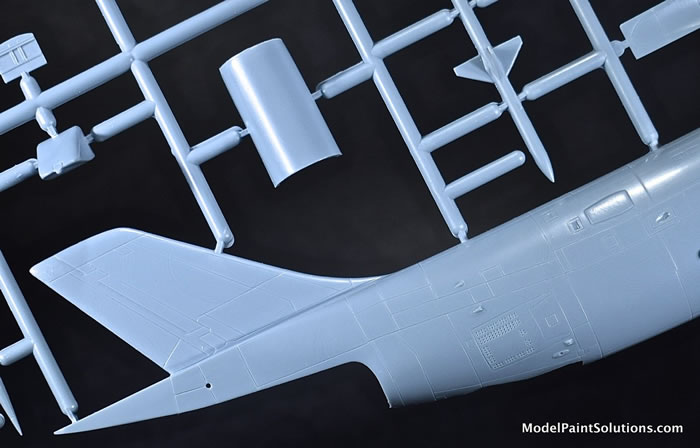 Being a limited run kit there's a bit of flash and some parts will require freshening with a scriber and micro-files but there's nothing that can't be dealt with using a bit of patience.
The parts layout and engineering is simple and conventional. Assembly starts with the cockpit (imagine that) and right off the bat the builder must decide between two different, resin seats so check your references.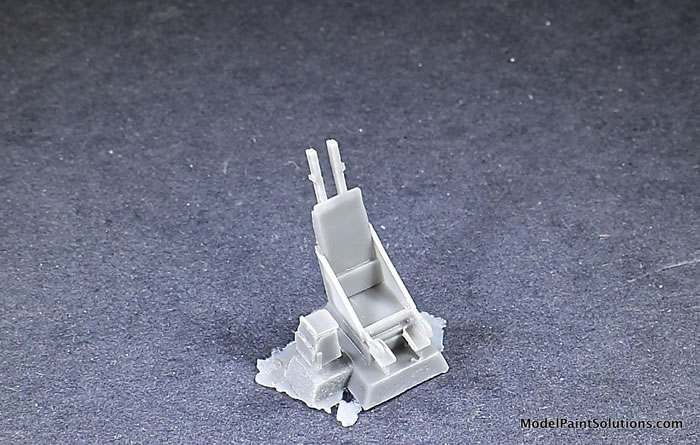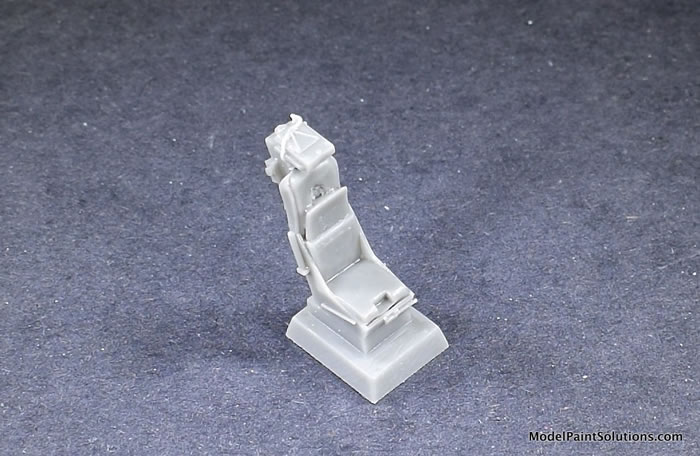 The completed cockpit is trapped between the halves of the bullet-shaped nose section of the fuselage. This assembly slips into the aft portion of the fuselage containing the assembled engine with its nicely cast resin exhaust.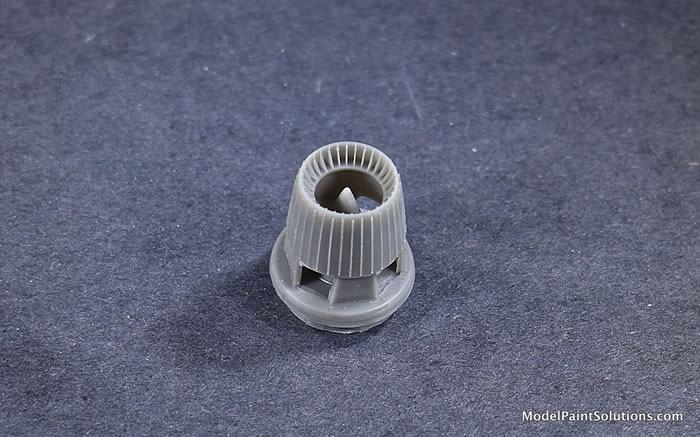 The wings are composed of upper and lower halves with crisp panel lines and surface details.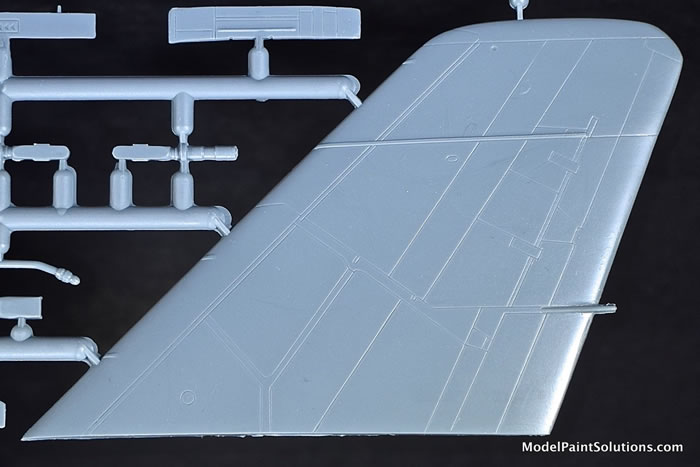 Sword must be commended for providing both the wing fences and dorsal spoilers as PE parts. These details will go a long way to producing a more convincing final result.
Some of the smaller landing gear parts have a bit of flash that will have to be dealt with prior to assembly. The single-piece wheels/tires are nicely molded, as are the nose and main gear legs.
The wing pylons for both the Sparrow and Sidewinder missiles are well detailed as are the missiles themselves. A separate small sprue of nicely molded missile fins is provided. Twin belly tanks are provided along with their pylons if you wish to put a load on your Demon.
The canopy is provided as two parts so it can be posed open if desired. The canopy parts are nicely molded and clear after a little buffing with a tissue.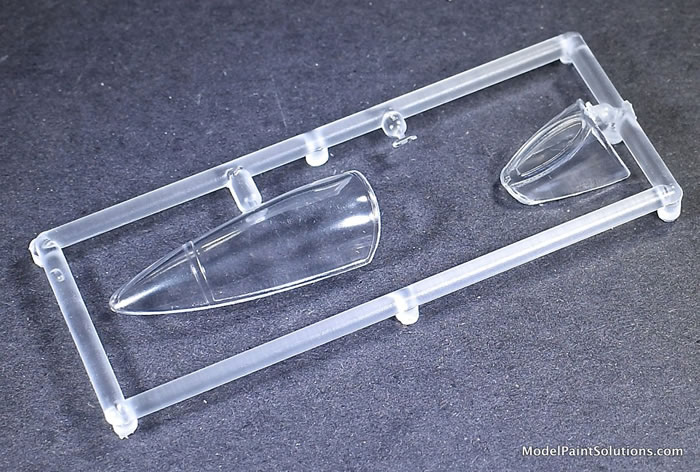 And, there you have it: no major issues lurking. Of note, the gun ports under the nose will have to be hollowed out but that's a job easily done with a fresh blade, micro-files, and patience.
---
Markings
Markings are provided for two Demons both with Light Gull Grey uppers and White lowers.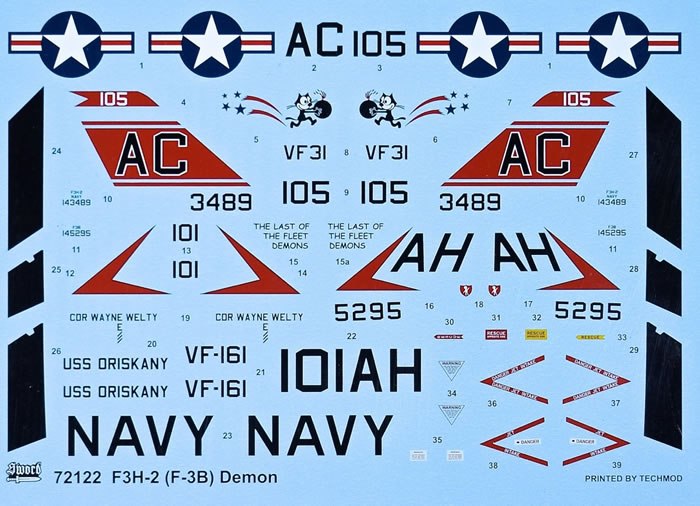 The decals, printed by Techmod, are crisp with appropriate hues and good color densities.
F3H-2, VF-31 Tomcatters, AC-105, BuNo. 143489, USS Saratoga, CVA 60, 1959.

F3H-2 (F-3B), VF-161 Chargers, AH-101, BuNo. 145295, USS Oriskany, Miramar, 1964.
This kit won't be a fast build but it will be enjoyable and produce a very nice looking model. Sword must be commended (again) for producing a quality model of a lesser-known aircraft that I've been wanting on my shelf for a while

Kit eagerly purchased by reviewer, again.

For more on this review visit Modelpaintsolutions.com
---
Text and Images Copyright © 2019 by John Miller
Page Created 30 May, 2019
Last updated 30 May, 2019
Back to HyperScale Main Page