P-47N Thunderbolt "2 in 1"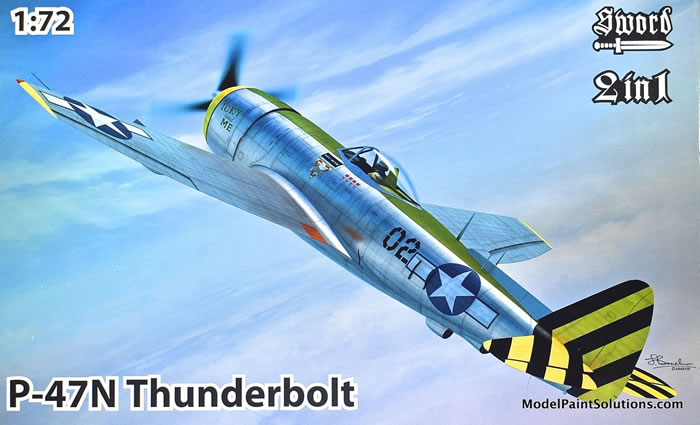 Sword, 1/72 scale
S u m m a r y

Description and Catalogue Number:
Sword Kit No. 72121 – P-47N Thunderbolt "2 in 1"
Scale:
1/72
Contents and Media:

61 parts in grey styrene (x 2), 3 clear parts (x 2), 9 resin parts (x 2), and one decal sheet with markings for four options.

Price:

Available online from these stockists:

and hobby retailers worldwide

Review Type:
FirstLook
Advantages:

The kit features sufficient parts for 2 complete models. The inscribed panel lines, rivets, and other surface details are well done and scale appropriate. A nicely detailed resin cockpit and wheel wells combined with a color-PE fret and decal sheet with makings for 4 colorful airframes are provided making this kit quite the value for the price.

Disadvantages:

Being a limited-run kit, extra work will be required to deal with flash, fit, and a slightly textured finish on some parts. In addition, some of the finer surface details will have to be refreshed.

Conclusion:

This is a very nice kit. Considering the color-PE, resin, and decals it represents quite a good deal considering the moderate price tag. This kit won't fly together as I suspect a fair amount of time will be spent with clean up and fitting some parts. That said the result will be a very nice looking N model "Jug."
Reviewed by John Miller
Well, it happened again.
I walked into my favourite hobby shop, Skyway Models, vowing to walk out empty-handed. And then I saw this double kit from Sword: uh-oh, my weak spot. I'm a die-hard P-47 devotee and a big fan of Sword models and it's a "2-fer"---that's just too much for a guy, you know?
Thanks again to the proprietor of Skyway for keeping a never-ending supply of new kits that test my ever-failing self-control.
---
Background
The Republic P-47 Thunderbolt was a World War II era fighter aircraft produced by the United States from 1941 through 1945. Its primary armament was eight .50-caliber machine guns and in the fighter-bomber ground-attack role it could carry five-inch rockets or a bomb load of 2,500 pounds (1,103 kg). When fully loaded the P-47 weighed up to eight tons making it one of the heaviest fighters of the war. The P-47 was designed around the powerful Pratt & Whitney R-2800 Double Wasp engine, which was also used by two U.S. Navy/U.S. Marine Corps fighters, the Grumman F6F Hellcat and the Vought F4U Corsair. The Thunderbolt was effective as a short-to-medium range escort fighter in high-altitude air-to-air combat and ground attack in both the World War II European and Pacific theaters.
The P-47 was one of the main United States Army Air Forces (USAAF) fighters of World War II, and served with Allied air forces including France, Britain, and Russia. Mexican and Brazilian squadrons fighting alongside the U.S. also flew the P-47.
The P-47N was the last Thunderbolt variant to be produced. It was designed as an escort fighter for the Boeing B-29 Superfortress bombers flying raids on the Japanese home islands. Increased internal fuel capacity and drop tanks had done much to extend the Thunderbolt's range during its evolution, and the only other way to expand the fuel capacity was to put fuel tanks into the wings. Thus, a new wing was designed with two 50 U.S. gallon (190 l) fuel tanks. The third YP-47M prototype (42-27387) was fitted with this wing and became the YP-47N; its designation was later changed to XP-47N. This redesigned aircraft first flew in July 1944. The redesign proved successful in extending the range to about 2,000 mi (3,200 km), and the squared-off wingtips improved the roll rate. The P-47N entered mass production with the R-2800-57 engine, and later used the upgraded R-2800-73 or -77. A total of 1,816 were built. The very last Thunderbolt to be built, a P-47N-25, rolled off the production line in October 1945.
At the end of production, a Thunderbolt cost $83,000 in 1945 U.S. dollars. A total of 15,636 Thunderbolts of all types were built.
(Edited from Wikipedia)
The kit comes in the same type of end-opening box we've come to expect from this manufacturer. What is a very detailed and comprehensive model is surprisingly conveyed on only 2 sprues of light grey styrene. And speaking of "2," all of the parts detailed below are provided in duplicate allowing for a pair of "Jugs" errrr…….P-47s to be assembled
Recessed surface details are nicely done, especially the rivets and panel fasteners. Although abundant and scale-appropriate some of the details are uneven and a bit soft in places.
A little refreshing with micro-files and a scriber is all that will be needed and the result will be more than sufficient.
The cockpit, seat, engine, wheel wells, and wing guns are provided in nicely cast resin.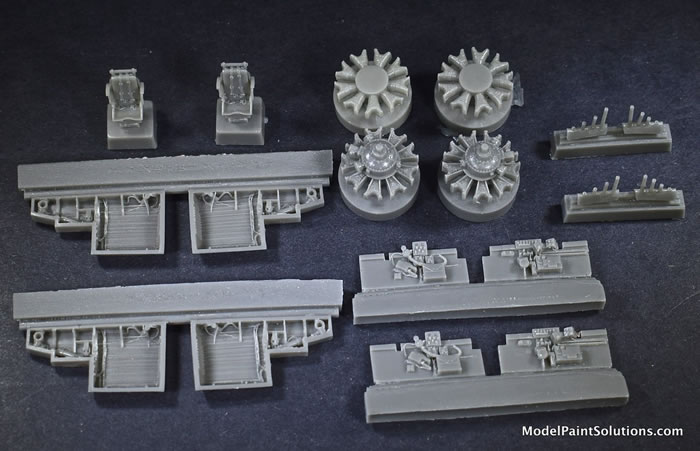 The clear parts consisting of the windscreen, sliding canopy, and gun site are clear and crisply molded.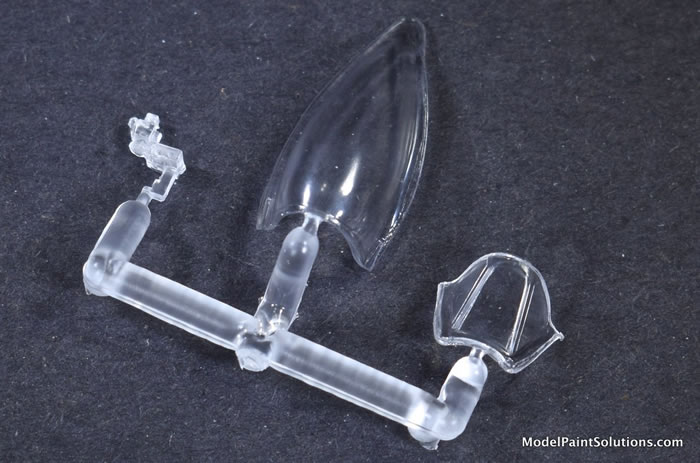 The colored PE fret carries a well-detailed instrument panel, seat belts, and engine ignition harness.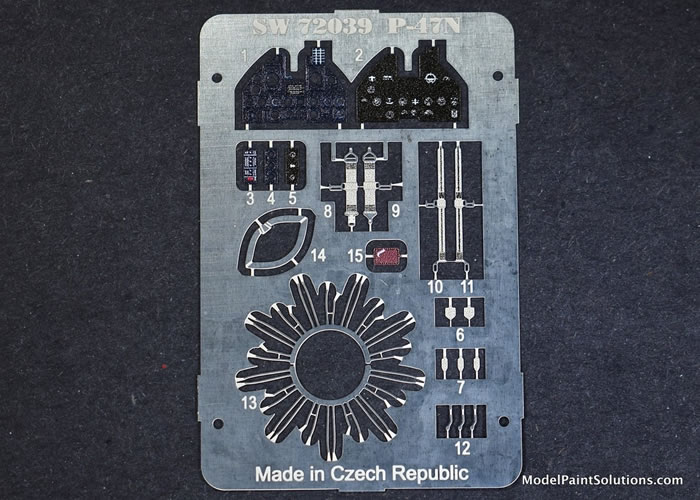 The last item, in particular, goes a long way to dressing up the large, resin R-2800 that will be very visible through the open cowl when complete.
---
Assembly Sequence
The build is conventional starting with the nicely detailed resin cockpit and engine. A detailed tail wheel well complete with bulkheads is assembled into one of the fuselage halves along with the impeller for the turbocharger that will be visible if viewed from the belly through the waste gate vent: very nice.
The completed engine, cockpit, and tail wheel well are then trapped between the fuselage halves and with the addition of the one-piece horizontal stabilizer/elevator assemblies the fuselage is largely complete.
Nicely detailed main wheel wells cast from resin fit into the wings comprised of single-span upper and lower halves. The wing surface detail is as beautifully done as the fuselage but will require a little refreshing here and there. The wings slip onto spars that extend from each side of the fuselage completing the airframe.
The main gear legs, wheel well doors, and wheels are nicely molded and feature separate wheel hubs that insert into the tires.
Should you want to depict your "Jug" configured for a long-range B-29 escort mission, nicely detailed wing hard points and a centerline mount are provided for wing tanks and a belly tank respectively.
With the addition of the two-piece canopy, posed open or closed, this nicely detailed T'bolt is done. I don't see any nasty surprises here beyond what would be expected for such a detailed yet limited-run kit.
---
Markings
The decals, by Techmod, are crisply printed with appropriate color and hue.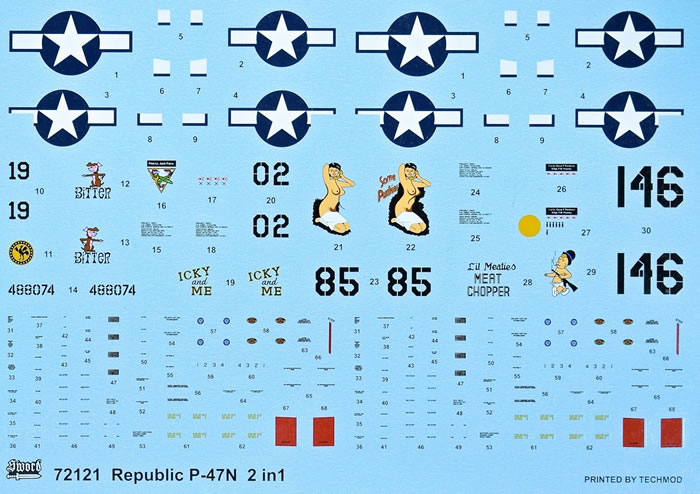 Two decal sheets are supplied.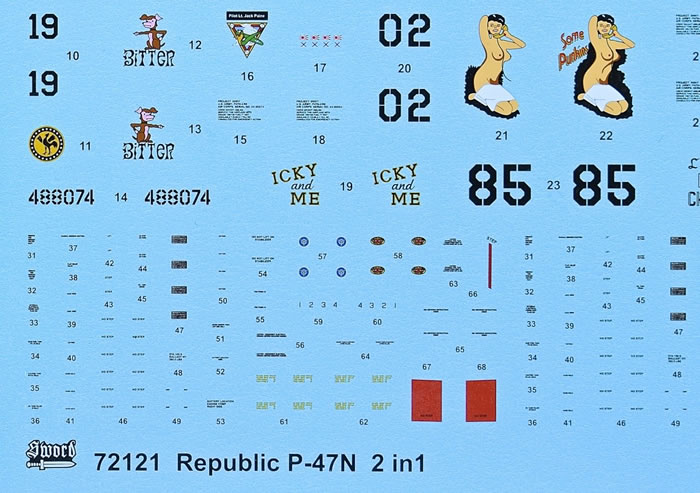 In addition to complete airframe stencil data, markings are provided for 4 airframes as follows:
P-47N, 333rd FS, 318th FG, 7th, Le Shima, Japan 1945
Pilot: Lt. Jack Payne

P-47N, 73rd FS, 318th FG, Le Shima, Japan 1945

P-47N, 464th FS, 507th FG, Le Shima, Japan 1945. Pilot: Lt. Oscar F. Perdomo

P-47N, 19th FS, 319th FG, Saipan, Japan 1945
I like Sword kits and this "2-fer" P-47 set is an awesome value. As with most Sword offerings, this is a very detailed kit that will build into a convincing model but a "Tamigawa" it is not. A fair amount of time will be invested in cleaning parts, refreshing details, and test-fitting the major (and yes, minor) components prior to committing with glue. That said the result should be a head-turner as the level of detail throughout is impressive. Thanks again Sword!

Kit eagerly purchased by reviewer, again.

For more on this review visit Modelpaintsolutions.com
---
Text and Images Copyright © 2019 by David Couche
Page Created 30 April, 2019
Last updated 30 April, 2019
Back to HyperScale Main Page