Douglas C-133A Cargomaster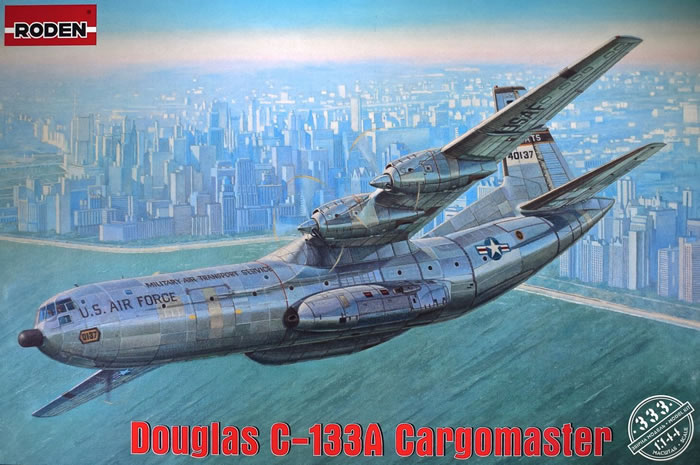 Roden, 1/144 scale
S u m m a r y :

Description and Item No.:

Roden Kit No. 333 - Douglas C-133A Cargomaster

Contents and Media:

133 parts in light grey styrene, 28 clear parts, and decals covering one airframe.

Price:

£28.33 Plus Shipping at Hannants

Scale:

1/144

Review Type:

First Look

Advantages:

The kit parts are well molded with inscribed panel lines and scale appropriate surface details. The windscreen part is crystal clear and the decal sheet is crisply printed.

Disadvantages:

As with any limited-run kit, most sprues show a little flash and some parts will require cleaning up prior to use.

Recommendation:

This is a nicely molded, well-detailed model of a rare (and large!) aircraft that should pose no issues to anyone with a little experience with limited-run kits (or patience).
Reviewed by John Miller


Airfix's 1/72 scale Tomahawk Mk. IIB is available online from Squadron.com
Have you ever seen a kit up that's completely outside your normal modeling diet yet, for some inexplicable reason, you're drawn to it? So it was with this C-133A Cargomaster from Roden. I'm usually a single-seat, single-engine, WWII kinda guy but the size, detail, and novelty of this kit caught me off guard. I suspect the evil and scheming proprietor of Skyway Models, my favourite local hobby shop, sensed my weakness and had planned accordingly: like a moth to a flame.
---
Background:
The Douglas C-133 Cargomaster is a large American turboprop cargo aircraft built between 1956 and 1961 by the Douglas Aircraft Company for use by the United States Air Force. The C-133 was the USAF's only production turboprop-powered strategic airlifter, entering service shortly after the Lockheed C-130 Hercules, which is designated as a tactical airlifter. It provided airlift services in a wide range of applications, being replaced by the C-5 Galaxy in the early 1970s.
The C-133 was designed to meet the requirements for the USAF's Logistic Carrier Support System SS402L for a new strategic transport. The aircraft differed considerably from the C-74 Globemaster and C-124 Globemaster IIs that preceded it. A high-mounted wing, external blister fairings on each side for the landing gear, and rear-loading and side-loading doors ensured that access to, and the volume of, the large cargo compartment were not compromised by these structures. The cargo compartment (90 ft/27 m in length and 12 ft/3.7 m high) was pressurized, heated, and ventilated.
The Cargomasters went directly into production as the C-133A; no prototypes were built. The first Cargomaster flew on 23 April 1956. The first C-133As were delivered to the Military Air Transport Service (MATS) in August 1957 and began flying MATS air routes throughout the world. Two C-133s established transatlantic speed records for transport aircraft on their first flights to Europe. The fleet of 50 aircraft proved itself invaluable during the Vietnam War. The Cargomaster soldiered on until the Lockheed C-5 Galaxy entered service in the early 1970s. The C-133 was then retired and most airplanes were cut up within months of being delivered to Davis-Monthan Air Force Base, Tucson, Arizona, after their final flights in 1971.
Fifty aircraft (35 C-133A and 15 C-133B) were constructed and put into service with the USAF. A single C-133A and a C-133B were built and kept at Douglas Long Beach as "test articles". They had no construction numbers or USAF tail numbers.
The C-133A carried many large and heavy loads, including the Atlas and Titan missiles. Interestingly, the C-133 was not specifically designed to transport ICBMs; it may have been the reverse. The C-133 design was frozen by 1955 in order to build the airplanes that first flew in April 1956. The designs of both the Atlas and Titan were not firm until after 1955, when their contracts were signed. With the C-133B, the rear cargo doors were modified to open to the side (petal doors), making ICBM loading much easier. Transporting the ballistic missiles such as the Atlas, Titan, and Minuteman was much less expensive, safer and faster than road transport. Several hundred Minuteman and other ICBMs were airlifted to and from their operational bases by C-133s. The C-133 also transported Atlas, Saturn, and Titan rockets to Cape Canaveral for use as launch boosters in the Gemini, Mercury, and Apollo space programs.
After the Apollo capsules splashed down, they were airlifted in C-133s from Naval Station Norfolk, Virginia, or Hickam AFB, Hawaii, to Ellington AFB, Texas, or California.
Edited from Wikipedia.
The kit comes in a surprisingly large, lidded box adorned with art depicting a C-133A in flight. Upon removing the lid, one is again struck with the size of the model: a testament to the incredibly large size of the 1/1 version.
The 133 light grey, styrene parts are conveyed on 10 sprues. There are a lot of parts in this box for a 1/144th aircraft kit.
The overall level of surface detail is very nice with inscribed panel lines that are restrained and scale-appropriate.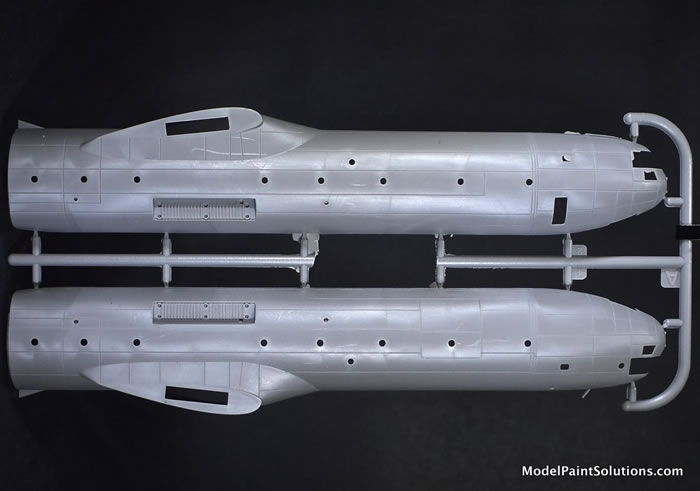 Some of the larger parts have a slightly textured surface that will have to be dealt with by a combination of priming and buffing if you opt to go for a convincing natural metal finish (NMF): the primary livery worn by the type.
---
Assembly Sequence:
The kit features simple, conventional engineering beginning with a nicely detailed cockpit comprised seats (with arm rests), yokes, and panels.
The cockpit and nose wheel well assembly are then trapped between the forward fuselage halves.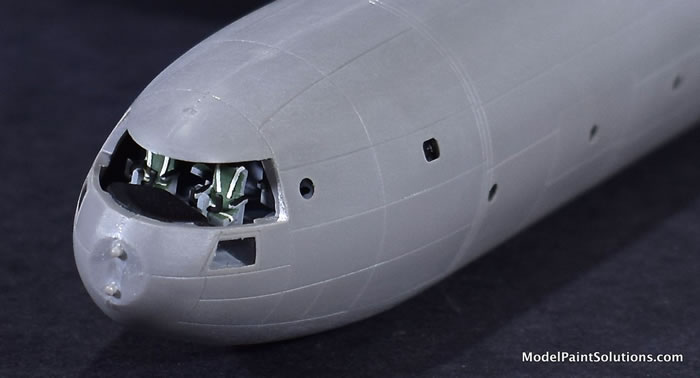 The aft portion of the fuselage and empennage are assembled separate from the forward section. Although the fit of the forward and aft sections is quite nice, the joining of the two results in a seam that requires dressing.
The nicely molded wings and horizontal stabilizers (each comprised of upper and lower halves) are added along with the 4 engine nacelles and single-piece propeller-hub assemblies.
The main and nose gears are as nicely molded. The wheels (8) are well molded but unfortunately comprised of halves (16). The gear doors are similarly detailed with individual actuators that will add a lot of detail to the completed model.
The multi-paneled windscreen is crispy molded and very clear. The 21 porthole windows are clear and completely useable. That said the window holes are sufficiently small so as to be filled with a drop of Liquid Crystal Clear on the tip of a toothpick during the final stage of the build.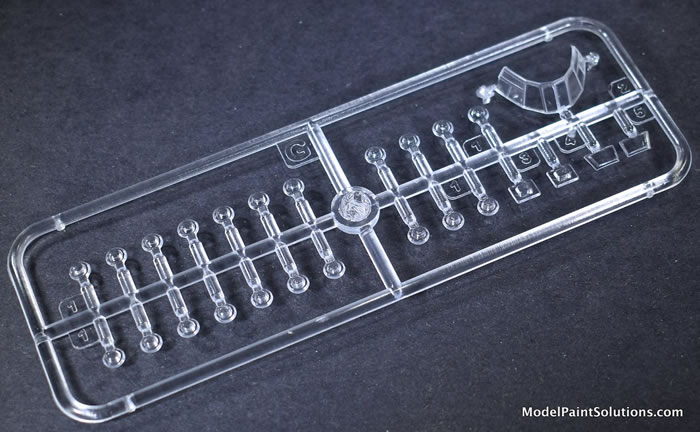 One thing is for sure: this hummer is going to be pretty big when completed.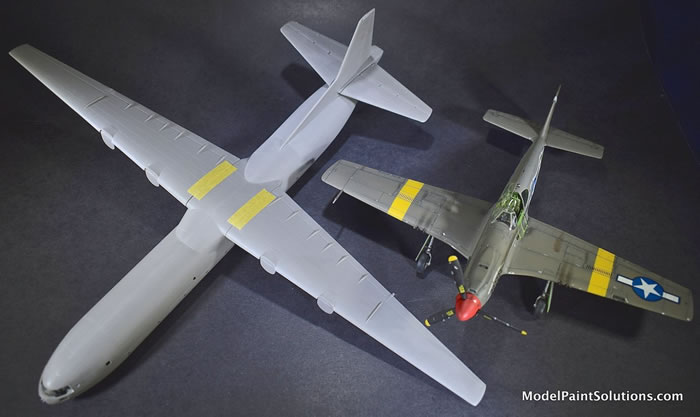 Note the relative size of the C-133 when sitting next to the old Accurate Miniatures 1/48th A-36 Apache.
---
Markings
The decal sheet, printed by Roden, is crisp with good color opacity, hue, and registration.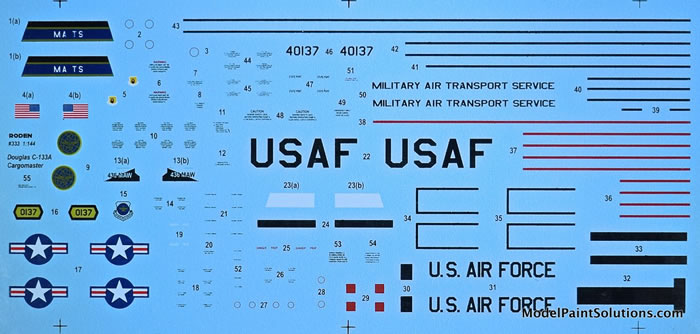 One airframe is covered:
Douglas C-133A-1-DL Cargomaster, s/n 540137,436th Military Air Wing, U.S. Air Force, 1970
This is a very nice kit with good fit of all the major components. The surface details are nicely rendered and the simple design should permit a fast and easy build. The result will be a head-turner for both it's size and novelty. Well-done Roden! Recommended!
Now go paint something!
For more on this review visit ModelPaintSolutions.com
Kit purchased by the reviewer
---
Review Text and Images Copyright © 2019 by John Miller
Page Created 8 May, 2019
Last updated 8 May, 2019
Back to HyperScale Main Page
Back to Reviews Page