Kinetic Gold Series 1/48 scale
F-104G Luftwaffe Starfighter
Preview

Kinetic has sent information and images of their brand new 1/48 scale F-104G Luftwaffe Starfighter in the Gold series. You may pre-order now for just USD$39.99 from Lucky Model's website:
(** Boxart subject to final adjustment **)
The Lockheed F-104 Starfighter is a single-engine, supersonic interceptor aircraft which later became widely used as an attack aircraft. Initially a day fighter, it was developed into an all-weather fighter in the late 1960s. It was originally developed by Lockheed for the United States Air Force (USAF), but was later produced by several other nations, seeing widespread service outside the United States. One of the Century Series of fighter aircraft, it was operated by the air forces of more than a dozen nations from 1958 to 2004. Its design team was led by Kelly Johnson, who contributed to the development of the Lockheed P-38 Lightning, Lockheed U-2, Lockheed SR-71 Blackbird, and other Lockheed aircraft.
1,122 aircraft of the main version produced as multi-role fighter-bombers. Manufactured by Lockheed, and under license by Canadair and a consortium of European companies that included Messerschmitt/MBB, Dornier, Fiat, Fokker, and SABCA. The type featured strengthened fuselage and wing structure, increased internal fuel capacity, an enlarged vertical fin, strengthened landing gear with larger tires, and revised flaps for improved combat maneuvering. Upgraded avionics included a new Autonetics NASARR F15A-41B radar with air-to-air and ground mapping modes, the Litton LN-3 Inertial Navigation System (the first on a production fighter), and an infrared sight.
---
Model Kit
Bare Metal Finishing:
Follow by the M346, F-104G is the second fully new tooled kit conform to the Kinetic Gold series. In additional to the quality standard, in view of the F-104 subject, many paint scheme or F-104 require bare metal finishing. Our engineering people make use of the advance mirror EDM system in additional the high precious 5-axis CNC to create a mirror effect plastic surface.
Rivets:
The rivet detail on the wing and fuselage now make use of laser engraving to provide an uniform precious dot throughout the surface.
Features of the Kit:
In addition of the standard flaps and slats, the F-104G kit also provide :
Two types of ejection seats (C-2/GA-7A) among different operator/airframe
Radar module
Avionics Bay (behind the cockpit)
Detail NLG wheel well.
Bulged tires
Model Features:
| | |
| --- | --- |
| | |
| C-2 ejection seat | Martin Baker GQ-7A seat |
| | |
| Radar | Avonics Bay |
| | |
| Detail Landing Gear Bay | |
Decals (designed by CrossDelta)
---
Markings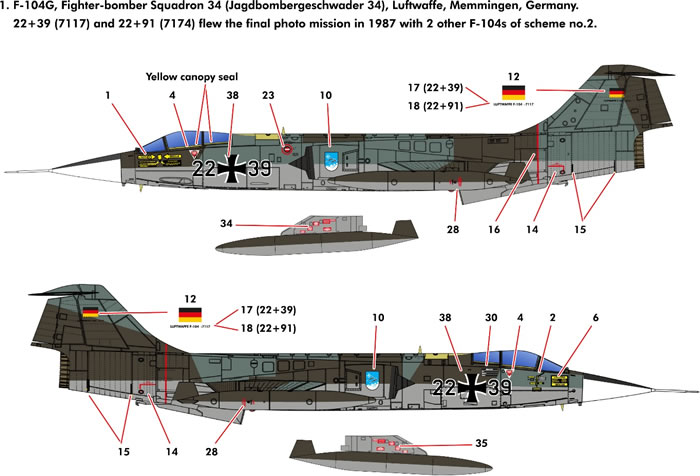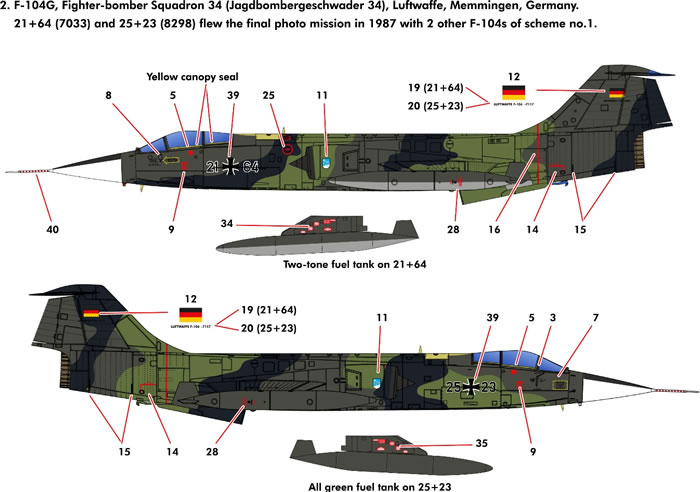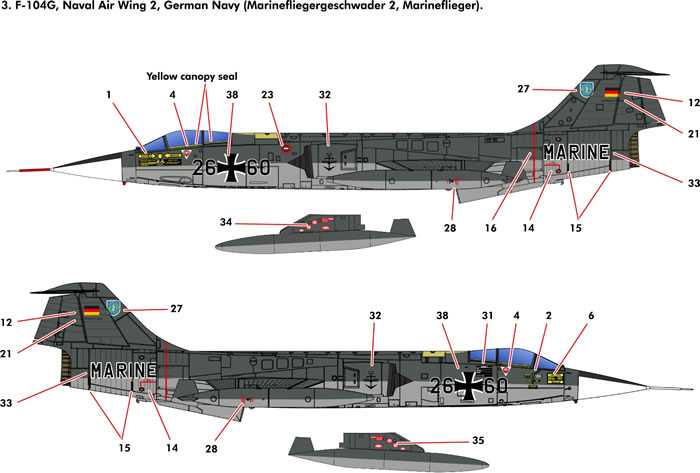 The product release date will be 28 June 2019.
Thanks to Lucky Model for the information and images.
---
Text and Images Copyright © 2019 by Kinetic
Page Created 31 May, 2019
Last updated 31 May, 2019
Back to HyperScale Main Page