F-16C Turkish Air Force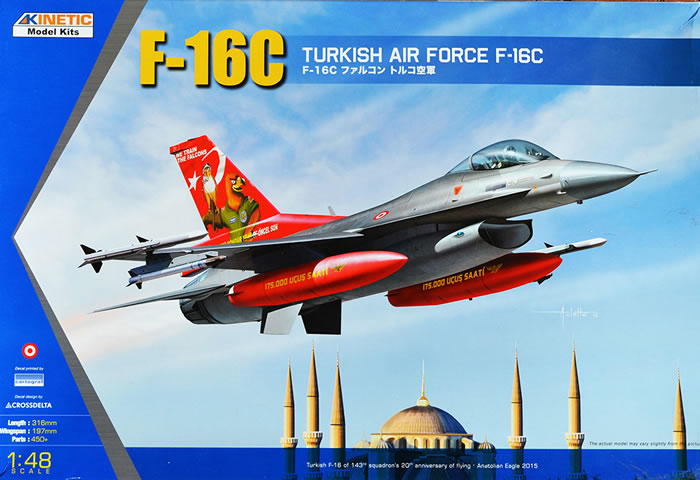 Kinetic, 1/48 scale
S u m m a r y

Item No.
Kinetic Model Kits Item No. K48069 - F-16C Turkish Air Force
Contents and Media:
307 grey injected moulded parts, 27 clear parts, 1 sheet decals and instructions..
Scale
1/48
Price:
USD$39.99 plus shipping available online from Lucky Model
Review Type:
FirstLook
Advantages:
Colourful anniversary scheme, this time for the F-16C. Nice detail, well moulded.
Disadvantages:
Painting guide is in B&W only.
Recommendation:

To me as a lover of great anniversary schemes, this kit really does provide not only a great couple of schemes but also a well detailed and moulded kit to really complete a great package.
Reviewed by David Couche

HyperScale is proudly supported by Squadron.com
In 1984 Turkish Aerospace Industries (TAI) was established and Turkey started to produce fighter aircraft locally under license, including a total of 232 F-16 Fighting Falcon (Block 30/40/50) aircraft for the air force.
The air force had previously received 8 F-16s that were purchased directly from the United States, bringing the total number of F-16s received by the air force to 240. TAI is currently building 30 new F-16 Block 50+ aircraft for the TuAF and is applying a CCIP upgrade on the existing fleet of Block 30/40/50 F-16s, which will bring all of them to the Block 50+ standard.
Dozens of TAI-built F-16s were also exported to other countries, particularly in the Middle East. A total of 46 TAI-built F-16s have been exported to the Egyptian Air Force under the Peace Vector IV Program (1993–1995), making it TAI's second-largest F-16 customer after the Turkish Air Force.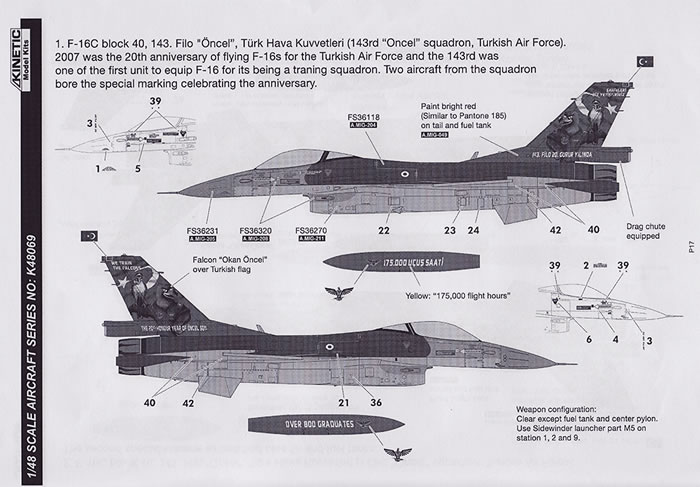 Turkey is one of only five countries in the world which locally produce the F-16 Fighting Falcon. Turkey not only built many of their aircraft, they also produced airframe assemblies for other production Vipers for Lockheed-Martin.
Turkey also kept their aircraft up-to-date with the Common Configuration Implementation Program (CCIP), which provided the latest capabilities like the AIM-9X, AIM-120, and more. The Turkish Vipers provide air defence of their national borders/airspace in addition to supporting NATO operations. You might remember the Russian Su-24 that Turkey shot down in 2015, but they've also downed a Syrian MiG-23 in 2014 as well.
On October 2007, the Turkish Air Force celebrated the 20th Anniversary of its F-16 aircraft in Ankara. The 143rd "Oncel" Squadron was one of the first units to equip with the F-16 so 2 aircraft bore the special marking celebrating this anniversary.
Upon opening the largish top opening box from Kinetic, you are greeted with a box full of plastic. Kinetic Models always give you plenty for your money. There are many sprue trees holding a large number of parts. This will not be a quick build kit. There are a total of 307 grey injected moulded parts. These are moulded very cleanly with little or no flash or really prominent mould seams. More detail below. There are 2 sprues of clear parts, 1 large sheet of decals and a B&W instruction booklet. I'll now look at each section in more depth. Before getting underway, an interesting point is that Kinetic have created sprue trees that match to specific sections of the aircraft, for example, the single seat nose and cockpit, intake/engine sections, undercarriage etc. A nice move Kinetic.
Sprue A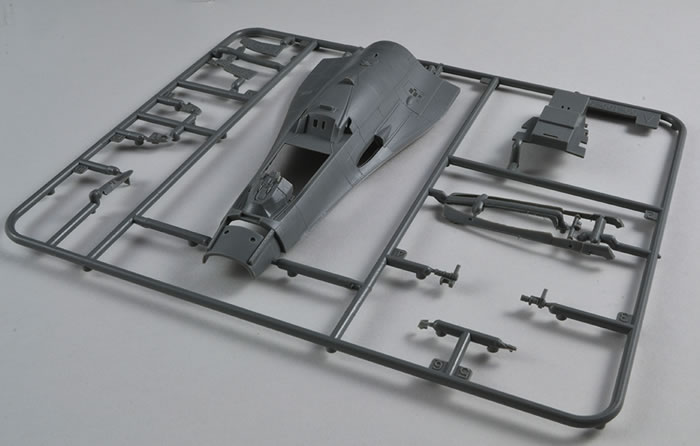 Sprue A has 12 parts on it, with them being a F-16C single seat front fuselage and cockpit tub as well as the canopy frame.  The moulding is fine recessed lines with raised detail as is appropriate on the real aircraft. There is fine riveting which will add to the final look but certainly not smother the airframe as occasionally happens.
---
Sprue C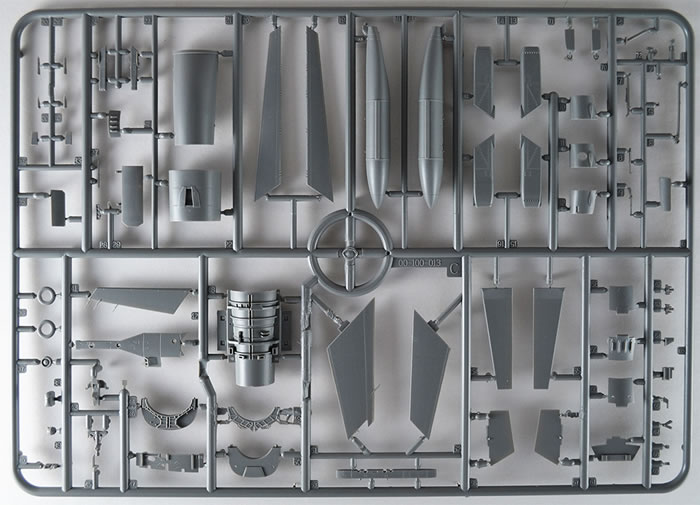 This sprue has 69 parts on it. This sprue has the main parts of the aircraft on it such as main wheel bay, centreline drop tanks, tail and rudder as well as a number of other parts.
---
Sprue D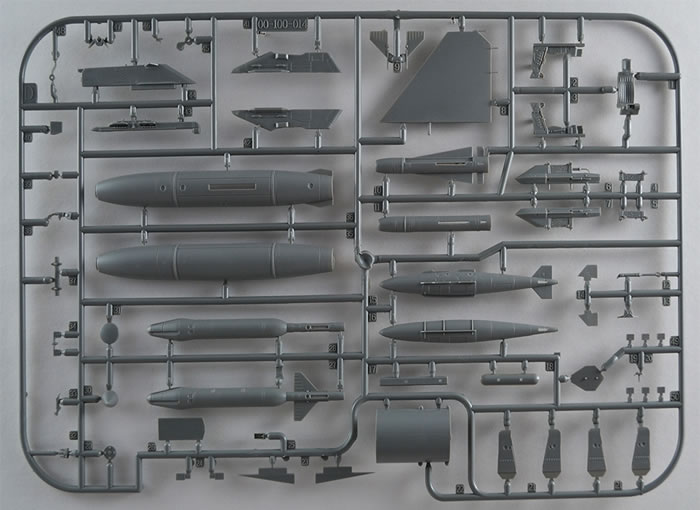 Sprue D has 54 parts on it and there are 2 of these in the box. This sprue is for the underwing drop tanks as well as all of the armament options which is quite comprehensive with AGM-65's, GBU--24's and -31's supplied. If you make either of the anniversary scheme aircraft, I can find no photos of these carrying any load apart from tanks so your spares box will gain a large quantity.
---
Sprue F
Here we have the tail base and parts to make the airbrakes at the tail to add a grand total of 15 parts.
---
Sprue H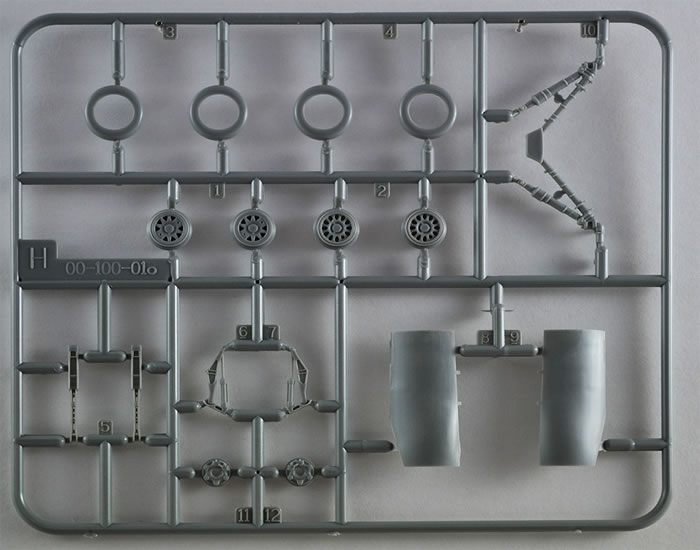 And on to sprue H. Here we are given the undercarriage parts, main undercarriage doors and wheels. The 2 piece wheels have separate hubs which does make painting much easier.
---
Sprue I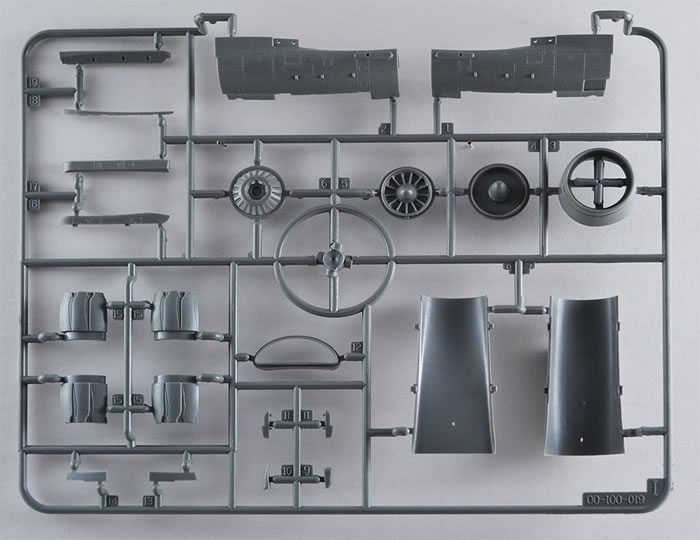 Sprue I is the intake and has 23 parts on it. The main intake trunking is moulded so seams are in the upper corners, not in the centre as a line to remove. Good move Mr Kinetic. This structure is then sandwiched between the outer intake sections with a one piece mouth enabling a clean assembly job and hopefully a great base for your paint. This sprue also gives us the tail pipe for the Turkish F-16.
---
Sprue M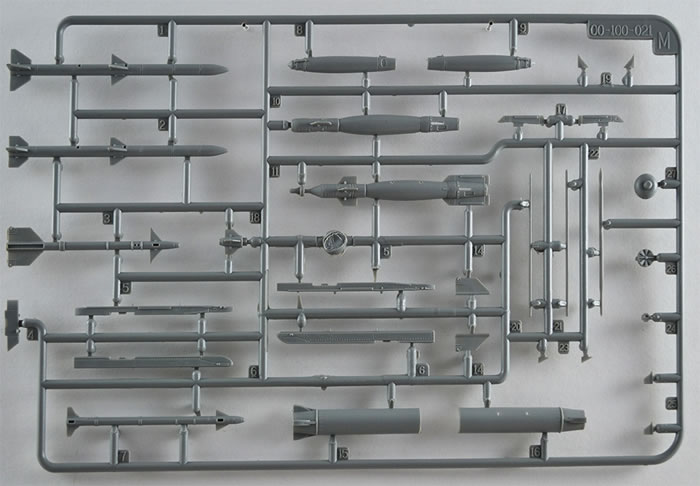 Sprue M, of which there are 2, supplies us with a further 54 parts for even more weapons, in this case AIM-9X, 9M, 120B/C as well as GBU-12's. More parts to the spares?
---
Unlabelled Sprues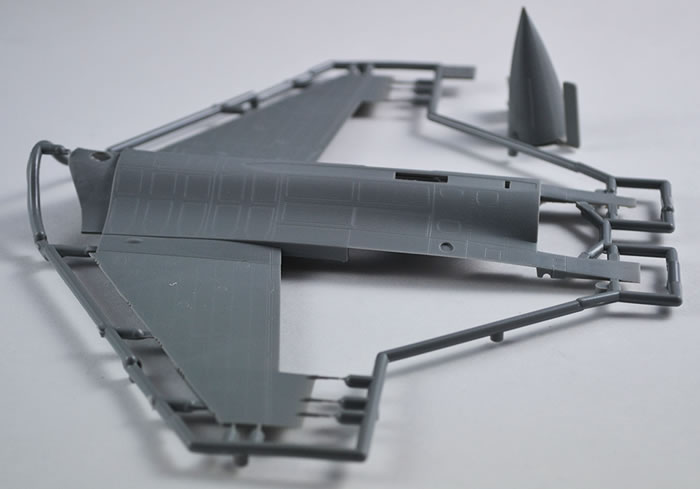 There are 3 sprues that are unlabelled but are pretty obvious. These being the upper fuselage, which is the section from behind the cockpit to the tail, the lower fuselage which is a one piece full length piece, most suitable for a base to build upon. The third of these is the nose cone as a one piece moulding which has nice detail.
---
Sprue HH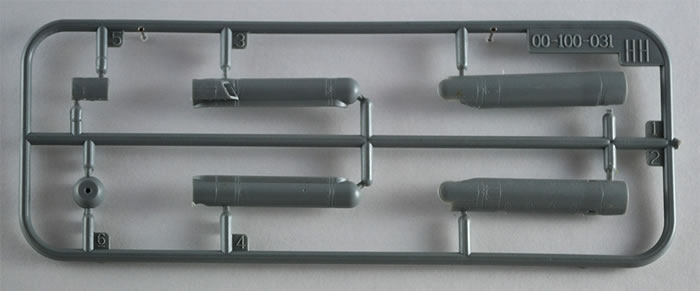 A sprue of 6 parts that has parts for both the AN/AAQ-13 and the AN/AAQ-14  ECM pods upon it.
---
Sprues Z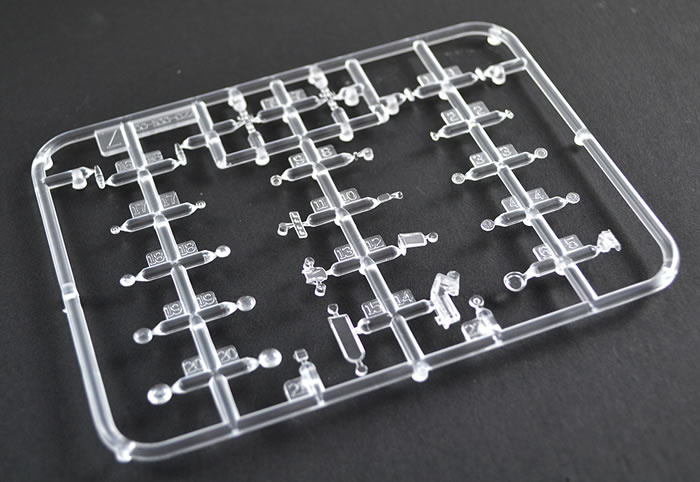 This is the clear sprue. There are 25 nice and clear parts, mainly light covers and parts for the fuselage. In a separate bag is sprue ZZ has the canopy hood and canopy front on it. Cast beautifully clear, it does have the small centreline mould seam needed to get the blown section correct.
Nothing a few minutes with your Micromesh pads won't cure.
---
Markings and Instructions
The decal sheets for this anniversary aircraft are comprehensive. A large sheet has the all of the decals, including basic airframe stencilling. There is also a full set of weapons stencils which actually takes over half of this sheet, but many of these won't be used. Decals appear to be in perfect register and have been produced by Cartograf so there should be no issue in their application.
The instruction sheet is an A4 booklet in B&W. The instructions are quite well laid out and labelled. Kinetic uses Mig paint call outs throughout the kit, but if you're not a Mig user I sure a quick conversion chart will get you to the right colours. My only problem with these instructions, as with all Kinetic kits, would be to have the painting and decaling instructions in colour, especially for such a complex scheme. It just needs to be a separate sheet which would be more than adequate. I do have to mention that Kinetic have struck again with a mystery point they seem to regularly have. They mention that there should be a Sprue OO in the instructions but it is not in the box so Mr Kinetic?
Schemes supplied are:
F-16C Block 40, 143 Filo "Oncel" TuAF, Ankara, October 2007 – red tail

F-16C Block 40, 143 Filo "Oncel" TuAF, Ankara, October 2007 – blue tail

F-16C Block 40, 93-0672, 132 Filo "Hancerler (Dagger)" TuAF, "Anatolian Eagle 2015" exercise, Konya, Turkey
This is a really good kit with great detail, well moulded of an incredibly interesting Turkish Air Force F-16C in an Anniversary Scheme….how can you go wrong?
Highly Recommended.
Thanks to Lucky Model for the samples
---
Review Text and Images Copyright © 2019 by David Couche
Page Created 11 February, 2019
Last updated 12 February, 2019
Back to HyperScale Main Page
Back to Reviews Page