"The Longest Day"
Spitfire Dual Combo
Eduard, 1/72 scale
S u m m a r y

Catalogue Number and Price:

Eduard Kit No. EDK2125 - "The Longest Day" Spitfire Dual Combo

USD$44.95 plus shipping available online from Eduard

GBP£29.99 EU Price (£24.99 Export) plus shipping available onlune from Hannants


Scale:
1/72
Contents and Media:
Two kits to be built from 328 grey injected moulded parts (86 not used), 30 clear parts, 2 sheets of painted photo-etch, decals, masks and comprehensive instructions.
Review Type:
FirstLook
Advantages:
Two full models with crisp yet subtle moulding with high level of detail, Eduard's usual high quality instructions. The dual combo lets you build one IXc and and IXe version.
Disadvantages:
There is some fairly prominent mould marks on some of the parts and you can only build one of 2 IXe versions.
Conclusion:
A chance to add some lovely black and white striped Spitfires to the collection, all flying during the invasion of France. Wonderful kits!

Reviewed by David Couche

Eduard's 1/72 scale Fw 190 A-5/A-8 Grunherz Limited Edition Dual Combo
is available online from Squadron.com
The Spitfire Mk IX came to being as a stop gap measure whilst waiting for the Mk VII and VIII Spitfires. With the development of the Merlin 61/63/66 and 70 series engines, with a two-stage, two-speed supercharger requiring an intercooler, several important modifications were made to the basic airframe and applied to all aircraft powered by these engines. The longer Merlin 61 meant the nose forward of the engine/fuel tank bulkhead was 7 inches (17.8 cm) longer. An intercooler was mounted behind the engine, on the supercharger casing. A small rectangular air scoop for a "Heywood" air compressor was fitted on the starboard upper engine cowling.
The carburettor air intake on early to mid-production Spitfire IXs was a different shape from those of single-stage engined aircraft; they were shorter and had a wider air inlet. From 1943, an "Aero-Vee" tropical filter in a long, streamlined fairing was introduced for the carburettor air intake. This was fitted as standard to all Mk VIIs, VIIIs, PR Mk Xs and Mk XVIs, on mid to late production Mk IXs, and to most PR Mk XIs.
A new 10 ft 9 in (3.27 m) diameter four-bladed Rotol propeller was fitted, housed in a pointed spinner. The exhaust units were changed to six "fishtail" stacks per side. Under the nose, the three piece cowling was changed to a one piece layout. The oil tank was no longer a part of the cowling structure. Early Mk IXs had a teardrop shaped blister for a Coffman engine starter on the lower starboard side cowling, just behind the propeller. This was replaced by an improved electric starter on most two-stage Merlin powered Spitfires and, from late 1942 the blister was seen on only a few aircraft.
The Type C wing was fitted as standard. Some mid and most late production Spitfire Mk IXs and all Mk XVI were fitted with the Type E wing. While Spitfire IXs converted from Mk VCs had the large teardrop fairings on the upper surfaces, on the majority of Mk VIIs, VIIIs, IXs and XVIs the teardrop shaped blisters covering the Hispano feed motors were reduced in size and more streamlined than those on the Mk VC. According to A.P 1565J P & L (Spitfire IX, XI and XVI Pilot's Notes) the red painted undercarriage indicator rods, which projected through the tops of the wings when the undercarriage was down, were used only on early production Mk IXs. When fitted these rods supplemented an "Electric visual indicator" mounted on the instrument panel.
Because the intercooler required a radiator, the radiator under the starboard wing was halved in size and the intercooler radiator housed alongside. Under the port wing a new radiator fairing housed a square oil cooler alongside the other half-radiator unit. When the engine was running at low speed, one radiator section provided enough coolant; a thermostatic switch turned off the starboard radiator section until more power was called for and extra engine cooling was required.
Other structural changes included flush riveting for the fuselage, introduced in mid-1943. A streamlined round rear-view mirror, with a bullet-shaped fairing replaced the rectangular version. On new production Mk IXs the small, teardrop shaped identification light behind the radio mast was removed.
While early Mk IXs converted from Mk VCs had the original (smaller) elevator horn mass-balances, most had the enlarged version with the straightened leading edge. A new rudder of greater area, which could be identified by a "pointed" tip, was fitted to many Mk VIIs, Mk VIIIs, and mid to late production Mk IXs and Mk XVIs.
The main undercarriage legs, for the first time in the Spitfire's life, were fitted with forward-facing torque links. In addition, the leg doors were slightly concave, allowing the undercarriage to sit lower in the wheel wells when retracted: this meant the upper wing skinning was free of the small bulge which had hitherto been necessary to clear the wheels. The wheels themselves were a new strengthened Dunlop AH10019 "four spoke" pattern, replacing the "five spoke" pattern used since the first Mk Is. This revised undercarriage was also fitted on some mid to late Mk IXs and all Mk XVIs.
The wing types were the "c" wing or the "universal wing" with 2 20mm Hispano cannons and 4 .303 calibre machine guns in the outer wings. The "e" varied from this with the removal of the small calibre .303 guns and replaced with either another 2 20mm Hispano's or 2 .50 calibre heavy machine guns to deal with the more heavily armoured opponents they were facing. The outer wing gun bays remained but were empty of any equipment.
Introductory text courtesy of Wikipedia
The sturdy Eduard box is packed full with 10 sprues of grey injected moulded, finely detailed parts with 328 parts on them which enables you build 2 completed models but only one of each variant, the IXc and IXe. Upon careful examination of the instructions I find that 86 of these parts are not to be used in these versions, so the spares box will have plenty added to it.
There are 2 clear sprues, each containing 15 very clear parts, 2 sheets of painted photo-etch with one for each variant of each aircraft, decals for 6 different aircraft, masks and a large sheet of decals complete with stencils and the usual comprehensive instruction booklet. All sprues are cleanly moulded with no flash evident, although a few of the parts exhibit some degree of moulding lines and sprue gates to the parts appear to have been created to minimise their effect on the parts.
Sprue A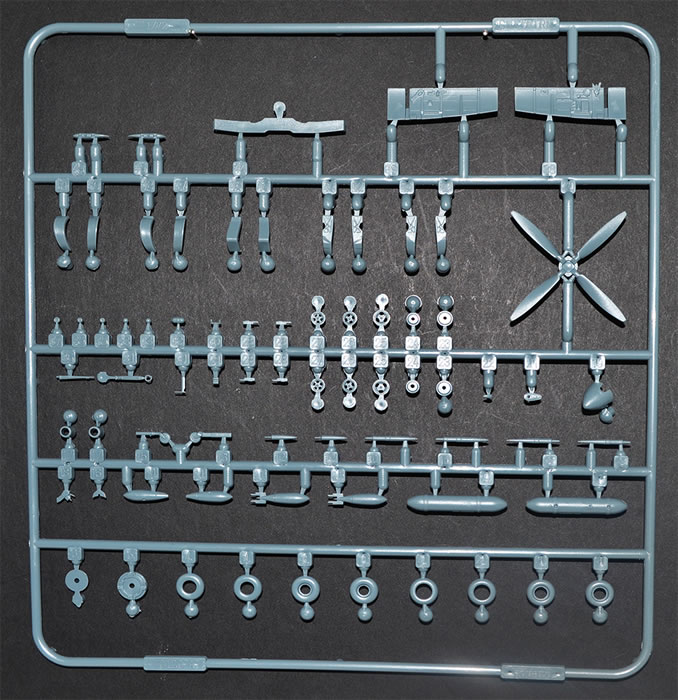 Sprue A is home to 72 grey injected moulded parts of which 14 are not used. Found here are the wonderfully detailed cockpit walls, prop, and wheel bay sections as well as a choice of wheel hubs and wheels.
---
Sprue B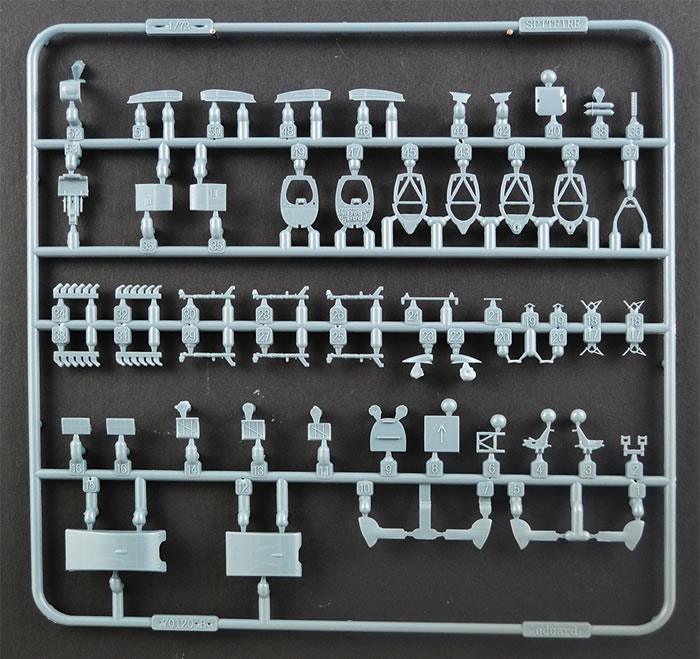 Another busy sprue with 59 parts on it with 13 of these not troubling the scorer this time around….straight to the spares! Here we have the cockpit parts including the instrument panels (with and without detail moulded on it), cockpit frames seat etc, undercarriage doors, drop tanks and many other smaller parts.
---
Sprue C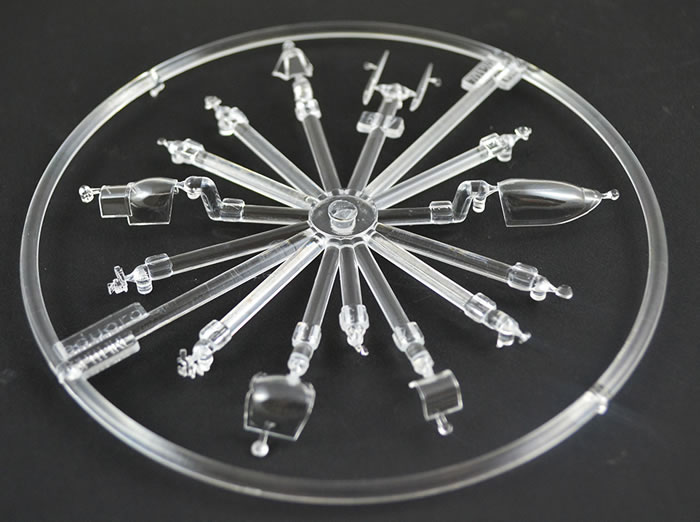 This is the clear sprue with 15 parts on it, with 8 of these not used. The reason for this is that this sprue contains canopy parts and clear sections for the Mk XVI as well with a bubbletop canopy and clipped clear wing tips as well.
---
Sprue D & E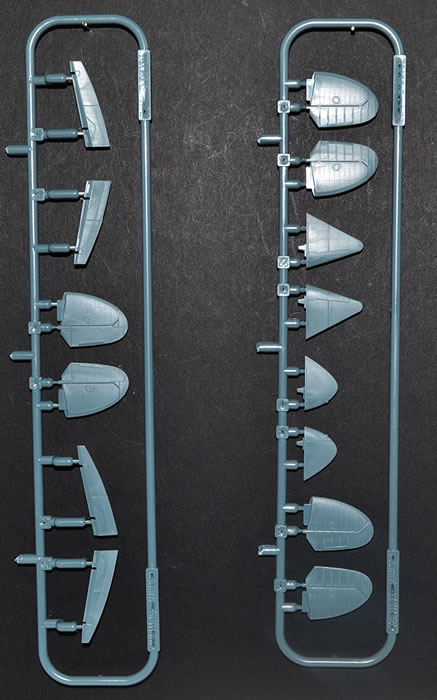 These are both small sprues. D has 8 parts being wing tips and tail planes. You get a set of extended wingtips which you won't use and a spare set of tail planes. All of the parts are beautifully detailed with both rivet detail and cloth surfaces. Nice job Mr Eduard.
Sprue E gives us the ailerons, 2 sets of which we leave one set and yet another set of tail planes.
---
Sprue H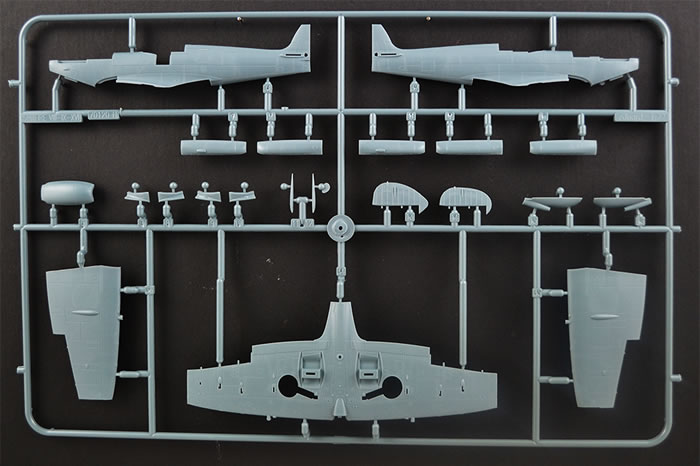 This sprue is for the Mk IXc version of the Spitfire. With 21 parts on it, 9 are not used and I believe they were for the Mk XVI again. The 2 fuselage halves exhibit restrained yet detailed surface with a mix of raised where required and recessed detail. The wings details are just calling out for a good detail weathering to occur. You have a choice of multi part engine cowls. These multi piece cowls are possibly the only bad engineering of any of the Eduard Spitfire kits both 1/72 and 1/48.
---
Sprue I
Sprue I gives us the parts to build the versions of the Mk IXe offered in this boxing with its slightly different wing setup for the armament.
---
Photo-Etch and Resin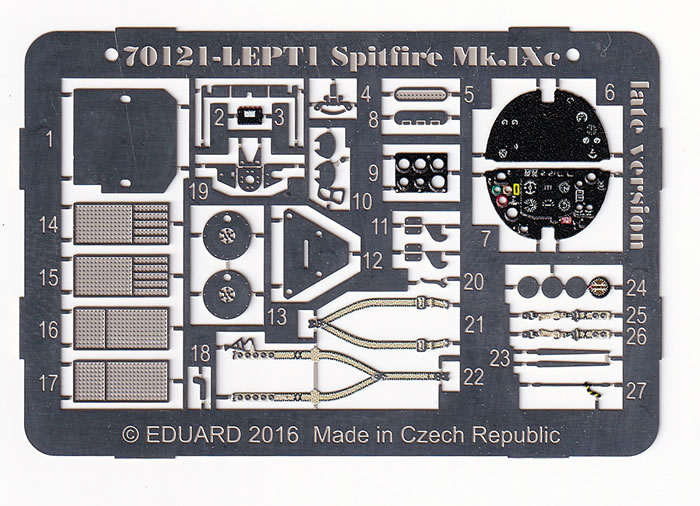 You are supplied with 2 sheets of painted photo-etch with 37 parts on each. They are different as there is one for each of the 'c' and 'e' variants. Make sure you use the correct one.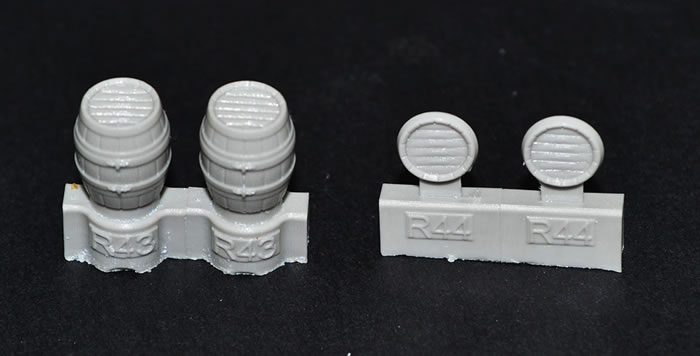 There are 2 resin beer barrels, each of 2 parts, for the legendary delivery by Johnnie Johnson. This is the one of the Mk IXe in his markings. You will also get 2 sets of masks for the canopies.
---
Markings
The instructions for the kit are the usual Eduard, with a glossy booklet of 20 A4 pages of high quality detailed instructions, with copious colour call outs throughout, using the Gunze Aqueous, Mr Color as well as the Mission Models range.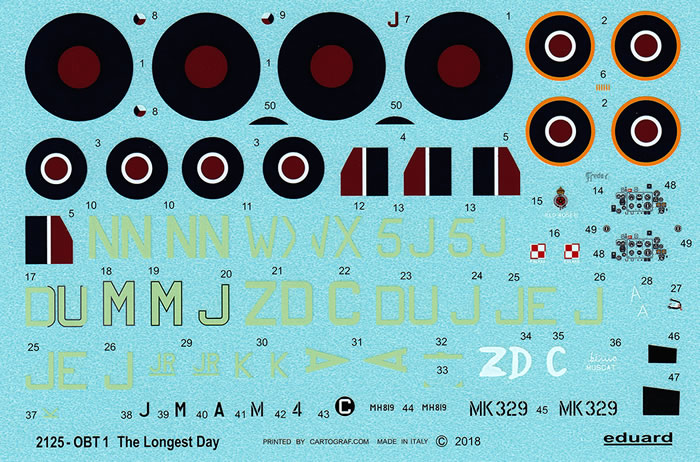 The decals appear to be in perfect register giving the options for 6 different aircraft. Included is a comprehensive stencil and data on the sheet, with a separate page for each variant at the end of the instructions for their placement.
I have included a scan of the 6 aircraft profiles but briefly, they are;
Spitfire Mk IXc, ML214, No. 126 Squadron RAF, Harrowbeer Air Base, June 6th, 1944

Spitfire Mk IXc, MK924, flown by F/Sgt Michal Murayda, No. 302 Squadron RAF, Chailey, June 1944

Spitfire Mk IXc, MK892, flown by F/Lt C.H. Lazenby, No. 222 Squadron RAF, Normandy, June 10th 1944

Spitfire Mk IXc, MH819, No. 310 Squadron RAF, Appledram Air Base, mid-June, 1944

Spitfire Mk LF IXe, PL124, No. 312 Squadron RAF, June, 1944

Spitfire Mk IXe, MK329, flown by W/Cdr J.E.Johnson, CO of No. 144 Wing RAF, June 1944 – with beer barrels
All in all, very nice, well detailed kits with 2 variant options. The Eduard Longest Day Dual Combo provides you with high quality parts to produce detailed models. This boxing is highly recommend for modellers with and interest with British RAF Spitfires, D-Day stripes or just D-Day. A highly recommended boxing.
Thanks to Eduard for the sample
---
Review Text Copyright © 2019 by David Couche
Page Created 28 February, 2019
Last updated 28 February, 2019
Back to HyperScale Main Page
Back to Reviews Page Woo!