"Bella"
P-39s in Russian Service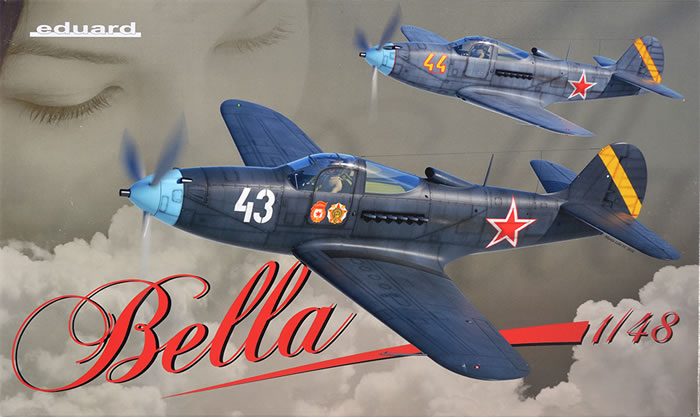 Eduard Limited Edition, 1/48 scale
S u m m a r y

Catalogue Number and Price:

Eduard Kit No. EDK11118 - "Bella" P-39s in Russian Service Limited Edition Kit

USD$64.95 plus shipping available online from Eduard

GBP£41.99 EU Price (£34.99 Export) plus shipping available onlune from Hannants


Scale:
1/48
Contents and Media:
Two kits, each with 128 grey injected moulded parts (33 not used), 6 clear parts, 2 sheets of photo-etch covering both kits (1 painted, 1 plain),decals, masks and comprehensive instructions.
Review Type:
FirstLook
Advantages:
Two full models with crisp yet subtle moulding with high level of detail, Eduard's usual high quality instructions. A choice of 10 VVS schemes.
Disadvantages:
No nose weight in this boxing.
Conclusion:
If you are into aircraft the VVS (Russians) flew then this is the kit for you. Great kits with a great set of schemes to go with it.

Reviewed by David Couche

Eduard's 1/72 scale Fw 190 A-5/A-8 Grunherz Limited Edition Dual Combo
is available online from Squadron.com
The most successful and numerous use of the P-39 was by the Red Air Force (Voenno-Vozdushnye Sily, VVS). They received the considerably improved N and Q models via the Alaska-Siberia ferry route. The tactical environment of the Eastern Front did not demand the high-altitude performance the RAF and AAF did. The comparatively low-speed, low-altitude nature of most air combat on the Soviet Front suited the P-39's strengths: sturdy construction, reliable radio gear, and adequate firepower.
Soviet pilots appreciated the cannon-armed P-39 primarily for its air-to-air capability. A common Western misconception is that the Bell fighters were used as ground attack aircraft. This is because the Soviet term for the mission of the P-39, prikrytiye sukhoputnykh voysk (coverage of ground forces) is commonly translated ground support, which is often taken to mean close air support. In Soviet usage, it has a broader meaning. Soviet-operated P-39s did make strafing attacks, but it was "never a primary mission or strong suit for this aircraft". The Soviets developed successful group aerial fighting tactics for the Bell fighters and scored a surprising number of aerial victories over a variety of German aircraft. Soviet P-39s had no trouble dispatching Junkers Ju 87 Stukas or German twin-engine bombers and matched, and in some areas surpassed, early and mid-war Messerschmitt Bf 109s. The usual nickname for the Airacobra in the VVS was Kobrushka ("little cobra") or Kobrastochka, a blend of Kobra and Lastochka (swallow), "dear little cobra".
The first Soviet Cobras had a 20 mm Hispano-Suiza cannon and two heavy Browning machine guns, synchronized and mounted in the nose. Later, Cobras arrived with the M4 37 mm cannon and four machine guns, two synchronized and two wing-mounted. "We immediately removed the wing machine guns, leaving one cannon and two machine guns," Golodnikov recalled later. That modification improved roll rate by reducing rotational inertia. Soviet airmen appreciated the M4 cannon with its powerful rounds and the reliable action but complained about the low rate of fire (three rounds per second) and inadequate ammunition storage (only 30 rounds).
The Soviets used the Airacobra primarily for air-to-air combat against a variety of German aircraft, including Bf 109s, Focke-Wulf Fw 190s, Ju 87s, and Ju 88s. During the battle of Kuban River, VVS relied on P-39s much more than Spitfires and P-40s. Aleksandr Pokryshkin, from 16.Gv.IAP (16th Guards Fighter Aviation Regiment), claimed 20 victories in that campaign in a P-39.
The last plane shot down by the Luftwaffe was a Soviet P-39, on May 8 by Oblt. Fritz Stehle of 2./JG 7 flying a Me 262 on Erzgebirge. Also, the last Soviet air victory was in a P-39 on May 9 when Kapitan Vasily Pshenichikov scored against a Focke-Wulf Fw 189, in the sky over Prague. Five of the 10 highest scoring Soviets aces logged the majority of their kills in P-39s. Grigoriy Rechkalov scored 44 victories in Airacobras. Pokryshkin scored 47 of his 59 victories in P-39s, making him the highest scoring P-39 fighter pilot of any nation, and the highest scoring Allied fighter pilot using an American fighter. This does not include his 6 shared victories, at least some of which were achieved with the P-39.
The United States did not supply M80 armor-piercing rounds for the autocannons of Soviet P-39s—instead, the Soviets received 1,232,991 M54 high-explosive rounds, which they used primarily for air-to-air combat and against soft ground targets. The VVS did not use the P-39 for tank-busting duties.
A total of 4,719 P-39s were sent to the Soviet Union, accounting for more than one-third of all U.S. and UK-supplied fighter aircraft in the VVS, and nearly half of all P-39 production. Soviet Airacobra losses totalled 1,030 aircraft (49 in 1942, 305 in 1943, 486 in 1944 and 190 in 1945).
Airacobras served with the Soviet Air Forces as late as 1949, when two regiments were operating as part of the 16th Guards Fighter Aviation Division in the Belomorsky Military District.
Introductory text courtesy of Wikipedia
The sturdy Eduard box is packed with 6 sprues of grey injected moulded, finely detailed parts with 256 parts on them which enables you build 2 completed models.
Upon careful examination of the instructions I find that 66 of these parts are not to be used in these versions, so the spares box will have plenty added to it. There is one clear sprue containing 6 very clear parts, a sheet of pre-coloured photo-etch with duplicate parts for each aircraft as well as a sheet of plain etched parts, again all parts are duplicated on this sheet, decals for 10 different aircraft, masks and a large sheet of decals complete with stencils and the usual comprehensive instruction booklet.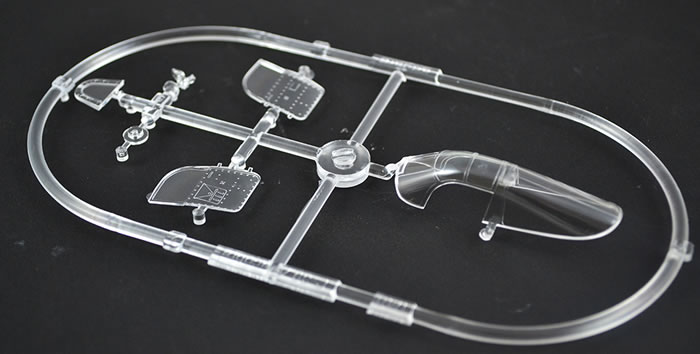 All sprues are cleanly moulded with no flash evident and sprue gates to the parts appear to have been created to minimise their effect on the parts.
There have been so many reviews written on the Eduard P-39 variants boxed in many different marking versions that I am not going to go through a detailed review. This boxing covers the K, N and Q variants, so you will need to determine which scheme and variant you are going to build and then select the correct parts and construction sequence to use.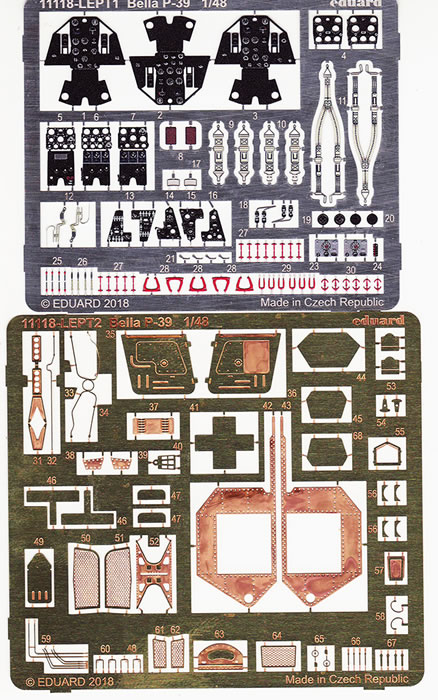 I do have one complaint to Mr Eduard…..what has happened to those lovely cast white metal nose weights that all of my previous profiPACK's have had. A bit disappointing!
---
Instructions and Markings
The instructions for the kit are the usual Eduard, with a glossy booklet of 20 A4 pages of high quality detailed instructions, with copious colour call outs throughout, using the Gunze Aqueous and Mr Color range. The decals appear to be in perfect register giving the options for 10 different aircraft. Included is a comprehensive stencil and data on the sheet, with a separate page at the end of the instructions for their placement.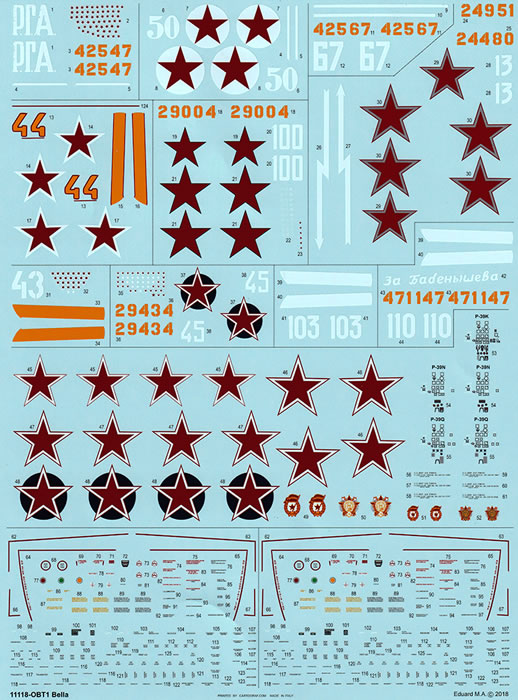 I have included a scan of the 10 aircraft profiles but briefly, they are:
P-39K-1, s/n 42-4480, 494. IAP, 303.IAD, Smolensk area, Autumn 1943

P-39N-0, s/n 42-8747, flown by Guard Captain Grigory Andreevich Rechalov, 16. GIAP, Germany, Spring 1945

P-39N-1, s/n 42-9434, flown by Senior Lieutenant Alexandr Fedorovich Klubov, 16. GIAP, East Poland, August 1944

P-39N-0, s/n 42-9004, flown by Guard Captain Alexandr Ivanovich Pokryshkin, 16. GIAP, Kuban, Soviet Union, May 1943

P-39Q, flown by Guard Senior Lieutenant Konstantin Vasilievich Sukhov, 16. GIAP, Aslau, Germany, March 1945

P-39Q-10, 212. GIAP, 22.GIAD, Stockerau, Austria 1946

P-39Q-15, s/n 44-2567, 68. GIAP, 5.GIAD, Baltic Front, Winter 1944-1945

P-39Q-15, 213. GIAP, Germany, Spring 1945

P-39Q, flown by Guard Major Anatoliy Leonidovich Kozhevnikov, 212. GIAP, 22. GIAD, Dabern, Germany, May/June 1945

P-39Q-30, s/n 44-71147, 213. GIAP, 22. GIAD, Germany, Spring 1945
Some of these schemes have great nose kill marking, making for interest looking models.
All in all, very nice, well detailed kits with 3 variant options. The Eduard Bella Limited Edition provides you with high quality parts to produce detailed models. This boxing is highly recommend for modellers with and interest with Russian flown aircraft or lovers of the P-39.
Thanks to Eduard for the sample
---
Review Text Copyright © 2019 by David Couche
Page Created 26 Februry, 2019
Last updated 26 February, 2019
Back to HyperScale Main Page
Back to Reviews Page Woo!