Focke-Wulf Triebflügel
WWII German VTOL Fighter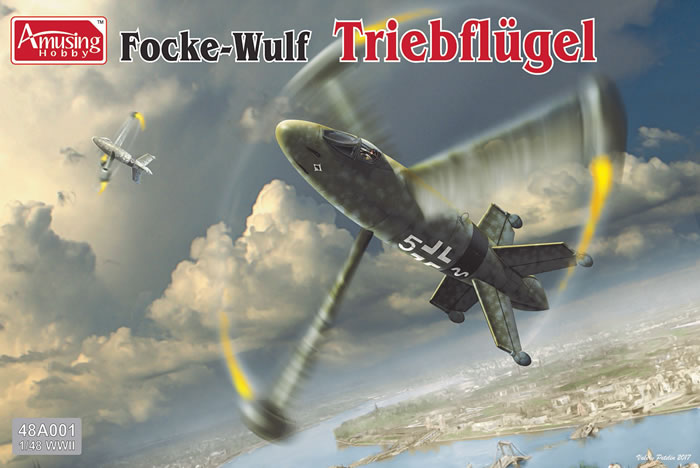 Amusing Hobby, 1/48 scale
S u m m a r y

Catalogue Number:

Amusing Hobby Kit No. 48A001 - Focke-Wulf Triebflügel

Scale:

1/48

Contents and Media:

Eight sprues of injection moulded plastic; one sprue in clear plastic; markings for five hypothetical subjects.

Price:

TBA

Review Type:

FirstLook

Advantages:

Superbly and simply engineered with a very passable cockpit; looks like a straightforward build.

Disadvantages:

No harness straps.

Conclusion:

A lovely looking kit that I can't wait to dive into! Watch out for my build in a forthcoming issue of Model Airplane International magazine.
Reviewed by James Hatch

The Focke-Wulf Triebflügel, or Triebflügeljäger, literally meaning "thrust-wing hunter", was a German concept for an aircraft designed in 1944, during the final phase of World War 2 as a defence against the ever-increasing Allied bombing raids on central Germany. It was a vertical take-off and landing tail-sitter interceptor design for local defence of important factories or areas which had small or no airfields. The Triebflügel had only reached wind-tunnel testing when the Allied forces reached the production facilities. No complete prototype was ever built. The design was particularly unusual. It had no wings, and all lift and thrust were to be provided by a rotor/propeller assembly, a third of the way down the side of the craft. When the aircraft was sitting on its tail in the vertical position, the rotors would have functioned similarly to a helicopter. When flying horizontally, they would function more like a giant propeller. The three rotor blades were mounted on a ring assembly supported by bearings, allowing free rotation around the fuselage. At the end of each was a ramjet. To start the rotors spinning, simple rockets would have been used. As the speed increased, the flow of air would have been sufficient for the ramjets to work and the rockets would expire. The pitch of the blades could be varied with the effect of changing the speed and the lift produced. Fuel would be carried in fuselage tanks and piped through the centre support ring and along the rotors to the jets.
A cruciform empennage at the rear of the fuselage comprised four tailplanes, fitted with moving ailerons that would also have functioned as combined rudders and elevators. The tailplane would have provided a means for the pilot to control a tendency of the fuselage to rotate in the same direction as the rotor, caused by the friction of the rotor ring, as well as controlling flight in pitch, roll and yaw. A single large and sprung wheel in the extreme end of the fuselage provided the main undercarriage. Four small castor wheels on extensible struts were placed at the end of each tailplane to steady the aircraft on the ground and allow it to be moved. The main and outrigger wheels were covered by streamlined clamshell doors when in flight. When taking off, the rotors would be angled to give life in a similar manner to a helicopter. Once the aircraft had attained sufficient altitude the pilot would tilt it over into level flight. The rotors continued spinning in level flight maintaining 220 rpm at the aircraft's maximum forward speed. Forward flight required a slight nose-up pitch to provide some upward lit as well as primarily forward thrust. Consequently, the four cannon in the forward fuselage would have been angled slightly downward in relation to the centreline of the fuselage. To land, the craft had to slow its speed and pitch the fuselage until the craft was vertical. Power could then be reduced, and it would descend until the landing gear rested on the ground. This would have been tricky and a probably dangerous manoeuvre, given that the pilot would be seated facing upward and the ground would be behind his head at this stage.
This is Amusing Hobby's first ever aircraft release in any scale, and it's not only an unusual subject, but extremely welcome for those of us that like something a little esoteric. This is the first injection plastic kit of this subject in this scale, as far as I can see. In the past we have had 1:48 resin kits from the likes of Arba, Planet Models and Reheat, all of varying quality and standards. A new-tool kit of modern tool standards is definitely an exciting addition. The kit itself comes in a relatively small box with an artwork showing two Triebflügel in flight, and apparently not long from take-off due to the angle of the machines. This kit has bubbling on the back burner for a little while now, as is evident from the artwork which is dated 2017. Lifting the lid reveals eight sprues of tan-coloured styrene and a single clear sprue.
Although the sprues aren't generally bagged separately, they are packaged with multiples in the same sleeve. It's evident from the outset that this isn't a complicated model and could be a nice, quick project. A decal sheet is included, as is a short instruction manual. No PE is included in this release. Whilst the cockpit opening is quite small and you won't be able to see too much in there, no seatbelts are supplied, so I do suggest you source some aftermarket solution.
---
Sprue A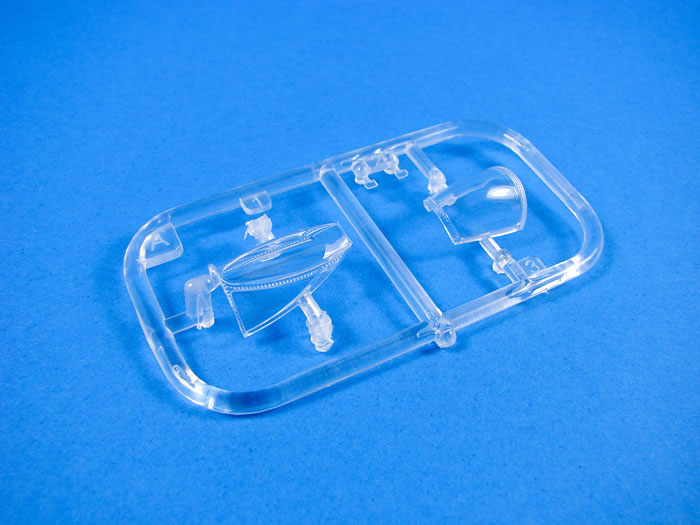 Our first sprue contains the four clear parts on this release. Two of these are for the canopy (windscreen and hood), plus the gunsight reflector. Two of these are provided, so you have a spare. The canopy can be posed either open or closed, and framing looks well-defined, therefore easy to mask the transparency before painting. No masks are supplied, so you may have to look towards an Eduard release for those. Clarity on all parts is also excellent.
---
Sprue B (x3)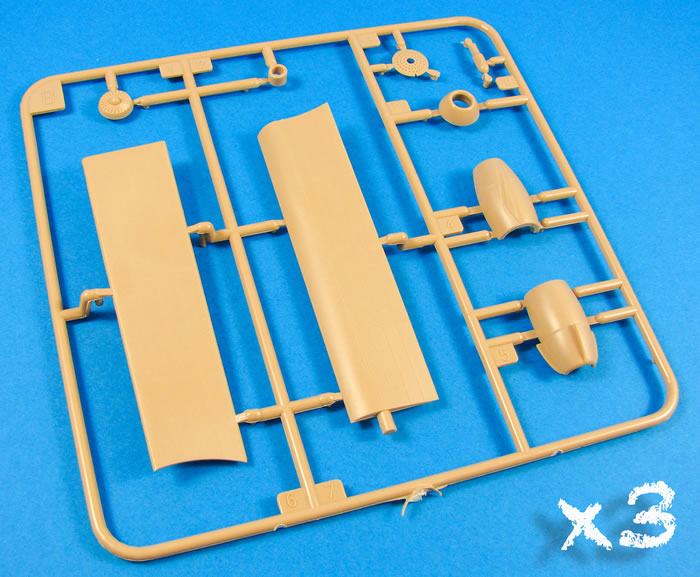 These three sprues cater to the rotors and jet engines for the aircraft, with one of each on each sprue. The rotor foils themselves are very simple in construction, being built from an upper and lower panel. Surface detail is exquisite and very, very fine. Each jet engine comprises a fan, intake vane, 2-part main body shell and a forward cowl. The main body is recessed to neatly accept the rotor tip. There are two other parts on here which aren't on the instructions. One is a small ring and the other, a compete impellor face.
---
Sprue C (x4)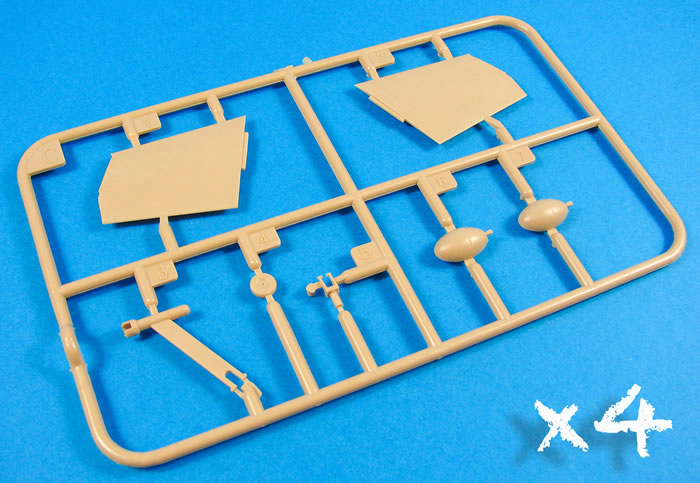 Where the Triebflügel has three rotors, for stability, it has four fins that create the cruciform appearance of the rear fuselage. Each fin is supplied as halves, and within this, fits a gear support leg that can be positioned to suit either a gear-down or in-flight scenario. A gear fork and wheel then fit to the end of this. Clamshell gear covers are also supplied. When on the ground, these fold back 90 degrees out of the way of the ground.
---
Sprue D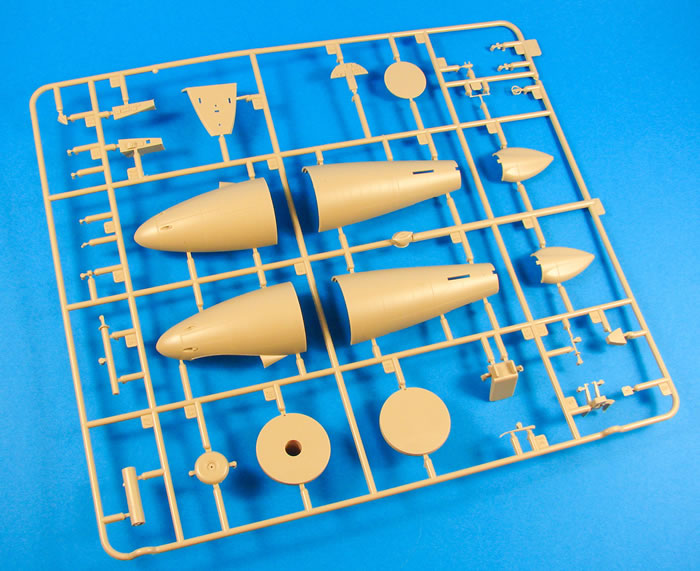 This is the largest of the sprues and contains all of the parts for the fuselage, cockpit and central landing gear. Building commences with the cockpit which is built into the separate nose section. The office comprises an integral floor and rear bulkhead, onto which sit the consoles, rudder pedals and pedal bar, control stick, pilot seat, instrument panel and rear coaming. A gunsight is also provided. There are no seatbelts with this kit, so you'll need to source some. Whilst fuselage detail is superb, there isn't any sidewall detail within. It might be a good idea to add a little styrene or spare colour PE components to make it a little busier there, especially as the canopy can be posed open. Four gun muzzle tubes also fit to the exterior.
The fuselage itself is split into three sections; nose, rotating ring assembly, and the rear fuselage/tail unit. There are two discs on this sprue which fit to a separate rotor mounting unit, which will then allow it to be positioned by the modeller. The rear unit consists of halves into which a bulkhead is fitted, and then the central landing gear wheel. None of the wheels are weighted, so you might want to fix that. Again, a clamshell unit is supplied which would have enveloped the main wheel when in flight. They thought of everything! The last parts here are a whip aerial and a DF loop. All details across these parts is very good, with perhaps just the pilot seat letting it down a little. I think I'll make a few changes here. Externally, detail consists of delicate panel lines and access ports, plus some very subtle riveting. I really do like this one.
---
Miscellaneous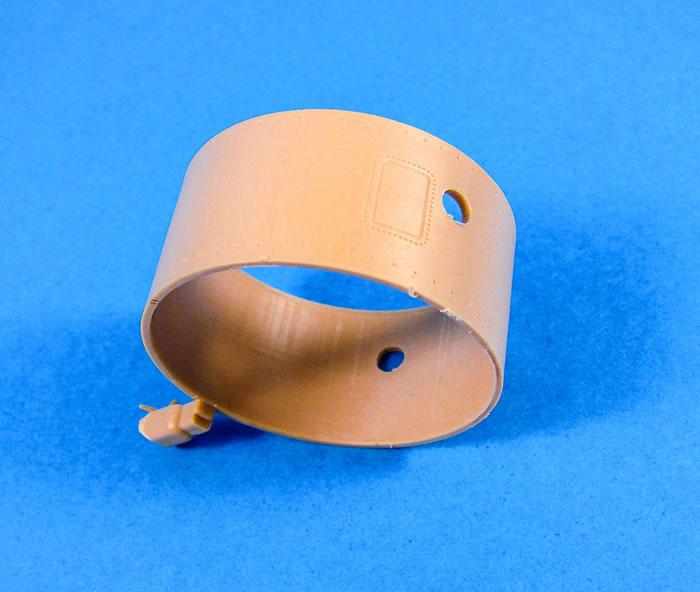 One part was originally moulded to the exterior of another sprue but has been removed for safety. This slide-moulded part forms the rotating fuselage ring into which the rotors and their jet engines will plug. Just a minimum of clean-up is required here.
---
Decals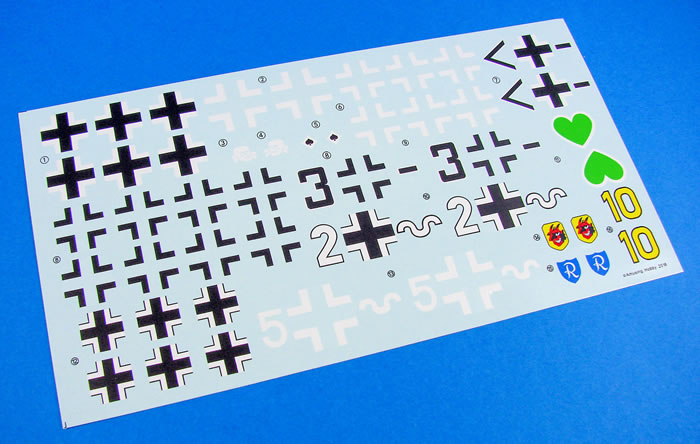 A single decal sheet is provided in this release, covering four scheme subjects. No instrument or stencils are supplied; this is a pure scheme sheet. There is nothing on this sheet to suggest where they are printed, but overall quality looks very good, with minimal carrier film, solid colour, and perfect registration. You can have a good rummage through the various markings and come up with something quite unique due to the variety of national insignia. No swastikas are included (surprise, surprise!), so if you want to add them, you'll need to look through your spares box.
---
Instruction Manual and scheme sheets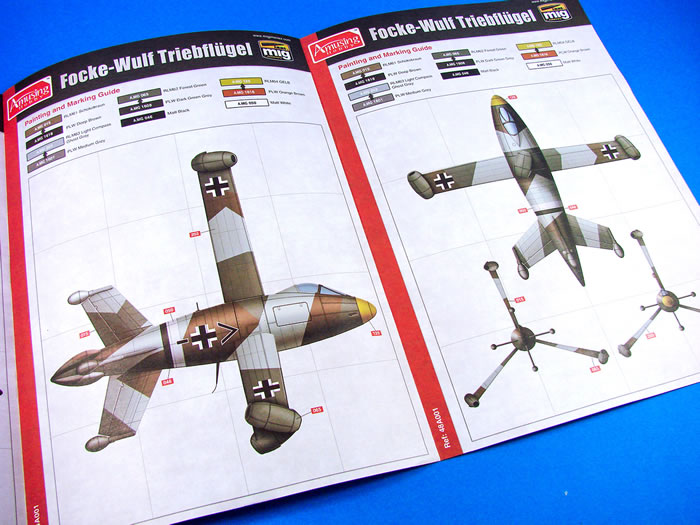 This eight-page manual is all that's needed to cover such a simple assembly job. Construction is shown over 10 stages spanning just 4 pages. Everything is perfectly clear to understand. I can't see any problems arising. The four schemes are included as two separate fold-out sheets with all profiles supplied. Colour references are supplied for AMMO paints. AMMO have worked in conjunction with Amusing Hobby on this release.
For a first foray into aircraft, Amusing Hobby has sort of stuck to their leftfield approach to subject matter, and again, a machine which we've been crying out for in injection-moulded plastic.
The model is superbly and simply engineered with a very passable cockpit (albeit, sand seatbelts), exquisite surface detail, and excellent moulding standards. It also looks very easy to assemble and shouldn't provide the modeller with any issues, if their test shot imagery is anything to go by! As this aircraft never existed, you can also play around with the supplied schemes, or create something even more esoteric. In all, a lovely looking kit that I can't wait to dive into! Watch out for my build in a forthcoming issue of Model Airplane International magazine.
My sincere thanks to Amusing Hobby and Kai for sending this kit out for review. Available very soon from your favourite model retailer!
---
Review Text and Images Copyright © 2019 by James Hatch
Page Created 10 May, 2019
Last updated 10 May, 2019
Back to HyperScale Main Page