Supermarine Spitfire FR Mk.XIV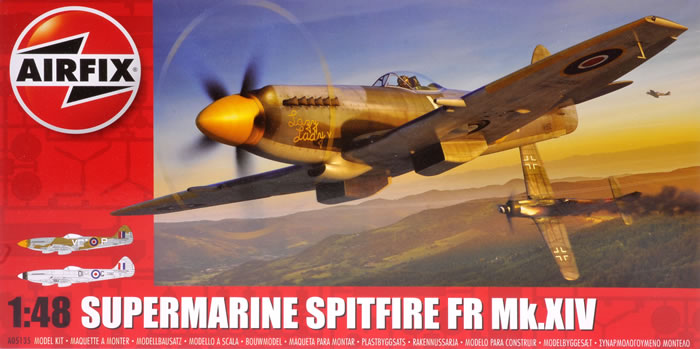 Airfix, 1/48 scale
S u m m a r y :

Description and Item No.:

Airfix Kit No. A05135 - Supermarine Spitfire FR Mk.XIV

Contents and Media:

108 parts in grey plastic, ten clear parts, one decal sheet with markings for 2 aircraft.

Price:

GBP£20.99 EU Price (£17.49Export Price) plus shipping available online from Hannants

AU$44.50 plus shipping available online from BNA

and hobby retailers worldwide

Scale:

1/48

Review Type:

First Look

Advantages:

The first accurate nose Spitfire Mk 14 produced, good surface detail, good interior detail with two varied schemes.

Disadvantages:

Some larger sprue gates need careful removal and cleaning up.

Recommendation:

Finally we have an accurate Spitfire Mk XIV finally to replace the long in the tooth and inaccurate Academy version.
Reviewed by David Couche


Airfix's 1/72 scale Sea King is available online from Squadron.com
The Rolls-Royce Griffon engine was designed in answer to Royal Naval specifications for an engine capable of generating good power at low altitudes. Concepts for adapting the Spitfire to take the new engine had begun as far back as October 1939; Joseph Smith felt that "The good big 'un will eventually beat the good little 'un." and Ernest Hives of Rolls-Royce thought that the Griffon would be "a second power string for the Spitfire". The first of the Griffon-engined Spitfires flew on 27 November 1941.
Although the Griffon-engined Spitfires were never produced in the large numbers of the Merlin-engined variants they were an important part of the Spitfire family, and in their later versions kept the Spitfire at the forefront of piston-engined fighter development.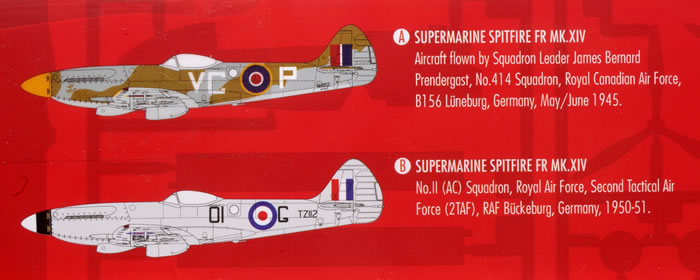 The Mk XIV differed from the Mk XII in that the longer, two-stage supercharged Griffon 65, producing 2,050 hp (1,528 kW), was mounted 10 inches (25.4 cm) further forward. The top section of the engine bulkhead was angled forward, creating a distinctive change of angle to the upper cowling's rear edge. A new five bladed Rotol propeller of 10 ft 5 in (3.18 m) in diameter was used, although one prototype JF321 was fitted with a six bladed contra rotating unit. The "fishtail" design of ejector exhaust stub gave way to ones of circular section. The increased cooling requirements of the Griffon engine meant that all radiators were much bigger and the underwing housings were deeper than previous versions.
The E wing version was structurally unchanged from the C wing, the outer machine gun ports were eliminated, although the outer machine gun bays were retained and their access doors were devoid of empty cartridge case ports and cartridge case deflectors. The inner gun bays allowed for two weapon fits:
2 × 20 mm Hispano Mk II cannon with 120 rpg in the outer bays combined with 2 × .50 cal Browning M2 machine guns, with 250 rpg in the inner bays. With of the relocation of the Hispano to the outer gun bay the blisters covering the feed motors were moved outboard on the gun bay doors.
or

4 × 20 mm Hispano cannon with 120 rpg (this configuration was rarely fitted.)
The 20 mm Hispano cannon were moved outboard and a more effective .50 calibre Browning .50 cal M2/AN heavy machine gun with 250 rpg was added to the inner gun-bay replacing the outer Browning .303s. The first trial installation of the installation was made in BS118, a Mark XI in November 1943. This armament later became standard for all Spitfire Mk XIVs used by 2 TAF as fighters. The improved armament was more effective for both air-to-air engagements and air-to-ground attacks.
Late in 1944 a number of high-back full-span Mk XIVEs were converted by the Forward Repair Unit (FRU) to have a single camera fitted, facing to port or starboard; a conversion identical to that used on the FRU-converted FR Mk IXC. To achieve this a new hatch, similar to the radio hatch on the port side, was installed on the starboard side, and both hatches were fitted with camera ports in streamlined blisters. Otherwise this version of the FR Mk XIVE was essentially the same as the standard aircraft. These field-converted aircraft were allocated to 430 squadron RCAF. Later, purpose-built conversions, also known as the FR Mk XIVE, had the later cut-down rear fuselage with its tear drop–shaped canopy, port and/or starboard camera ports (without blisters), and an additional rear fuel tank of 34 gallons which extended the Spitfire's range to about 610 miles (980 km) on internal fuel. Because it was used mainly at low altitudes the "production" FR Mk XIVE had clipped wingtips.
In total, 957 Mk XIVs were built, over 430 of which were FR Mk XIVs.
Airfix's Spitfire FR Mk.XIV release has been waited on keenly since its announcement last year. With it now in our eager grasp let's see what Airfix have given us this time, one of their best or one of their nearly there kits. So with some trepidation I opened my box unsure of what I was going to find.
Well, upon opening the sturdy traditional red box, you will find four sprues of grey plastic, a clear sprue, decals for 2 different versions and an instruction booklet.
Firstly, this kit is not the soapy, pale blueish, super soft plastic of a number of Airfix's later kits. I have already removed several parts for cleaning up and found it much harder, more resilient and controllable to work with than the BP Defiant or the Sea Fury.
Secondly, I have gone over my sprues very carefully and there is no sign of short shots or shrink marks on any of the parts unlike some of Airfix's recent work where it was prominent.
(Editor's Note: Buyer Beware! The photos in this review show my Spitfire XIV kit parts. I wasn't as lucky as David - my kit suffers from a number of very serious short shot mouldings. The small rudder model is entirely missing the mass balance and massive chunks are missing from the cockpit sidewalls. Both are pictured below. Given Airfix's previous poor record on mould quality, I'll be examining the contents before I buy another Airfix kit)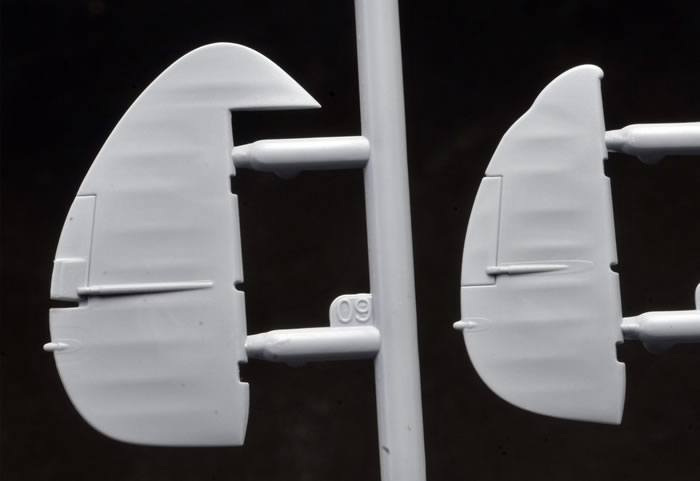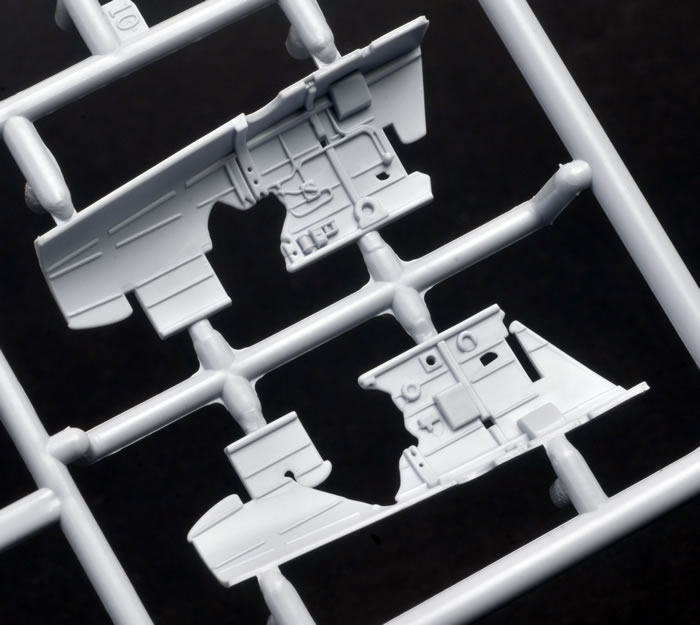 Thirdly, the surface detail is restrained and pretty sharp compared with the soft panel lines and details in the Mustang and Sea Fury kits. I compared the undercarriage legs of the Mustang and Spitfire and the Spitfire's were sharp and well-formed compared to the soft rolled edges of the Mustangs.
So with the scary part over with it's on to the actual kit details. Please note, Airfix don't clearly label their sprue trees or give you, the modeller a sprue map which is useful, but the parts are labelled with sprue lettering throughout the instructions.
---
Sprue A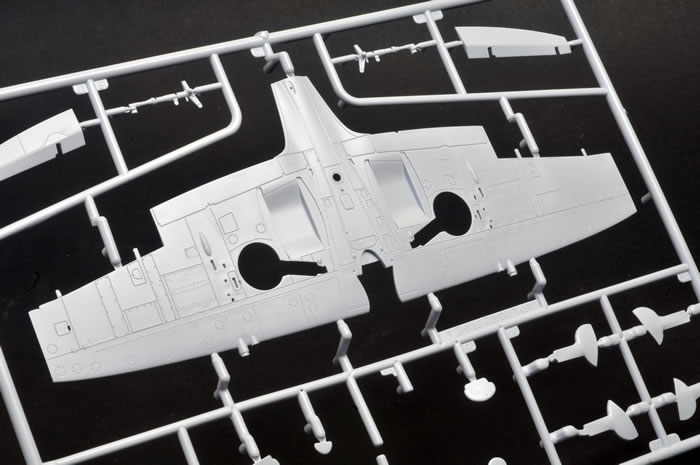 Sprue A holds the one piece lower wing structure, the tail planes, a choice of big or small rudders, cockpit walls, ailerons, undercarriage legs, wheel doors and a few other minor parts. The sprue gates whilst not tiny are quite reasonable and placed in not so hard to clean up spots. The detail in the 2 cockpit walls is good with crisp mouldings just waiting to be painted up nicely. As previously mentioned the wing section has great detail and is crisp and sharp. Panel lines are of an appropriate width and depth.
---
Sprue B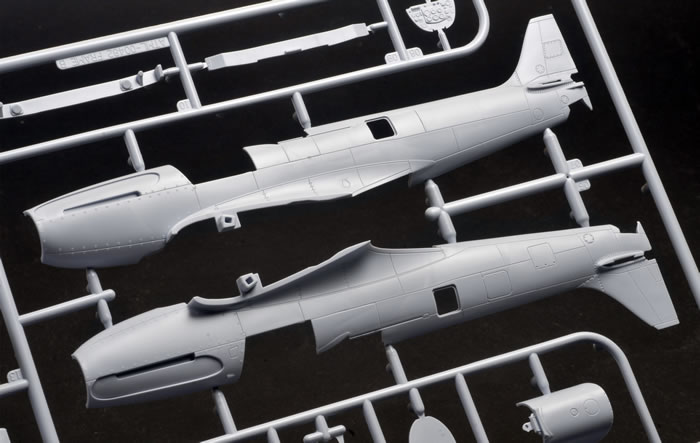 Here we have 18 parts on the sprue, the main parts being the 2 fuselage halves. As mentioned above, nicely detailed. It also holds the cockpit frames, the radiator housings, the slipper drop tank and the prominent rocker cover housings for the nose. This sprue also has the large 5 bladed prop which does have 3 fair sized sprue gates on it that will need careful cleaning. I appreciate the need to get molten plastic into the moulds without short shots etc but these seem to be the larger of the gates in this kit and the most obvious on one of the most prominent parts of the model. I did place my fuselage halve over 2 sets of 1/48 Mk XIV drawings I have and the nose section is quite accurate as it the remainder of the fuselage.
---
Sprue C
Sprue C only has the 2 upper wing section on it. Again, nicely moulded with very good surface detail.
---
Sprue D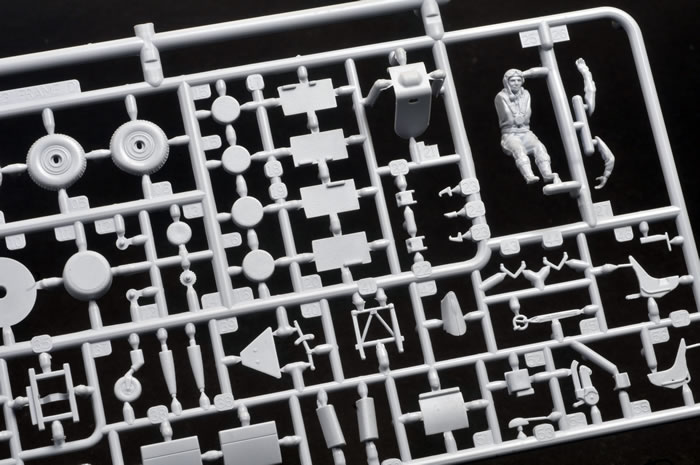 There are multitude of parts on this sprue. We start with a pilot figure with arms to be attached separately, move through a choice of different tread pattern wheels with different hubs and onto a choice of 2 different exhaust types, one for each of the schemes offered and then finishes with seat parts, more cockpit parts and other small parts. I must say that with many of these parts being fairly small, the sprue trees and gates seem to nearly overwhelm the parts. There appears to be more waste plastic than used plastic on this sprue.
---
Clear Sprue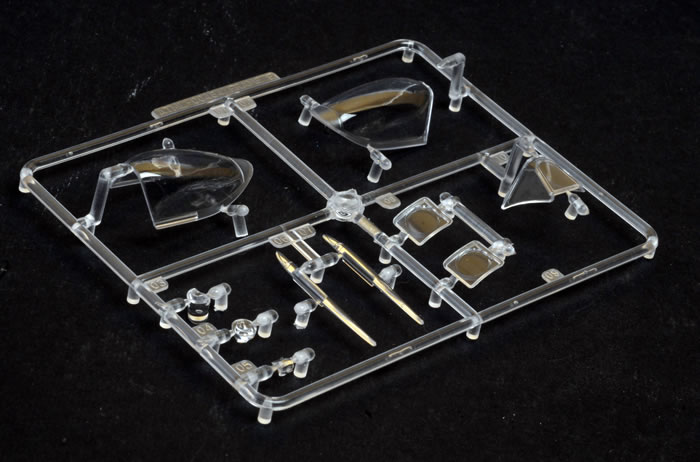 The clear sprue has 10 nice clear parts and whilst they a nicely clear they are quite thick which you will notice if you use the option of an open canopy. There is a separate tear drop canopy section if you are having the canopy closed or open. There is also a clear moulded camera, camera doors/covers, clipped wing tips and other light covers.
---
Markings and Instructions
The kit comes with an instruction booklet of 16 pages covering 54 steps in the construction process. The instructions are drawn clearly in 3D with coloured parts to highlight correct construction. There are also schemes for 2 aircraft printed in colour and decals for these that include the data stencils.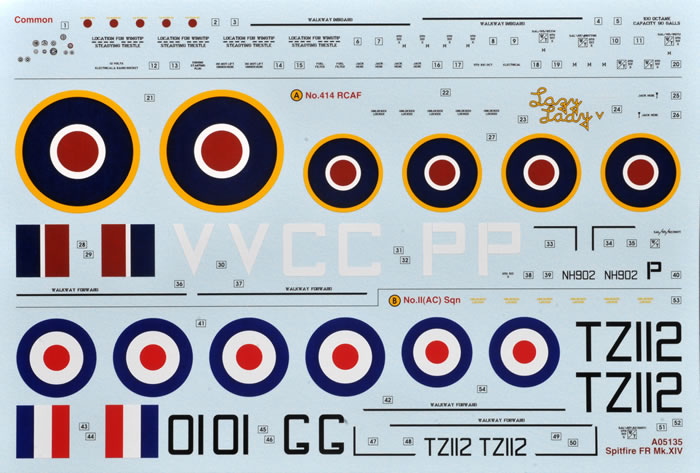 The 2 aircraft offered are;
Spitfire FR Mk.XIVe, NH903/VC-P, Sqn Ldr J B Prendergast, No 414 Sqn. RCAF, B 156 Luneburg, Germany, May-June 1945

Spitfire FR Mk.XIVe, TZ112/01-G, No 11 (AC) Sqn. RAF, Second Tactical Air Force (2TAF), Buckeburg, Germany, 1950-51
Choices in the scheme are for a camouflaged aircraft and a natural metal one. The decals appear to be crisp and in good register but do seem a little thick.
Well Airfix, the Spitfire FR Mk.XIV appears to be a better offering than the last couple you put out. We now await the first of these kits to be built. As I mentioned before, I have actually started to construct this kit already. A quick pre-fit has shown it to be a pretty reasonable fit in the main sections so fingers crossed it keeps going at that level. At this stage I would recommend it to my fellow modellers. Airfix certainly have created interest with this sought after version of the Spitfire (and other various aircraft like the Hunter) and we really do want to see them at their 'A' game which they have given to us previously but maybe, not often enough.
Kit purchased by the reviewer
---
Review Text Copyright © 2019 by David Couche
Images Copyright © 2019 by Brett Green
Page Created 25 June, 2019
Last updated 27 June, 2019
Back to HyperScale Main Page
Back to Reviews Page