Spitfire Mk.IX Aces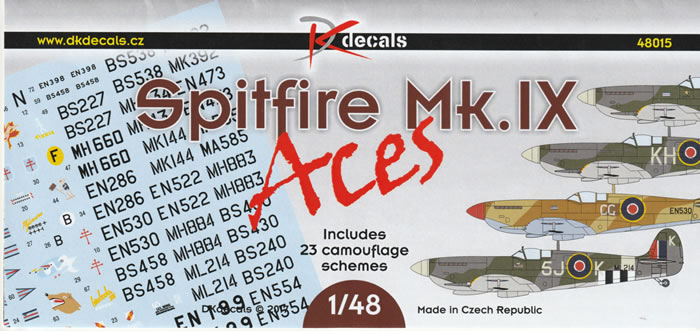 DK Decals, 1/48 scale

Reviewed by Ed Russell


Xtradecal's 1/72 scale Junkers Ju 87 B/K/R Stuka decals
are available online from Squadron.com
This is a 1/48 scale version of the previously reviewed DK Decals Spitfire Aces in 1/72 scale.
http://www.hyperscale.com/2016/reviews/decals/dk72033reviewmd_1.htm
DK Decals have been producing decals in 1/72 and 1/48 for some years. Their products have been generally well researched and produced. This offering provides decals for 23 Spitfire Mk IX aircraft.
The instructions are nicely produced in colour on glossy paper, and clearly indicate markings placement. A brief note regarding the aircraft and its ace pilot is listed separately and keyed to each subject. The 23 subjects are shown here.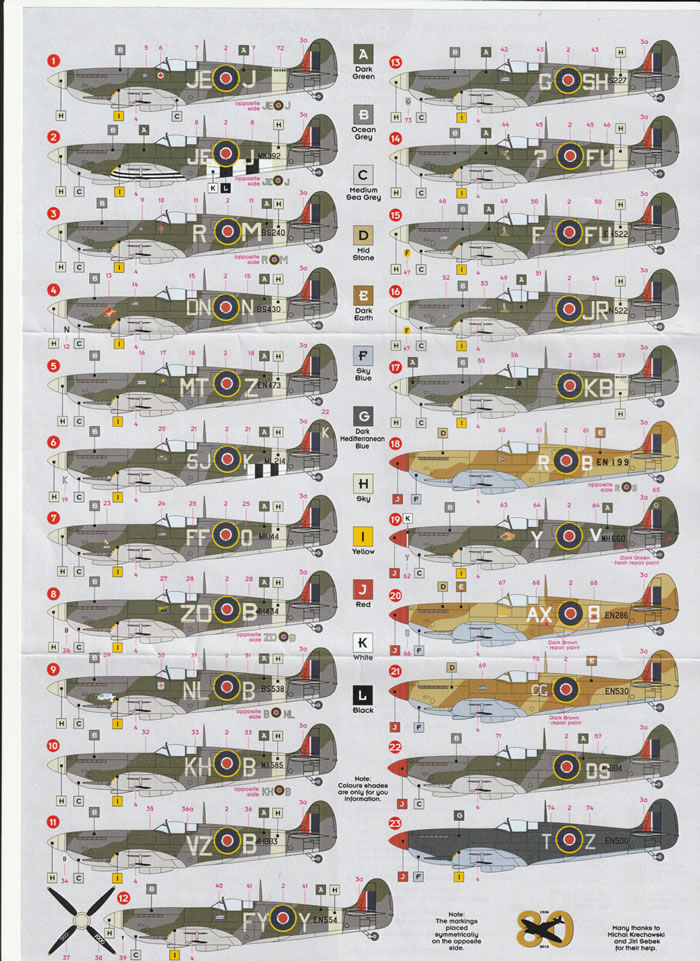 Each scheme is illustrated using a single side-profile view and a plan view. They are mainly wearing the European Temperate Land scheme of Dark Green and Ocean Grey over Medium Sea Grey with a sky recognition band and spinner but a couple feature invasion stripes for variety. There are several in desert camouflage and a Malta one.
Colour call outs are listed using MAP colours and cross-referenced to the Humbrol and Agama paint ranges.
The pilots are all aces, mostly of senior rank, and their victories are recorded in the list supplied.
1. Spitfire Mk.IX, EN398, W/Cdr E.J.Johnson
2. Spitfire Mk.IX, MK392, W/Cdr E.J.Johnson
3. Spitfire Mk.IX, BS240, W/Cdr R.M.Milne
4. Spitfire Mk.IX, BS430, S/L F.H.Boulton
5. Spitfire Mk.IX, EN473, S/L D.E.Kingaby
6. Spitfire Mk.IX, ML214, S/L J. Plagis
7. Spitfire Mk.IX, MK144, S/L A.G.Page
8. Spitfire Mk.IX, MH434, F/O H.P.Lardner-Burke
9. Spitfire Mk.IX, BS538, Sgt P.H.Clostermann
10. Spitfire Mk.IX, MA585, P/O G.Beurling
11. Spitfire Mk.IX, MH883, P/O G.Beurling
12. Spitfire Mk.IX, EN554, S/L E.F.J.Charles
13. Spitfire Mk.IX, BS227, S/L F.A.O.Gaze
14. Spitfire Mk.IX, BS227, F/L D.G. Andrews
15. Spitfire Mk.IX, EN522, S/L J.R. Ratten
16. Spitfire Mk.IX, EN522, W/Cdr. J.R. Ratten
17. Spitfire Mk.IX, BS458, W/Cdr K.Birksted
18. Spitfire Mk.IX EN199, W/C R. Berry
19. Spitfire Mk.IX MH660, F/L W.E. Schrader
20. Spitfire Mk.IX EN286, Lt. M.E.S. Robinson
21. Spitfire Mk.IX EN530, W/C C.F. Gray
22. Spitfire Mk.IXE MH884, G/C W.G.G. Duncan-Smith
23. Spitfire Mk.IX EN500, S/L E.N. Woods
BS227 (scheme#13) is of interest as it was also flown by aces S/L C.F. Gray and S/L W.V. Crawford-Compton and later by F/L Don Andrews, with a different squadron as depicted in scheme #14. Schemes #15 and #16 follow the progress of RAAF pilot John Ratten (and Spitfire EN522) from OC 453 Sqn to Wing Leader.
As with most DK Decals sets it is up to the modeller to provide, as far as they wish to, their own historical detail of the aircraft. Fortunately, they are all reasonably well known pilots.
The decals are printed by Boa and appear to be of the usual high quality, with excellent registration, good colour density, and a gloss finish. There are roundels and fin flashes for three models in the event your Spitfire kit has poor or no national markings but the usual kit national marking decals should enable you to model every aircraft from the sheet (if you are completely Spitfire mad). The main two sheets provide codes and roundels etc.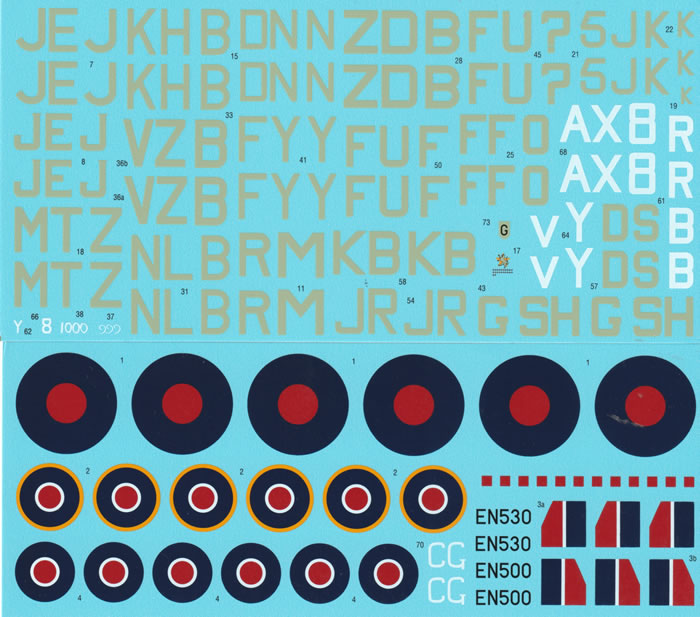 There is a sheet of serial numbers and nose-art etc which also includes many rank pennants for this distinguished group pf pilots. There is an errata sheet of rank pennants so be careful to use the ones from there.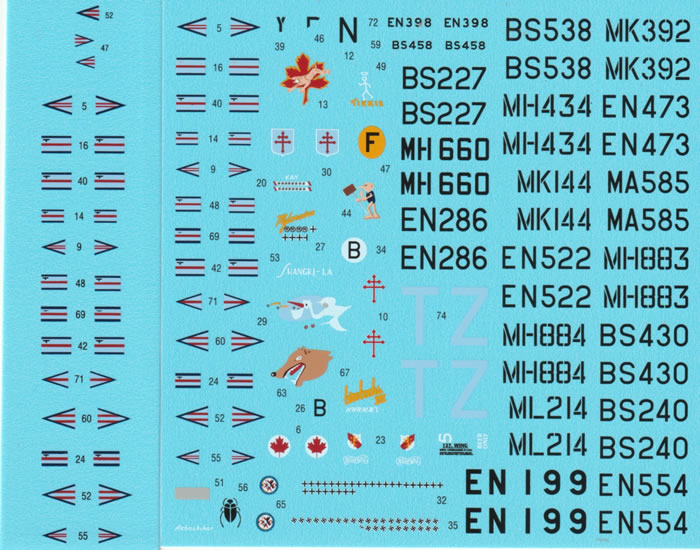 There are many 1/48 Spitfire Mk IX models available and this sheet is ideal for those wanting something more than the box scheme. It is unlikely anyone would build all 23 or even more than two or three but as a group purchase they are excellent value.
Thanks to Red Roo Models for this sample.
---
Text and Images Copyright © 2019 by Ed Russell
This Page Created on 8 May, 2019
Last updated 8 May, 2019
Back to HyperScale Main Page