AGM-158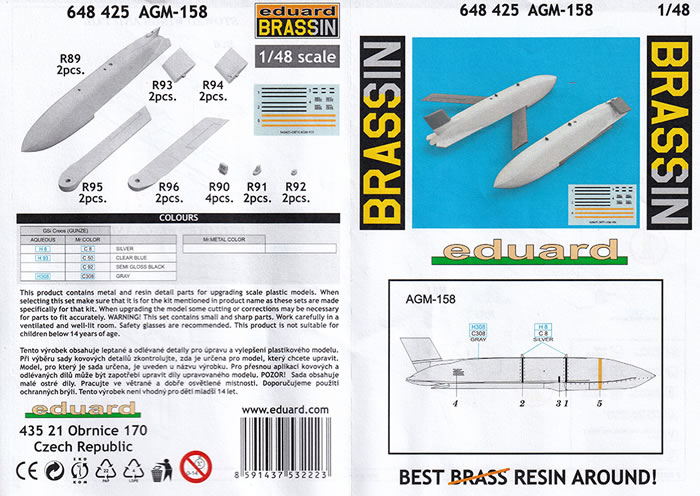 Eduard BRASSIN, 1/48 scale

Reviewed by David Couche


Eduard's 1/48 BRASSIN Spitfire Vb Gun Bays are available online from Squadron.com
The AGM-158 JASSM (Joint Air-to-Surface Standoff Missile) is a low observable standoff air-launched cruise missile developed in the United States. It is a large, stealthy long-range weapon with a 1,000 pound (454 kg) armour piercing warhead. The JASSM has entered foreign service in Australia, Finland, and Poland. An extended range version of the missile, the AGM-158B JASSM-ER (Joint Air-to-Surface Standoff Missile-Extended Range), entered service in 2014.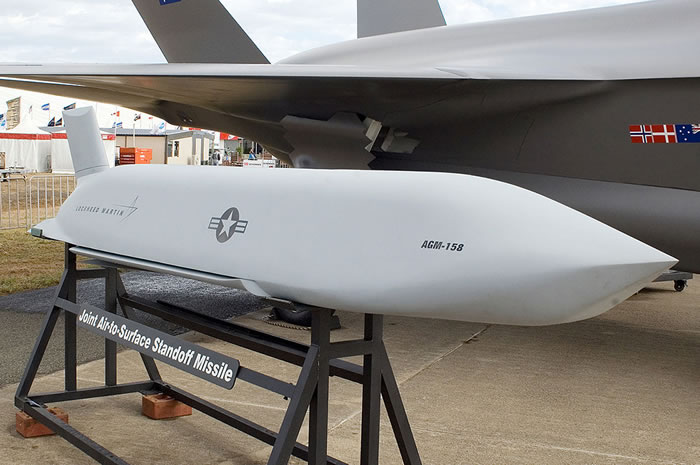 The AGM-158A is powered by a Teledyne CAE J402 turbojet. Before launch the wings are folded to reduce size. Upon launch the wings deploy automatically. There is a single vertical tail. Guidance is via inertial navigation with global positioning system updates. An imaging infrared seeker provides target recognition and terminal homing. A data link allows the missile to transmit its location and status during flight, allowing improved bomb damage assessment. The warhead is a WDU-42/B 450 kg (1000 lb) penetrator. The JASSM will be carried by a wide range of aircraft: the F-15E; F-16; F/A-18; F-35; B-1B; B-2; and B-52 are all intended to carry the weapon.
*Text mainly from Wikipedia
The Eduard Brassin AGM-158 set consists of 2 light grey one piece body parts and 16 dark grey resin parts which are the wings, a choice of tail fins, erect or folded, and 2 sets of aircraft suspension rings and a couple of small lights.
Included is a small set of decals and an instruction sheet. It is designed to construct 2 missile in either the travel configuration with wings folded in/tail folded down or in the fully deployed configuration with wings out and tail up.

The detail on the body is finely reproduced. There are five fair sized resin pour gates along the top of the front of the two body parts. They will require careful removal and cleaning up. Luckily these occur on a flat detailless section of the body.
After buying many Brassin sets over the years, I must say, I've never seen such large pour gates, although, to be fair, the body is a large piece of resin with no visible flaws on it so they must be worthwhile.
This is a very nice Brassin set to add a less commonly produced JASSM. Research has shown that these were commonly asymmetrically loaded out due to their large size. This means that this set can provide a load out for 2 aircraft. The detail is excellent and a great choice of a rarer piece of munition and it's used by several different Air Forces including the USA, Australia, Finland and Poland. I can't wait to see it loaded onto one of my RAAF F/A-18s!
Thanks to Eduard for the samples and images.
---
Review Text and Images Copyright © 2019 by David Couche
Page Created 26 May, 2019
Last updated 27 May, 2019
Back to HyperScale Main Page
Back to Reviews Page