Hispano HA-1112-M1L
Conversion for
Hasegawa / Revell Bf 109 G-2/4/6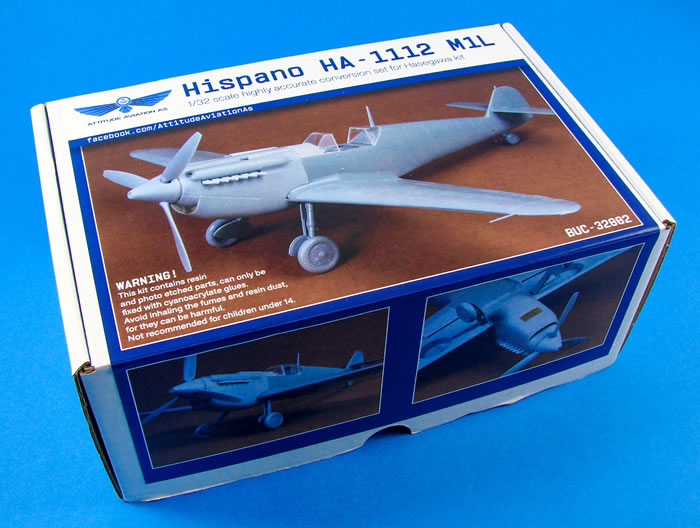 Attitude Aviation As, 1/32
S u m m a r y

Catalogue Number:

Attitude Aviation As Item No. BUC-32002 - Hispano HA-1112-M1L Conversion for Hasegawa/Revell Bf 109G-2/4/6

Scale:
1/32
Contents and Media:

See details below.

Price:
Review Type:
FirstLook
Advantages:

Beautifully detailed; flawless casting.

Disadvantages:

You will need to either sort out decals for the German machine, and if you want to build a Spanish machine, then there extra parts to purchase, as well as the resin. .

Conclusion:
A small pack ideal for any French themed modeller wanting to add interest to their aircraft of for a diorama.
Reviewed by James Hatch


Special Hobby's 1/48 scale Model 339-23 Buffalo will be available online from Squadron
The Hispano Aviación HA-1109 and HA-1112 are license-built versions of the Messerschmitt Bf 109G-2 developed in Spain during and after World War II. In 1942, the Spanish government arranged a manufacturing licence with Messerschmitt AG to build the Bf 109G-2, the DB 605A engines, propellers, instruments and weapons were to be supplied from Germany. This proved impossible as Germany was incapable of meeting its own needs let alone Spain's, and only twenty-five airframes (without their tails) and less than half the necessary drawings were actually delivered. In May 1951, a developed version, the HA-1112-K1L, improved the Spanish Hispano-Suiza, HS 17-12Z engine installation, carried either one or two 12.7mm Breda machineguns and Pilatus eight-packs of 80mm rockets and its three-bladed de Havilland Hydromatic propeller earned it the nickname Tripala ("three blades").
The final variant was the HA-1112-M1L Buchón (Pouter), which is a male dove in Spanish. It first flew on 29 March 1954 with a 1,600 hp Rolls-Royce Merlin 500-45[4] engine and Rotol propeller, both purchased as surplus from the UK. This engine had a chin intake, that altered the lines of the Bf 109's airframe. It carried two 20 mm Hispano-Suiza 404/408 cannon and two Oerlikon or Pilatus eight-packs of 80 mm rockets and remained in service until 27 December 1965. Due to their longevity, Buchóns have appeared in several war films masquerading as Bf 109Es and Gs. in movies such as Battle of Britain (alongside CASA 2.111 bombers, a Spanish-built version of the Heinkel He 111), Der Stern von Afrika, Memphis Belle, Dunkirk, and The Tuskegee Airmen. Remarkably, Buchóns also played the Bf 109's opposition, the Hawker Hurricane, in one scene in Battle of Britain. Extract
from Wikipedia
Why a conversion? Well, firstly, why not! Secondly, there is no injection moulded Buchón in large scale, and despite the moans from some that it isn't significant and that they wanted to see something else, the Buchón is a subject that many of us have wanted to model, and especially in the colours of the BoB film veterans. This isn't the first time we've seen a conversion for this intriguing machine. Indeed, Grey Matter Figures did release one some years ago (2012/13), and I tried to convert a model with it, unsuccessfully, due to all manner of quality issues including bad shrinkage. I also have to say that the breakdown and actual parts vary, to my eye, quite a lot from that other resin set. Most definitely in final appearance of the Buchón.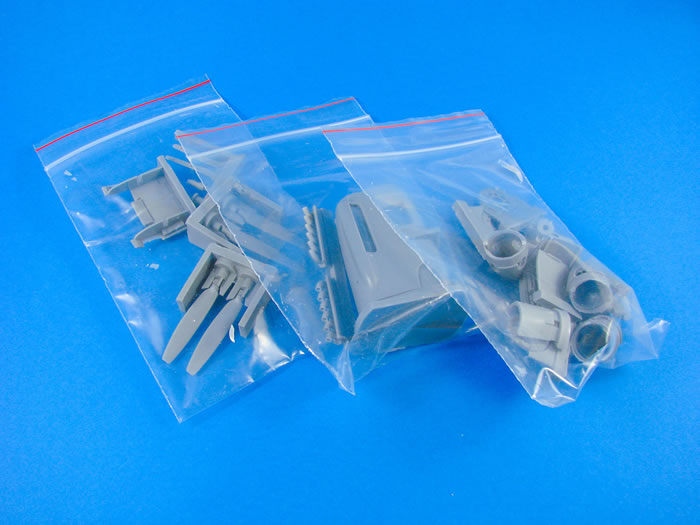 This set is provided in a resilient and deep corrugated cardboard box that has a product label that extends to both the front and rear, showing the finished model and a layout of the resin parts. Pulling out the tab opens the box to reveal, firstly, the numerous instruction sheets that we'll look at a little later. Removing this, several layers of bubble-wrap can be seen, protecting the three clear and re-sealable bags of light grey resin parts. A small wallet is also included with two PE frets. You will note that there are no decals in this release. They will shortly be available from the Attitude Aviation As, as a separate product. You will be able to purchase either the German or Spanish decals. It also has to be noted at this point that the parts in this release are only really capable of building one of the German film veterans and not one of the Spanish machines. The reason for this is that the cannon fairings, wing fences and underwing rockets are not included in this set. However, it also has to be said that the tail struts of the German film veterans also aren't included in this release, but I had heard they were scrapped from the film aircraft due to them falling off in flight.
Okay, onto the resin etc.
Bag 1
The first bag I'm drawn to contains the real centrepiece of this set, namely that new Merlin-engine cowl/nose. Unlike the single-piece nose in the GMF conversion set, this one is moulded in three parts, with the main cowl itself being hollow.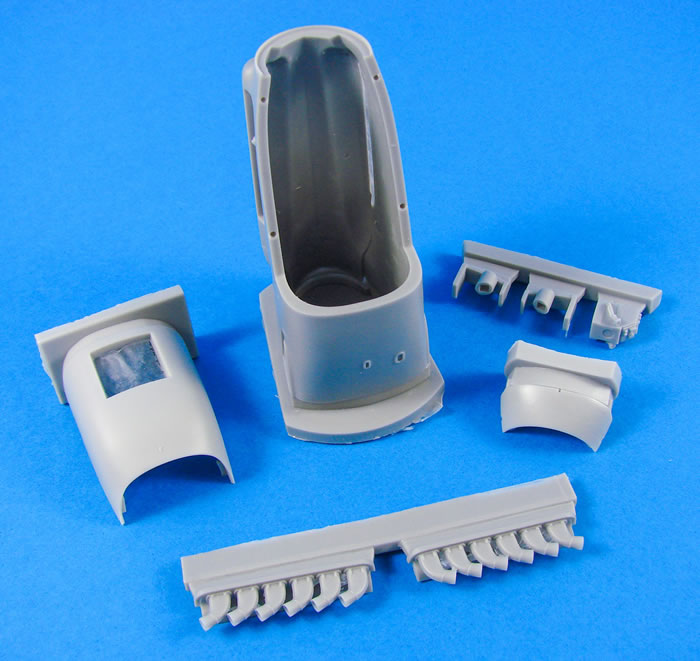 This most definitely will help keep down the nose weight of the finished model. A nice touch here is also how the lower two chin parts have locating pins which fit the corresponding holes on the main cowl. All that needs to be removed from the parts are the well-placed casting blocks and some ultra-thin resin webs from the nose radiator opening and the exhaust openings. Detail is pretty commensurate with the original Hasegawa kit, with fine panel lines and also some exquisite latch detail. Note also the holes in the upper cowl. These are designed to accommodate the fake gun trough covers that were fitted to many of the BoB film veterans. If your machine wasn't fitted with them, you'll need to fill them in.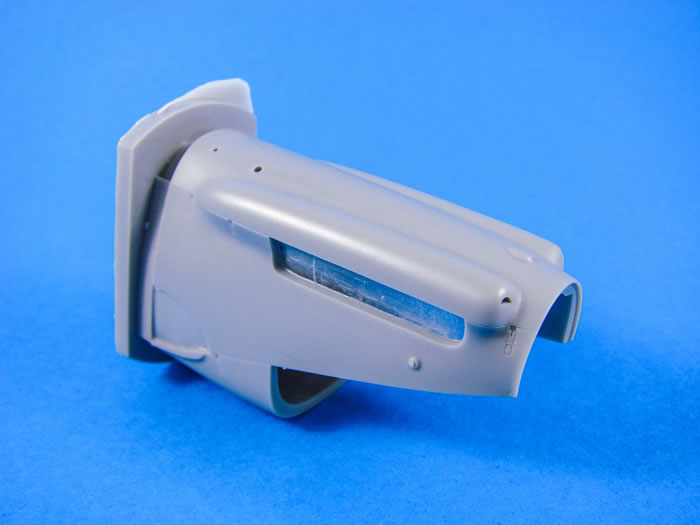 Also nicely cast are the two rows of exhaust stubs with their neat hollow ends, weld seams and fastening bolts. There is an upper cowl fairing which is integral to these so it will be nice and easy to ensure correct location.
A single casting block contains the cockpit radio set and the new undercarriage mounting blocks.
---
Bag 2
You're really spoiled here as there are not one, not two or even three….but FOUR different iterations of the spinner. Two of these are for the four-blade prop option, and the others for the three-blade. There is one spinner which is more or less a full shape, and the others have been cropped to represent the Emil of the BoB film, and these also vary somewhat in shape. These parts are to be married to one of two spinner backplate options, dependant on the numbers of blades used. An internal prop hub is included for each option too. There is a plate which forms the forward cowl ring, behind the spinner. Backplates and cowl ring are fully detailed too.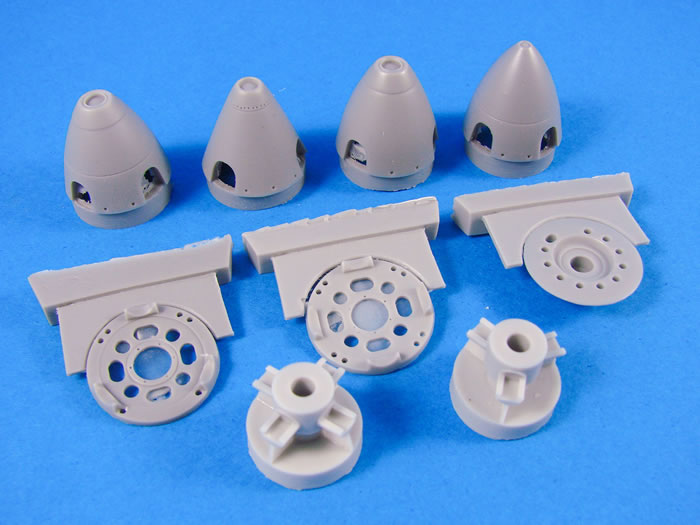 Only a little clean-up will be required to prepare parts for fitting, and the casting blocks are connected via a then web.
There were differences to the cockpit of the Buchón and as a result, there is a more or less complete cockpit tub included in this release, and it really does look gorgeous! You will need to supplement this with parts from the original kit, such as the rudder pedals etc. but you may want to use a little PE for some of these parts, where applicable, from a different aftermarket release.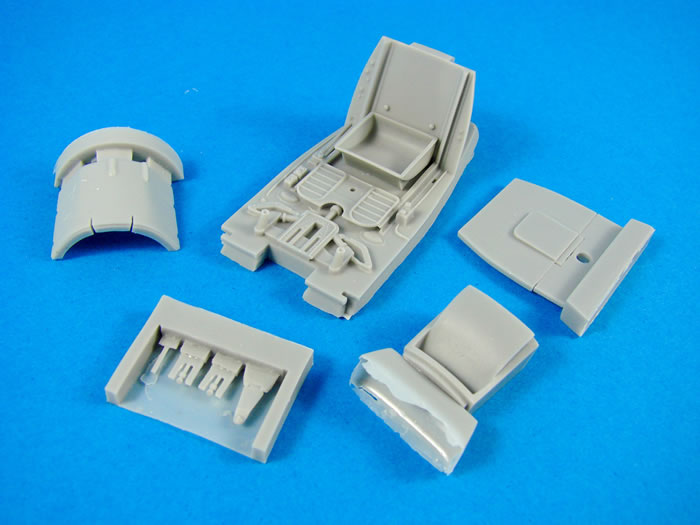 Also in this packet are a bulkhead for the fuselage, which sits behind the new nose, the lower cowl radiator outlet channel and the upper fuselage cowl which site in front of the windscreen.
A small casting block contains parts for the cockpit.
---
Bag 3
Our last bag of resin parts contains the four prop blades (with squared ends), a cowl to fuselage belly fairing, two fake gun trough covers for the movie aircraft, a prop shaft and dummy spinner gun.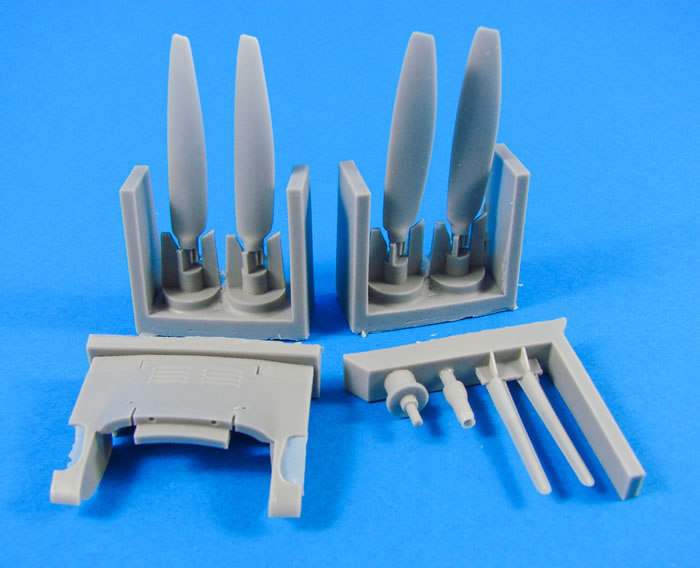 If you wish to model the three-blade prop machine, you will need to round the ends of these and create a profile akin to the Hamilton Standard prop. It shouldn't take more than 30 minutes to do the prerequisite work. The prop shapes are excellent with nice thin trailing edges and tips.
---
Photo Etch
There are TWO PE frets in this release. One of them, presumably made by Eduard, contains the multipart, colour-printed instrument panel which is of course specific to the Buchón. Print quality is typically Eduard with solid colour and nice instrument definition.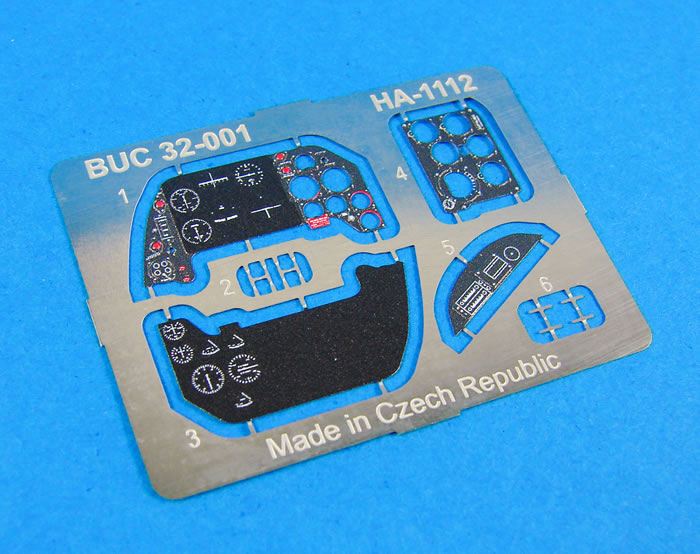 The second fret contains the chin intake grille and also the radiator outlet flap, produced in bare brass. Production quality is also excellent.
---
Instructions
There are several loose sheets, printed on both sides, which form the instructions. Each sheet contains specific aspects of conversion, with photographs and accompanying text. Some of the photos are a little difficult to decipher unless you look at the parts and study things carefully. They also don't address the shortening of the wingtips and the installation of the dummy wing cannon that are needed for film veteran aircraft.
You most definitely will need to either sort out decals for the German machine, and if you want to build a Spanish machine, then there extra parts to purchase, as well as the resin.
Attitude Aviation As has made a compromise in terms of initial kit cost so that you only pay for what you will actually use. The design of the parts, rendered in CAD by artist Ronnie Olsthoorn, and 3D-printed and cast by SBS of Hungary, are flawless. You can actually see that the designers have thought about things in an intelligent way and pulled off what appears to be a fantastic conversion of the famous sibling of Messerschmitt's famed G-series Bf 109. The only thing I need to add is that you will need to do a little reference hunting to ensure your finished Buchón will have the correct spinner and prop combo for the selected scheme, and that you will need to look at shortening the wingtips slightly and adding the fake wing guns that were used in the film.
My set wasn't provided with any colour scheme profiles, but these are available on their Facebook page.
A seriously nice set!
Thanks to Attitude Aviation As for the review sample seen in this article. For more info, check out the company's Facebook page, here.
---
Review and Images Copyright © 2019 by James Hatch
Page Created 24 January, 2019
Last updated 24 January, 2019
Back to HyperScale Main Page
Back to Reviews Page