Roden 1/32 scale
SPAD VII c.1
by Leo Stevenson

SPAD VII c.1

Tamiya's 1/32 scale P-51D Mustang is available online from Squadron.com for just $146.99!
Here are two Spad VIII c.1's that I built in parallel, as I sometimes do when I'm interested in the markings and history of two aircraft of the same type. These models are based on two Roden kits, with extras added such as Eduard photo-etched parts, which makes a big difference to the overall quality, particularly with regard to the radiator shutters and the odd bell-crank system for the ailerons. I have to say that the way Roden simplifies the representation of these parts is disappointingly crude.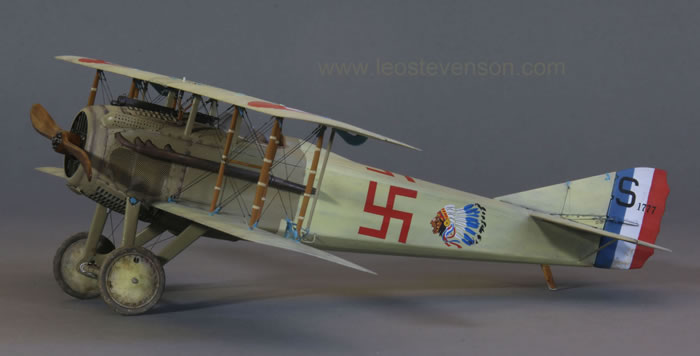 I was also dissatisfied with the way that these kits fitted together. It was a big struggle to make everything work, not least because the engines do not come anywhere close to fitting within the cowlings that surround them and so surprisingly big chunks had to be hacked off the engines to make to allow the whole of the front of the fuselage to fit together. Anyway, having said that, with patience it is possible to sort these problems out and I'm reasonably pleased with the way that they have come out considering the challenges that I had with them. Perhaps I'm so spoiled by the amazing quality of Wingnut Wings' kits that I was unrealistically expecting these builds to be easier than they were. Roden kits are, after all, usually much cheaper than the dazzlingly sumptuous Wingnut Wings models, so I have to be fair!
Here you see representations of the Spad flown by Maxime Lenoir (1888-1916) of Escadrille N.23 in 1916, with the motto "Le Trompe La Mort III", which roughly translates as 'the cheater of death' – a sad irony as he died in this aircraft aged only 28. The other Spad was flown by Raoul Lufbery (1885-1918) whilst flying with Escadrille N.124 in 1917. He also didn't survive the war.
By the way, the swastikas have nothing to do with Nazism of course, these are good luck symbols that Lufbery saw on his extensive travels in China before the war. There were other flyers on both sides in the war who also had swastikas on their aircraft.
---
Model and Text Copyright © 2019 by Leo Stevenson
Page Created 12 September, 2019
Last Updated 12 September, 2019
Back to HyperScale Main Page