Yakovlev Yak-130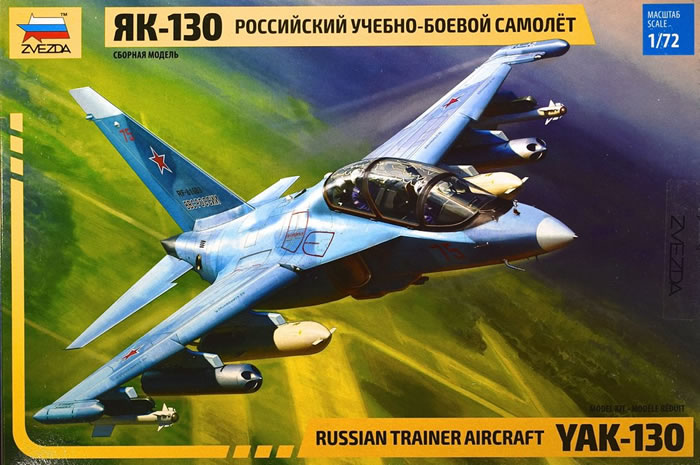 Zvezda, 1/72 scale
S u m m a r y :

Description and Item No.:

Zvezda Kit No. 7307 - Yakovlev Yak-130

Contents and Media:

174 parts in light grey styrene (not all are used), 6 clear parts, and one decal sheet covering three airframes.

Price:

£19.99 (£16.66 Export Price) plus shipping available online from Hannants

Scale:

1/72

Review Type:

First Look

Advantages:

The kit parts are well molded with inscribed details and little-to-no flash. The canopy parts are crystal clear and the decals cover three colorful airframes.

Disadvantages:

Some inscribed details are shallow and will require re-scribing prior to painting.

Recommendation:

This is a well molded and nicely detailed model of a somewhat rare but aesthetically pleasing airplane.
Reviewed by John Miller


Hobby Boss' 1/72 P-61A Black Widow is available online from Squadron.com
The Yakovlev Yak-130 (NATO reporting name: Mitten) is a subsonic two-seat advanced jet trainer originally developed by Yakovlev and Aermacchi. It has also been marketed as a potential light attack aircraft. Development began in 1991 and the maiden flight was conducted on 25 April 1996. In 2002, it won a Russian government tender for training aircraft and in 2009 entered service with the Russian Air Force. As an advanced training aircraft, the Yak-130 is able to replicate the characteristics of several 4+ generation fighters as well as the fifth-generation Sukhoi Su-57. It can also perform light-attack and reconnaissance duties, carrying a combat load of 3,000 kg.
In the early 1990's, the Soviet government asked the aviation industry to develop a new aircraft to replace the Czech-made Aero L-29 Delfín and Aero L-39 Albatros jet trainers. The air forces of the newly independent Russia estimated that its requirement would be about 1,000 aircraft. Five design bureaus put forward proposals but only the MiG-AT and Yak-UTS were chosen.
In September 1993 Yakovlev entered into an agreement with the Italian company Aermacchi to work on the plane, which now became the Yak/AEM-130. In 2000, differences in priorities between the two firms brought an end to the partnership with each developing the aircraft independently. Through an agreement Yakovlev would be able to sell the aircraft to countries in the Commonwealth of Independent States (India, Slovakia and Algeria) and Aermacchi would sell to NATO countries, among others.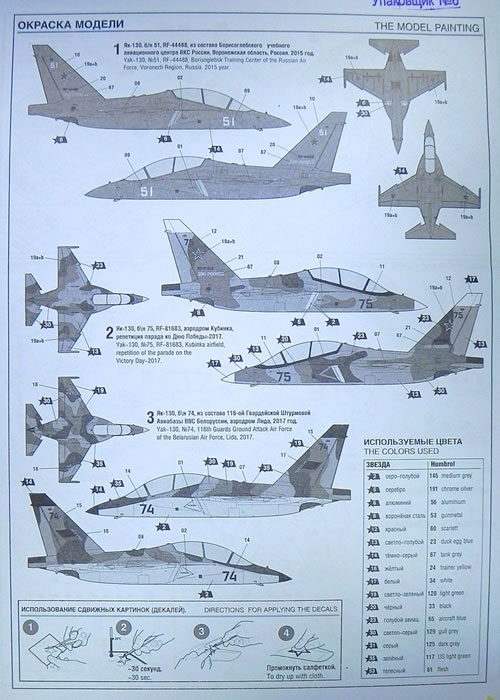 On the 10th of April 2002, it was announced that the Yak-130 had been chosen over the MiG-AT for basic and advanced pilot training. Plans to develop a light attach version came to a halt in the late 2011 when the aircraft failed to meet the "enhanced pilot protection" requirements of the Russian Air Force.
The Yak-130 is an advanced pilot training aircraft capable of replicating the characteristics of Russian 4th and 5th generation fighters. This is possible through the use of open architecture digital avionics, a full digital glass cockpit, four-channel digital Fly-By-Wire System (FBWS), Instructor controlled and variable FBWS handling characteristics, and embedded simulation. The type also has a Head-up display (HUD) and a Helmet-Mounted-Sighting-System (HMSS), with a double GPS/GLONASS receiver updating an Inertial Reference System (IRS) for highly accurate navigation and precision targeting.
In addition to its training role, the aircraft is capable of fulfilling Light Attack and Reconnaissance duties. It can carry a combat load of 3,000 kilograms (6,600 pounds), consisting of various guided and un-guided weapons, auxiliary fuel tanks and electronic pods. According to its chief designer Konstantin Popovich, during a testing phase that ended in December 2009, the plane was tested with "all airborne weapons with a weight of up to 500 kg that are in service in the Russian Air Force". Yak-130 has nine hard points: two wingtip, six under-wing and one under-fuselage.
The Yakovlev Yak-130 is equipped with the FBWS controlled engine intake blanking doors, in order to prevent the aircraft's engines from sustaining foreign object damage (FOD) when operating from unpaved runways and grass strips.
Combat training suite on the Yak-130 includes simulated and real firing systems with air-to-air and air-to-surface missiles, bomb dropping, gun firing and on-board self-protection systems.
---
General Characteristics
Crew: 2 pilots

Length: 11.49 m (37 ft 8 in)

Wingspan: 9.84 m (32 ft 3 in)

Height: 4.76 m (15 ft 7 in)

Wing area: 23.52 m² (253.2 sq ft)

Empty weight: 4,600 kg (10,141 lb)

Loaded weight: 7,250 kg (15,984 lb) (normal take-off weight)

Maximum takeoff weight: 10,290 kg (22,686 lb)

Powerplant: 2 × Progress AI-222-25 turbofan, 24.52 KN (5,512 lbf) each
Performance
Maximum speed: 1,060 km/h (648 mph)

Cruise speed: 887 km/h (551 mph)

Stall speed: 165 km/h (103 mph)

Range: 2,100 km (1,305 miles)

Combat radius: 555 km (345 miles)

Service ceiling: 12,500 m (42,660 ft)

Rate of climb: 65 m/s (10,000 ft/min)

Wing loading: 276.4 kg/m² (56.60 lb/sq ft)

Thrust/weight: 0.70
(Edited from Wikipedia)
The kit comes in a sturdy, lidded, cardboard box that fits within a second end-opening box, which is adorned on the top with art depicting a Yak-130 "Mitten" in flight. One of the things I like about the newer Zvezda kits is the sturdy packaging. I wish other manufacturers would consider such a system.
The parts are molded in a light grey styrene that is mostly devoid of flash. The sprue gates are small and thoughtfully placed so as to lessen damage during parts removal.
Overall the level of detail is very nice with inscribing that is restrained and scale-appropriate, mostly. Some of the inscribed lines are a bit too shallow in some areas and will have to be re-scribed prior to painting.
The main and nose gear legs as crisply molded as are the wheels. All will look great under a little wash after painting.
The canopy parts are cleanly molded and very clear. The large single piece canopy will allow a lot to be seen and luckily the cockpit (composed of 15 parts) is very well detailed including nicely molded ejection seats.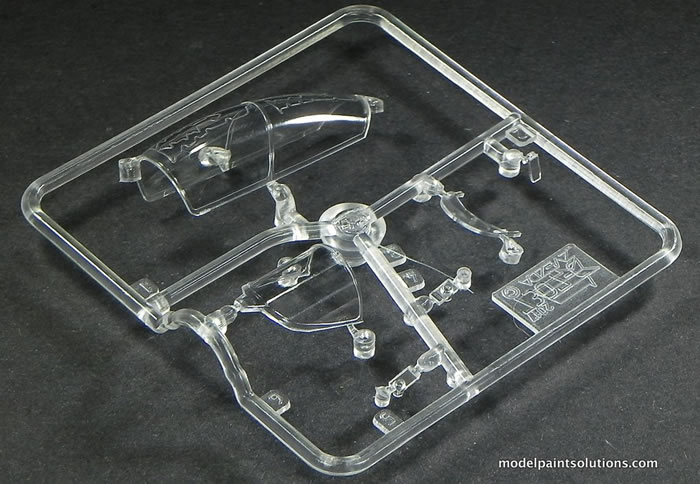 At this point in a review I usually say something like "construction is conventional etc." That's not the case with this kit. Construction starts with the two detailed engines and associated intake trunks thence to the two main gear wheel wells. These assemblies are then mounted inside the left and right rear fuselage halves. Much of the details in these assemblies will not be seen when the model is complete.
The cockpit and nose section is completed next and added to the rear fuselage section. The full-span upper wing piece, which also incorporates the mid section of the fuselage, is added next. With the addition of a few rear fuselage and under-wing panels and the model is complete.
The Yak-130 has three hard points per wing and very detailed pylons, wing tanks, and multiple munitions are provided should you wish to put a load on your "Mitten."
---
Markings
The decal sheet, printed by Zvezda, is crisply printed with good color and registration. Of note are the very nicely done airframe stencils.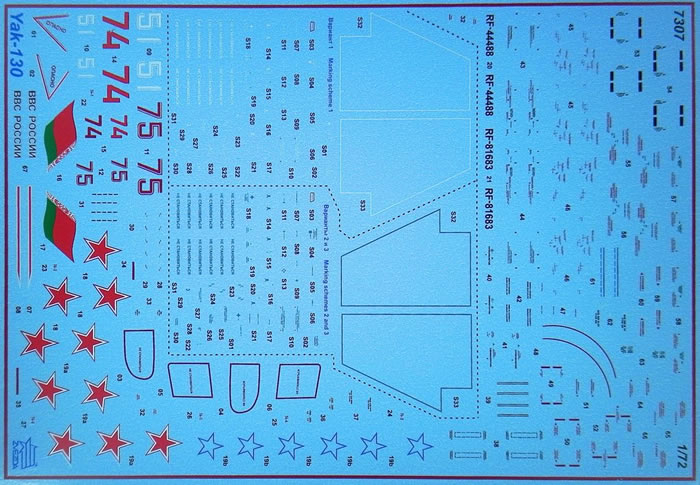 Three airframes are covered:
Yak-130, No. 51, RF-44488, Borisoglebsk Training Center of the Russian Air Force, Voronezh Region, Russia. Over-all tank-grey.

Yak-130, No. 75, RF-81683, Kubinka Airfield, Victory Day Parade, 2017. Upper: Pattern of Gull Grey, Duck Egg Blue, and Aircraft Blue. Lower: Duck Egg Blue.

Yak-130, No. 74, 116th Guards Ground Attack Air Force, Belarusian Air Force, Lida, 2017. Upper: Pattern of Gull Grey, Light Green, and "US Light Green". Lower: Medium Grey.
This is a very nice kit. Like a 1/1 scale Mitten, it will be a small model when built but the svelte lines and large clear canopy will invite a closer look. The complexity of the sub-assemblies suggests the builder will have to be mindful of alignment and fit. The result, however, should be a real eye-catcher. Recommended!
For more on this review visit ModelPaintSolutions.com
Kit purchased by the reviewer
---
Review Text and Images Copyright © 2018 by John Miller
Page Created 27 February, 2018
Last updated 27 February, 2018
Back to HyperScale Main Page
Back to Reviews Page