Kawasaki Ki-61d Hien (Tony)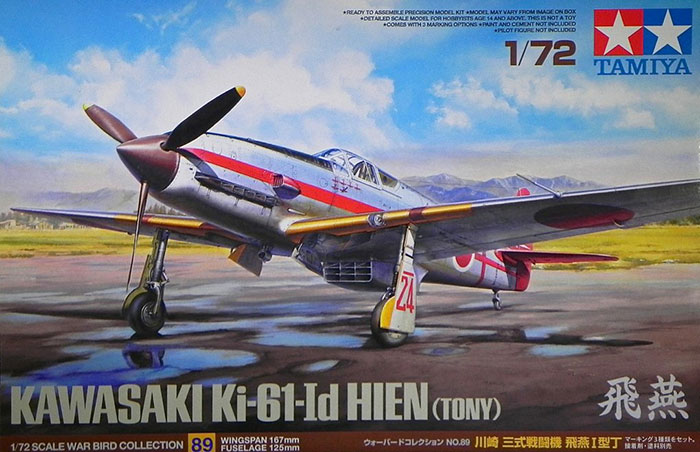 Tamiya, 1/72 scale
S u m m a r y :

Description and Item No.:

Tamiya Kit No. 60789 - Kawasaki Ki-61d Hien (Tony)

Contents and Media:

45 parts in grey styrene, 3 clear parts, and one decal sheet with markings for 3 airframes.

Price:

£16.66 Plus Shipping at Hannants

$12.52 Plus Shipping at Hobby Link Japan

Scale:

1/72

Review Type:

First Look

Advantages:

Crisp, scale-appropriate inscribed details and panel lines; Nicely detailed cockpit and wheel wells; Low parts count and straightforward, conventional engineering.

Disadvantages:

No open-canopy option provided.

Recommendation:

Tamiya has delivered a real gem in the form of this 1/72 Hien. As we've come to expect from this manufacturer, the surface details are crisp, scale-appropriate, and beautifully rendered. The engineering is top-notch and incorporates a surprisingly low parts count, which should make for a quick and exceedingly easy build.
Reviewed by John Miller


Hobby Boss' 1/72 P-61A Black Widow is available online from Squadron.com
The Kawasaki Ki-61 Hien (flying swallow) is a Japanese World War II fighter aircraft used by the Imperial Japanese Army Air Service. The Japanese Army designation was "Army Type 3 Fighter." Allied pilots initially believed Ki-61s to be Messerschmitt Bf 109s and later an Italian aircraft, which led to the Allied reporting name of "Tony", assigned by the United States War Department. It was the only mass-produced Japanese fighter of the war to use a liquid-cooled inline engine. Over 3,000 Ki-61s were produced. Initial prototypes saw action over Yokohama during the Doolittle Raid on 18 April 1942, and continued to fly combat missions throughout the war.
---
Design and Development:
The Ki-61 was designed by Takeo Doi and his deputy Shin Owada in response to a late 1939 tender by the Koku Hombu for two fighters, each to be built around the Daimler-Benz DB 601Aa engine. Production aircraft would use a Kawasaki licensed DB 601, known as the Ha-40, which was to be manufactured at its Akashi plant. The Ki-60 was to be a heavily armed specialized interceptor, with a high wing loading while the Ki-61 was to be a more lightly loaded and armed general-purpose fighter intended for use in mainly in an offensive, air superiority role at low to medium altitudes.
Both single-seat, single-engine fighters used the same basic construction, being of all-metal alloys with semi-monocoque fuselages and three-spar wings with alloy-framed, fabric-covered ailerons, elevators and rudders. Priority was given to the Ki-60, which first flew in April 1941, while design work on the Ki-61 did not begin until December 1940. Although the Ki-61 was broadly similar to the Ki-60, it featured several refinements exploiting lessons learned from the disappointing flight characteristics of the earlier design.
The all-metal, semi-monocoque fuselage was basically oval in cross-section, changing to a tapered, semi-triangular oval behind the cockpit canopy, with a maximum depth of 1.35 m (4 ft 5 in). An unusual feature of the Ki-61 was that the engine bearers were constructed as an integral part of the forward fuselage, with the cowling side panels being fixed. For servicing or replacement, only the top and bottom cowling panels could be removed. A tapered, rectangular supercharger air intake was located on the port side of the cowling. Behind the engine bulkhead were ammunition boxes feeding a pair of synchronized 12.7 mm (.50 in) Ho-103 machine guns set in a "staggered" configuration (the port weapon slightly further forward than the starboard) in a bay just above and behind the engine. The breeches partly projected into the cockpit, above the instrument panel. The Ho-103 was a light weapon for its caliber (around 23 kg/51 lb) and fired a light shell, but this was compensated for by its rapid rate of fire. The ammunition capacity was limited, having only around 250 rounds for each weapon. A self-sealing fuel tank with a capacity of 165 L (44 US gal) was located behind the pilot's seat. The windshield was armored and there was a 13 mm (.51 in) armor plate behind the pilot. The radiator and oil cooler for the liquid-cooled engine were in a ventral location below the fuselage and wing trailing edge, covered by a rectangular section fairing with a large, adjustable exit flap.
The evenly tapered wings had an aspect ratio of 7.2 with a gross area of 20 m² (215.28 ft²) and featured three spars; a Warren truss main spar and two auxiliary spars. The rear spar carried the split flaps and long, narrow-chord ailerons, while the front spar incorporated the undercarriage pivot points. The undercarriage track was relatively wide at 4 m (13 ft 1.5 in) and each wing had a partially self-sealing 190 L (50 US gal) fuel tank behind the main spar, just outboard of the fuselage. A single weapon (initially a 7.7 mm/0.303 in Type 89 machine gun) was carried in a weapons bay located behind the main spar.
The first prototype of the San-shiki-Sentohki ichi gata ("Type 3 Fighter, Model 1", the official IJAAF designation) first flew in December 1941 at Kagamigahara Airfield. Although test pilots were enthusiastic about its self-sealing fuel tanks, upgraded armament, and good dive performance, the wing loading of 146.3 kg/m² (30 lb/ft²) at an all-up weight of 2,950 kg (6,500 lb) was viewed with skepticism by many of the senior officers of the Koku Hombu, who believed in the light, highly maneuverable, lightly armed fighter epitomized by the then new Nakajima Ki-43-I-Hei.
To address these concerns, Kawasaki staged a fly-off between two Ki-61 prototypes and the Nakajima Ki-43-I, a pre-production Nakajima Ki-44-I, a defector-flown Lavochkin-Gorbunov-Goudkov LaGG-3, a Messerschmitt Bf 109E-7, and a captured Curtiss P-40E Warhawk. The Ki-61 proved the fastest of all the aircraft and was inferior only to the Ki-43 in maneuverability.
The Ki-61 was the last of the fighters powered by the DB-601 or its foreign derivatives, and was soon overshadowed by fighters with more powerful engines. By the time it first flew in December 1941, one year after the Macchi C.202's first flight and three years after the first Bf 109E, the engine was already underpowered compared to the new 1,120 kW (1,500 hp) inline or 1,491 kW (2,000 hp) radial engines being developed (and already nearing the mass-production stage) to power the next generation of combat aircraft such as the Republic P-47 Thunderbolt. Moreover, the inline Ha-40 engine proved to be an unreliable powerplant.
The DB-601 engine required precise and sophisticated manufacturing; the Ha-40 was lighter by roughly 30 kg (70 lb) and required even higher manufacturing standards. Reaching these standards proved difficult for Japanese manufacturers, an issue further complicated by the variable quality of materials, fuel, and the lubricants needed to run a sensitive, high-performance engine.
Compared to the Ki-61-I, the Ki-61-II had 10% greater wing area, used more armor, and was powered by the Kawasaki Ha-140 (licensed built DB605) engine generating 1,120 kW (1,500 hp). After overcoming initial fuselage and wing stability problems, the new interceptor reverted to the original wing and was put into service as the Ki-61-II-KAI. However, the Ha-140 engine had severe reliability problems, which were never fully resolved, and around half of the first batch of engines delivered was returned to the factory for rebuilding.
A US bombing raid on 19 January 1945 destroyed the engine factory in Akashi, Hy?go, and 275 Ki-61-II-KAI airframes without engines were converted to use the Mitsubishi Ha-112-II radial engine, resulting in the Ki-100. While the Ha-112 solved the problems encountered with the Ha-140, the new engine still had a major weakness: a lack of power at altitude, which diminished its ability to intercept high-flying B-29 Superfortresses relative to the Ki-61-II.
---
Operational History:
The Ki-61 looked so different than the usual radial-engined Japanese fighters that the Allies at first believed it to be of German or Italian origin: possibly a license-built Messerschmitt Bf 109. The first Ki-61 seen by Allied aircrew had been misidentified as a Bf 109 by USAAF Capt. C. Ross Greening during the Doolittle Raid. In early reports, when it was thought to have been a German fighter, the Ki-61 had been code-named "Mike." The final, and better-known code name adopted was "Tony", because the Ki-61 looked like an Italian aircraft.
The new Ki-61 Hien fighters entered service with a special training unit, the 23rd Chutai, and entered combat for the first time in early 1943 during the New Guinea campaign. The first Sentai (Air Group/Wing) fully equipped with the Hien was the 68th in Wewak, New Guinea, followed by the 78th Sentai stationed on Rabaul. Both units were sent into a difficult theatre where jungles and adverse weather conditions, coupled with a lack of spares, quickly undermined the efficiency of both men and machines.
Because the Ki-61 was so new, and had been rushed into service, it inevitably suffered from teething problems. Almost all of the modern Japanese aircraft engines, especially the Ki-61's liquid-cooled engines, suffered a disastrous series of failures and ongoing problems, which resulted in the obsolescent Ki-43 still forming the bulk of the JAAF's fighter capability.
The Ki-61 was also utilized in Southeast Asia, Okinawa, China and as an interceptor during US bombing raids over Japanese home islands, including against Boeing B-29 Superfortresses.

Owing to the additional weight, the Ki-61's performance and agility suffered when its armament was increased, but it still remained capable with a 580 km/h (313 kn) maximum speed. The cannon armament was needed to counter the Allied bombers, which proved to be difficult to shoot down with only 12.7 mm (.50 in) machine guns.
A number of Ki-61s were also used in Tokkotai (kamikaze) missions launched toward the end of the war. The Ki-61 was delivered to 15th Sentai (group/wing), as well as some individual Chutaicho (junior operational commanders) in other Sentai, and even to operational training units in the JAAF. The aircraft was largely trouble-free in service except for the liquid-cooled engine, which tended to overheat when idling on the ground and suffered from oil circulation and bearing problems.
(Edited from Wikipedia)
In the typical lidded Tamiya box comes one normal sized and one small sprue of light grey styrene. In a sealed blue protective bag is one small sprue of clear parts. One decal sheet with schemes for three airframes completes the kit.
The first impression is one of surprising simplicity. This is not a complicated kit and will come together quickly in just a few hours of work.
The fidelity and crispness of the inscribed details are all we've come to expect from Tamiya: this is a state-of-the-art model. The surface details and textures are beautifully done and will look awesome under a thin coat of paint and some washes.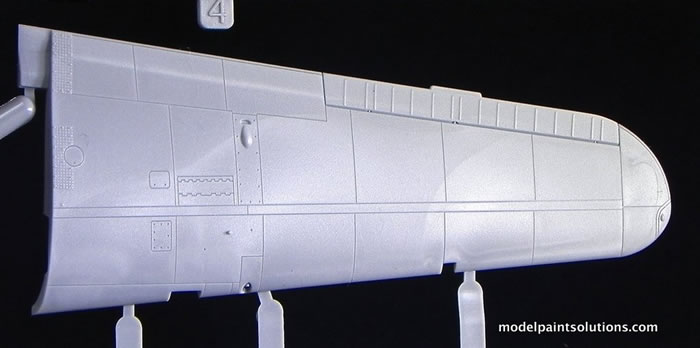 As usual we're directed by the instructions to begin the build with the cockpit assembly comprised of 11 crisply molded parts. The instrument panel and seat belts are provided as nicely printed decals. The engineering used here permits the cockpit to be assembled separately and then inserted into the completed fuselage. This will permit the builder to work on both (cockpit and fuselage) simultaneously thereby reducing build time: very nice.
Once the fuselage halves are joined, the dorsal spine assembly, complete with a nicely detailed pilot's headrest, is added. The wings comprised of full-span lower wing and upper halves are assembled and then joined to the completed fuselage. With the addition of the single piece horizontal stabilizer/elevators and the belly intake, the airframe is complete.
The landing gear, wheels, and gear doors, are nicely molded with easy attach points. The inner gear door retraction mechanism is particularly nicely done and really adds to the nice detail of the wheel well area.
The one-piece canopy is crystal clear with canopy frames rendered in relief that is scale-appropriate.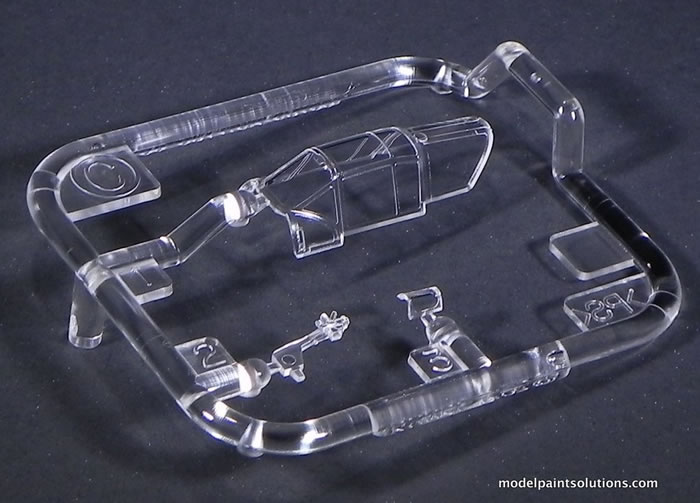 Although beautifully molded and clear, the canopy represents the one drawback of the kit, as an opened option is not provided.
---
Markings
The decals, printed by Tamiya, show excellent registration and appropriate color and hue.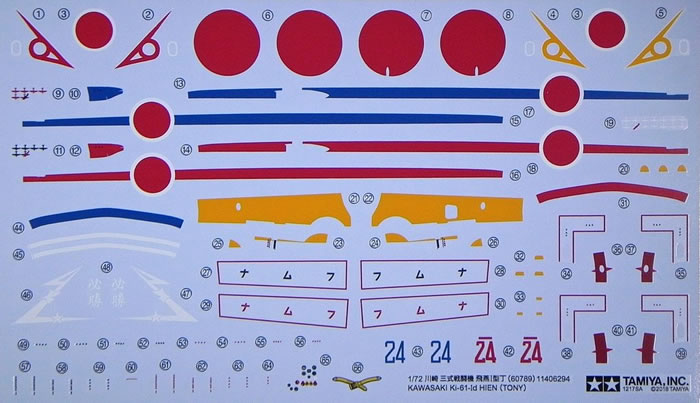 Markings for three airframes are provided:
A) Captain Teruhiko Kobayashi, 244th Air Group, Chofu Air Base, February 1945.
Aircraft was over all natural metal with metal with black anti-glare panel, yellow/orange wing leading edges, and a red empennage (horizontal stabilizers, elevators, vertical stabilizer, and rudder). There were red stripes along the sides of the fuselage and a tin red waistband. A white, stylized marking was positioned on the vertical stabilizer. Propeller and spinner were dark brown.
B) Pilot(s) unknown, 19th Air Group, Luzon, Philippines, 1945.
Aircraft had green uppers (NATO Green is recommended) and natural metal lowers with yellow/orange wing leading edges. In addition, the aircraft wore two thin, white, waistbands and a yellow marking on the vertical stabilizer. Propeller and spinner were dark brown.
C) Second Lieutenant Sunzo Takashima, 244th Air Group, Chofu Air Base, May 1945.
As with scheme A (above) this aircraft was over all natural metal with black anti-glare panel, yellow/orange wing leading edges, and a red empennage (horizontal stabilizers, elevators, vertical stabilizer, and rudder). There were red stripes along the sides of the fuselage and a red waistband. A white, stylized marking was positioned on the vertical stabilizer. In addition, the fuselage and wing upper surfaces were decorated with a distinct mottling of Japanese Army Green. Propeller and spinner were dark brown.
This is a little jewel of a kit that will come together quickly and be a joy to build. With simple engineering and a low parts count, I suspect this kit can be assembled in a long afternoon/evening. I may have to make room in my build schedule for this new tiny Tony. Many Thanks, Tamiya!
Now go paint something!
Kit willingly purchased by reviewer.
For more on this review visit Modelpaintsolutions.com.
Kit purchased by the reviewer
---
Review Text and Images Copyright © 2018 by John Miller
Page Created 16 April, 2018
Last updated 16 April, 2018
Back to HyperScale Main Page
Back to Reviews Page