FJ-2 Fury
Sword, 1/72 scale
S u m m a r y

Description and Catalogue Number:

Sword Kit No. SW SW 72107 – FJ-2 Fury

Scale:
1/72
Contents and Media:

57 parts in grey coloured plastic, 2 grey resin parts. 6 clear polythene parts; markings for three aircraft.

Price:

Available online from these stockists:

and hobby retailers worldwide

Review Type:
FirstLook
Advantages:

This is the only FJ-2 Fury available in 1/72 scale. Accurate outline; crisp well detailed moulded plastic parts; nicely printed decal sheet with minimal carrier film and perfect register. Excellent resin seat. Optional canopy position.

Disadvantages:

Some minor flash around some parts. Limited release kit so will need some test fitting to ensure a good fit. Paint call outs are generic colours with no brand or FS information. Flimsy end opening box.

Conclusion:

Sword Models has released the first FJ-2 Fury in the scale with 3 schemes. The model itself, is of a high quality but colour references are poor and make finishing the model harder.
Reviewed by David Couche
Background
The North American FJ-2 is a swept-wing carrier-capable fighter for the United States Navy and Marine Corps. The FJ-2 resulted from an effort to navalize the United States Air Force's F-86 Sabre. These aircraft featured folding wings, and a longer nose landing strut designed to increase angle of attack upon launch and to accommodate a longer oleo to absorb the shock of hard landings on an aircraft carrier deck.
Although sharing a U.S. Navy designation with its distant predecessor, the straight-winged North American FJ-1 Fury, the FJ-2/-3 were completely different aircraft. (The later FJ-4 Fury was again, a complete structural redesign of the FJ-3). The FJ-2 was one of the aircraft used to evaluate the first steam catapult on a US Navy aircraft-carrier.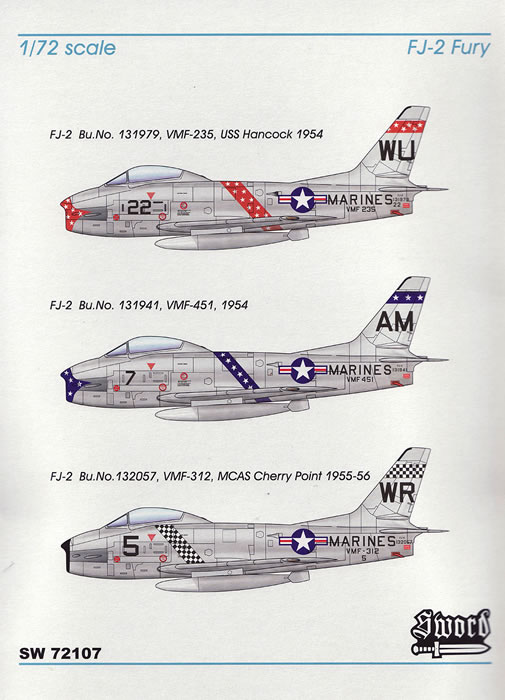 The first prototype to fly was actually the third aircraft ordered: Designated XFJ-2B and first flown on 27 December 1951, it differed only from a standard F-86E-10 in its armament, having four 20-mm Colt Mk 12 cannon instead of the six Colt-Browning M3 .50 machine guns of the Sabre. The second and third aircraft to fly were designated XFJ-2 and lacked armament, but were modified to be carrier-capable: They had an arrester hook and a longer nosewheel leg to increase angle of attack at take-off and landing, and catapult fittings. In August 1952 carrier trials were flown on USS Midway, followed by carrier qualification trials on USS Coral Sea in October–December 1952. Results were less than satisfactory. Low-speed handling was considered poor, and the arrester hook and nose gear leg were insufficiently strong.
The first production aircraft flew on 22 November 1952. This FJ-2 incorporated further modifications for carrier operations: The track of the main landing gear was widened by eight inches, the outer wing panels folded upward, and the windscreen was modified to give the pilot a better view during approach. The FJ-2 also featured an all-moving "flying tail" without dihedral. Because of problems experienced during launches with steam catapults, a number of FJ-2 later received a stronger nosewheel strut. Outwardly, the FJ-2 was hard to distinguish from an F-86, apart from Navy paint and the gun muzzles of the 20 mm cannon. The engine was the General Electric J47-GE-2, a navalized version of the J47-GE-27 used in the F-86F. The naval modifications of the FJ-2 had increased weight by about 500 kg over the F-86F, but unfortunately had not succeeded in delivering a fully carrier-capable fighter. A decision had already been made to give it to land-based squadrons of the US Marine Corps.
Firstly, I believe that this kit is the first release by any manufacturer of a FJ-2 Fury in 1/72 or any other scale, so well done Sword.
The kit has 2 grey sprues of injected parts which are clean with minimal flash and typical of Sword, have a shiny surface.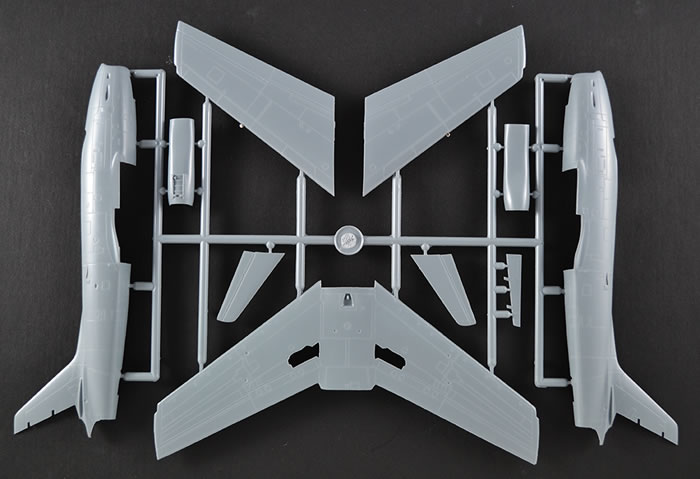 The main parts have recessed details which are even and of a suitable size for the scale.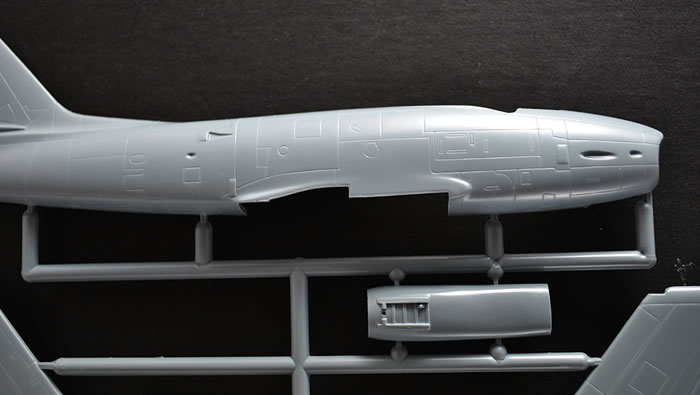 As you would expect from a limited release manufacturer, there are no location tabs or point so carefully alignment is a must. Test fitting of the wing sections shows a very neat join, so I wouldn't expect much in the way of problems for the rest of the model. It's nice to see a blanked off intake section, with the blanking plate as part of the rear wall of the cockpit. Parts seem to measure up accurately when compared with drawings in the Steve Ginter, "North American FJ-2" book.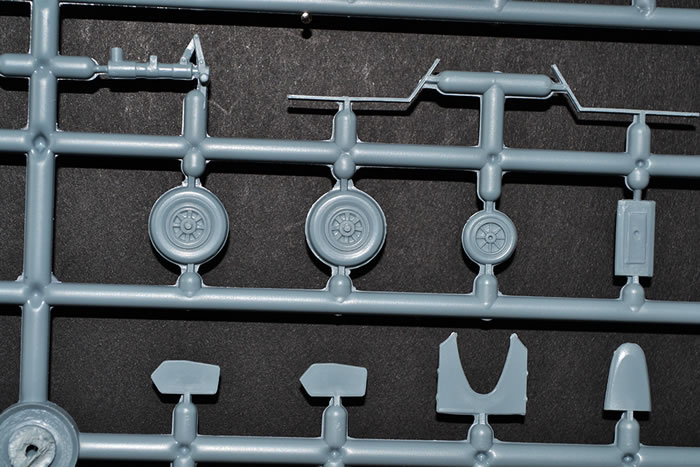 A neat resin seat comprising of the seat and the headrest, comes with the kit. No seat belts moulded on it, which is a shame, as Sword included them in the P-80 A/B kit.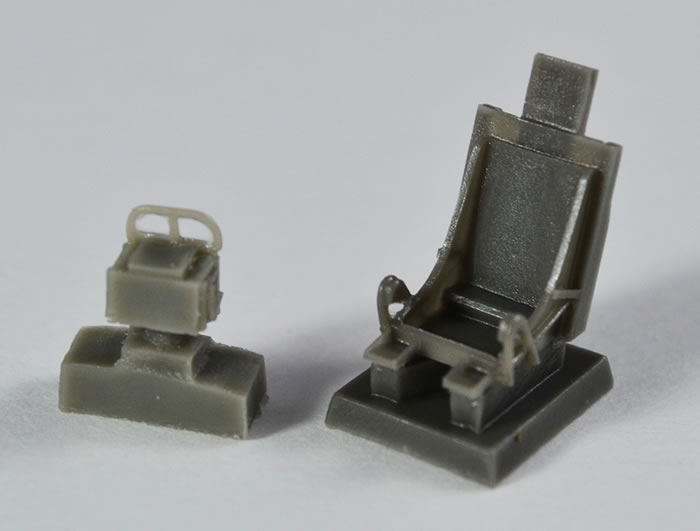 The canopy is a clear and fault-free moulding. The thickness is quite appropriate for the scale. The multi-part canopy allows you to have the canopy either open or closed.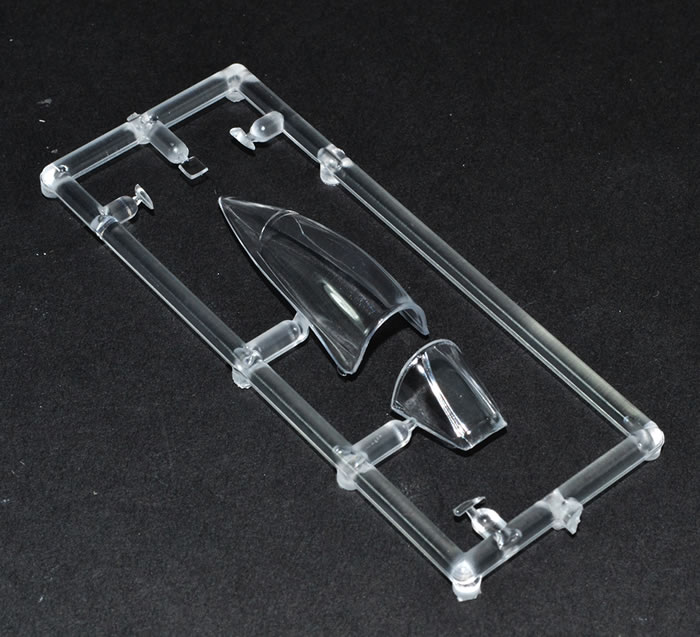 There are also a clear wing tip lights, HUD glass and tail light on the sprue.
---
Markings
There are 3 schemes, which are all natural metal versions.
FJ-2 Bu No. 131979, VMF-235, USS Hancock, 1954 – red trim

FJ-2 Bu No. 131941, VMF-451, 1954 – blue trim

FJ-2 Bu No. 132057, VMF-312, MCAS Cherry Point,, 1955-56 – black/white checker trim
The decals are printed by Techmod. There is minimal carrier film evident and they seem to be in excellent register.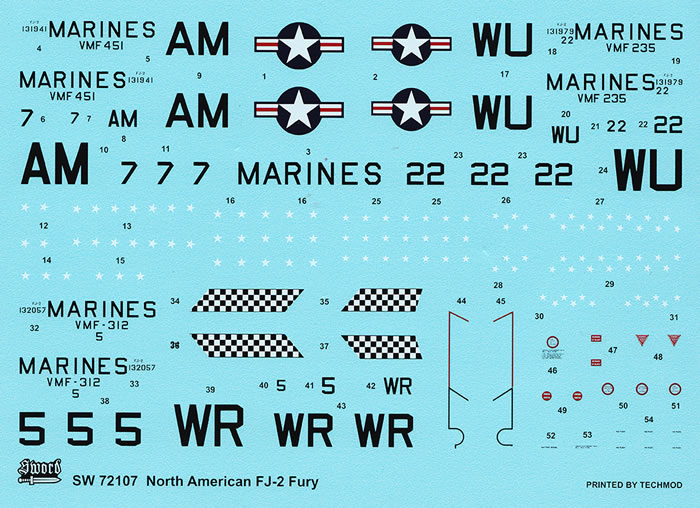 Be aware that for the red and blue banded airframes, you will need to paint those sections and the noses and the stars are only white on clear carrier.
This kit gives modellers of the "Gentleman Scale" a brand new, not previously manufactured, earlier jet fighter of the USN and Marines. It will make up into a very neat and detailed model with the inclusion of the resin details. To be honest, it will take care and the checking of fit….many times to ensure it all goes together but you will gain an interesting early USM fighter for the collection.
Thanks to Sword Models for the review samples.
---
Text and Images Copyright © 2018 by John Miller
Page Created 3 April, 2018
Last updated 3 April, 2018
Back to HyperScale Main Page