Lockheed P-80A/B
Shooting Star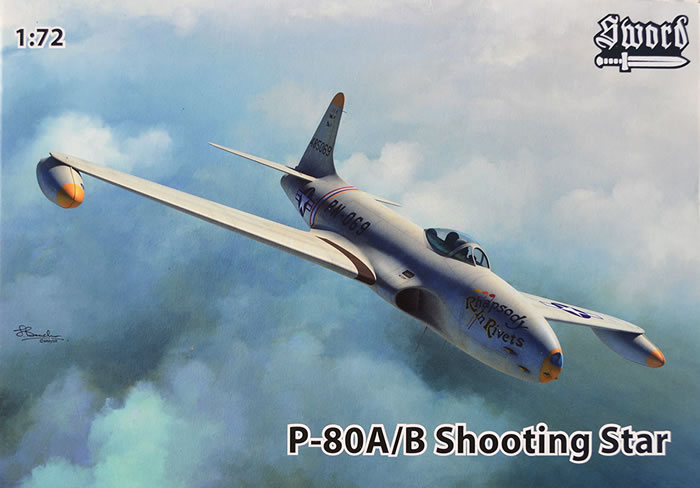 Sword, 1/72 scale
S u m m a r y

Description and Catalogue Number:

Sword Kit No. SW 72106 – Lockheed P-80A/B Shooting Star

Scale:
1/72
Contents and Media:

51 parts in grey coloured plastic, 5 grey resin parts. 3 clear polythene parts; markings for five aircraft.

Price:

Available online from these stockists:

Review Type:
FirstLook
Advantages:

Accurate outline; crisp well detailed moulded plastic parts; nicely printed decal sheet with minimal carrier film and perfect register. Excellent resin seat and wheel wells. Optional canopy position.

Disadvantages:

Some minor flash around some parts. Limited run kit so will need some test fitting to ensure a good fit. Paint call outs are generic colours with no brand or FS information. Flimsy end opening box.

Conclusion:

Sword Models have re-released with 5 new schemes for a model of the P-80A/B. The model itself is of a high quality but colour references are poor and make finishing the model harder.
Reviewed by David Couche
Background
The P-80 Shooting Star had its origin in June 1943, when Lockheed was requested to design a fighter around the De Havilland turbojet engine developed in England in response to Germany's twin-engine jet fighter, the Messerschmitt Me 262. It was flown for the first time on January 8, 1944, and its performance was very good.
The USAAF planned to build the Shooting Star in large numbers. Four were sent to Europe for operational testing (two to England and two to the 1st Fighter Group at Lesina Airfield, Italy) but when test pilot Major Frederic Borsodi was killed in a crash caused by an engine fire on 28 January 1945, in the cockpit of 44-83026 at RAF Burtonwood, the P-80A was temporarily grounded.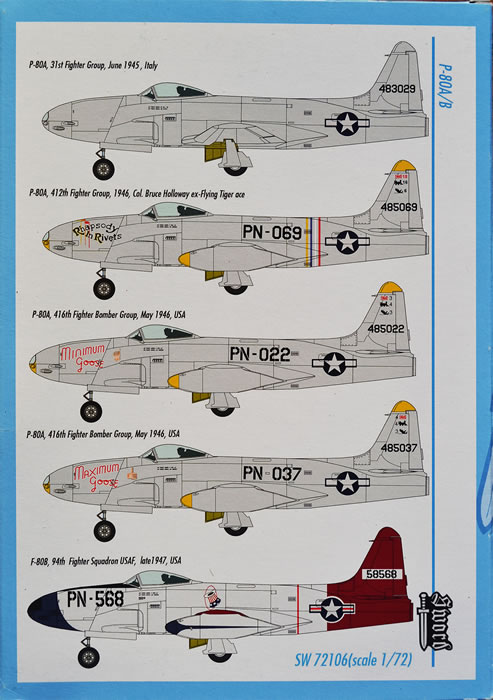 Because of the delay the Shooting Star saw no combat in World War II. Anyway production continued, but in smaller Scale.
The first unit equipped by P-80 was 412th Fighter Group located on March Field in autumn 1945. In 1947 P-80 changed its name to F-80, because newly independent USAF redesignated F (as fighter) to P (as pursuit).
Lockheed built 917 F-80A's and B's, one of which was modified for an attempt on the world speed record. On June 19, 1947, this plane achieved a speed of 623.8 miles per hour. Some of these modifications were retained in the F-80C, later used in Korean War in ground attack role, being superseded by F-84 and F-86 in later stages.
To begin with, I received my package containing the Sword P-80 kit, only to find the flimsy end opening box had been squashed and the box no longer had any structural integrity. On a personal note, and I'm sure, on behalf of many modellers across the world, when will some manufacturers spend those few cents more to put models into sturdy top opening protective boxes which not only protects our investments but makes the building process so much easier for storage of the WIP. Whinge over with and on with the review.
Firstly, I believe that this kit is a re-box of Swords previous 2011 P-80A/B kit but with 4 new natural metal schemes. The kit has only one grey sprue with all but the wing tops on it. The parts are clean and flash free and typical of Sword have a shiny surface. The main parts have recessed details which are even and of a suitable size for the scale. Interestingly, the 2 upper wings were floating free in the bag and, in my case, had some signs of minor surface scratching from this floating about. It is easily rectified but it is something you don't expect to do.
As you would expect from a limited release manufacturer, there are no location tabs or point so carefully alignment is a must. Test fitting of the wing sections shows a very neat join, so I wouldn't expect much in the way of problems for the rest of the model. It's nice to see a relatively detailed intake section, with blanking plates, that fits in the interior of the fuselage halves, leaving the outside as one piece and unspoilt in regards to finishing. Parts seem to measure up accurately when compared with drawings in both the Squadron "P-80 In Action" as well as the Osprey P-80 "Shooting Star Units Over Korea".
A very neat resin set comes with the kit. This consists of a seat, with seat belts moulded on it, the front wheel bay and main wheels bays which also includes the speed brake bays as a one piece moulding. The detail and quality of these look superb and will greatly enhance these busy areas. It's good to see this level of detail included in the kit. There is also the gunsight and the dual landing lights also in the resin set.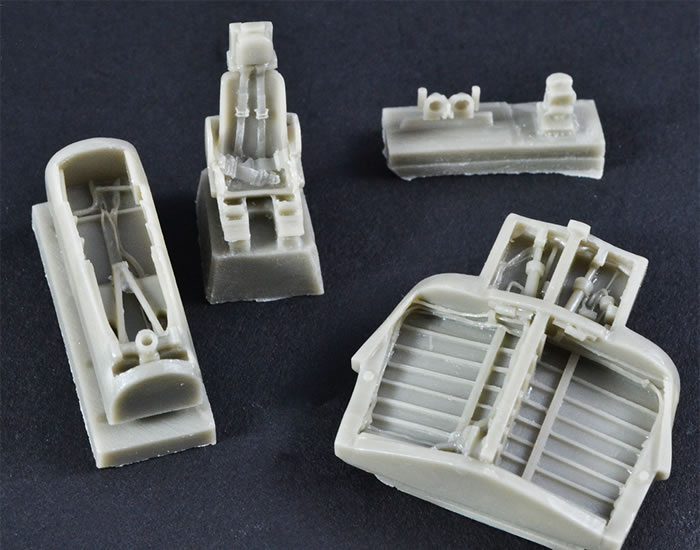 The canopy is a clear and fault-free moulding. The thickness is quite appropriate for the scale. The multi-part canopy allows you to have the canopy either open or closed. There is also a clear nose radome cover, which actually needs to be painted black in this case.
The one anomaly I've found is that the kit has a set of outline vinyl masks for the four larger Star and Bars. At no stage are these mentioned within the instructions and in my opinion are totally surplus as none of the schemes require any special treatment and can go straight to the spares box.
---
Markings
There are 5 schemes.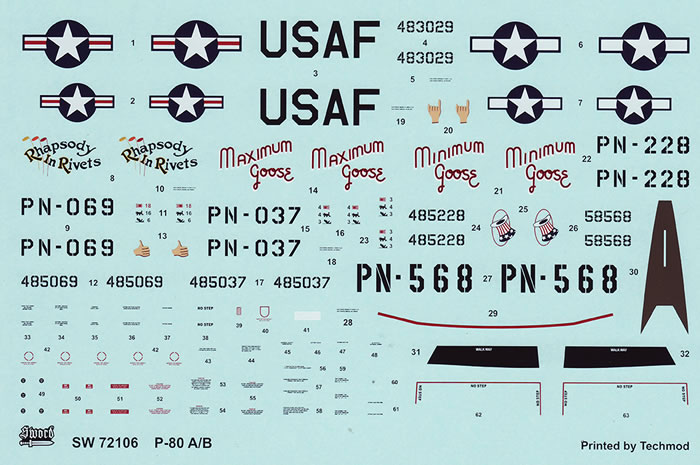 The first 4 are the Pearl Grey version and the last is a natural metal version.
P-80A, 31st Fighter Group, Italy, June 1945. Pearl grey scheme.

P-80A, 416th Fighter Bomber Group, May 1946 – "Minimum Goose" nose art, pearl grey scheme.

P-80A, 416th Fighter Bomber Group, May 1946 – "Maximum Goose" nose art, pearl grey scheme.

P-80A, 412th Fighter Group, 1946. Transcontinental Flight, pearl grey scheme.

P-80B, 94th Fighter Squadron, USAF, late 1947. Natural metal with dark red and blue large coloured areas.
This kit gives modellers of the "Gentleman Scale" 5 new schemes for the early jet fighter of the USAF. At present, the Sword kit is the only A/B version that exists to my knowledge.
There are a number offerings for the C model but the early versions have been poorly represented until Swords 2011 release and now the 2017 re-boxing. It will make up into a very neat and detailed model with the inclusion of the resin details.
To be honest, it will take care and the checking of fit….many times to ensure it all goes together but you will gain an interesting early USAF fighter for the collection
Thanks to Sword Models for the review samples.
---
Text and Images Copyright © 2018 by John Miller
Page Created 29 January, 2017
Last updated 29 January, 2018
Back to HyperScale Main Page