O-2A Skymaster "USAF Multi Purpose Light Aircraft"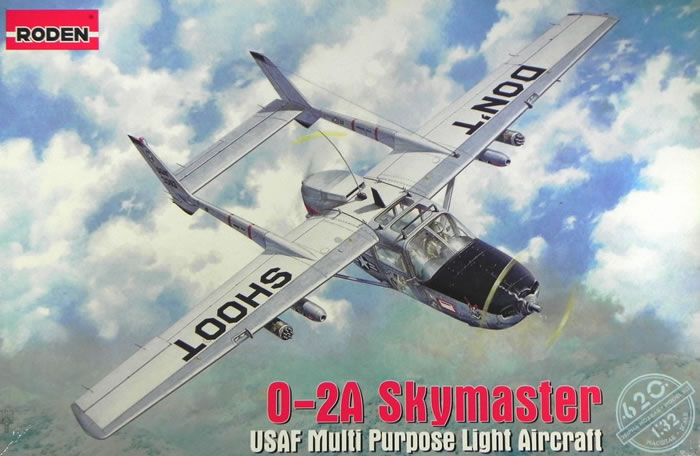 Roden, 1/32 scale
S u m m a r y :

Description and Item No.:

Roden Kit No. 620 - O-2A Skymaster "USAF Multi Purpose Light Aircraft"

Contents and Media:

257 parts in light grey styrene, 15 clear parts, and one decal sheet covering three airframes.

Price:

£59.99 (£49.99 Export Price) plus shipping available online from Hannants

Scale:

1/32

Review Type:

First Look

Advantages:

To my knowledge the only 1/32 scale injection-molded Cessna 0-2/337 available with nice molding, crisp inscribed details, and ordinance.

Disadvantages:

Flash on most parts (including clear) and poor registration on some decals.

Recommendation:

This is an awesome kit that will build into a very nice model. Some extra work will be required for clean up and trial fitting of major assemblies but the results will be well worth it. !
Reviewed by John Miller


Airfix's 1/72 scale Tomahawk Mk. IIB is available online from Squadron.com
The Cessna O-2 Skymaster (nicknamed "Oscar Deuce") is a military version of the Cessna 337 Super Skymaster, used for forward air control (FAC) and psychological warfare operations (PSYOPS) by the US military between 1967 and 2010.
In 1966 the United States Air Force (USAF) commissioned Cessna to build a replacement for the O-1 Bird Dog resulting in the O-2. As with the civilian version, the Skymaster was a low-cost twin-engine piston-powered aircraft, with one engine in the nose of the aircraft and a second engine in the rear of the fuselage. The push-pull configuration meant a simpler single-engine operating procedure due to centerline thrust compared to the common low-wing mounting of most twin engine light planes, and also allowed for a high wing, providing clear observation below and behind the aircraft.
Modifications for the military version included installation of view panels in the doors (for improved ground observation), flame-retardant foam in the wing-mounted fuel tanks, and installation of military communication and navigation equipment, and wing hard points for ordinance. Due to the structural strengthening, required to support the increase in overall weight, the military version came in 1,000 lb heavier than it's 4,400 lb civilian cousin.
The first O-2 flew in January 1967 with production starting shortly thereafter. Performance (especially at cruising altitudes) was degraded due to the added antennas and significant weight increase, but was considered sufficient for the anticipated low-level operation.
The USAF took delivery of the first O-2 Skymaster in March 1967 with the type entering the U.S. Army's inventory (via the USAF) during 1967 as well. By 1970, a total of 532 O-2s had been built, in two variants, for the USAF.
During the Vietnam War, the O-2A was introduced as a replacement for the O-1 Bird Dog: the primary aircraft used by forward air controllers (FAC). The aircraft served in that role with the 20th Tactical Air Support Squadron. The O-2B was equipped with loudspeakers and a leaflet dispenser for use in the psychological operations (PSYOPS) role.
While it was intended that the Skymaster be replaced in the FAC mission by the OV-10 Bronco, the O-2A continued to be used for night missions after the OV-10's introduction, due to the OV-10's high level of cockpit illumination, rendering night reconnaissance impractical. The O-2 was phased out completely after additional night upgrades to the OV-10.
A total of 178 USAF O-2 Skymasters were lost in the Vietnam War, to all causes. Following the war, the O-2 continued to operate with both U.S. Air Force and Air National Guard units well into the late 1980s.
The kit comes in a rather large box adorned with a nice piece of box art depicting an armed O-2 in-flight. Upon opening the box it is readily apparent that this gong to be a large model. What's also apparent is the high level of detail provided by this kit. There are a lot of parts and many sub-assemblies including two very detailed engines each composed of 58 parts that includes cylinders, engine accessories, and exhausts. This is no "shake and bake" kit: far from it.
The injected grey styrene parts (257) are provided on 10 sprues. As we've come to expect from this manufacturer, the inscribed details are nicely done and scale-appropriate. There is flash on most parts that will have to be removed prior to use however the sprue gates are small facilitating easy removal and clean up.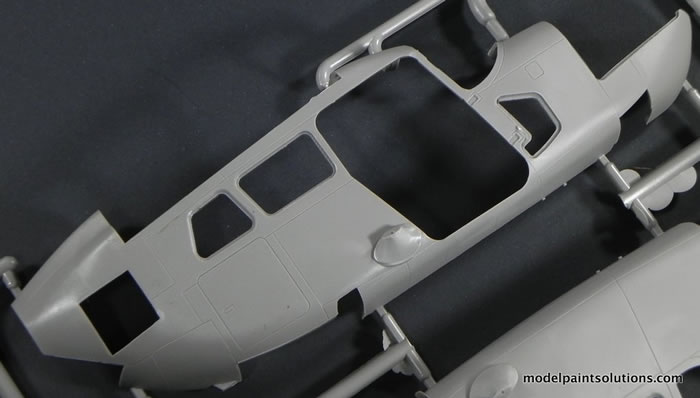 The canopy parts are nicely molded and clear enough to pass the newly instituted MPS "Old Model Magazine Test".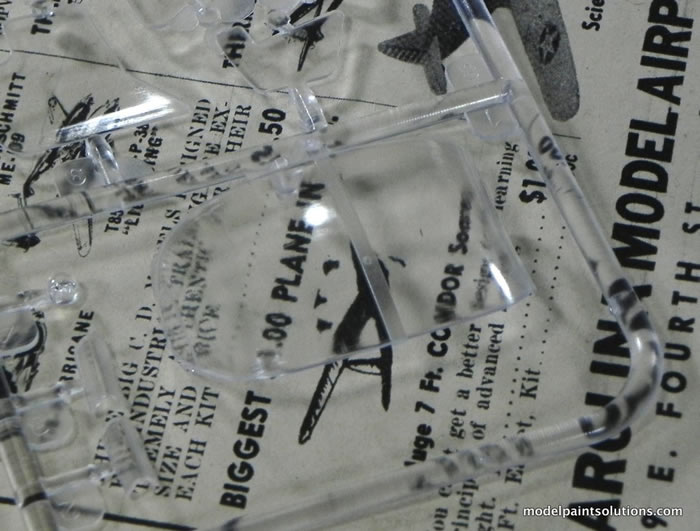 However, flash will have to be removed from some of the rear window parts during fitting.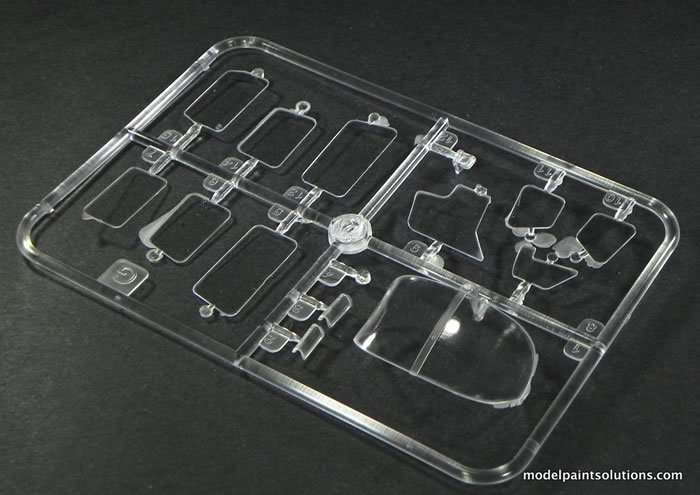 The assembly instructions begin (strangely enough) with armaments, wing hard points, propellers, and tail booms (?). Next the front engine with associated nose gear and firewall is assembled followed by the rear engine complete with associated radio gear.
With the front and rear engine assemblies complete, the instructions then direct the builder to start in on the pilot's office. The instrument panel and most of the cockpit details are nicely molded and will look convincing under carefully applied paint and weathering. What is noticeably lacking are cockpit side panel details, which will have to be scratched by those with the motivation.
With the cockpit complete the wing, comprised of a single-piece upper piece with left and right lower halves, is next to be built and here the kit gives you the option of posing the flaps in the up or down position. Likewise, the cockpit door, rudders, elevator, flaps, and ailerons are poseable.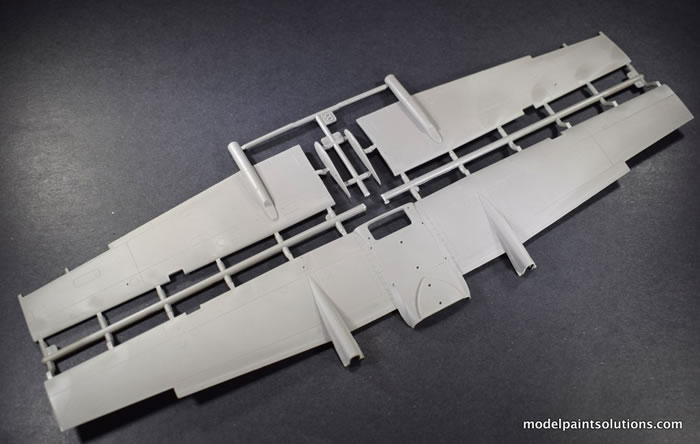 Final assembly involves joining the wing to the fuselage followed by the twin booms and horizontal stabilizer/elevator. I suspect with that much plastic hanging behind the center of gravity this model is going to be a tail sitter. That being the case, I intend to install a fair amount of lead in the already cramped nose to alleviate the issue: something to consider early in the building sequence.
O-2s used for FAC operations carried a multitude of radio and communication gear along with air-to-ground rockets and even gun pods. The kit does a nice job of replicating this gear providing no less than 6 different antennae along with nicely detailed underwing gun and rocket pods. Moreover, the decal sheet includes ordinance stencils and instructions for their placement: nice.
---
Markings
The decal sheet, printed by Roden, has the appropriate hue and color however the registration is a bit off on some of the smaller decals. In particular, the nose art decals exhibit pronounced misalignment. Markings and painting information is provided for three airframes. All paint colors are referenced to Vallejo.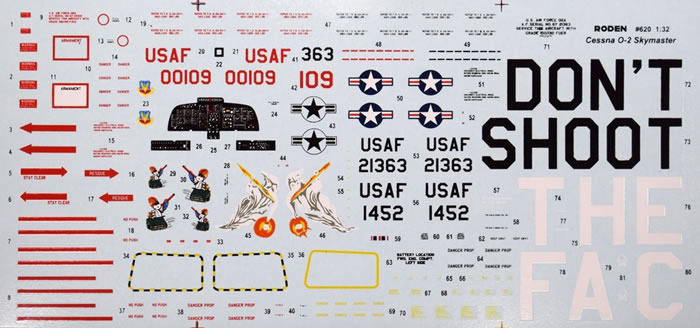 The aircraft covered are:
Cessna O-2A Skymaster "Don't' Shoot", Vietnam, 1967 (No unit or squadron information provided). Scheme composed of overall Aircraft Gray with Snoopy nose art on cowl and White upper wing panels carrying "Don't Shoot" in large letters.

Cessna O-2A Skymaster, Unknown Unit, Vietnam, 1971. Scheme composed of overall Black with Ghost nose art on cowl and "THE FAC" in large white letters on upper wing.

Cessna O-2A Skymaster, Unknown Unit, Vietnam, 1970. Scheme composed of interlocking swirls of Tan, Dark Green, and Medium Green with Light Gray belly.
The O-2/337 Skymaster is a very distinctive airplane long admired by wing nuts such as this reviewer and rightly put in the category of interesting aircraft right next to the Do-335. When completed, this is going to be an impressive model that will capture the distinctive shape of the airframe well. Moreover, the large cockpit and poseable cabin door are just begging for some supper detailing that will look awesome in this scale. That said this is not a Tamigawa so there'll be some extra work required during assembly. Similarly, my experience with previous Roden kits suggests that some time will be spent trimming and test fitting components and sub assemblies.
This is a very nice kit that's just begging to be built. Considering its popularity, I look forward to seeing a built example at a model show in the not-too-distant future.
For more on this review visit Modelpaintsolutions.com
Kit purchased by the reviewer
---
Review Text and Images Copyright © 2018 by John Miller
Page Created 4 January, 2018
Last updated 5 January, 2018
Back to HyperScale Main Page
Back to Reviews Page