Flettner Fl 282 V6 "Kolibri" Hummingbird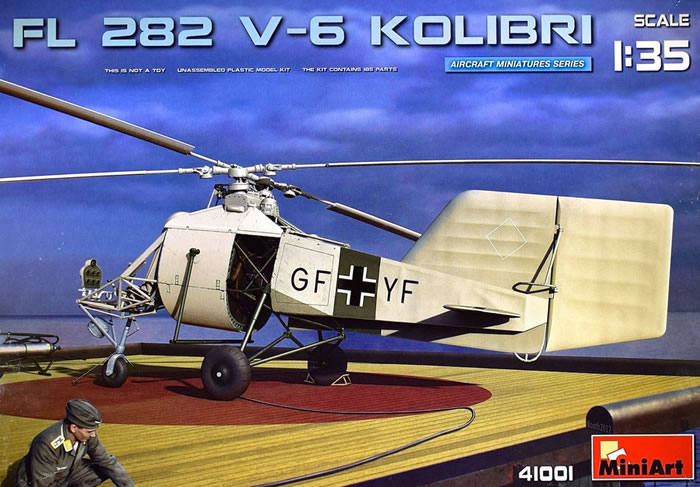 MiniArt, 1/35 scale
Reviewed by John Miller


Hobby Boss' 1/72 P-61A Black Widow is available online from Squadron.com
The Flettner Fl 282 Kolibri ("Hummingbird") was a single-seat intermeshing rotor helicopter, or synchropter, produced by Anton Flettner of Germany. According to Yves Le Bec, the Flettner Fl 282 was the world's first series production helicopter.
The Fl 282 Kolibri was an improved version of the Flettner Fl 265 announced in July 1940, which pioneered the same intermeshing rotor configuration that the Kolibri used. It had a 7.7 liter displacement, seven-cylinder Siemens-Halske Sh 14 radial engine of 150-160 hp mounted in the center of the fuselage, with a transmission mounted on the front of the engine from which a drive shaft ran to an upper gearbox, which then split the power to a pair of opposite-rotation drive shafts to turn the rotors.
The Sh 14 engine was a tried-and-true design that only required servicing every 400 hours, as opposed to the nearly 27 liter displacement, nine-cylinder BMW/Bramo Fafnir 750 hp radial engine that powered the larger Focke Achgelis Fa 223 helicopter, whose outdated design required maintenance every 25 hours. The Fl 282's fuselage was constructed from steel tube covered with doped fabric and was fitted with a fixed tricycle undercarriage.
The German Navy was impressed with the Kolibri and wanted to evaluate it for submarine spotting duties, ordering an initial 15 examples, to be followed by 30 production models. Flight-testing of the first two prototypes was carried out through 1941, including repeated takeoffs and landings from a pad mounted on the German cruiser Köln.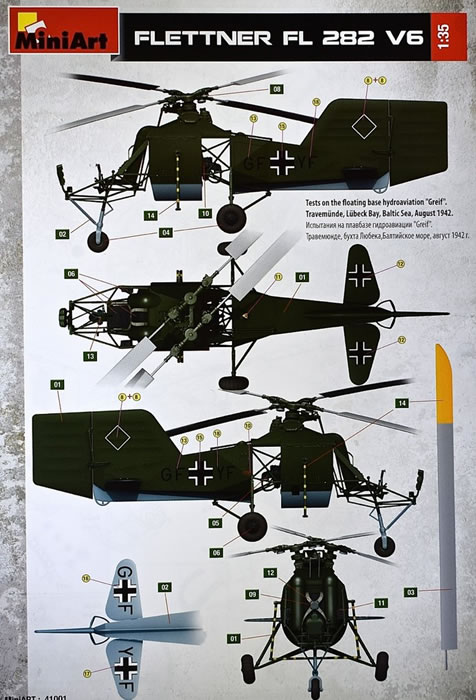 The first two "A" series prototypes had enclosed cockpits; all subsequent examples had open cockpits and were designated the "B" series.
In case of an engine failure, the switch from helicopter to autorotation was automatic.
Three-bladed rotors were installed on a test bed and found smoother than the vibrating 2-blade rotor, but the concept was not pursued further. The hover efficiency ("Figure of Merit") was 0.72 whereas for modern helicopters it is around 60%. Intermeshing rotors were not used on a mass production helicopter until after World War Two.
Intended roles for the Fl 282 included ferrying items between ships and reconnaissance. However, as the war progressed, the Luftwaffe began considering converting the Fl 282 for battlefield use. Until this time the craft had been flown by a single pilot, but by then a position for an observer was added at the very rear of the craft, resulting in the B-2 version. Later the B-2 proved useful as an artillery spotting aircraft and an observation unit was established in 1945 comprising three Fl 282 and three Fa 223 helicopters.
Good handling in bad weather led the German Air Ministry to issue a contract in 1944 to BMW to produce 1,000 units however, the company's Munich plant was destroyed by Allied bombing raids after producing just 24 machines.
Towards the end of World War II most of the surviving Fl 282s were stationed at Rangsdorf, in their role as artillery spotters, but gradually fell victim to Soviet fighters and anti-aircraft fire.
---
Variants
Fl 282 V1/7
Prototypes.
Fl 282A-1
Single-seat naval reconnaissance type, for operation from cruisers and other warships. Tested in the Baltic, Mediterranean and Aegean Seas.
Fl 282A-2
Single-seat reconnaissance type for submarines equipped with special deck hangar: project only.
Fl 282B-1/B-2
Two-seat land reconnaissance-liaison helicopter
---
General Characteristics
Crew: 1
Length: 6.56 m (21 ft 6 in)
Height: 2.2 m (7 ft 3 in)
Empty weight: 760 kg (1,676 lb)
Max takeoff weight: 1,000 kg (2,205 lb)
Powerplant: 1 × Bramo Sh.14A 7-cyl. air-cooled radial piston engine, 119 kW (160 hp)
Main rotor diameter: 2× 11.96 m (39 ft 3 in)
Main rotor area: 224.69 m2 (2,418.5 sq ft)
---
Performance
Maximum speed: 150 km/h (93 mph; 81 kn) at sea level
Range: 170 km (106 mi; 92 nmi)
Service ceiling: 3,300 m (10,800 ft)
Hover ceiling: 300 m (984 ft)
Rate of climb: 1.52 m/s (299 ft/min)
Rotor loading: 8.84 kg/m2 (1.81 lb/ft2)
(Edited from Wikipedia)
Introduction
Although I've never been a huge fan of rotor-wing aircraft or "whirly-birds" I do have a keen interest in the many cutting edge aviation designs developed by the WWII German aviation industry. The Flettner series of early helicopters certainly fit's this bill and constitutes an amazing bit of both aeronautical and mechanical engineering.
Multiple versions of the Flettner 282 have been previously kitted by RS Models in 1/72 and Huma in 1/48. To my knowledge MiniArt is the first to offer an injection-molded Kolibri in 1/35 scale.
This is a good scale for this model as the Kolibri was a decidedly "mechanical" aircraft replete with fabric-covered tubular frames, 7-cylinder radial engine/accessories, transmission housings, and dual rotor heads. 1/35 is large enough to easily convey the mechanistic nature of all these assemblies and make it enjoyable for the modeler during assembly.
This kit begs to be built and I'm feeling particularly weak of late so expect a build article on this not-so-little Hummingbird in the not-too-distant future.
---
In the Box
All the sprues come individually wrapped and the initial impression is solidly positive. Likewise it is readily apparent that this is not a "shake 'n bake" model. There are a lot of parts with angled framing that will require repeated test fitting to ensure proper alignment before committing with glue. That said, if the parts fit halve as well as they're molded, this kit will present no difficulties for those with a bit of patience.
The build begins with the aft tube-framed fuselage the fabric covering of which features very convincing sags that will look great under a thin coat of paint and some weathering.
Next in sequence is the very nicely detailed 7-cylinder Siemens-Halske Sh 14 radial that includes the cooling fan as well as multi-part magnetos and carburetors. I suspect those prone to super detailing will have a lot of fun here. Likewise, the upper transmission unit with associated twin rotor heads will look great under paint and a little "grime."
Once the completed engine is added to the rear fuselage assembly, the framed cockpit area is assembled from a series of tubular frame pieces. The detail here is very nice including a well-detailed control stick and multiple small instrument panels the gauges of which are provided as nicely printed decals.


The addition of fairings behind the pilots seat and around the engine completes the fuselage assembly. Of note are nicely detailed PE reinforcement strips (complete with lightening holes) that will add a lot of detail to in the inside of the engine fairings and the nicely detailed PE seat harness.
The nicely molded but rather spindly gear assemblies are added next followed by the twin two-blade rotors. The amazing molding of the rotors deserves comment.
All four blades are molded with the appropriate amount of droop.
Based on the difficulty I had inducing the same amount of droop on the five blades of the first helicopter model I built just a few months ago, I greatly appreciate this little piece of model engineering.
---
Markings
The decals are printed by MiniArt and have good registration and scale-appropriate colors. The Hakenkruez are supplied as split decals. The instrument faces are particularly well done with options of single instruments or a single decal carrying all the faces provided: nice.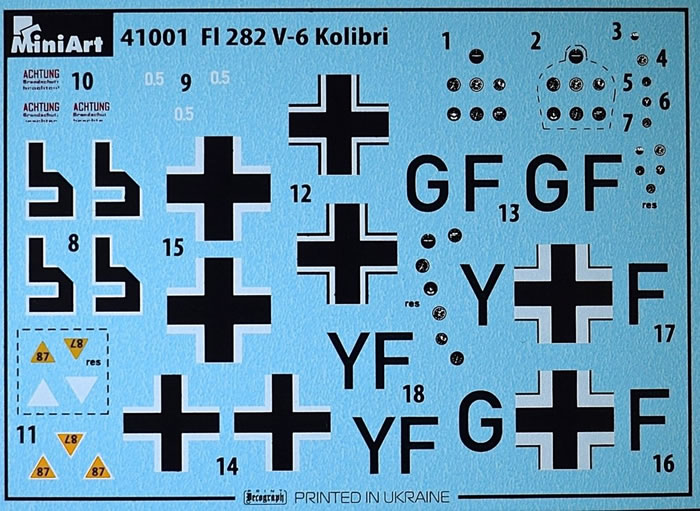 Markings for 4 schemes are provided:
Erprobungs-und Lehrkommando 20 on board the minelayer "Drache, Trieste, Adriatic Sea, November 1942. Overall light Grey with RLM-71 waistband.

As tested on the floating base for hydroaviation "Greif", Travemünde, Lübeck Bay, Baltic Sea, August 1942. Uppers RLM-71 with RLM-65 lowers.

Erprobungs-und Lehrkommando 20 on board the minelayer "Drache, Mediterranean Sea, January 1943. Overall light Grey with White waistband.

Erprobungs-und Lehrkommando 20 on board the anti-submarine ship KUJ13, Baltic Sea, April/May 1943. Overall light Grey with White waistband.
When I was asked to review this kit I ignored my initial "rotor-wing reluctance" and agreed to take a look. I'm glad I did. This is a beautifully molded kit with crisp inscribing and nicely molded fabric textures. Super-detailers will have a blast adding to what is already a very detailed kit and the result will make heads turn.
Kit provided for review.
For more on this review visit Modelpaintsolutions.com.
---
Review Text and Images Copyright © 2018 by John Miller
Page Created 30 March, 2018
Last updated 30 March, 2018
Back to HyperScale Main Page
Back to Reviews Page