Flettner Fl 282V-6 Kolibri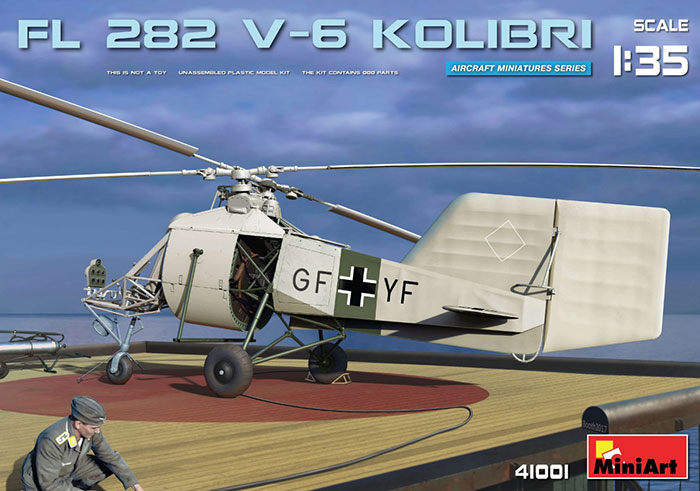 MiniArt, 1/35 scale

Reviewed by James Hatch

MiniArt's 1/35 Fl 282 V6 Kolibri is available online from Squadron.com
The Flettner Fl 282 Kolibri ("Hummingbird") is a single-seat intermeshing rotor helicopter, or synchropter, produced by Anton Flettner of Germany. According to Yves Le Bec, the Flettner Fl 282 was the world's first series production helicopter. though other writers claim the same for the Focke-Achgelis Fa 223. Flettner's Fl 282 Kolibri was an improved version of the Flettner Fl 265 announced in July 1940, which pioneered the same intermeshing rotor configuration that the Kolibri used. It had a 7.7 litre displacement, seven-cylinder Siemens-Halske Sh 14 radial engine of 150-160 hp mounted in the centre of the fuselage, with a transmission mounted on the front of the engine from which a drive shaft ran to an upper gearbox, which then split the power to a pair of opposite-rotation drive shafts to turn the rotors. The Sh 14 engine was a tried-and-true design that only required servicing every 400 hours, as opposed to the nearly 27 litre displacement, nine-cylinder BMW/Bramo Fafnir 750hp radial engine powering the larger Focke-Achgelis Fa 223 helicopter, whose outdated design required maintenance every 25 hours. The Fl 282's fuselage was constructed from steel tube covered with doped fabric, and it was fitted with a fixed tricycle undercarriage.
The German Navy was impressed with the Kolibri and wanted to evaluate it for submarine spotting duties, ordering an initial 15 examples, to be followed by 30 production models. Flight testing of the first two prototypes was carried out through 1941, including repeated take-offs and landings from a pad mounted on the German cruiser Köln. The first two "A" series prototypes had enclosed cockpits; all subsequent examples had open cockpits and were designated "B" series. In case of an engine failure, the switch from helicopter to autorotation was automatic. Good handling in bad weather led the German Air Ministry to issue a contract in 1944 to BMW to produce 1,000 units. However, the company's Munich plant was destroyed by Allied bombing raids after producing just 24 machines. Towards the end of World War II most of the surviving Fl 282s were stationed at Rangsdorf, in their role as artillery spotters, but gradually fell victim to Soviet fighters and anti-aircraft fire. A total of 24 machines were built.
Edit courtesy of Wikipedia
When Ukrainian company, MiniArt, announced their new Fl 282 kit, it caught us all pretty much by surprise, despite the company's more leftfield releases. We've not exactly been inundated with large scale models of this quirky yet important helicopter, with the only other kit being Anyuta's 3D-printed 1/18 kit. MiniArt's release started to trickle into retailers around a month or so ago, and we've managed to get our hands on this one from our friends at Modellbau-König (MBK), in Germany. This release is packaged into a box which is perhaps a little bigger than it should be, with the bag of contents rattling around it inside. The box artwork depicts the V-6 machine on the deck of the minelayer 'Drache' in the Adriatic in 1942. Box side images show some coloured CAD renders of the Fl 282. Inside the box, EIGHT medium-grey sprues are packed into two bags, and then sealed into a single, heat-sealed bag. Out of those grey sprues, two are duplicates, and a small clear sprue is separately packed within the main bag to protect it from scuffing. A single PE fret is included, and this is packaged into a small cardboard sleeve. Of course, decals are also a part of this release, and the small sheet is also packaged into a separate sleeve, again within the main bag. The kit's instruction manual is a 12-page A4 publication in a mix of matt and glossy paper, with the glossy leaves containing the various artworks etc. More on that later.
---
Sprue A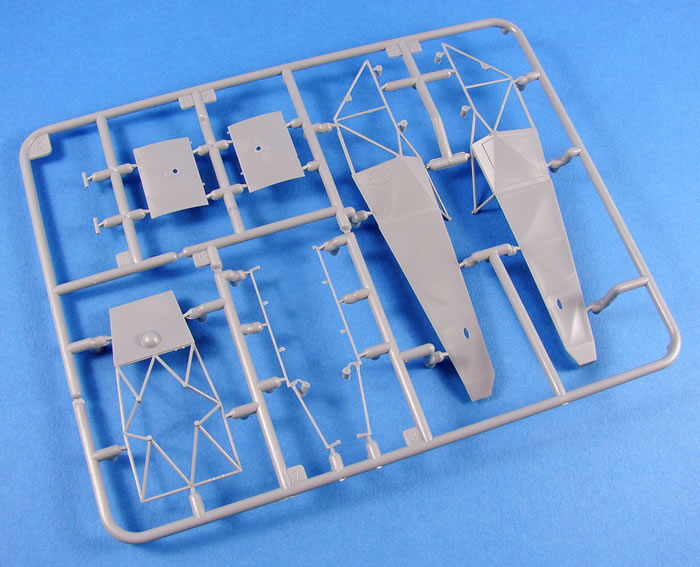 On this first sprue, we are presented with most of the larger parts of the Fl 282, pertaining of course to the fuselage. The Fl 282's fuselage was constructed from tubular steel and the majority of it was covered in fabric. This effect is clearly seen in the port and starboard halves, with the forward section being uncovered and the rear portion exhibiting a nicely reproduced taught fabric effect, hinting at the structures below. Other parts on this sprue are the upper deck with forward tubular framework, engine side panels and control surface rods. In order to cater to the multitude of thin frame parts, MiniArt has used a series of small tags for their ejector pins, and these simply need to be snipped off and cleaned up.
---
Sprue Ad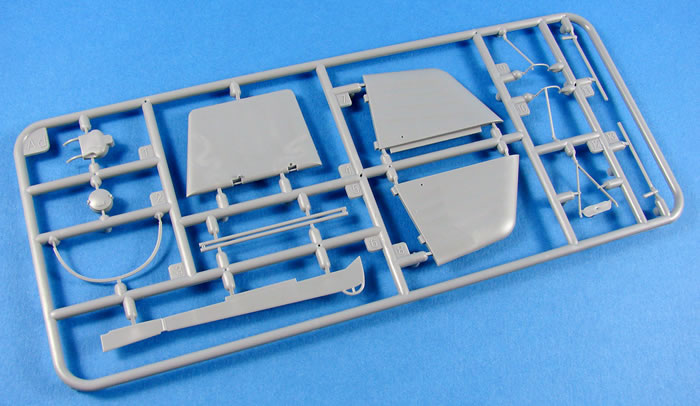 We look at the Kolibri these days and appreciate how unusual it is with regards to modern helicopter design. Here, we don't have a tail rotor assembly and small tail surfaces. Instead we have a propeller rotor buried within the fuselage, and the tail surfaces are reasonably conventional with tubular frames fin, rudder and stabiliser. On this sprue we have a two-part fin with a rather nicely rendered frame and fabric exterior, and a single-piece rudder with those same details.
You will also notice the small frames/mass balance for the rudder too. These are very delicate, so care need to be exercised when removing them. This also goes for the other small frame parts on this sprue, of which there are several. Lastly, note the lower belly section with sprung tail hoop skid and also the instrument panel rear enclosure. With that last part, there's no need to plumb the rear of the instruments, but you will want to look at adding wiring from this unit to other parts of the airframe.
---
Sprue B (x2)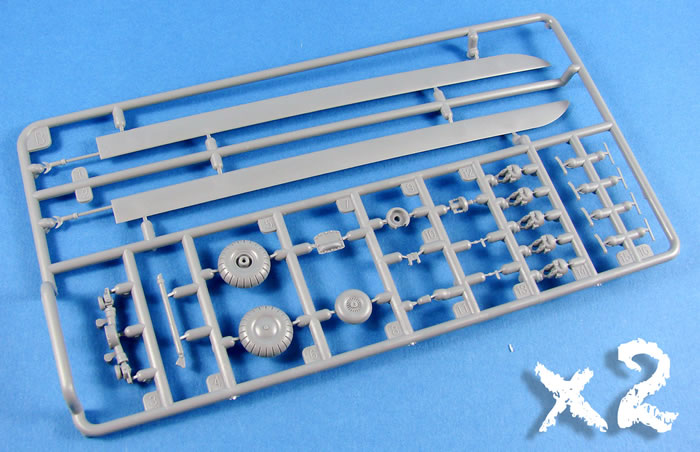 Remember, this isn't a 4-blade rotor, but instead two 2-blade intermeshing rotors. Here you can see the blades for those, moulded with a sag in them so that you don't need to manipulate the plastic and bend them yourselves. Other parts on here are for the two-part main and nose gear wheels, engine and gearbox parts, and rotor connection areas etc. Whilst the wheels don't have any flat spots on them for the weighted effect, they are still bulged, strangely enough, in that area.
---
Sprue Be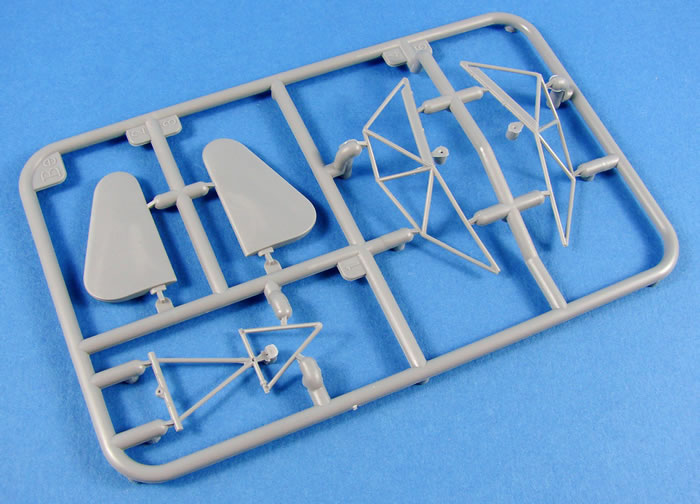 This fairly small sprue contains the tubular cockpit sidewalls and floor, as well as the single piece stabiliser parts. These parts are finely represented with delicate tubular frames and the various fittings. The use of ejector pin tags has been employed again so as to stop the tooling miring the parts. Seams are generally minimal, and sprue gates are thankfully small.
---
Sprue Bd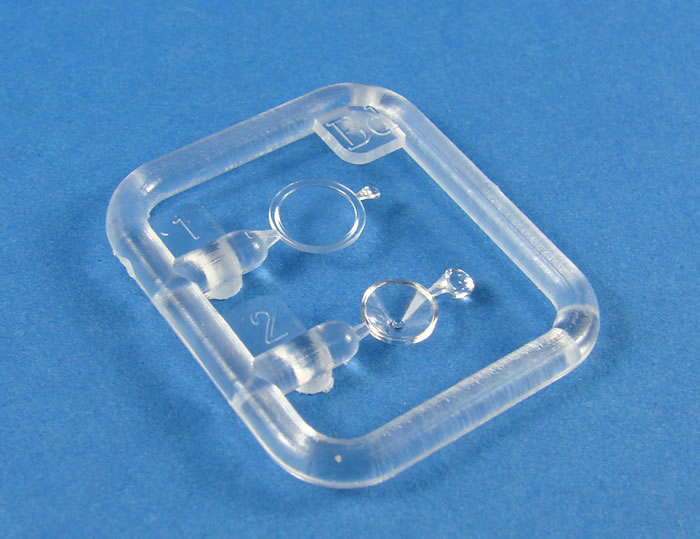 Only two parts are included on this, the only clear sprue in this specific release. Having excellent transparency, these parts are for reflector and lens that mount to the nose gear strut. The reflector itself will sit inside a main light housing. A little lead wire for the power cable, would really set this off.
---
Sprue C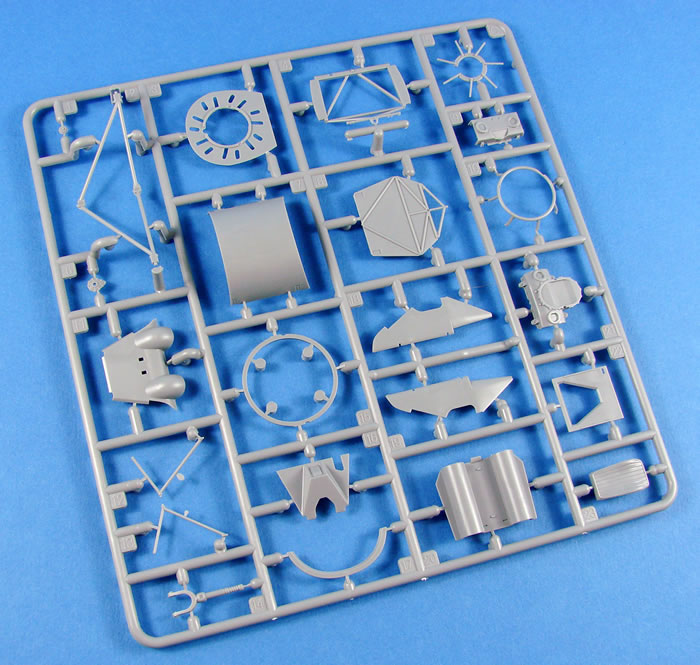 Here we have the lion's share of the engineering that went into the technology that made this thing fly….i.e. engine parts and gearbox/transmission units. You'll note engine pushrods, transmission housing plates and drive shafts, propeller housing ring, exhaust gases collector ring, pilot seat back with nicely detailed cushion, main gear spreader tubes, nose gear forked strut, etc.
A number of bulkheads are also moulded here, including the engine mounting backplate. I don't think we can call the latter a firewall, in this instance. Note also the transmission/gearbox cowl panels and the plate which separates the brave pilot from the propeller spinning around to his rear.
---
Sprue Ca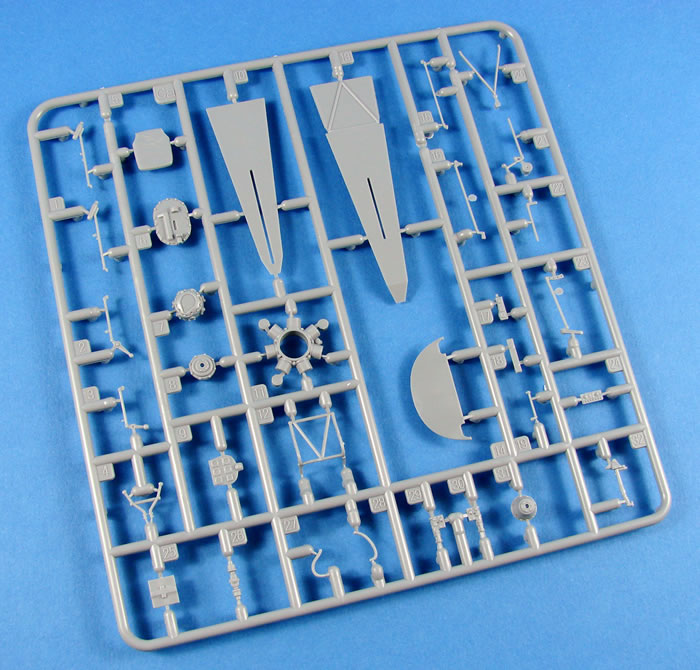 I admit that the sprue nomenclature is a little confusing here. This is presumably because MiniArt will use other sprues with subsequent kit versions of this model. This sprue contains the engine and hub, more parts for the drive/gearing and transmission units, upper rear fuselage top into which the fin sits, lower fuselage belly, instrument panel with blank instruments (good!), pilot seat base with realistic wrinkles cockpit components, numerous other small frame components, etc.
---
Sprue D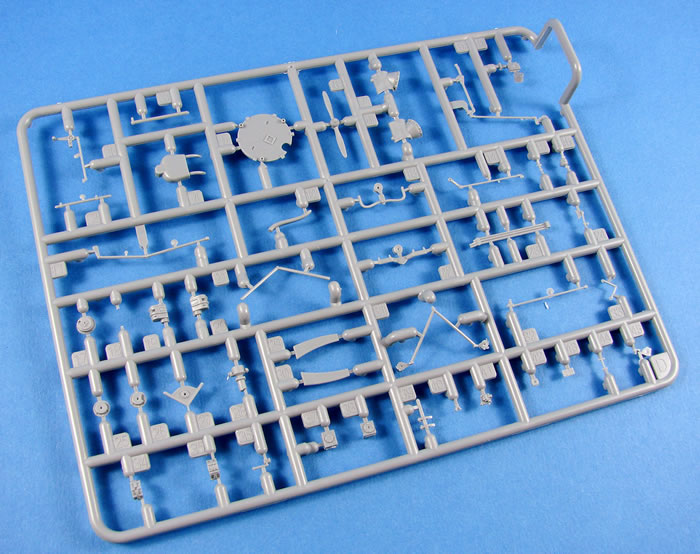 This is the last sprue in this release. It appears that the majority of the parts here concern the engine and other ancillary elements. Note the transmission housing, fuel piping, propeller, control rods and their linkages, side panel interior details, and of course, a few more pieces of tubular frame. This is probably the busiest of all sprues, and the parts tend to be either small or fragile, or both. One part is broken from the sprue, but that part is undamaged.
---
Photo-Etch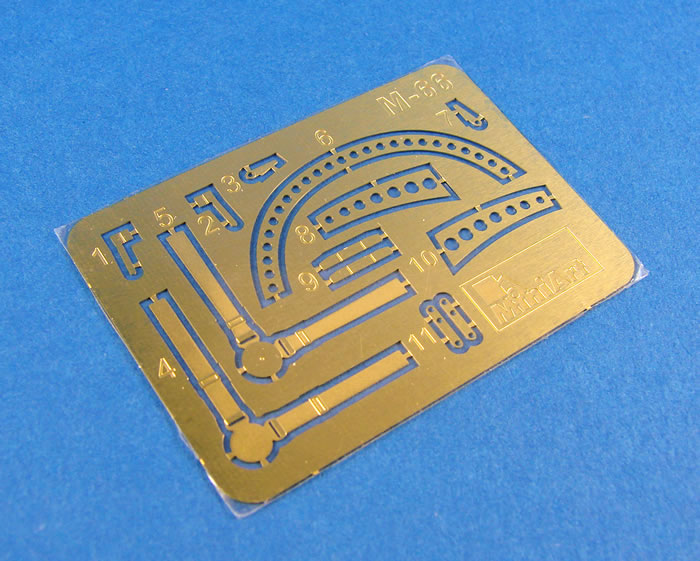 Like many kits these days, this one also comes equipped with a fret of PE parts, albeit quite small. Packaged into a cardboard sleeve to protect it from the rigours of the oversized box, this fret contains 11 parts. These make up the seatbelts, frame edge sections, and a small number of parts for the engine. The PE itself is nicely manufactured and left in its bare metal state. Both sides are covered in film which needs to be removed before use.
---
Marking Options and Decals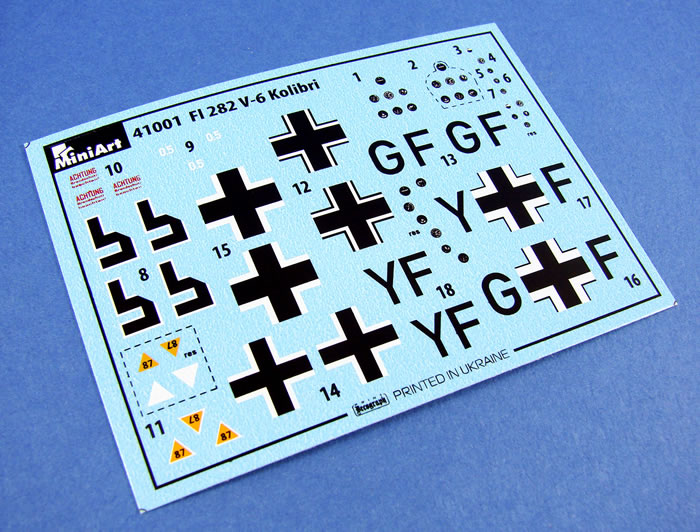 A single, small sheet of decals, printed in the Ukraine by Decograph, is included in this release. Printing is thin, with minimal carrier film and the colours appear to be opaque. There seems to have been an issue with registration with the white borders on the yellow fuel triangles, but these have also been supplied, on the same sheet, as separates, so all is good. Swastikas are supplied, but in a two-part format. Instrument decals are provided as a single panel or separate dials. I would use the latter, and also a punch & die to remove them so as to eliminate carrier film. The schemes provided in this kit are:
Erprobungs-und Lehrkommando 20, on board the minelayer 'Drache', Trieste, Adriatic Sea, November 1942

Tests on the floating base hydroaviation 'Greif', Travemünde, Lübeck Bay, Baltic Sea, August 1942

Erprobungs-und Lehrkommando 20, on board the minelayer 'Drache', Trieste, Adriatic Sea, January 1943

Erprobungs-und Lehrkommando 20, aboard the anti-submarine ship KUJ 13, Baltic Sea, April – May 1943
---
Instructions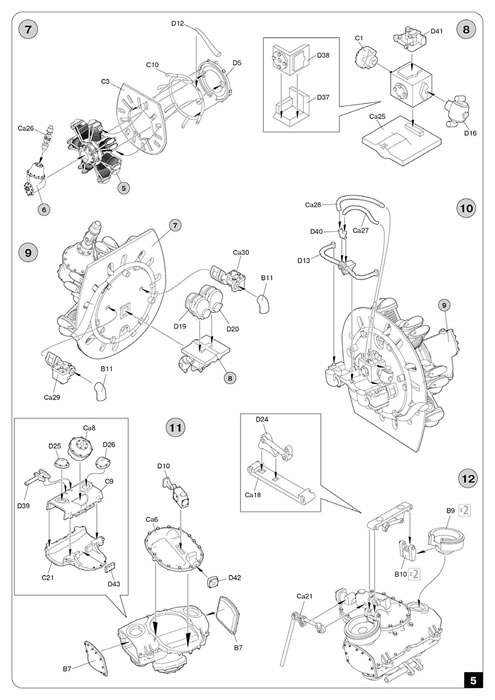 These are printed as a 12-page, glossy A4 publication, with a scheme profile and blueprint style image on the front page, along with a brief resume of the kit contents. Inside the manual, the first thing we are presented with is a proper set of scheme profiles for GF+YF. Please remember that all schemes in this kit are for the same prototype, and generally just vary in base colour, give or take. A parts map is then supplied, complete with a paint chart for Vallejo, Mr. Color, Humbrol, Testors, and an unknown type, with a generic list of colour names too. Construction is shown in clear line drawings over 32 stages, in easy to follow imagery and annotation. The last pages are given over to the remaining scheme profiles. Decal placement is easy to follow and the painting codes are easily referenced.
Sometimes you come across a subject that you had no real idea you wanted to build, until you see it in the box in front of you. For me, this is definitely one. Yes, I knew of the type, and saw the large scale 3-D printed one, but I never really expected to see it in this scale, in injected plastic. Moulding quality is excellent throughout and whilst the parts count is fairly high (185 parts), the model does look relatively simple to build, and has excellent overall detail. I also think the price point is very attractive. If you are a fan of the esoteric and anything Luftwaffe-related, then you should check out this release. Take a look at MBK, and pick one up soon.
Thanks to the MBK Distribution for the sample
---
Review Text and Images Copyright © 2018 by James Hatch
Page Created 26 April, 2018
Last updated 26 April, 2018
Back to HyperScale Main Page
Back to Reviews Page