P-61A Black Widow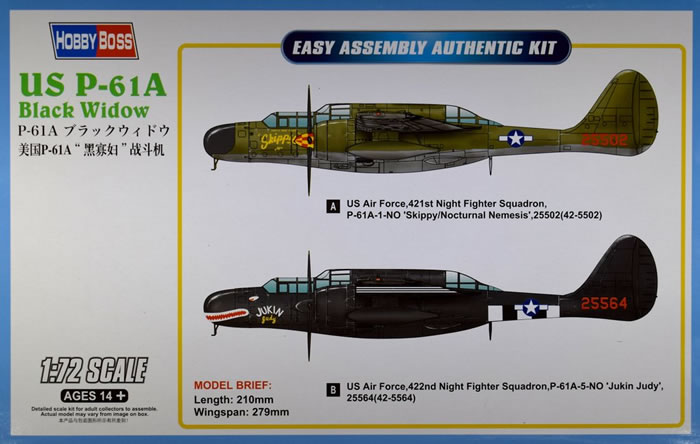 Hobby Boss, 1/72 scale
S u m m a r y :

Description and Item No.:

Hobby Boss Kit No. 87261 - P-61A Black Widow

Contents and Media:

87 parts in light grey styrene (not all are used), 2 clear parts, one PE fret w/ 5 pieces. Decals: one primary sheet w/ nose art decal covering two airframes.

Price:

£22.99 (£19.16 Export Price) plus shipping available online from Hannants

USD$30.99 plus shipping available online from Squadron

Scale:

1/72

Review Type:

First Look

Advantages:

The kit is features very nice engineering and well-molded parts that will provide a quick and easy build.

Disadvantages:

Some seams will be both difficult to fill and require re-scribing to restore effected panel details. The inscribed cowl flaps are soft and require re-working. The lips of the intakes on the wing leading edges are too thick.

Recommendation:

This is a well-engineered model with nicely inscribed details and a surprisingly low parts count. Although there are issues with the placement of seams and some details that are a bit soft this will be a quick and enjoyable build.
Reviewed by John Miller


Hobby Boss' 1/72 P-61A Black Widow is available online from Squadron.com
The Northrop P-61 Black Widow, named for the American spider, was the first operational U.S. warplane designed from the onset as a night fighter, and the first aircraft designed to use radar.
The P-61, described as both elegant and menacing, was an all-metal, twin-engine, twin-boom design that first broke ground on May 26, 1942. The first production aircraft began rolling off the assembly line in October 1943.
The P-61 had a crew of three: pilot, gunner, and radar operator and was armed with four 20 mm (.79 in) Hispano M2 forward-firing cannons mounted in the lower fuselage where the muzzle flash would effect the night vision of the crew less than nose or wing-mounted arrangements. In addition, the remote controlled dorsal gun turret sported four .50 in (12.7 mm) M2 Browning machine guns. Issues with buffeting at high speeds when the guns were elevated in azimuth and production problems at General Electric (the turret's manufacturer) necessitated the production of P-61's without the dorsal turret (late production P-61As and early production P-61Bs).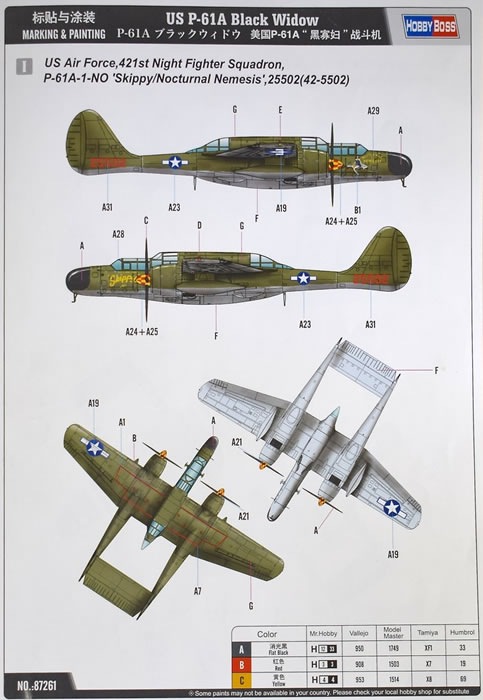 Although not produced in the large numbers, the Black Widow was operated as a night-fighter by United States Army Air Force squadrons in the European, Pacific, China-Burma-India, and Mediterranean theaters during World War II. It replaced earlier British-designed night-fighter aircraft that had been modified to accommodate radar until a purpose-built night-fighter was available.
Interestingly a P-61B named "Lady in the Dark" of the 548th Night Fight Squadron was unofficially credited with the last Allied air victory before VJ Day occurring on the night of 14 August 1945.
The P-61 proved itself capable against most German aircraft it encountered however its lack external fuel tanks hampered its effectiveness as a long-range night-fighter. Unfortunately, external tanks weren't available until the last months of the war.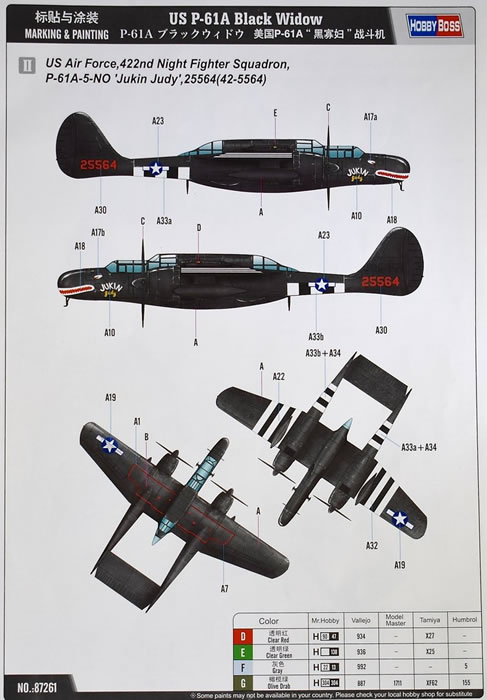 Similarly, provisions for carrying external bomb loads would have made the type more suitable for the ground attack role it soon took on in the European theater. These problems were eventually addressed before the end of the war but the delay hampered the types effectiveness.
The P-61 proved capable against all Japanese aircraft it encountered, but saw too few of them to make a significant difference in the Pacific war effort.
After the war the P-61 was re-designated the F-61 and served in the United States Air Force as a long-range, all-weather, day/night interceptor for Air Defense Command until 1948. The P-61 was also modified to create the F-15 Reporter photo-reconnaissance aircraft for the United States Army Air Forces and subsequently used by the United States Air Force. The last aircraft was retired from government service in 1954.
---
Northrop P-61 Black Widow
Wingspan 66 feet
Length 48 feet, 10 inches
Height 14 feet, 2 inches
Empty Weight 20,965 pounds
Max Weight 32,400 pounds
Engines Two 2,000 hp Pratt & Whitney R-2800-10/65 Radial
Armament Four 20mm Cannons, Four .50 caliber machine guns (with turret installed)
Max Speed 372 mph
Service Ceiling 34,000 feet
Range 1,210 miles
Crew 3 (pilot, gunner, radar operator)
1) Edited from Wikipedia
2) P-61 Black Widow In action, Squadron Signal Publications. ISBN 970-0-89747-718-5
3) P-61 Black Widow, Warbird Tech Series, Volume 15, Specialty Press. ISBN 0-933424-80-9
The kit comes in a sturdy, lidded box adorned with a functional piece of box art depicting side views of the two schemes covered by the kit decals.
This is a large box for one of the "Easy Assembly" Kits by Hobby Boss. It has to be to accommodate the full span upper and lower wing-fuselage parts that comprise the bulk of the airframe. True to form for this series of kits, the entire fuselage (booms included) is comprised of 9 parts: 11 with the canopy and rear fuselage cone. What's also readily apparent upon opening the box (beyond the surprisingly low parts count) is the nice level of detail overall.
Most of the recessed surface textures are scale appropriate and well defined.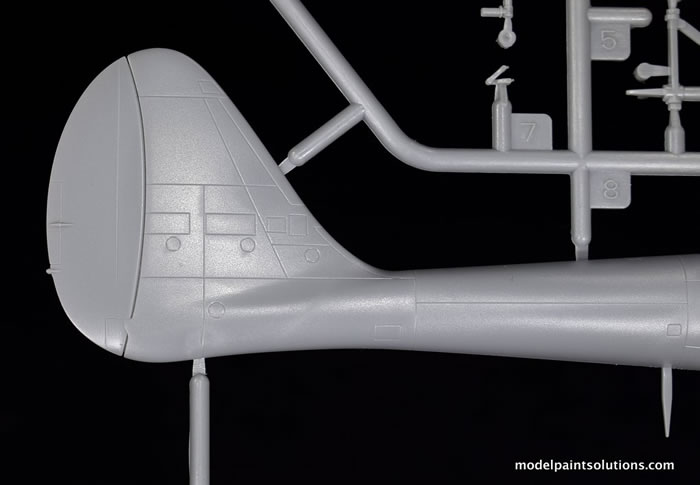 Some are a bit soft such as along the fuselage center section and the cowls flaps, which will have to be refreshed prior to painting.
Another area that will need some attention are the lips of the wing leading edge intakes: they're too thick. oreover, they're practically flat at the leading edge as opposed to round as they should be. I suspect a little work with micro-files and sand paper should be sufficient to deal with this.

The single piece nose, a result of slide molding I suspect, is well done and has the kits only flash running along a portion of its radius. This is a great area to place some weight to prevent the model from being a tail sitter.
The gear doors, usually a weak spot on simplified kits, are well molded and feature internal structural details and scale-appropriate thickness. Likewise, the main gear and wheels are crisply molded, as is the nose gear. The one let down in this area is the one-piece front wheel assembly which incorporates the tire and mud guard as one part. Some careful brushwork will be required here.
The clear parts are crisply molded and crystal clear with canopy framing that's a bit over-scale but passable.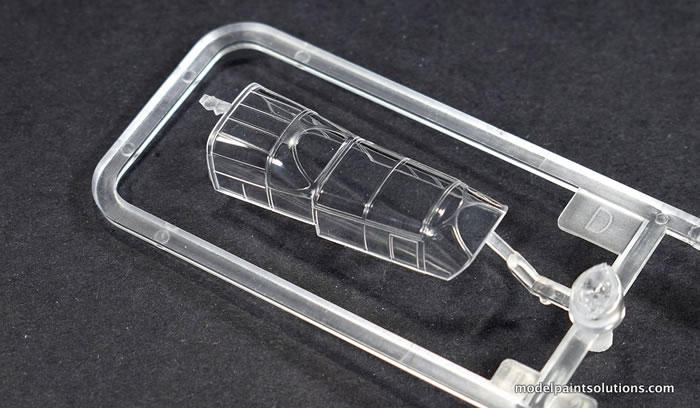 The rear cone-shaped glazing was detached from its sprue on my example but was unharmed.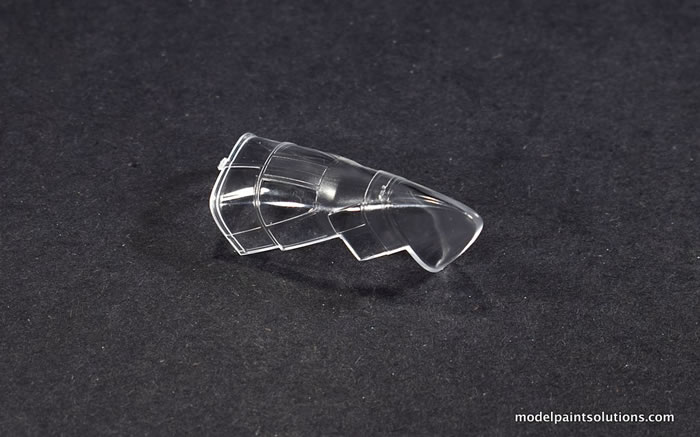 Construction begins with the cockpit (pilot and gunner stations) which are built onto the lower halve of the wing-fuselage parts. The cockpit features nicely detailed bulkheads, crew seats, and instrument panel. These are trapped between the upper and lower wing-fuselage halves completing the assembly. The radar operator's area is then built into the ventral fuselage piece, which is then added to the upper and lower wing-fuselage halves.
The tail boom assemblies are beautifully molded with excellent fit. Each has a nicely detailed wheel well insert that locks the main gear in place when assembled. When added to the fuselage-wing assembly, the booms have detailed and enclosed wheel wells with rib details: very nice.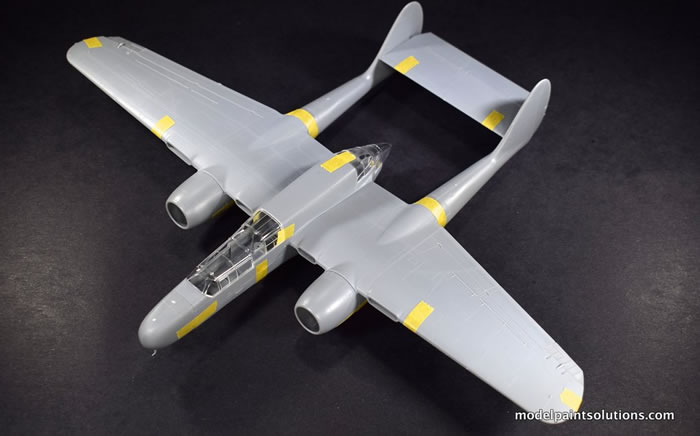 The single piece cowlings are nicely molded but the cowl flap details are soft and need to be re-scribed. The engine fronts are adequately detailed as are the single piece, four-blade propellers.
For those who wish to configure their Black Widow for air-ground missions, the kit provides drop tanks as well as bombs and hard points for the inboard wing stations and nicely molded rocket launch tubes for the wing outboard stations.
A small PE fret provides scale appropriate radar antennae that will look very nice on the completed model.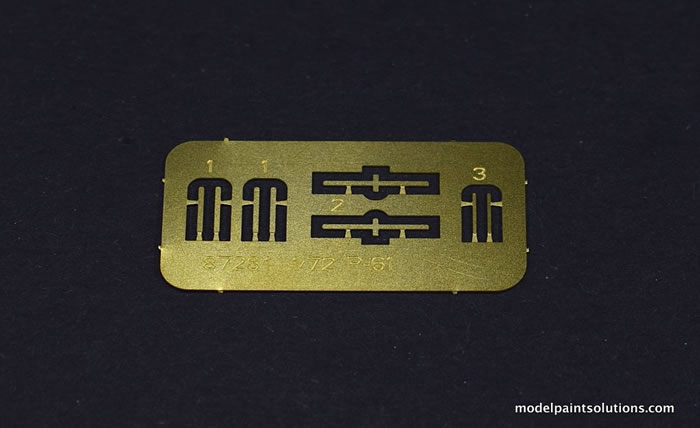 ---
Markings
The decal sheet, printed by Hobby Boss, has good color and registration. Equipment faces for the radar operator's compartment are provided as small decals that are numbered but no placement guide is provided in the instructions.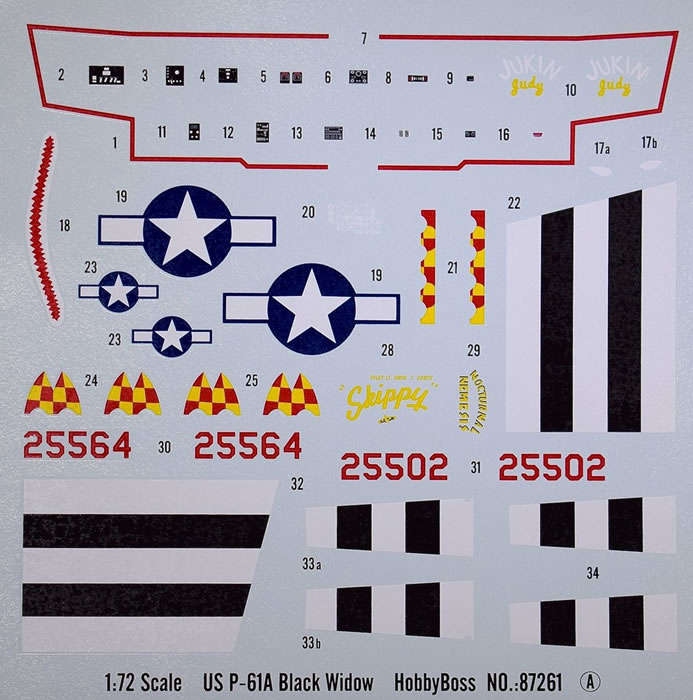 An additional separate sheet with the nicely printed nose art for "Nocturnal Menace" is included.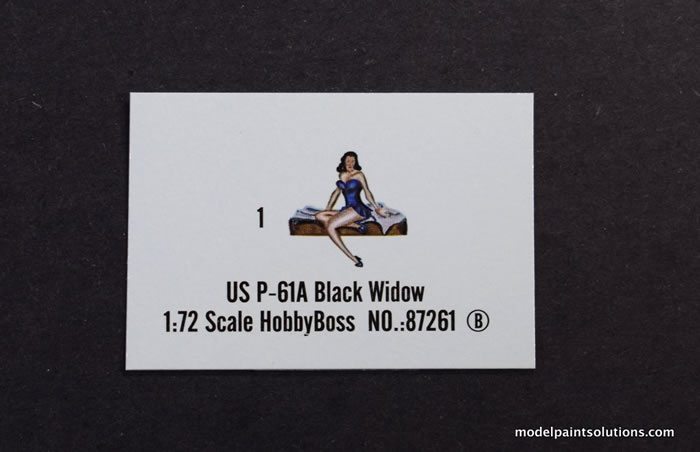 The aircraft covered are:
P-61A-1 "Skippy"/ "Nocturnal Menace", USAF, 421st Night Fighter Squadron. Scheme is O.D. Green Uppers with Light Grey Lowers.

P-61A-5 "Jukin Judy", USAF, 422nd Night Fighter Squadron. Scheme is black overall.
This really is a nice little kit that's just begging to be built. I say "little" because it doesn't have the same level of detail (or complexity) as does the DML offering and with only ~12 parts comprising the bulk of the model, it's going to go together in very little time.
That said, the kit has issues that the more serious builder may want to address during construction but nothing too severe for the average modeler.
The P-61 is a very nice looking airplane and the model does a pretty good job of conveying its svelte lines.
Moreover, after just a few days of work you'll be mixing up some paint, reaching for your airbrush, and firing up the ole' compressor---my favorite part of any build.
For more on this review visit Modelpaintsolutions.com
Kit purchased by the reviewer
---
Review Text and Images Copyright © 2018 by John Miller
Page Created 16 January, 2018
Last updated 20 January, 2018
Back to HyperScale Main Page
Back to Reviews Page