IAR-80A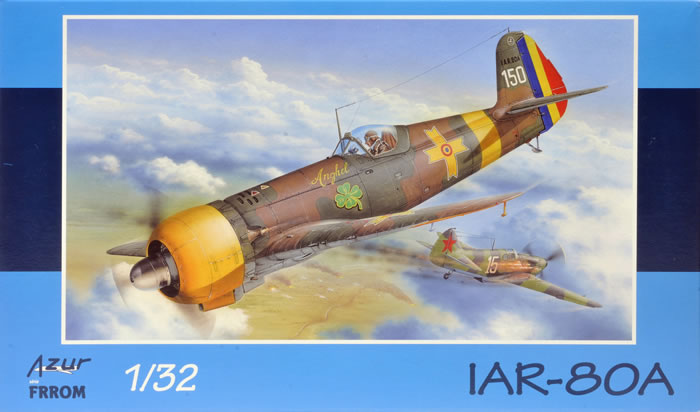 Azur FRROM, 1/32 scale
S u m m a r y :

Catalogue Number:

Azur FFROM Kit No. FR8002 - IAR-80A

Scale:

1/32

Contents & Media

201 grey styrene parts (17 marked not for use); 11 resin parts; one photo-etched fret with 27 parts; six clear styrene parts; decals for four subjects.

Price:

£46.80 EU Price (£39.00 Export Price) plus shipping available online from Hannants

Review Type:

First Look.

Advantages:

High level of detail; subtle and convincing surface textures; staightforward parts breakdown; high quality decals; significant revised and new parts for this earlier version; the type has never before been available in 1/32 scale.

Disadvantages:

Being a limited run kit, you will need to spend extra time cleaning up and preparing parts.

Conclusions:

This is first time that the sleek IAR-80C has appeared in 1/32 scale, following on from their IAR-81C in 2014. This is an attractive and nicely detailed model. If you have a couple of limited run kits under your belt, I don't expect this one will give you too many nasty surprises! Highly recommended to experienced modellers.
Reviewed by

Brett Green

HyperScale is proudly sponsored by Squadron.com
The IAR-80 was a Romanian WWII low-wing, monoplane, all-metal monocoque fighter and ground-attack aircraft.
When it first flew, in 1939, it was comparable to contemporary designs such as the German Messerschmitt Bf 109, the British Hawker Hurricane Mk.I, and the American Curtiss P-40B/Tomahawk Mk.I and superior to the Dutch Fokker D.XXI and Polish PZL P.24. However, production problems and lack of available armament delayed entry of the IAR 80 into service until 1941. It remained in front line use until 1944.
The Royal Romanian Air Force (ARR) had intended to replace its light strike and dive bomber aircraft for some time when the war started in 1941. The first role was to be filled by the IAR 37 (and later 38 and 39 models) but the plan was to fill the second role with the Junkers Ju 87. However, the Germans deferred and the ARR was left searching for a design. The modification of the existing IAR-80 as a dive bomber was seen as a reasonable option, easier than designing an entirely new aircraft; as well as having obvious production benefits.
The result was the IAR-81, a minor change to the IAR-80A models that were then in production, adding a hinged bomb cradle under the centerline to throw a 225 kg (496 lb) bomb clear of the propeller (many dive bombers used a similar system). Delivery consisted of a shallow dive from about 3,000 to 1,000 m (9,800 to 3,300 ft) with the speed around 470 km/h (290 mph). Pilots disliked the aircraft, as the drag from the bomb cradle seriously hampered performance.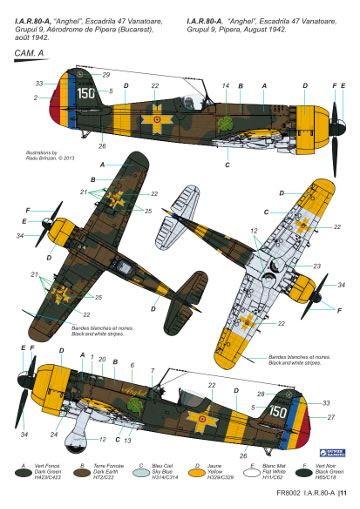 Fifty were ordered in mid-1941 but after 40 had been delivered, 50 kg (110 lb) bomb racks were added under each wing. The wing racks could also mount 100L drop tanks, allowing the 81 to be used as long-range fighters.
The final stage in the IAR-80's wartime history was the 81C.
This version changed the guns once again, this time to the Mauser MG 151/20 which was replacing the MG FF/M in German service and had just been released for Romanian use. The order for the 81C was placed in May 1942.
The first order for 100 airframes was delivered, like all of the prior updates to the 81 series, with the centreline bomb rack removed to be used as fighters.
An additional order for 35 was placed in February 1943, and then another 15 in January 1944. These aircraft were primarily to replace losses in earlier models, while production of the Bf 109G ramped up.*
Azur FRROM released their very first 1/32 scale kit in 2014. It was the sleek Romanian WWII fighter, the IAR-81C. This was a very welcome debut as the type had not been previously available in large scale. It was subsequently re-released by Special Hobby in 2017.
Azur FRROM has now expanded their Romanian fighter family with a 1/32 scale IAR-80A. Although the two aircraft look superficially similar, there are in fact many important detail differences, all of which have been covered by Azur FRROM in this new release.
IAR-80A serie 106 to 150 and 176 to 180 may be built straight from the box.
Compared to the IAR-81C, the main differences in this kit are:
Shorter wings (480 mm)

Shorter fuselage (70 mm)

Only one oil cooler at the root of right wing (the left wing oil cooler was introduced with aircraft Nr 251)

Armament: 6 x 7,92 mm FN machine guns, the wings panels on top and bottom of wings were modified

No struts (introduced for the dive bomber version, the IAR-81)

Early-style camouflage using British paints (RAF Dark Earth and Dark Green on top, light blue on bottom).

BUT: starting with aircraft Nr 95, the strenghtening of fuselage applied to frame 5 externally was moved internally. This model only represents subsequent airframes.**
**Information courtesy of Azur FRROM website
Azur FRROM's 1/32 scale IAR-80A comprises 201 grey styrene parts (17 marked not for use), 11 resin parts, one photo-etched fret of 27 parts, six clear styrene parts, plus decals for four subjects.
Surface features are really well done. Panel lines are crisp and finely recessed. Rivet detail is also present in selected areas, and specific parts of the model even feature screw heads with slot detail - nice! Raised and recessed vents, scoops, slots, hinges and bumps complete the sophisticated surface terrain.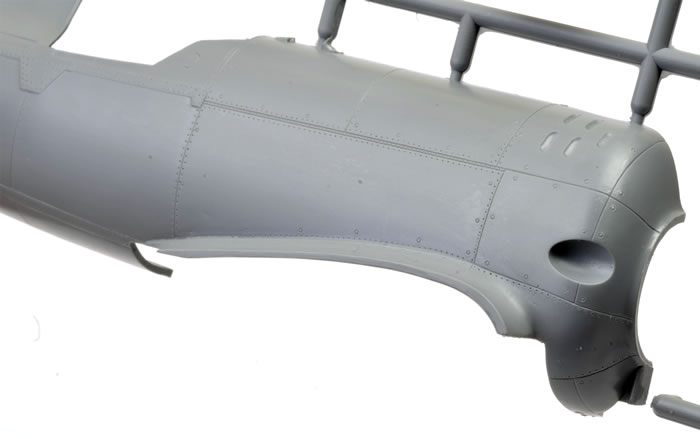 The plastic itself is well presented - smooth straight from the box, crisp and fine recessed panel lines, and no further preparation required.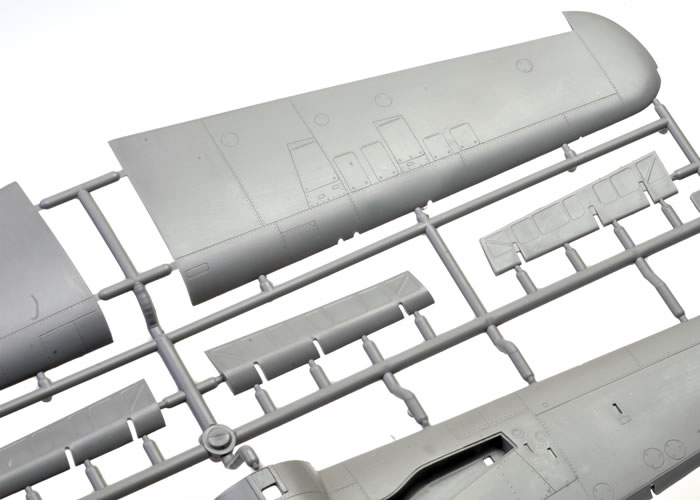 The cockpit is well equipped, mainly using plastic parts although a photo-etched harness is also included. This is a new fret compared to the IAR-81C, now featuring the three-point harness typical of the earlier IAR-80.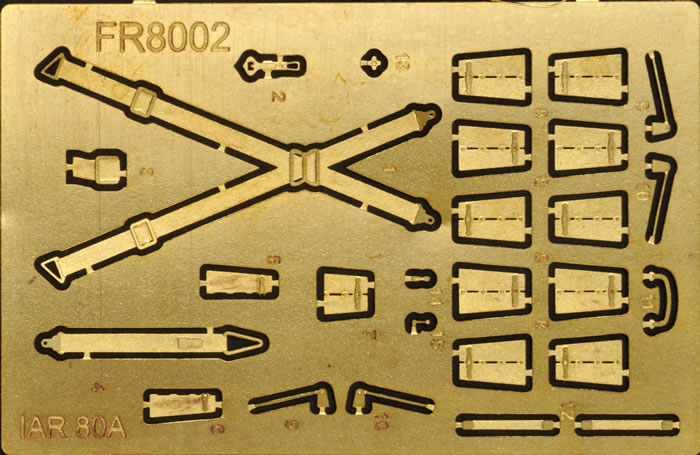 The framed cockpit tub will be trapped between the fuselage halves, which are also moulded with raised interior detail.
The instrument panel is broken down into three plastic sections with instrument dial decals broken down the same way. The gunsight features a resin body and two clear plastic lenses.
Flaps and ailerons are moulded as separate parts. The flaps may be extended and droped thanks to separate plastic hinges. The rudder and elevators are separate and may also be posed to taste.
The engine is well detailed model in its own right with around 70 plastic parts plus resin exhaust manifolds.
The air filter is provided in resin, as are the machine gun barrels.
The main undercarriage and tail skid are well detailed.
The model is completed with the addition of the propeller assembly with its separate blades and two spinner parts; and the canopy, which is thin and admirably free from distortion.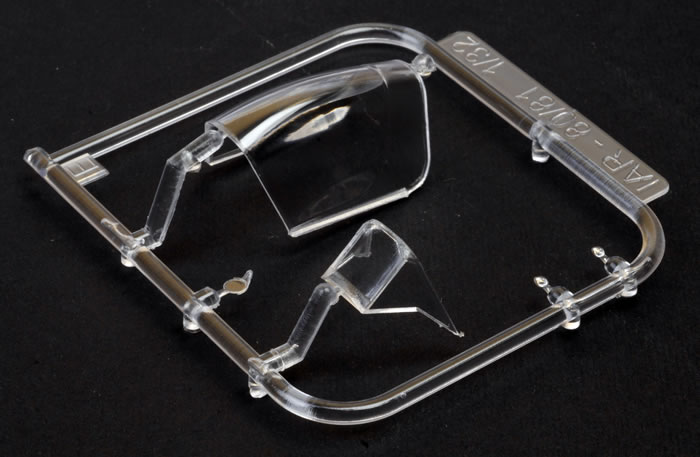 The windscreen and sliding sections are separate so that the canopy may be posed either open or closed.
---
Building the Kit
You might be tempted to believe that this will be an easy build due to the good detail, the narrow sprue attachments and the fine surface textures, but you should always remember that this is a limited run kit.
You won't have locating pins to guide you, and you should be prepared to take plenty of time cleaning up parts and test fitting before committing to glue. This applies especially to the engine and fitting the cowling.
FRROM's IAR-80A may demand more attention than a shake-the-box mainstream kit, but take your time and you should have an impressive result. I have started bulding mine and I have the fuselage sealed. No major problems so far.
---
Colours & Markings
Four colourful early Royal Romanian Air Force (ARR) options are provided.
All four are finished in RAF Dark Green and Dark earth upper surfaces with light blue below. The options also include vivid yellow theatre markings plus variations of individual aircraft markings, kill marks and fuselage art.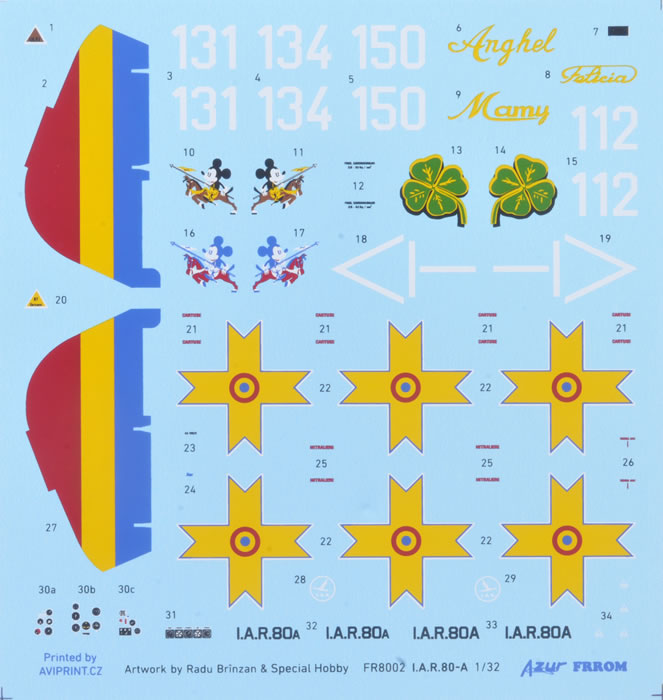 The decal sheet, designed by Radu Brinzan and printed by Aviprint, is printed with perfect registration and good colour saturation. I particularly like the deep shade of yellow.
This is the first time that the sleek IAR-80A has appeared as a 1/32 scale kit straight from the box.
It is an attractive and nicely detailed model.
If you have a couple of limited run kits under your belt, I don't expect this one will give you too many nasty surprises, and it will offer a colourful contrast to other models on your display shelves.
Highly recommended to experienced modellers.
*Background courtesy of Wikipedia
Thanks to Azur FRROM for the review sample.
---
Review Text & Images Copyright © 2018 by Brett Green
Page Created 9 January, 2018
Last updated 11 January, 2018
Back to HyperScale Main Page