Spitfire HF Mk.VIII
ProfiPACK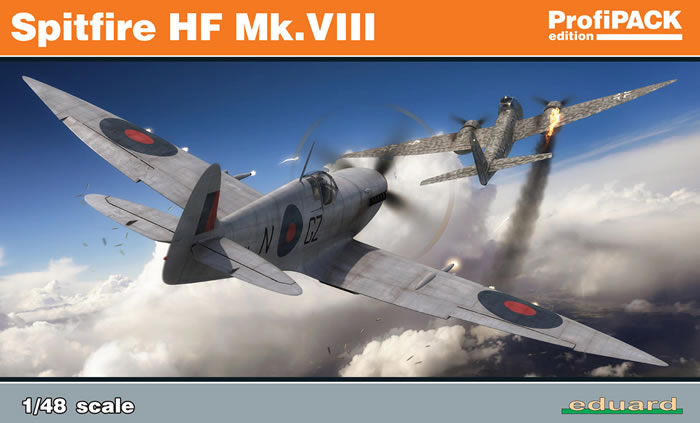 Eduard, 1/48 scale
S u m m a r y :

Catalogue Number:

Eduard Kit No.8287 – Spitfire HF Mk.VIII ProfiPACK

Scale

1/48

Contents and Media

207 parts in grey coloured plastic; 17 parts in clear; colour photo-etched fret; self-adhesive die-cut masking sheet; markings for five aircraft.

Price

USD$49.95 plus shipping available online from Eduard's website

GBP£32.30 EU Price (£26.92 Export Price) plus shipping available online from Hannants

and specialist hobby retailers worldwide

Review Type

First Look

Advantages

Accurate fuselage and wing dimensions; very high level of detail; outstanding surface features including crisply recessed panels and subtle rivet lines where appropriate; brand new fuselage and wings depicting subtle changes to the Mk.VIII; optional HF pointed wing tips; separate parts for closed and open canopy.

Disadvantages

Conclusion

This long-wing version really is a beauty and one that I've been personally wanting to see for a while.

Reviewed by James Hatch


Eduard's 1/48 scale Bf 109 E-3 is available on sale from Squadron.com for only $21.99!

The Supermarine Spitfire is a British single-seat fighter aircraft used by the Royal Air Force and other Allied countries before, during and after World War II. Many variants of the Spitfire were built, using several wing configurations, and it was produced in greater numbers than any other British aircraft. It was also the only British fighter produced continuously throughout the war. The Spitfire was designed as a short-range, high-performance interceptor aircraft by R. J. Mitchell, chief designer at Supermarine Aviation Works. Mitchell pushed the Spitfire's distinctive elliptical wing, designed by Beverley Shenstone, to have the thinnest possible cross-section, helping give the aircraft a higher top speed than several contemporary fighters, including the Hawker Hurricane. Mitchell continued to refine the design until his death in 1937, whereupon his colleague Joseph Smith took over as chief designer, overseeing the Spitfire's development through its multitude of variants.
In September 1941, a hitherto unknown German radial engine fighter appeared in the west European sky. The new airplane was superior to British fighters, most distressingly to the Spitfire Mk.V. The German design was soon recognized as the Focke-Wulf Fw 190A. The first response to the new German weapon was the Spitfire Mk.VIII, but the design changes were so complex that initiating timely production was not possible. The only British fighter aircraft deemed suitable to oppose the Fw 190A were the Spitfire Mk. VII and VIII powered by the Merlin 61 engine. The Mk VIII was an adaptation of the Mk VII without the pressurised cabin and was intended to become the main production model of the Spitfire. When the "interim" Mk IX proved itself to be adequate for the RAF it was decided to use the shadow factory at Castle Bromwich to produce that version only. Apart from the lack of pressurisation, the Mk VIII differed little from the Mk VII. Some early production models had extended wingtips but the majority were fitted with the standard version. There were three sub-variants for low altitude (LF Mk VIII), medium altitude (F Mk VIII) and high altitude (HF Mk VIII) which were powered respectively by the Merlin 66, Merlin 63 and Merlin 70 engines.


This release is packaged into the standard size box that we see for many of Eduard's 1/48 aircraft and has the familiar orange ProfiPACK band along the top edge. Eduard's artworks seem to get better and better, with this having an image of the high-altitude Spit in overall grey, chasing a wounded Ju 188 above the clouds. The edges of the box show profiles for the FIVE schemes that are supplied with this release, and varied they are too. I know that whilst Supermarine test pilot Jeffrey Quill didn't like the extended wing-tip version because it screwed with aileron performance, there is actually something quite alluring to the eye with this version, so I was pleased to be able to get my hands on this review copy.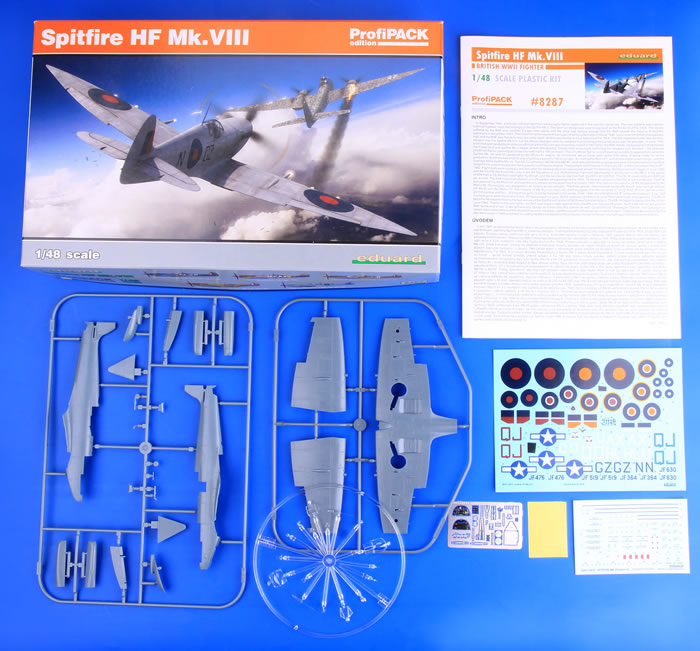 Inside this box we have four medium-grey sprues packed into two re-sealable clear sleeves, and a single clear sprue that resides within its own zip-lock wallet to protect it from scratches etc. Being a ProfiPACK release, we also have a fret of colour-printed PE, plus a small sheet of masks. To complete the contents, a 20-page A4 manual is included. No resin is included in this release.
Despite my kit being properly packed, it didn't stop the clear hood becoming detached in the clear sleeve. No problem though as the delicate part was thankfully undamaged. I quite like the way that Eduard arrange these parts on the circular sprue. Clarity is superb, and the mouldings are realistically thin. As it comes, the model is designed to have the canopy posed in the open position, and separate parts are included to do that, but it you want to close up the office, then a part is supplied which has the hood and rear canopy moulded as one. To fit this, you will also have to undertake a very small amount of simple surgery to the fuselage halves. Nothing too difficult though.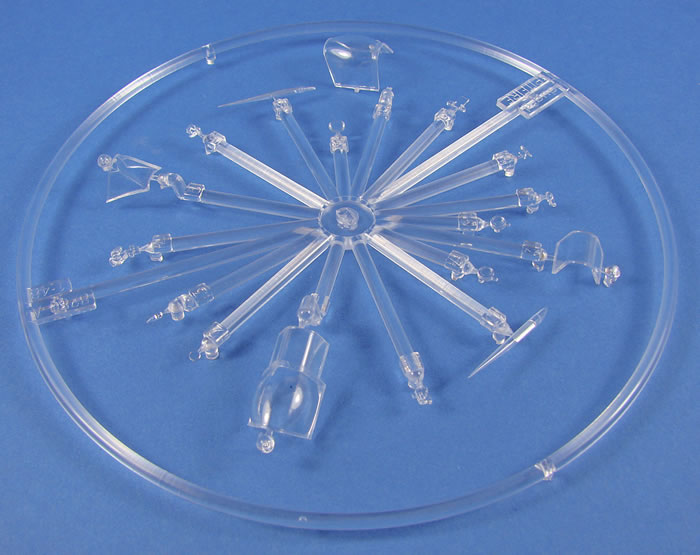 Unlike Eduard's Bf 109 series where the cockpit wall detail is moulded in situ, the Spitfire kits have a separate cockpit tub that fits into the fuselage after paint and assembly, although I do tend to add the side walls into the fuselage first. This design allows the modeller to use the resin Brassin cockpit release as a drop-in item. If you don't wish to go down that route, then the plastic kit parts are very, very presentable and offer the modeller an above standard level of detail right out of the box. As well as the detailed side walls that have superbly rendered airframe constructional details as well as separate detail elements such as undercarriage selector, throttle quadrant, trim wheels, oxygen tanks etc.
Instead of looking directly into the bottom of the cockpit and seeing the inside wing plastic, this model of course has a fully detailed area which includes the actuators that the rudder pedals attach to, plus a myriad of other small details that mean this area is as busy as anywhere else in the pilot's office. A seat with moulded rear cushion is supplies as a three-part assembly, and of course, colour-printed PE seatbelts are included with this release, as are numerous other cockpit parts, including armoured plates for the rear seat and head rest, spade grip trigger, etc. When it comes to the instrument panel, this ProfiPACK release has a layered, multi-part PE option that is colour-printed. These actually look very nice when installed, and an improvement on the already nice plastic parts. Should you want to use the plastic option, then a decal is supplied for this too, in case you didn't want to paint the small details. Of course, some decal setting solution is recommended!
If you've never seen an Eduard Spitfire kit, then you are missing out. Those who have will agree when I say that the external details are exquisite, with delicately rendered panel line, port and rivet details. Note the breakdown of the fuselage too, allowing Eduard to tool different versions.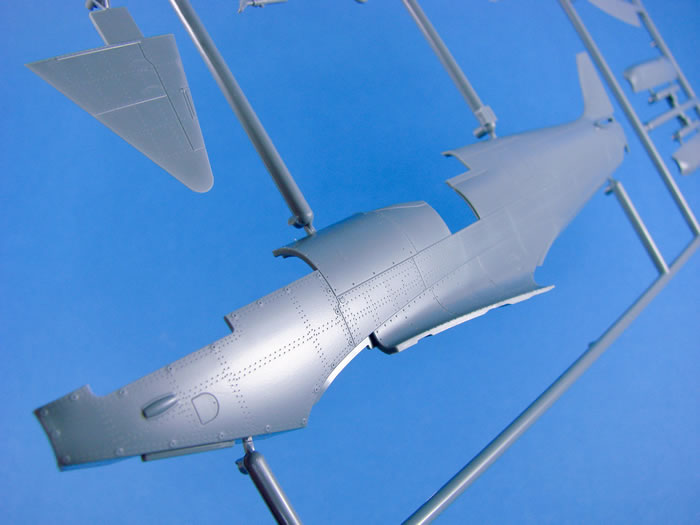 The lower engine cowl is separate and supplied as halves, as it the upper. It's actually here that causes the modeller a little bit of grief as removing the upper cowl seam is troublesome with the surrounding moulded details. Due to the undercuts though, this was a necessary evil. Thankfully, Eduard also sell a resin alternative, cast as a single piece and exhibiting the same finesse of detail. Sticking with the engine, a beautiful set of fishtail exhausts are to be used with this kit, with their stubs only slightly hollow. Again, resin alternatives are available separately, should you want to go the extra mile. More PE parts are included for the lower cowl intake.
The fuselage rudder and wing fairing leading edges are separate parts to allow for different versions to be built, and if you look at the interior of the fuselage, you'll note the radio/battery compartment door is moulded so it can be easily cut away to accommodate extra detail sets.
Of course, it's the Spitfire's wing which is the real star of the show. An almost full span lower part and upper panels make up the bulk of this wing. Not quite full span as you have to fit the wingtips as separate parts, again helping Eduard to tool different versions of this aircraft.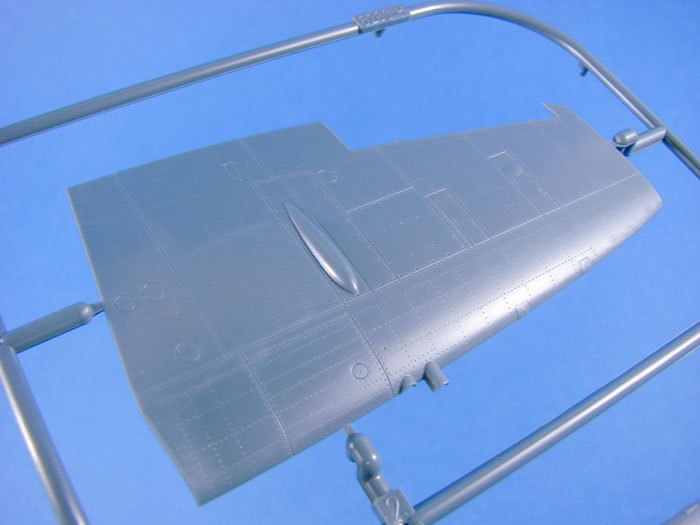 As this is the HF Mk.VIII, this time we get to use the extended, slightly pointy wingtips which give the aircraft the feeling of a little awkward grace, with the beautiful, elliptical lines slightly disturbed. I quite like this look and was hooked on it from the 1/32 Hasegawa Spitfire Mk.VI that I built as a kid.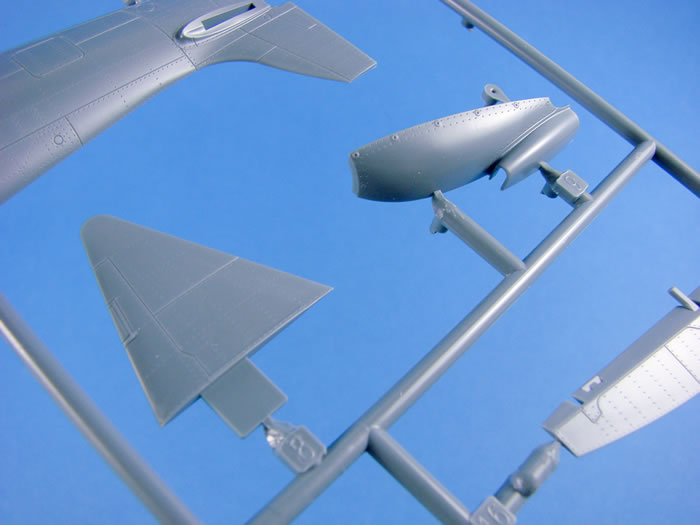 Ailerons are also separate, but landing flaps are integral and moulded closed. The design of this model again allows for Eduard's own aftermarket sets to be added with minimal surgery. As with the fuselage, the surface details are first rate, with fine panel lines and rivets. Cannon stubs are moulded separately, as as the underwing radiators. The latter are made up from six parts each, and the wing has the correct intake and exit ramps moulded in situ. To ensure the wing maintains the correct dihedral and has some rigidity, a wing spar is included.
The remaining control and flying surfaces are nicely recreated, with the ailerons having an accurate metal skin and rivet finish, and the rudder and full-span elevator being of fabric and tape appearance.
When it comes to the main gear wells, the liners have been split into three parts in very much the same way that Tamiya moulded their 1/32 kit. The reason for this is because the walls aren't vertical, and the alignment of the liner is skewed. The solution works very well, and the remainder of the detail in this area is moulded onto the lower side of the upper wing panels. Eduard do sell the bronze gear struts, and they are excellent, but the kit parts certainly do come up to muster. Both plastic and PE oleo scissors are supplied, and the wheels are moulded as halves, with separate hubs. Unfortunately, these aren't weighted either, so you may opt for the resin alternative that is separately available.
That powerful Merlin engine also demanded a four-blade prop, and this is moulded as a single piece, with a two-part spinner.
A single colour PE fret is included and is nicely printed. Part connection tabs are thin and will be easy to cut through. Other parts on here include the inside handle for the sliding hood, numerous cockpit detail parts including the door release mechanism, and of course, the colour seatbelts. A set of wheel hub plates are included, but not for use with this release.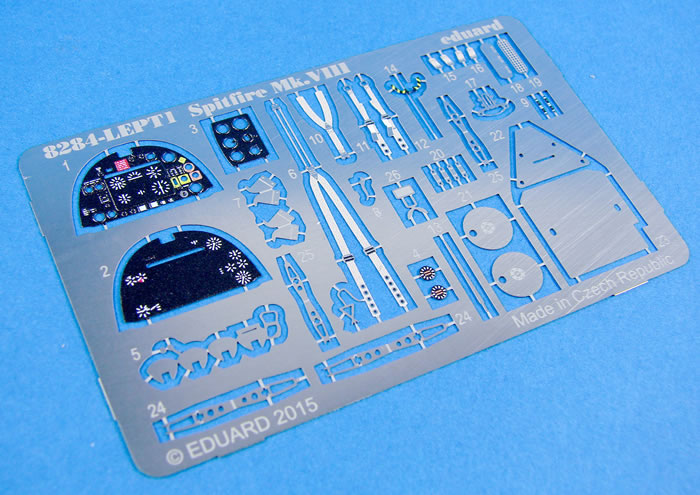 Masks are included for the canopy, wingtip lights, and the various underside wing and fuse lights.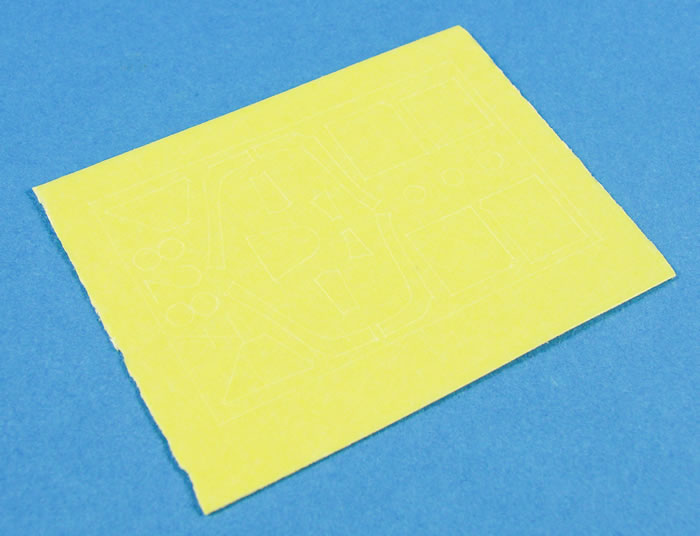 Kabuki is Eduard's material of choice and the set is finely cut and you can guarantee it will be a precise fit.
---
Markings
Two decal sheets are included. The first one contains the numerous stencils that are dotted around the airframe. Both sheets are printed in-house by Eduard and are superbly thin, with minimal carrier film and perfect registration. The second sheet contains the various national markings, serials and codes etc. No, that orange in the roundel etc. is correct. Those are the SAAF markings!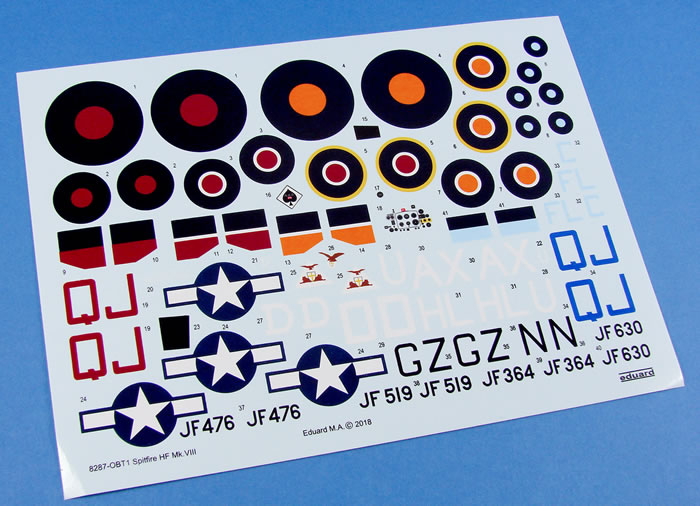 There are five schemes possible with this release, and they are:
JF364, No. 32 Squadron, Foggia, Italy, early 1944

JF476, No. 92 Squadron, Triolo, Sicily, November 1943

JF519, No. 1 Squadron SAAF, Trigno, Italy, February 1944

JF630, flown by F/O L. Cronin, No. 81 Squadron, Palel, India, March 1944

308th Fighter Squadron, 31st Fighter Group, Castel Volturno, Italy, 1944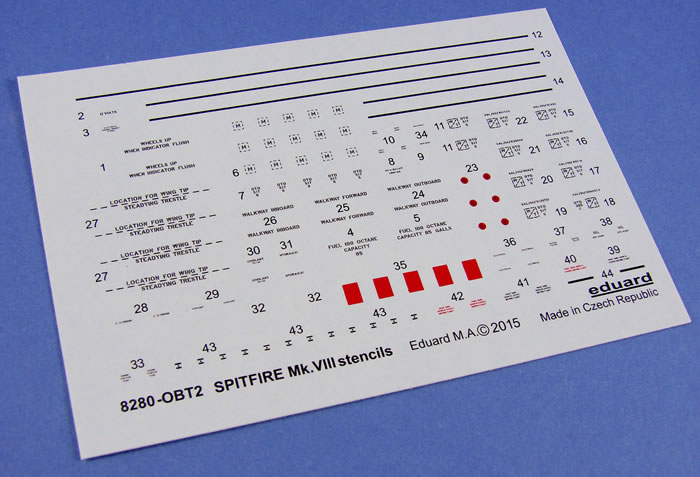 Instructions are supplied as a 20 page, glossy A4 publication, with a parts map and the construction broken down into easy to follow line drawings with selective use of colour to highlight parts installation etc. Paint references are also supplied throughout, in both Gunze Aqueous and Mr Colour reference codes.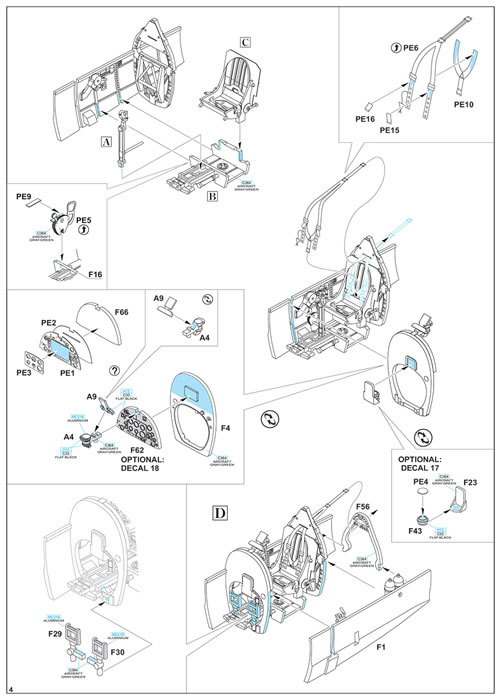 The last pages are taken over with the five schemes, all printed in colour, and including a stencil map. Indications for scheme parts options are easy to see throughout the build.
This far, there have been nearly 20 various releases of Eduard's Spitfire family in the last 5yrs, and they show no signs of slowing down. It's hardly surprising when you consider that this must be the best, most accurate and most catered-for 1/48 Spitfire kits on the market.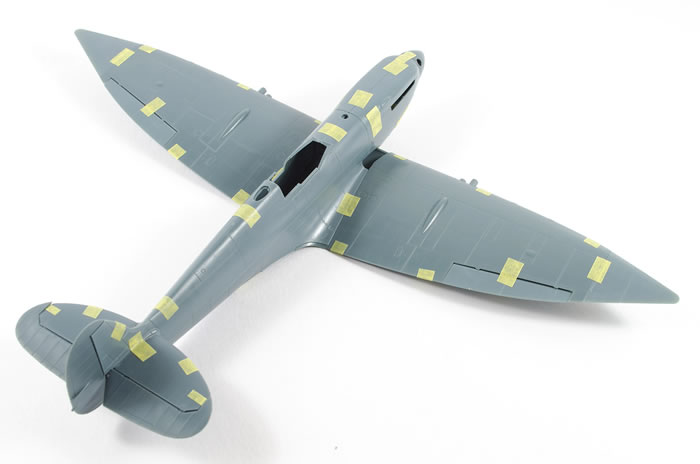 Having built a couple in the past, I can say that these are amongst some of the most fun and satisfying model kits to have hit the market in recent years. This long-wing version really is a beauty and one that I've been personally wanting to see for a while. As I write, I have a box of resin and brass goodies coming, and you will see this in a forthcoming issue of Military Illustrated Modeller.
Thanks to Eduard for the sample
---

Review Text & Images Copyright © 2018 by James Hatch
Page Created 2 April, 2018
Last updated 2 April, 2018
Back to HyperScale Main Page
Back to Reviews Page