Windsock Centenary Datafile # 171
Aviatik (Berg) D.1 At War!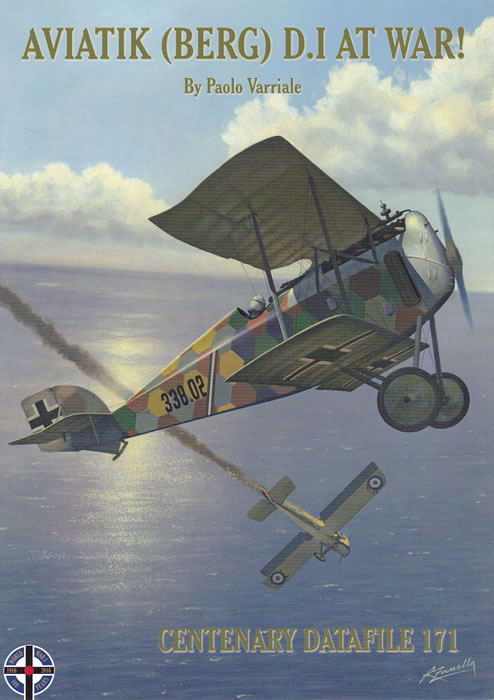 Albatros Productions
S u m m a r y

Publisher and Title:

Albatros Productions
Aviatik (Berg) D.1 At War!
Windsock Centenary Datafile # 171
By Paolo Varriale

ISBN 978 1 906798 46 8

Media:
Soft-cover format; 36 pages plus covers; black and white and colour photographs and line drawings.
Price:
£12.50 plus postage. Available online from www.windsockdatafilespecials.co.uk and selected specialist book and hobby shops worldwide.
Review Type:

First Read

Advantages:

Intriguing WW1 subject unfairly neglected by model manufacturers to date. Well written and worth the price for the photos alone. Invaluable resource for modellers.

Disadvantages:

Photos of the two surviving airframes not included.

Conclusion:

An excellent addition to the Windsock Datafile catalogue, profusely illustrated guide.

Reviewed by David Wilson


HyperScale is proudly supported by Squadron.com
As 2018 is the Centennial year marking the 100th anniversary of the end of WW1, many modellers are hoping the model companies will pay more attention to WW1 new releases this year.
With that in mind aircraft modellers are hoping for some famous or some exotic types to be kitted. The Aviatik (Berg) D.1 fighter sits somewhere in the middle of that wishlist.
The Aviatik (Berg) D.1 was a single seat fighter designed for the Austro-Hungarian Air Service by Julius Von Berg and given that designation to differentiate it from a similar Aviatik design built by the parent company in Germany.
The prototype flew in 1916, but not well. It crashed and killed the pilot. The makers persevered and eventually a useful design was produced and manufactured by various sub contractors, the type powered by Austro-Daimler engines.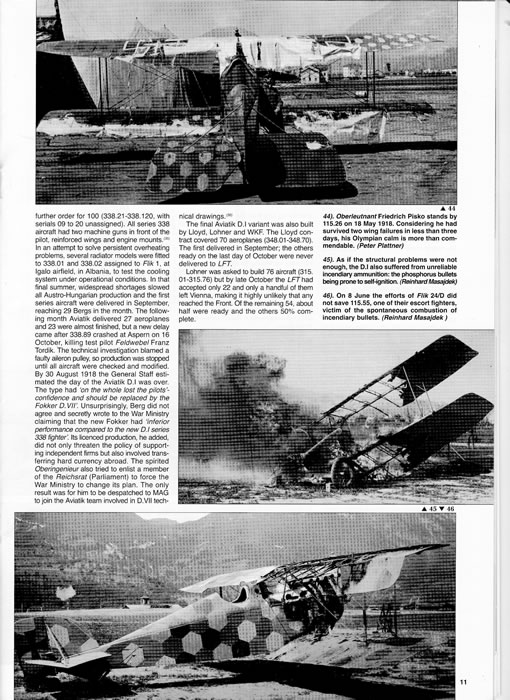 Around 677 Berg D.1 airframes were produced and it entered service in autumn 1917. Austro-Hungarian aviation units flew the Berg D.1 on the Eastern, Italian and Balkan fronts. In total it saw service with Austro-Hungary, Romania and Yugoslavia.
Visually the Berg D.1 has appeal to modellers due to its varied colour schemes, especially the colourful hand painted hexagons which give a model a striking look (but can be an absolute bear to apply!)
The Berg D.1 story is nicely re-told in Windsock Centenary Datafile #171 with a new study of the type by Italian historian Paolo Varriale.
This is a whole new look at the Berg D.1 and a host of rare photos to support the author's text is a real highlight.
Signor Varriale explores the types' development and its chequered combat career in some detail.
Mention must be made of the nine pages of scale plans in 1:48 and 1:72 scales from Steve Simkin , plus nine all-new colour profiles by Ronny Barall framed by Roberto Zanella's wonderful cover painting.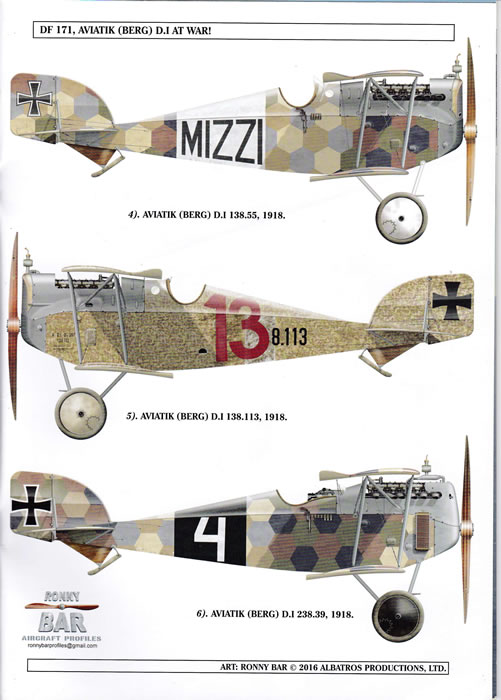 This is a lavishly-illustrated Datafile with much to occupy the modeller and WWI aero-enthusiast.
It's good to see effort being made to spread the word on lesser-known WW1 types. An astonishing number of people think the only aeroplanes in WW1 were the Sopwith Camel and Fokker Triplane!
The energy behind the Datafile (and Windsock) publications is due to British aviation historian and publisher Ray Rimell. Without Ray Rimell and especially his championing of WW1 modelling in the golden era of Scale Models, the whole WW1 model genre may have been lost to us. WW1 modellers owe him an enormous debt.
From a modellers perspective the Aviatik (Berg D.1) has had more love shown to it by model manufacturers than some better known types, but one always hopes it will be produced as a new state of the art- and affordable- plastic model.
The respected Czech company HpH Models produced a stunning 1/32 Berg D.1 last year but the all resin kit carried a high price tag. In other mediums, the type was produced by Toko as an injection moulded 1/72 kit, while Eduard/ Flashback had a very nice 1/48th kit which still pops up on sales tables and buy/sell forums.
We can but hope someone will do a new tool plastic Berg D.1 in the major scales and if they do, this Datafile is essential on the workbench.
A welcome addition to the WW1 reference library.
---

Review Copyright © 2018 by David Wilson
This Page Created on 5 January, 2018
Last updated 5 January, 2018
Back to HyperScale Main Page
Back to Reviews Page