S u m m a r y :

Catalogue Number:

Luftwaffe Gallery - JG54 Special Album 1939-1945
by Erik Mombeeck & Maciej Góralczyk

ISBN: 978-2-930546-19-3

Contents & Media:

Soft cover roughly A4 format and in a landscape format.

Price:

To purchase directly, email Erik at hoves@telenet.be, and check out the his website here: http://www.luftwaffe.be/luftwaffe-gallery/.

Review Type:

First Read.

Advantages:

Lots of engaging artwork and reference photos.

Disadvantages:

Conclusion:

A goldmine of pictorial information.

Reviewed by James Hatch


HyperScale is proudly supported by Squadron

Jagdgeschwader 54 is perhaps one of those units that has fascinated both modellers and historians alike. This is a unit with a rich tapestry of service history, interwoven with stories of famous pilots that have served with it, such as Hannes Trautloft, Walter Nowotny, Max Hellmuth Ostermann, and Hanns Phillip. For me, there is perhaps more material interest in this Jagdgeschwader than there is with Galland's JG26, but that is of course open to personal opinion. JG54 didn't fall to earth fully-formed, as we say, but instead was composed of three Gruppen with totally different origins. What eventually became known as 'Grünhertz' (Green Hearts), had its famous unit symbology derived from these initial Gruppen, with the original Teutonic Knights cross emblem being changed and adapted until 1944, when the last Jesau Cross incarnation was finally overlaid on the Green Heart background, and a real legend was born.
Lu/Ga's books, of which this is the third title in their Special Album series, covers the formation and eventual demise of JG54, the highest scoring Luftwaffe wing of WW2, first serving and fighting on the Western Front, and taking part in skirmishes over the south of England in 1940, right up until its transference to the Eastern Front in 1941 during Barbarossa, and finally its almost complete destruction in the Courland Pocket. Remnants of JG54 escaped to Flensburg, and a disbanded heavy fighter unit became the nucleus of what was to then become III./JG54 which then operated from Berlin against heavy odds before being absorbed into JG26 before the war's end.
This book doesn't so much tell an ongoing story of JG54 but instead looks at it through the eyes of those who participated, with the book progressing in a chronological way, from the sitzkrieg in the West, up to those final days of the war. Navigating your way through this book certainly highlights the changes not only in aircraft variant (mostly Me/Bf 109 and Fw 190), but also in the vast changes in applied camouflage. Some of the schemes are quite startling and most definitely are manna from heaven, for the Luftwaffe modeller. It's also a haven for those interested in the emblems that were applied to Luftwaffe machines, with JG54 perhaps being the most diverse in this respect.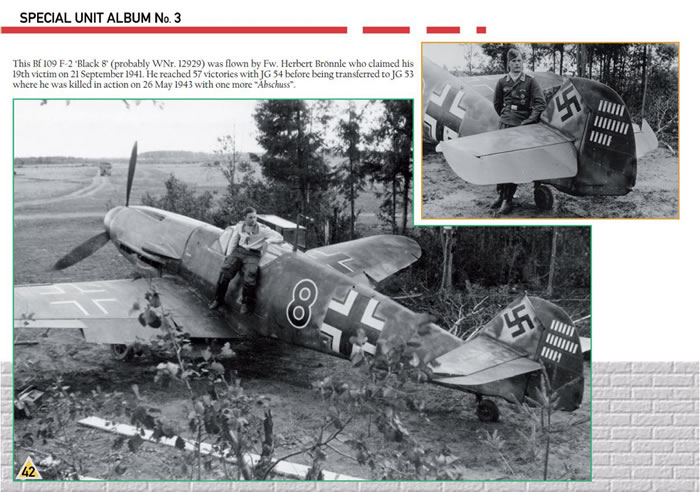 This particular title is printed in a roughly A4 format and in a landscape format, making it quite easy to manhandle, especially with it also being softcover and perfect-bound.
The cover itself is glossy, and the pages within having a very slight satin sheen. Printing quality is excellent. There are 96 pages within the covers, containing around 216 mostly original (and unpublished until now) photographs that have been derived from personal collections and family albums, and these are interspersed with the most amazing colour profile artworks from French artist, Thierry Dekker (http://dekker-artwork.blogspot.co.uk). Over 30 of these profiles are included, and they tie directly to the period images that are printed alongside these profiles, complete with historic notes, and the aforementioned personal accounts.
Noting the actual colours of the aircraft, in contrast to the black and white photos, is quite interesting. Many different types of film were used during the war, and it will have been a labour of love to translate those images into an accurate colour profile.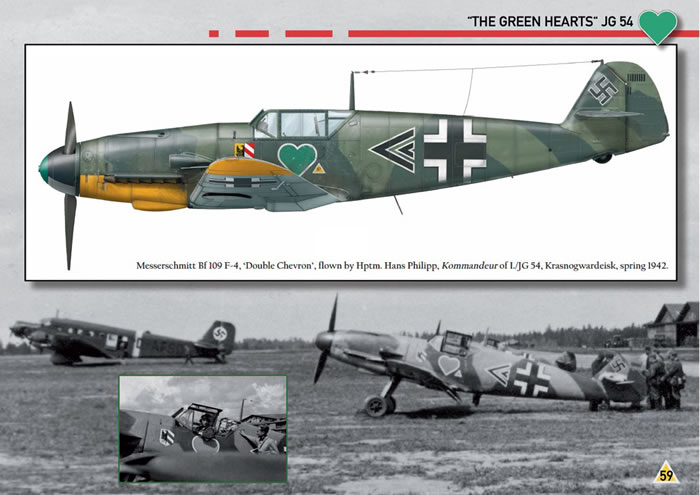 This particular title is a little different to Erik's previous books in that this is a collaboration effort with renowned Luftwaffe historian, Maciej Góralczyk, with a pool of many other collaborators who were willing to share their time, effort and material for this book.
This title is the result of several collective years of their lives, dedicated to collating and producing a pictorial and historical archive for this most famous of Luftwaffe fighter wings.
Of course, the title is written in English, and is very easy to read.
It's often been said that one can never have enough reference books. In reality, there are reference books and there are goldmines of pictorial information. This is certainly one of those, providing a title that will be used time and again, if only for the amazing and unique content within. A vital purchase for Luftwaffe fan and modeller alike.
Thanks to Erik Mombeeck and Maciej Góralczyk for the sample.
---
Review Copyright © 2018 by James Hatch
This Page Created on 24 January, 2018
Last updated 24 January, 2018
Back to HyperScale Main Page
Back to Reviews Page