S u m m a r y :

Catalogue Number:

Greenhill Books
"Air Battle of Malta: Aircraft Losses and Crash Sites, 1940-42"

ISBN: 978-1-78438-188-2

Contents & Media:

Hard cover C5 format; 220 pages; black and white photographs.

Price:

£25.00 plus postage available online from Pen and Sword
and specialist book and hobby shops.

Review Type:

First Read.

Advantages:

Thoroughly researched, well organised and deeply engaging.

Disadvantages:

None noted.

Conclusion:

Air Battle of Malta is a definitive historical reference on this key event of World War II, and I recommend it very highly to anyone interested in aviation history. The wealth of information and anecdotes also provides plenty of inspiration for modelling project.

Reviewed by Brd Fallen


HyperScale is proudly supported by Squadron

Britain's successful defence of Malta during World War II condemned Axis efforts to dominate the Mediterranean and North Africa. The siege has been well covered by historians, but likely never in the way that Anthony Rogers does so here.
Rogers uses a combination of archival research, battlefield archeology and interviews to present a comprehensive record of aircraft crashes on Malta. The crashes investigated by Rogers are only a fraction of the more than 1,000 aircraft lost during the two-and-a-half years of fighting over Malta, but most of these crashed in the Mediterranean. Many others, Rogers writes, "were written off after emergency landings at aerodromes on Sicily or Malta….This book focuses…on the remainder, the more than 200 aeroplanes that crashed in the countryside and residential areas of Malta and Gozo". The resulting study shows the intensity of combat during this period and is both uplifting and harrowing, often in close succession.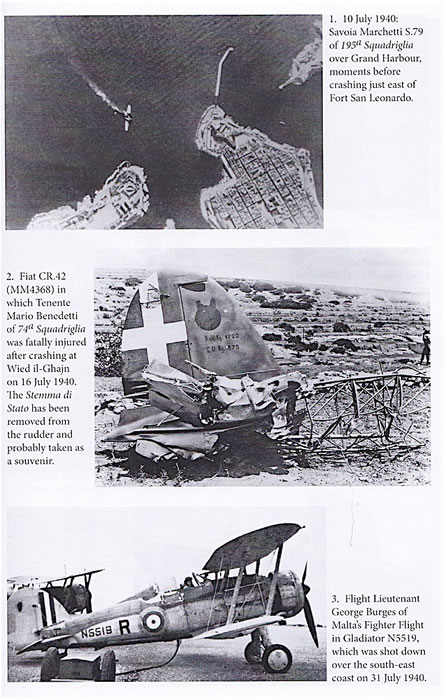 Rogers presents his material in a way that highlights the broad sweep of the siege, along with intimate details of the fighting within it. He achieves the former by proceeding in strict chronological order, and the latter by zooming in on day-by-day events. Chapter titles include January-February 1942: Hurricanes and anti-aircraft guns against II. Fliegerkorps of the Luftwaffe, and June-September 1942: Malta continues to hold out – Axis summer offensive – Operation 'Pedestal'.
Personal accounts bring the story to life. During his research the author has uncovered dozens of letters and reports, which he quotes at length to good effect. Here are some comments by Hauptmann Helmut Mahlke – Gruppenkommandeur of III./StG 3 and future Bundeswehr general – on leading a Stuka attack he was lucky to survive:
The right wing has been ripped open in the middle by Flak. The right aileron cannot be operated anymore. The drag on the damaged wing is so strong that I can hardly balance the plane with the left aileron. I have pulled in the dive brakes, and shift the balance to the tail….
We are still flying. Then Fritzchen Baudisch [Mahlke's observer] reports from astern "Hurricane within shooting range!"….Fritzchen fires a short burst at the Hurricane. It seems a feeble effort intended more to reassure ourselves….
About 20m before the end of the runway the Ju 87 comes to a halt. Despite all those machine gun (MG)-hits the tanks and wheels had remained intact….Apart from the direct hit by Flak, our technicians counted 184 MG strikes. This was almost too much! – Looking at this plane however, gives any Stuka pilot confidence and trust in the next mission….The Ju 87 can put up with quite a lot.
Each chapter is filled with accounts like this – which, frankly, are so interesting they have extended the time it's taken me to write this review because I keep getting drawn into the stories, and fates, of individuals caught up in the fighting. Many of those involved survived to record their experiences over Malta, only to perish later in the war.
Rogers supplements the main text with five appendices, the most detailed of which is a table which lists aviation losses by date and time, aircraft type, pilot/crew (and whether they survived), unit and place. The other appendices are lists of abbreviations and Regia Aeronautica/Luftwaffe units involved in the air battle, and a table of comparative ranks between the three participating air forces.
Other useful additions include:
Maps of the central Mediterranean, the Maltese Islands, and crash site locations;

53 black-and-white period photos of crash sites and individuals involved in the fighting;

Extensive footnote and bibliographic material; and

Separate indexes of personnel and place names.
Air Battle of Malta is a unique and likely definitive historical reference on this key event of World War II. The book is thoroughly researched, well organised and deeply engaging. At first glance, there isn't much here that is obviously relevant to modelling (although some of the photos include some useful airframe details). However, the wealth of information and anecdotes provides plenty of inspiration for projects; I repeatedly found myself searching the internet for more material about specific individuals, units and events. I recommend this book very highly to anyone interested in World War II aviation history.
Thanks to Pen and Sword Books for the review sample.
---
Review Copyright © 2018 by Brad Fallen
This Page Created on 1 January, 2018
Last updated 1 January, 2018
Back to HyperScale Main Page
Back to Reviews Page