RP-3 60lb SAP/HE British WWII Rocket Projectile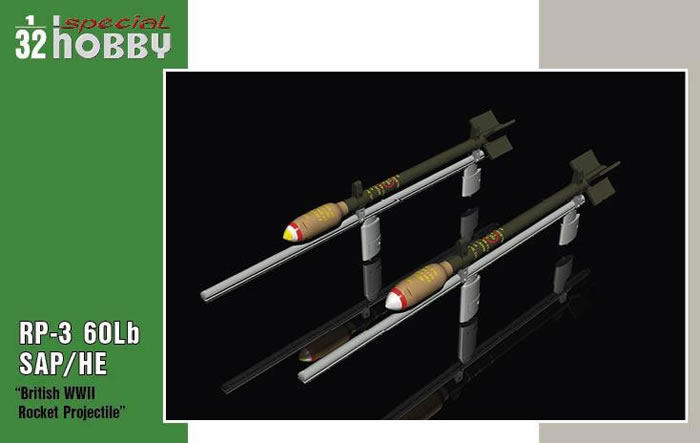 Special Hobby, 1/32
S u m m a r y

Catalogue Number:

Special Hobby Kit No. SH32075

- RP-3 60lb SAP/HE British WWII Rocket Projectile

Scale:
1/32
Contents and Media:

See details below

Price:

GBP£9.99 EU Price (GBP£11.99 Export Price) plus shipping available online from Hannants

Review Type:
FirstLook
Advantages:

Great detail and moulding; worthwhile upgrade.

Disadvantages:

You'll want to add pigtail fuses.

Recommendation:
A nice and simple set that provides that beautifully detailed RP-3s for your project..
Reviewed by James Hatch


Special Hobby's 1/48 scale Model 339-23 Buffalo will be available online from Squadron
The RP-3 (from Rocket Projectile 3 inch) was a British rocket projectile used during and after the Second World War. Though primarily an air-to-ground weapon, it saw limited use in other roles. Its 60 lb (27kg) warhead gave rise to the alternative name of the "60 lb rocket"; the 25 lb (11.3kg) solid-shot armour-piercing variant was referred to as the "25 lb rocket". They were generally used by British fighter-bomber aircraft against targets such as tanks, trains, motor transport and buildings, and by Coastal Command and Royal Navy aircraft against U-boats and shipping. The "3 inch" designation referred to the diameter of the rocket motor tube.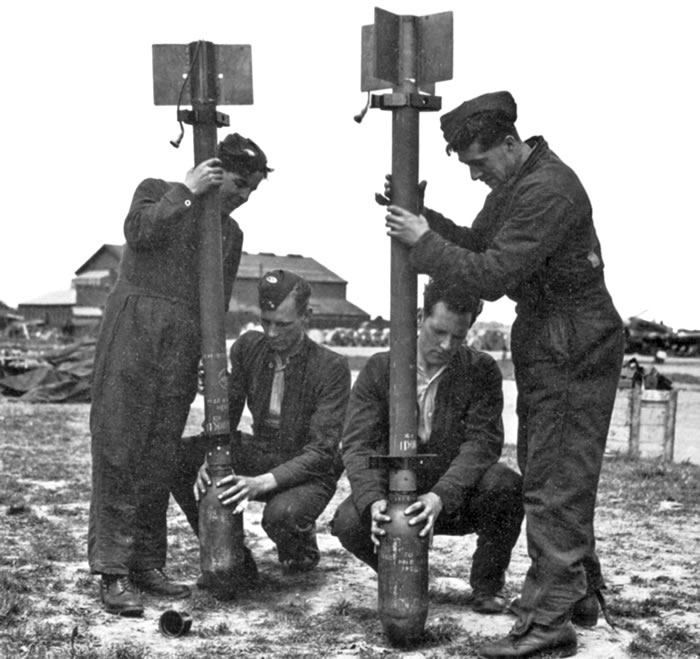 The rocket body was a steel tube 3 inches (76 mm) in diameter filled with 11 pounds (5 kg) of cordite propellant, fired electrically. The warhead was screwed into the forward end and was initially a solid 25 pounds (11 kg), 3.44-inch (87 mm) armour-piercing shell which was quickly supplemented by a 6-inch-diameter (152mm), 60 pounds (27 kg) high-explosive head. Another type of head was a 25 lb (11 kg) mild steel (later concrete) practice head. Once the rocket had been mounted on the rails, an electrical lead (or "pigtail") was plugged into the exhaust of the rocket.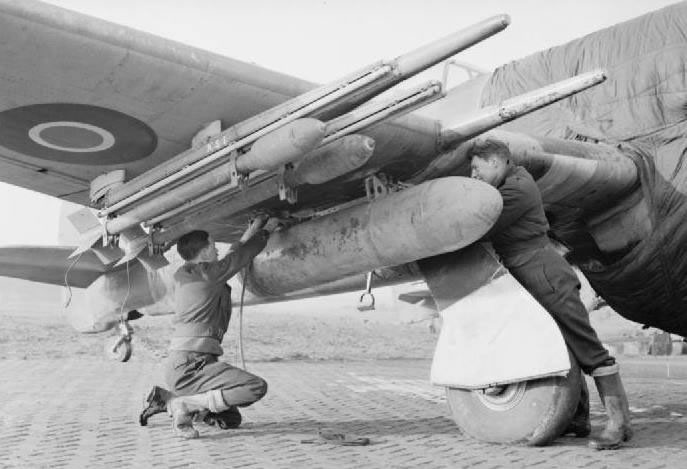 Four large tailfins induced enough spin to stabilize the rocket, but as it was unguided aiming was a matter of judgment and experience. Approach to the target needed to be precise, with no sideslip or yaw, which could throw the RP off line. Aircraft speed had to be precise at the moment of launch, and the angle of attack required precision. Trajectory drop was also a problem, especially at longer ranges. On the plus side the rocket was less complicated and more reliable than a gun firing a shell, and there was no recoil on firing. It was found to be a demoralising form of attack against ground troops, and the 60 lb warhead could be devastating. The rocket installations were light enough to be carried by single-seat fighters, giving them the punch of a cruiser. Against slow-moving large targets like shipping and U-boats, the rocket was a formidable weapon.
As if loading your Special Hobby 1/32 Tempest kit with resin cockpit parts, undercarriage and wheels, resin engine, gun bays and cowls wasn't enough, then another very nice set comes along to tempt you further and helping to create one of the ultimate Tempest kits available.
This time we have a set which addresses an omission in the original standard and HI-TECH releases of SH's Tempest kit; namely the rocket ordnance. Of course, these weapons won't be limited to just the Tempest release, with several WWII types also carrying them, such as the Typhoon, Swordfish, Hurricane, Beaufighter, Thunderbolt and Mosquito, to name a few. Just make sure that the rails/mountings are suitable for whatever type of aircraft you fit them to. This new set is packaged into a reasonably large but shallow box as is befitting a complete, single sprue. Moulded in a light grey styrene, this sprue is further protected by a clear film sleeve. Also within this sleeve are the instruction sheet and a small decal sheet.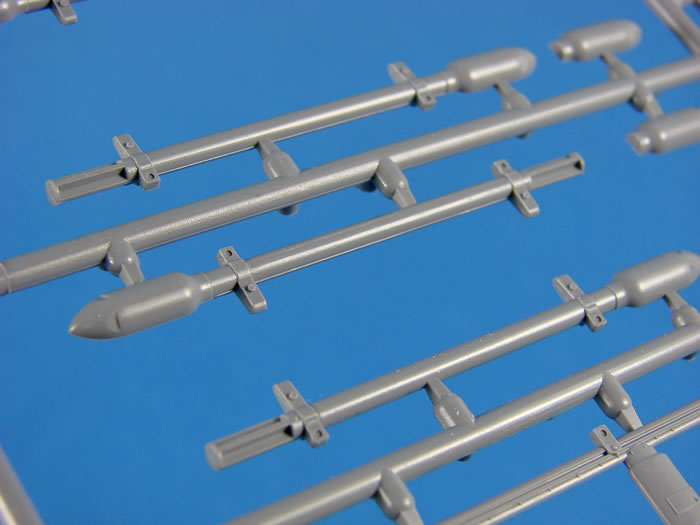 This set contains enough parts to build eight RP-3 rockets, including their mounting rails, which as I've mentioned, are likely profiled to fit onto the Tempest kit. Each rocket is made up from a single-piece body with half of the warhead moulded in situ. The other half being a separate part. The four fins are also separate, but the mounting lugs to the rails are a part of the rocket. Lastly, the rail. The rail is moulded to the mounting points which you may need to modify if you don't fit these to the Tempest. Moulded detail looks to be commensurate with the many photos of these that can be found online. The only compromise being a solid connection between the rocket instead of the spring-loaded clip that was used in reality. This is also the way Airfix tackled the subject for their superb 1/24 Typhoon. I seem to recall that the only other way of representing such intricate details is with metal, as per the Master 1/24 series. However, these are still very, very good and that detail doesn't detract.
Moulding quality is superb, with all details being sharp, and nothing in the way of visible seam lines. No flash or defects are present.
The single decal sheet contains decals for both the A/C3" SAP 60lb, and the A/C3" HE 60lb types. Printing is my Aviprint, and the inks are in yellow and red, with the text being readable and fine. Registration is also perfect, and the printing is thin, with minimal carrier film.
A single folded A4 sheet is provided for the instructions. As you would imagine, these aren't difficult to construct, and the illustrations clearly show everything you need to know. Colour codes are provided for Gunze paints, and the rear of the instructions shows the rockets in colour, providing details for both warhead load-outs.
A nice and simple set that provides that beautifully detailed RP-3s for your project. The only thing you would need to add are the pigtail fuses that fit into the rear of them. In this scale, I would use the thicker EZ-Line which naturally sags under its own weight.
Simple to build and with some nice decals to finish them off, these should look great under the wing of the recent 1/32 Tempest, and I'll be adding them to my future project for Military Illustrated Modeller magazine.
Thanks to MPM / Special Hobby for the review sample.
---
MPM kits are available worldwide through hobby retailers worldwide and at Squadron.com
---
Review and Images Copyright © 2018 by James Hatch
Page Created 8 March, 2018
Last updated 8 March, 2018
Back to HyperScale Main Page
Back to Reviews Page