Eduard 1/72 scale
Supermarine Spifire Mk.VIII
by Jumpei Temma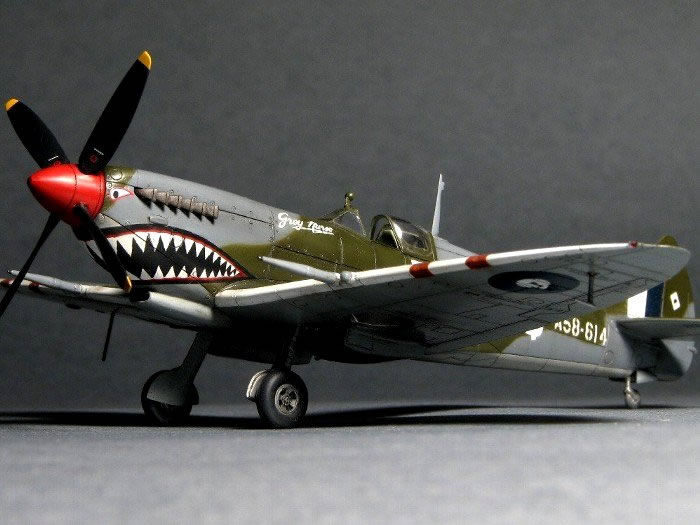 Supermarine Spitfire Mk.VIII

Airfix's 1/72 scale Junkers Ju 87 B-1 Stuka is available online from Squadron for only USD$11.99
Here is my Eduard 1/72 scale new tool Spitfire Mk.VIII. I built it almost straight from the box except for minor modifications.
I changed the kit's open slide hood part to closed one which was cut away the rear fixed canopy and was thinned with sandpaper.
The markings represented ZP-Q A58-614 of the RAAF No 457 "Grey Nurse" Squadron.
The cockpit was built almost from the box. The seat harness was from FineMold's Nano Aviation.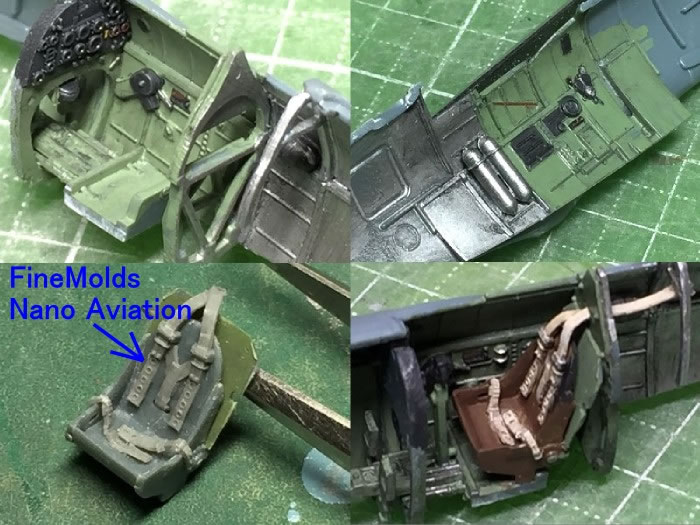 The sliding section of the canopy was changed so the fuselage was narrowed by 0.5mm (0.02") and the cockpit rear side was cut down. The inner surface of the hood was sanded to fit the fuselage.
Frames of the kit windscreen were sanded off and new frames were engraved with templates. The inner surface of the windscreen was sanded as well.
Rib tapes of the elevator and rudder were depicted with custom made dry decals.
Fasteners for the engine cowl were sanded off and re-engraved with a beading tool. Rivets that had disappeared during this process were re-engraved with a needle.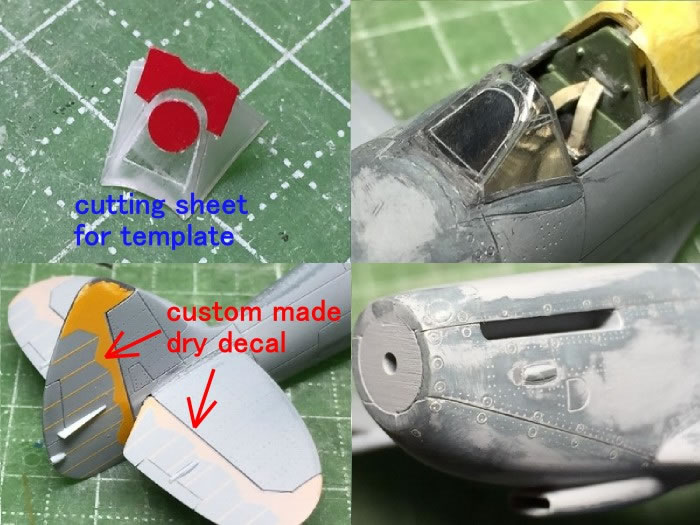 The shape of the shark mouth of this aiarcraft was different from the kit decals so I airbrushed it with a machine cut sheet template. At first, white was airbrushed and teeth portion was masked with cutting sheet. Next, black was sprayed. Then the mouth portion was masked and camouflage was painted.
Roundels, fin flash and white leading edge were painted. Other markings (shark's eye, GreyNurse, code letter, serial and the ace of spade) were depicted with custom made dry decals.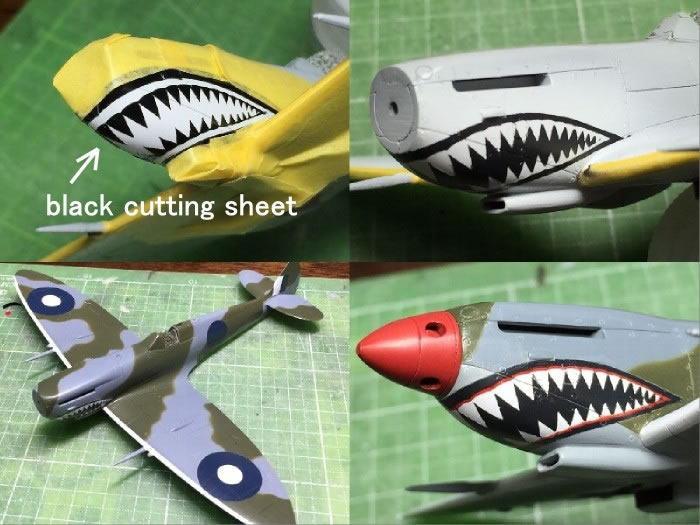 The kit propeller blade was enlarged with thin strip of plastic sheet. The tyres were from SBS model resin. The gear leg was from Hasegawa Mk.IX. The torque link was scratched.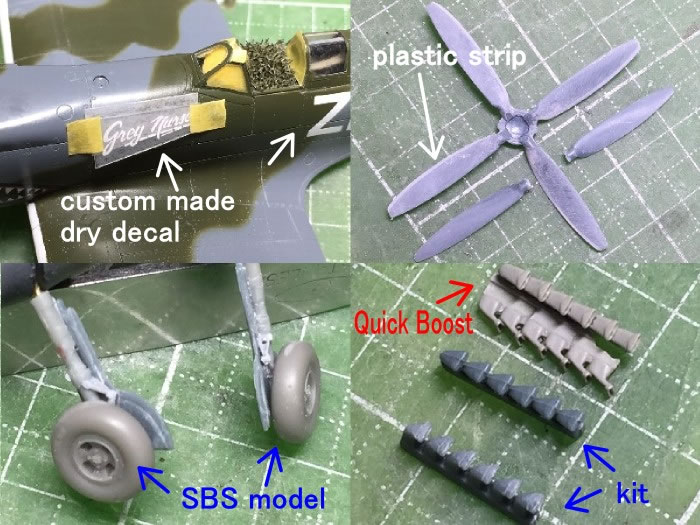 The exhaust was from the kit. It was drilled and engraved. I prefer the kit exhausts to Quick Boost.
Finally, my shark mouth Spitfire was finished.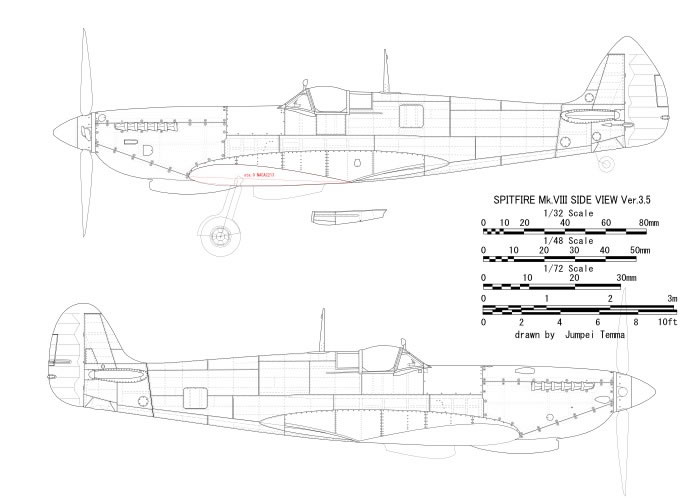 The basic outline shape of Eduard's kit was perfect and there was no need for correction.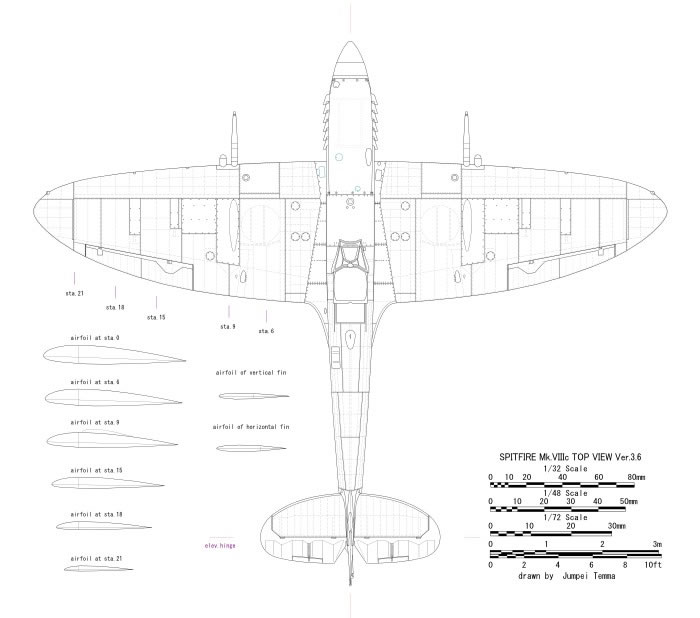 Replacement of the open position canopy to closed one seemed effective.
Further article, original drawings and illustrations are here http://www.geocities.jp/yoyuso/spit8/spit8e.html
---
Model, Images and Text Copyright © 2018 by Jumpei Temma
Page Created 6 February, 2018
Last Updated 6 February, 2018
Back to HyperScale Main Page