Sikorsky SH-3A/D Sea King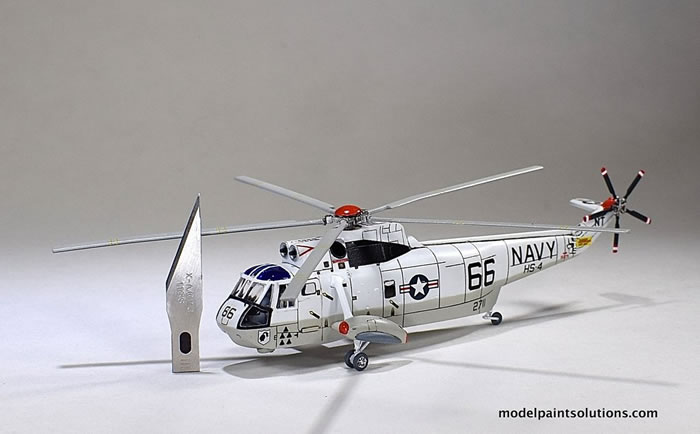 AFV Club, 1/144 scale
S u m m a r y :

Description and Item No.:

AFV Club Kit No. AR144S05 - Sikorsky SH-3A/D Sea King

Contents and Media:

48 grey parts (x2), 8 clear parts (x2), one decal sheet with 4 options.

Price:

£17.99 (£14.99 Export Price) plus shipping available online from Hannants

Scale:

1/144

Review Type:

Build

Advantages:

The kit parts are flash free and the details are crisp and scale-appropriate. Details are both inscribed and rendered in relief (outscribed) where appropriate. Very nice engineering and excellent fit provides for a quick and easy build.

Disadvantages:

None.

Recommendation:

This is a beautifully engineered model that just drips with scale-appropriate details. The fit is spot on and the low parts count allowed for a fast issue-free build. The decals for "Old 66" are beautifully printed and went down perfectly. What's not to like? Highly recommended for whirly bird fans everywhere!
Reviewed and Built by John Miller


Hobby Boss' 1/72 P-61A Black Widow is available online from Squadron.com
History
The Sikorsky SH-3 Sea King (company designation S-61) is an American twin-engined anti-submarine warfare (ASW) helicopter designed and built by Sikorsky Aircraft. A landmark design, it was the world's first amphibious helicopter and one of the first ASW rotorcraft to use turbo shaft engines.
The Sea King has its origins in efforts by the United States Navy to counter the growing threat of Soviet submarines during the 1950s. Accordingly, the helicopter was specifically developed to deliver a capable ASW platform; in particular, it combined the roles of hunter and killer, which had previously been carried out by two separate helicopters. The Sea King was initially designated HSS-2, which was intended to imply a level of commonality to the earlier HSS-1; it was subsequently re-designated as the SH-3A during the early 1960s.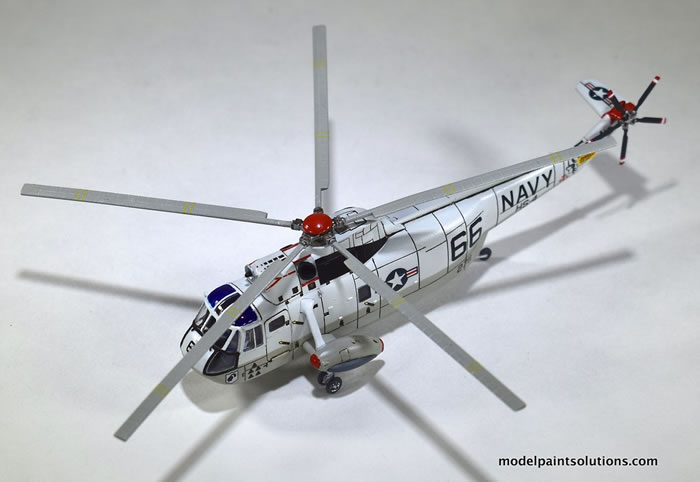 Introduced in 1961, the Sea King was operated by the United States Navy as a key ASW and utility asset for several decades prior to being replaced by the non-amphibious Sikorsky SH-60 Seahawk in the 1990s. In late 1961 and early 1962, a modified U.S. Navy HSS-2 Sea King was used to break the FAI 3 km, 100 km, 500 km and 1000 km helicopter speed records. The Sea King also performed various other roles and missions such as search-and-rescue, transport, anti-shipping, medevac, plane guard, and airborne early warning operations. Several Sea Kings, operated by the HMX-1 unit of the United States Marine Corps are used as the official helicopters of the President of the United States, for which the call sign 'Marine One' is used.
The Sea King has also proved to be popular on the export market with foreign military customers, and has also been sold to civil operators as well. As of 2015, many examples of the type remain in service in nations around the world. The Sea King has been built under license by Agusta in Italy, Mitsubishi in Japan, and by Westland in the United Kingdom as the Sea King. The major civil versions are the S-61L and S-61N.
(Edited from Wikipedia)
---
Introduction
I have to say that "whirly birds" aren't my normal fair. I prefer fixed wing aircraft of the "one true scale" so I was more than dubious when I received this kit (#14405) for review. Upon opening the box I quickly changed my mind. The molding and high level of detail exhibited by all the kit parts is impressive: some of the best I've seen in this scale.
One thing led to another and before I knew it plastic shards were flying, parts were being snipped, and I was reaching for my favorite thin cement. The fit of this kit is amazing and easily comparable to the quality of moldings from Eduard and Platz. It was a breeze to assemble and the result is a pretty eye-catching model. The best part: from start to finish took 5 days. That's lightening fast for me and provided a break from more demanding builds on my bench.
The sprue attach points on all parts are small facilitating damage-free removal. There is little-to-no flash on any of the grey plastic or clear parts.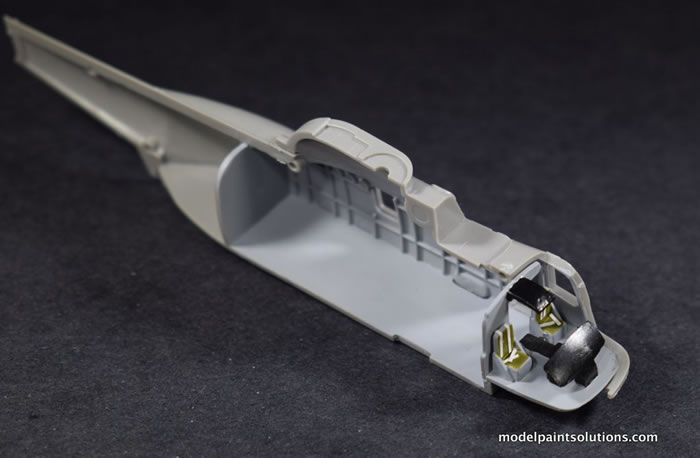 Construction was a breeze utilizing Tamiya thin cement for most joins. To lessen crazing, all clear parts were glued in place using "Odorless" Gold CA Glue (Bob Smith Industries).
The fit of all the major components is excellent. The sponsons, struts, main and tail rotors were left unattached for ease of painting.
Preparatory to painting, the window panels in the front windscreen and fuselage were filled with liquid mask applied with the tip of a toothpick.
The model was shot with Mission White Primer and Mission Light Gull Grey. A small "putty worm" was used to achieve a soft line where the colors meet. A coat of Mission Models Gloss was used preparatory to decaling.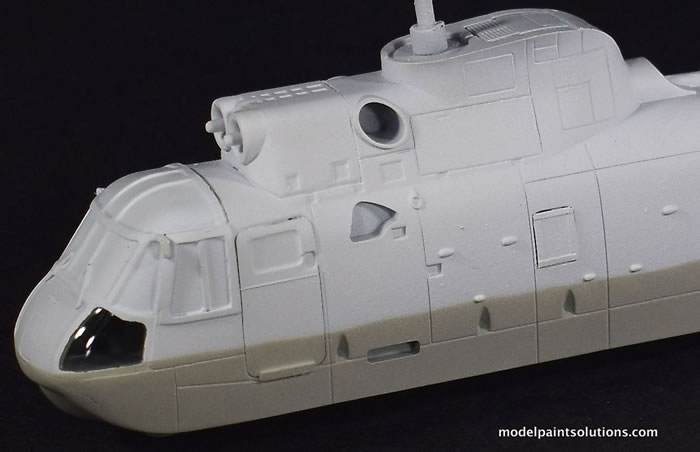 The decals for "Old 66" are beautifully printed with very little carrier film and responded well to Micro-Set and –Sol.
The red portions of the sponsons and tail were painted Mission Models Red with a trim brush.
Panel lines were darkened by a carefully applied wash of Tamiya Brown Panel Liner and a final light dusting with Mission Models Clear Flat sealed the deal.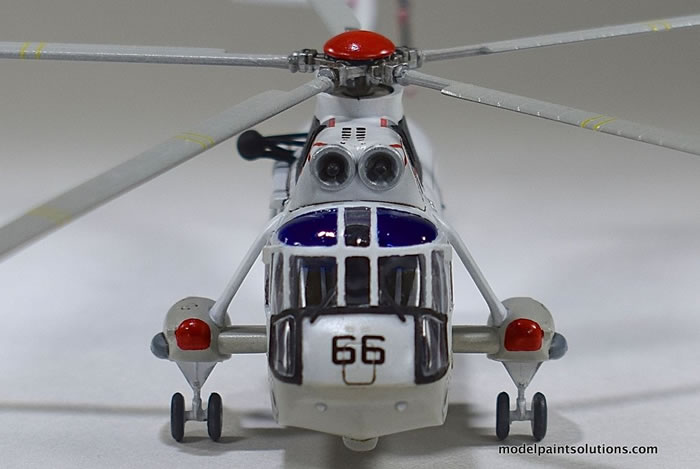 The clear panels directly above the pilot and co-pilot seats were painted with Gunze Clear Blue carefully applied with a small trim brush.
This is a little jewel of a kit. The moldings are sharp and crisp, the fit is spot on, and the building experience is about as issue-free as one could hope for. The decals performed flawlessly and the result is a stunningly detailed model that's a real eye-catcher. I highly recommend it to all whirly bird fans everywhere!
For more on this review visit Modelpaintsolutions.com.
Kit purchased by the reviewer
---
Review Text and Images Copyright © 2018 by John Miller
Page Created 22 February, 2018
Last updated 22 February, 2018
Back to HyperScale Main Page
Back to Reviews Page