Albatros D.V/D.Va 'Jasta 5' Green Tail Trilogy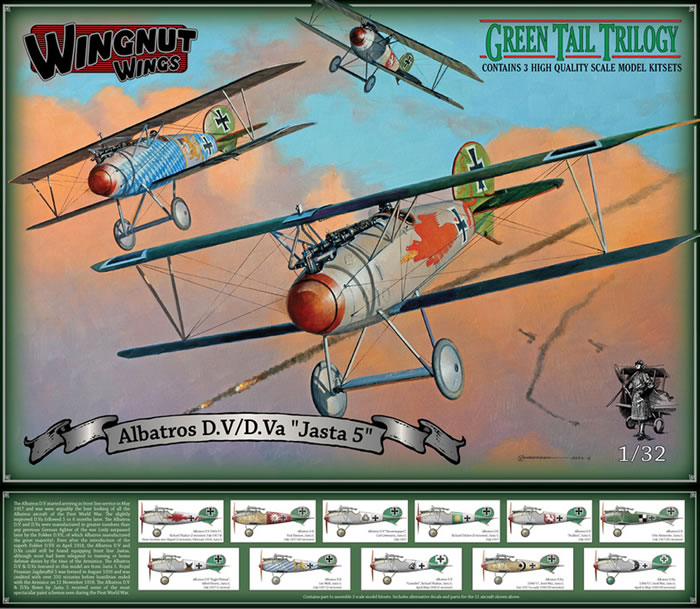 Wingnut Wings, 1/32 scale
S u m m a r y

Catalogue Number:
Wingnut Wings Kit No. 32071 - Albatros D.V/D.Va 'Jasta 5' Green Tail Trilogy
Scale:
1/32
Contents and Media:
456 high quality injection moulded plastic parts to build 3x Albatros D.V or D.Va models; Optional windscreens, flare gun and propellers; Highly detailed Daimler-Mercedes D.III & D.IIIa engines; 33 photo-etched metal detail parts including LMG 08/15 "Spandau" cooling jackets; 12 high quality Cartograf decal sheets with markings for 11 aircraft from Jasta 5 including 5 colour lozenge and rib tapes; Full rigging diagrams.
Price:

£175.95 plus shipping available from BlackMike Models

£179.99 EU price (£149.99 Export Price) plus shipping available from Hannants

Review Type:
FirstLook
Advantages:
Detail is everything you've already come to expect from Wingnut Wings, and nowhere at all does this disappoint.
Disadvantages:
Recommendation:
Any Albatros release from Wingnut Wings is always good, and this one certainly doesn't disappoint. Eleven great schemes and three models, backed up by superb engineering. .

Reviewed by James Hatch


Revell's 1/32 scale Me 262 B-1/U1 Nightfighter will be available online from Squadron.com

Background
The Albatros D.V was a fighter aircraft used by the Luftstreitkräfte (Imperial German Air Service) during World War I.
The D.V was the final development of the Albatros D.I family, and the last Albatros fighter to see operational service. In April 1917, Albatros received an order from the Idflieg (Inspektion der Fliegertruppen) for an improved version of the D.III. The resulting D.V prototype flew later that month.
The D.V closely resembled the D.III and used the same 127 kW (170 hp) Mercedes D.IIIa engine. The most notable difference was a new, fully elliptical cross-section fuselage which was 32 kg (71 lb) lighter than the partially flat-sided fuselage of the earlier D.I through D.III designs.
The new elliptical cross-section required an additional longeron on each side of the fuselage and the fin, rudder and tailplane initially remained unchanged from the D.III.
The prototype D.V retained the standard rudder of the Johannisthal-built D.III but production examples used the enlarged rudder featured on D.IIIs built by Ostdeutsche Albatros Werke (OAW).
The D.V also featured a larger spinner and ventral fin.
The D.V entered service in May 1917 and structural failures of the lower wing immediately occurred.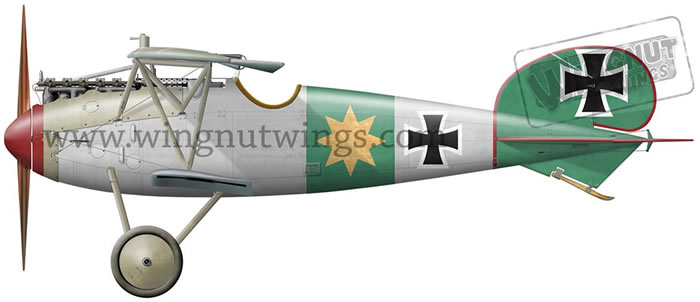 In 2009, Guttman wrote that "Within the month, Idflieg was doing belated stress testing and concluding, to its dismay, that the D V's sesquiplane wing layout was even more vulnerable than that of its predecessor".
The outboard sections of the D.V upper wing also suffered failures, requiring additional wire bracing, and the fuselage sometimes cracked during rough landings. Against these problems, the D.V offered very little improvement in performance. Frontline pilots were considerably dismayed and many preferred the older D.III.
Manfred von Richthofen was particularly critical of the new aircraft. In a July 1917 letter, he described the D.V as "so obsolete and so ridiculously inferior to the English that one can't do anything with this aircraft".
British tests of a captured D.V revealed that the aircraft was slow to manoeuvre, heavy on the controls and tiring to fly.
Albatros responded with the D.Va, which featured stronger wing spars, heavier wing ribs and a reinforced fuselage.
The modified D.Va was 23 kg (51 lb) heavier than the D.III but the structural problems were not entirely cured.
Despite its well-known shortcomings and general obsolescence, approximately 900 D.V and 1,612 D.Va aircraft were built before production halted in early 1918. The D.Va continued in operational service until the end of the war.
The Kit
Whilst Wingnut Wings has releases a number of Duellist kits containing a single protagonist from each side of the conflict over the last years, I really don't think any of us were expecting to see a triple release of a single type!
It is quite an inspired choice though, as the Albatros D.V/D.Va carried such great schemes that it really would be folly to build only the one of them. I still have numerous decal sheets and a couple of Albatros kits in stash that need my attention.
This release only serves the necessity to start building them soon! The Green Tail Trilogy release contains parts to build three whole kits under one roof, and this is packaged into a box with a large footprint.
The lid contains another Steve Anderson classic showing three of the birds at cloud height, breaking formation whilst a battle rages in the background.
Eleven schemes are included, and these are shown on the box edge.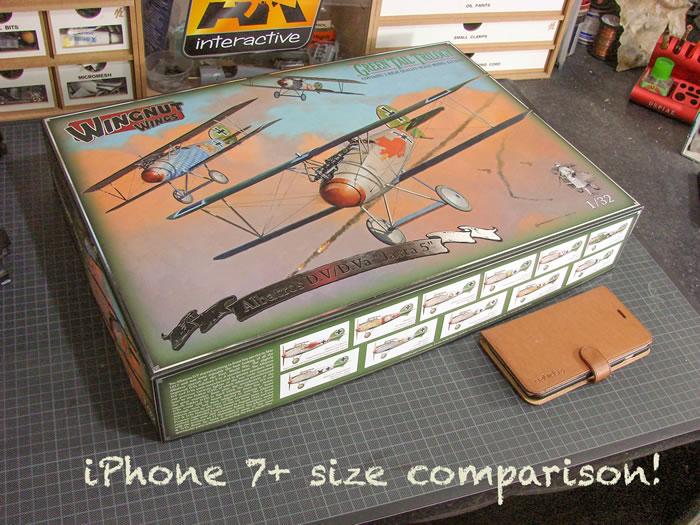 Inside the box, we are treated to a total of 18 runners of medium grey styrene, and three of clear. Of course, there are multiples of these due to the kit nature, and all are packed individually.
There are also three frets of identical PE parts, and a whopping 12 (count 'em!) large decal sheets, plus a small additional one!
Lastly, a thick, 32-page instruction manual is included. Let's have a look at this release, frame by frame, taking into account any options presented.
Wingnut Wings' kit spec is as thus:
456 high quality injection moulded plastic parts to build 3x Albatros D.V or D.Va models

Optional windscreens, flare gun and propellers

Highly detailed Daimler-Mercedes D.III & D.IIIa engines

33 photo-etched metal detail parts including LMG 08/15 "Spandau" cooling jackets

12 high quality Cartograf decal sheets with markings for 11 aircraft from Jasta 5 including 5 colour lozenge and rib tapes

Full rigging diagrams
---
Sprue A
This tends to be the frame which holds the majority of the smaller parts, including those of the cockpit. The Albatros has a highly refined and detailed interior and every part on this frame, with the exception of one, is slated for use with this release. Of note are the eight semi-monocoque bulkhead formers that stretch from the engine bay through to the rear of the pilot. Beautifully detailed with excellent and clean lightening holes and associated detail, these form the very basis of this incredibly detailed interior. The open nature of the cockpit ensures that you'll see a lot of this detail, and modelling your aircraft with the engine covers removed will ensure that you'll see the highly detailed structures within the engine bay. Engine bay bulkheads are linked together as a module by the addition of the engine bearers which sit onto small ledges on the formers. The bearers are perfectly notched to accept the Mercedes engine.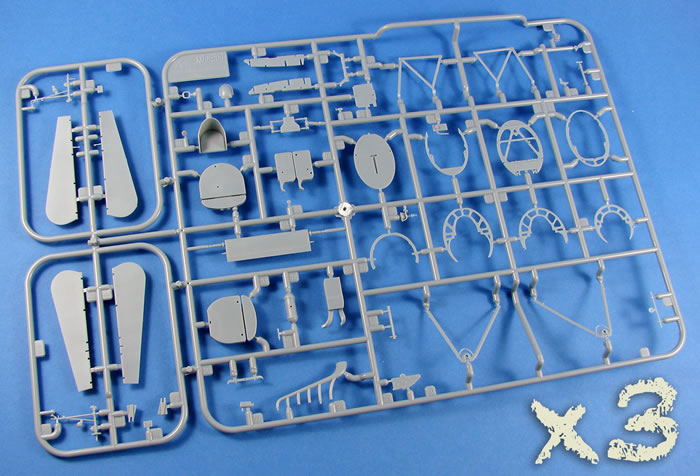 Other interior parts to be found here include the pilot's seat and separate mounting framework, cockpit floor, control column, fuel priming pump, grease pump, two part fuel tank, ammunition magazines, empty belt container, instrument board and shelf, Spandau MG mounts, starting magneto, engine control panel, and rudder pedals etc. An oil tank is also included for installation to the engine bay. Whilst in the area of the engine, you'll also find the exhaust here. This is a single part which will need its outlet opening up a little for some realism. If you want further realism in this area, REXX produce some beautifully detailed hollow metal exhausts, complete with an authentic patina to them. If your specific machine carries the Oigee gun sight, this frame is where it is to be found.
The simple difference between this frame and the ones in the earlier kits, is that here you have both the D.V and D.Va parts included, instead of specifics being removed to suit the individual releases. These parts include the different ailerons and control stick that were specific to the particular types.
The Albatros' undercarriage is to be found here also. This comes in the form of two v-struts with moulded bungee detail, and also an axle/spreader bat, complete with fairing. Again, detail is exquisite. Lastly, we have the fuselage cabane struts and the upper wing ailerons. Both ailerons and the aforementioned control column are moulded onto a small, adjoined frame, still classed as Frame A.
---
Sprue B (x3)
All parts here are exclusively flying surfaces.. A single piece upper wing is to be found here, minus those ailerons of course. Wing detail is just superb, with a highly effective fabric and rib representation, including perfect rib tape detail and recesses for the two radiator options which this kit provides. A slightly scalloped wing trailing edge is the result of the wire which formed this area, under tension from the doped fabric. This looks excellent, and is further enhanced with the very fine and thin moulding in this area. Rigging holes are also moulded, alongside very positive plug holes for the struts. Thankfully, there are few struts on this model, and I personally think that the Albatros would be an idea candidate for a modeller wishing to try their hand at this genre. Rigging is also relatively easy too.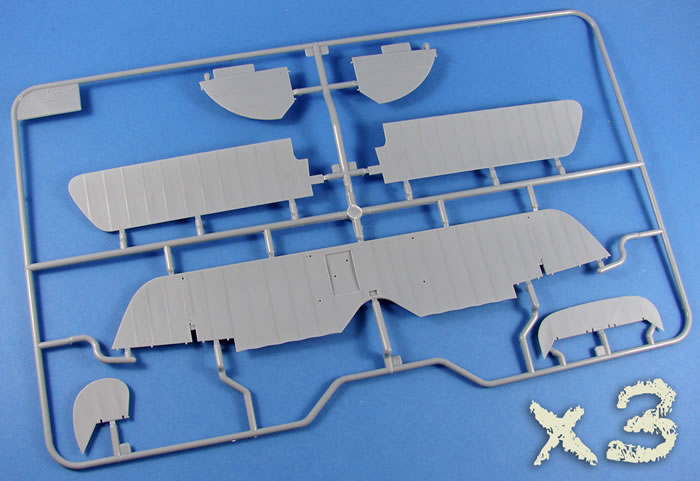 Separate lower wing panels have a tab moulded to their connection point. This plug cleanly into the fuselage, with the correct wing angle being the result due to the kit design (perfectly bevelled and shaped wing root butt join too). The very same finesse of detail is also seen here, as with the top wing.
The Albatros' very distinctive tail shape is provided by separate port and starboard stabilisers and a single piece elevator. Fabric and rib tape detail is excellent, whilst the elevator and rudder exhibit fine ribbing detail.
---
Sprue C (x3)
This is the clear frame and contains three separate windscreen options; all of which are appropriate for this release.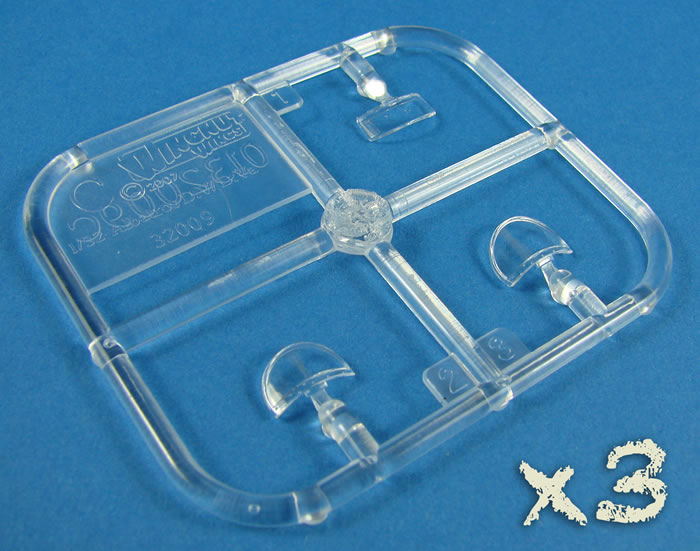 Clarity is excellent and all parts flash free.
---
Sprue D (x6)
There are 6 frames included here because each model will utilise two of them. Here we find many parts for which the model requires two. These include the wheels and their separate external hubs. Two hub options are provided for use here, with one of them having a neat little access port moulded which represents the plate through which you would access the tire inflation nipple. Wheel to axle captive nuts are here also.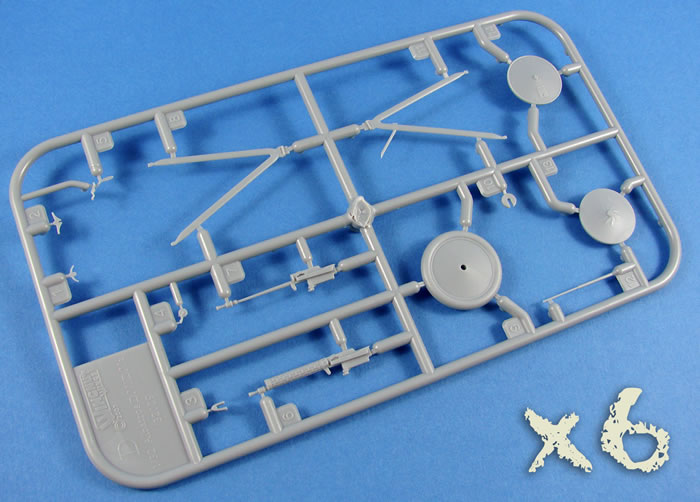 Two outer wing strut options are included, and are to be used with this release. As with other Wingnut Wings releases, this kit contains TWO options for the Spandau guns. If your modelling skills shy away from rolling photo etch metal, then a simple option is to use the single part MG, with integral cooling jacket. The only other piece to be fitted here would be the cocking handle, but here, you need to remove the actual handle part. For detail freaks, an MG without the jacket is provided, and you can choose to roll the PE jackets supplied. A forward PE gun sight reticule is also provided. Even if you wish to use the simple option, you'll find the detail is first rate, and some careful painting will give you a very authentic looking gun.
Other parts on this frame include the aileron pulleys which sit within the cockpit, and the cockpit bulkhead spacer rods.
---
Sprue E (x3)
Yet again, E is for engine, as this frame contains the various generic parts for different versions (160hp and 180hp) of the Mercedes D.III. Of course, a number of parts here aren't to be used, including the water pump and water-cooled intake manifold/pipes, electrical generator and drive unit, rocker cover and cylinder head half etc. Pretty much everything else is though. Two crankcase options are included, again depending on which D.III engine you build. A page each within the manual is dedicated to both engine variants.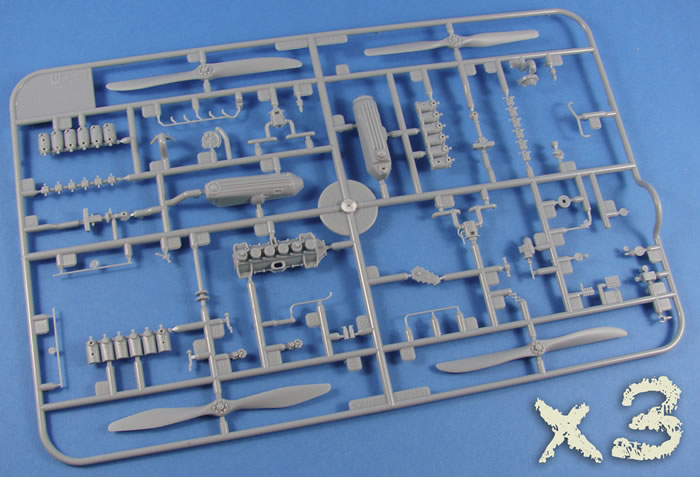 Engine detail is exceptional, from those detailed crankcase parts, to the cylinders, rocker heads, magneto and ignition conduits. The only thing you might consider adding are the ignition leads, and perhaps even the excellent Taurus spark plugs. I have to say that not much else is really needed as Wingnut Wings standalone engine is just a work of art. One part you may also consider is the Barracuda intake manifold, which has the asbestos lagging on the pipework. Another part from this frame, and not engine-related, is the optional Barograph which could be fitted within the cockpit.
---
Sprue F (x3)
The beautiful lines of the Albatros' wooden sheeted fuselage are seen here. This is moulded with integral fin and tail skid, and has some of the most beautiful external detail you'll see, including refined panel lines, cockpit leather coaming and engine port access detail. Internally, detail is as every bit as sharp, with longerons and recesses for the various bulkheads. Tolerances can be tight with this kit, so try to mask off those recesses before you paint. Ejector pin marks are negligible, and for the best part, won't even be seen.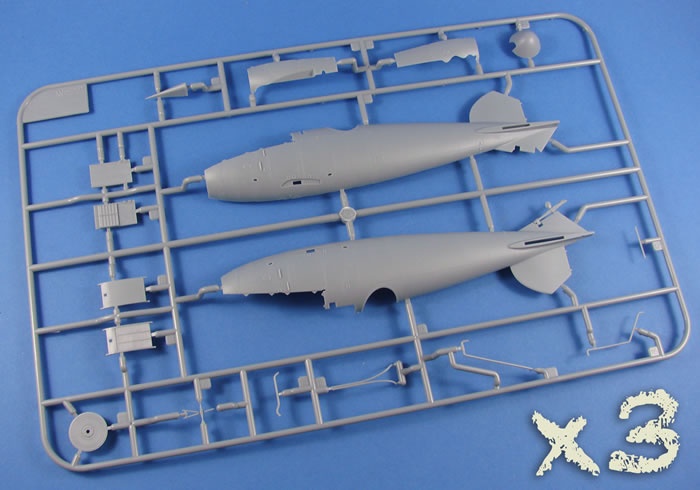 Engine cowls are provided separately, and are included here, as are the various lengths of radiator and engine plumbing. The unusual empty shell chute configuration of the Albatros can also be seen here. One aspect of the Albatros which gives it that distinctive appearance is the large spinner. This is provided in two parts, with interior back-plate detail also.
Two radiator options are provided, and both are applicable for this release. These are for the Teves & Braun, and Daimler-Mercedes types.
---
Plastic Summary
Without wishing to sound repetitious, this kit is everything you would expect from Wingnut Wings, with beautifully refined detail throughout and thoughtfully placed ejector pin marks. No sinkage can be found anywhere and flash/seams are virtually non-existent. The model itself is superbly and thoughtfully engineered, and just drips with detail.
---
Photo Etch (x3)
For each of the three models, a single fret of brass PE is included, and contains the seatbelts, Spandau cooling jackets and sight reticules, upper fuselage cover plate, and the rather clumsy looking strap which secured the front of the engine cowls to the fuselage.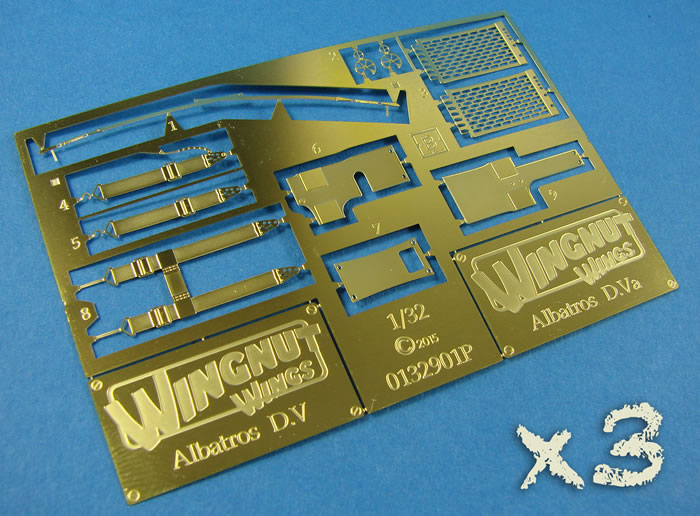 Quality is excellent. You will need to anneal most of these parts before use.
---
Decals
A total of twelve large sheets are included with this release, as well as a small additional one, all printed by Cartograf. These include two whole sheets which contain the individual aircraft markings and stencils. These are provided in 'blocks' so you can easily identify the decals you need for your specific machine. Instrument and placard decals are also included to enhance the interior. A single sheet contains most of the national marking, but bot all as some remain on with the individual machine markings sheet. Wing crosses are split to accommodate the ailerons and rigging points.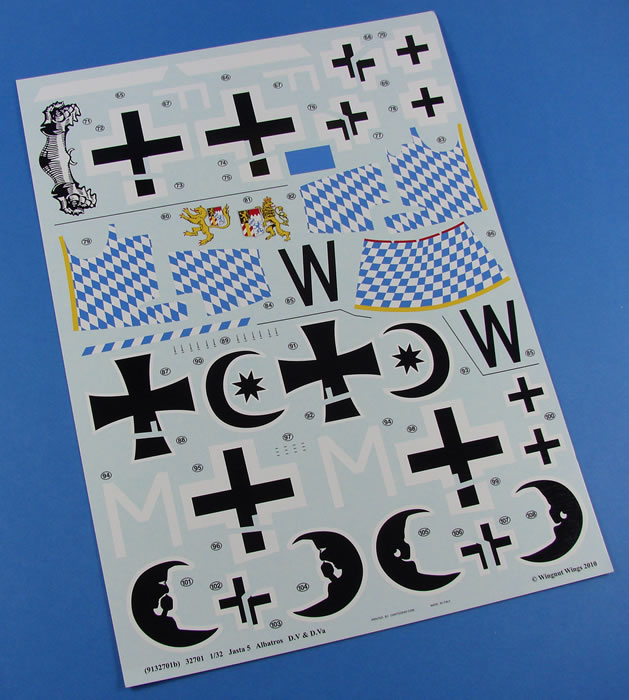 Other decal sheets are for the upper and lower lozenge (3 of each), with one sheet included which contains three different colours of rib tape. Again, there are three sheets of these decals. A small sheet carries a correction for the dragon flames of Richard Flashar's machine.
Printing is excellent, with decals being both thin and with absolute minimal carrier film. Everything is in perfect register too, with solid and authentic color. There are eleven schemes for this release, and these are:
Albatros D.V 2065/17, Richard Flashar (2 victories) July 1917 & Hans Joachim von Hippel (2 victories), February 1918, Jasta 5

Albatros D.V, Paul Bäumer, Jasta 5, July 1917 (43 victories)

Albatros D.V "Steuerwappen", Carl Löwensen, Jasta 5, July 1917

Albatros D.V, Richard Dilcher (3 victories), Jasta 5, July 1917

Albatros D.V "Stallion", Jasta 5, July 1917

Albatros D.V, Otto Könnecke, Jasta 5, July 1917 (35 victories)

Albatros D.V "Eagle/Phönix", Alfred Sturm, Jasta 5, July 1917 (1 victory)

Albatros D.V, Ltn Wolf, Jasta 5, July 1917 (2 victories)

Albatros D.V "Gauntlet", Richard Flashar, Jasta 5, April – May 1918 (2 victories)

Albatros D.Va, 5284/17, Josef Mai, Jasta 5, Late 1917 – early 1918 (30 victories)\

Albatros D.Va, 5284/17, Josef Mai, Jasta 5, April – May 1918 (30 victories)
---
Instruction Manual
The beautifully printed 32-page manual is certainly on a par with other releases, with all constructional sequences being given as pen & ink style drawings, with clear part annotation. Newly added parts are coloured in blue, against the grey scale images, to help you. Some full colour illustration is given for various completed assemblies too, and all drawings have colour call-outs given in Tamiya, Humbrol and FS codes.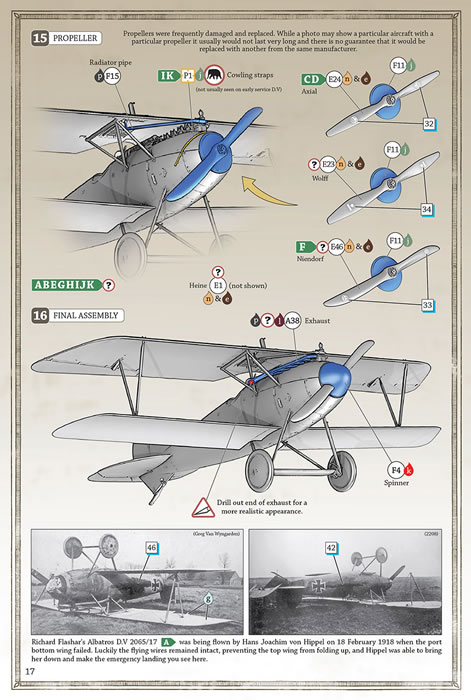 A good selection of both period and contemporary images are also supplied for reference, as is a full rigging diagram too. The latter pages of the manual give the individual schemes, plus photos of the actual machine. This is all backed up with historical and colour notation.
Any Albatros release from Wingnut Wings is always good, and this one certainly doesn't disappoint. Eleven great schemes and three models, backed up by superb engineering.
It's hardly surprising that previous incarnations of this kit have already sold out, making this currently the only option to get one an Albatros D.V/D.Va.
For me, it's certainly one of the most beautiful and distinctive aircraft of that period. This new release should more than be able to satisfy your urge to build this graceful looking machine, and provides some very interesting schemes, including a Bavarian machine with a lozenge fuselage. If you've not bought one yet, you really should. I guarantee many hours of modelling pleasure. Get it whilst you can! I just hope WNW now do the same triple release for the amazing Fokker D.VII kit…
My sincere thanks to BlackMike Models for the review sample seen here. To purchase directly, click THIS link.
If you currently buy this from BlackMike, then you'll also receive two free sheets of Uschi van der Rosten wood grain decal to help with some of these schemes!
---
Review Text and Images Copyright © 2017 by James Hatch
Page Created 27 December, 2017
Last updated 27 December, 2017
Back to HyperScale Main Page
Back to Reviews Page