Jeannin Stahltaube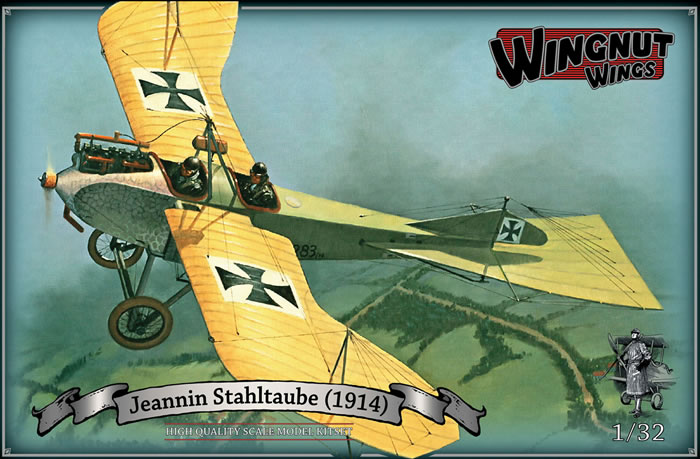 Wingnut Wings, 1/32 scale
S u m m a r y

Catalogue Number:
Wingnut Wings Kit No. 32058 - Jeannin Stahltaube
Scale:
1/32
Contents and Media:
165 grey plastic parts; 21 photo-etched metal detail parts; detailed instructions; markings for five aircraft.
Price:

USD$119.00 plus shipping from Weta Workshop

£118.99 EU price (£99.16 Export Price) plus shipping available from Hannants

Review Type:
FirstLook
Advantages:
Detail is everything you've already come to expect from Wingnut Wings, and nowhere at all does this disappoint.
Disadvantages:
Where the modeller will be challenged here is in making the thin wing trailing edges and wing section look translucent (paint shop trickery), and also the many, many rigging wires that warped the various flying surfaces.
Recommendation:
This is a very, very nice kit, and the building should be quite straightforward, despite the amount of bare wood in the cockpit.

Reviewed by James Hatch


Revell's 1/32 scale Me 262 B-1/U1 Nightfighter will be available online from Squadron.com

Background
The Taube. Now there's a story, indeed. I think it would be fair to say that most people with a reasonable knowledge of WW1 aviation would immediately think 'Etrich' when the word Taube (Dove) was mentioned. That is of course entirely fair, and I fall squarely into that category too, but behind the beautiful and graceful lines of the Taube comes a story of one man's lack of foresight when it came to his aircraft design that was based on the publication of German papers concerning the aerodynamic theories behind the gliding abilities of the Alsomitra Macrocarpa seed. Sound bizarre? Igo Etrich was a wealthy Austrian industrialist who wanted to use those flight capabilities in his own aircraft design, and together with his engineer, Franz Wels, designed a number of gliders and engine-powered aircraft. The Etrich II Taube was a beautiful design that was very reminiscent of both a bird and the shape of the seed from the 1897 papers. It flew superbly, being operated by a warping system that twisted the bamboo trailing edges of the wings and tail. The rest of the aircraft was wooden, with Spruce and Ash being used in the wings.

So, everything was going great so far, and in 1910, the successful design attracted another Austrian, Edmund Rumpler. Rumpler of course went on to become a main protagonist in aircraft design and manufacturer during WW1, but seeing the Etrich Taube, he obtained an exclusive 5yr licence to produce the aircraft himself in Germany, and then going on to sell militarised versions to the Germans. Now things start to unravel for Igo Etrich. As his design was based upon principles that were published in the German public domain in 1897, his design patent application in Germany was rejected. This now caused numerous companies to essentially copy the Etrich design and build their own versions. Being a little aggrieved at this, Rumpler didn't see a reason to honour licence payments to Etrich, and the two men ended up in court several times over the original agreement. In the meantime, Taube-influenced aircraft, using the name Taube, were becoming more common.
The Stalhtaube was of course another similar design, but as the name suggests, this military aircraft had a steel fuselage framework, with the de rigueur flexible bamboo warping surfaces for the wings, and tailplane. The wings and main tail were again constructed from wood. This was actually designed by a Frenchman, Emile Jeannin, whose home territory became part of Germany after the Franco-Prussian war of 1870-71, and his design impressed the German military so much that his company became one of the main Taube manufacturers, despite Jeannin's own imprisonment during WW1 (due to his French heritage and a minor charge that provided an excuse for internment). These Taube aircraft were unarmed reconnaissance machines, but it wasn't long before their crews would improvise by using pistols and small bombs to finally sow the seeds of the lethal air war that was to happen. After mid-1915, remaining frontline Stahltaubes were relegated to other duties.
Model Features
High quality Cartograf decals with markings for 5 aircraft.

165 high quality injection moulded plastic parts including very fine 0.3 to 0.5mm thick wing warping control surface areas.

Optional propellers, exhaust manifolds, engines, header tanks, gravity fuel tanks, wire wheels in injection moulded plastic or photo-etched metal, 20kg Carbonit bombs and Luger pistol armament.

Highly detailed 100hp Daimler-Mercedes D.1 and 120hp Argus As.II engines.

21 photo-etched metal detail parts including optional wire spoke wheels.

Fine in scale rib baton detail.

Full rigging diagrams.
---
Sprue A
It's standard practice for WNW to use the first sprue for the lion's share of internal and other small, key parts. This is no different here.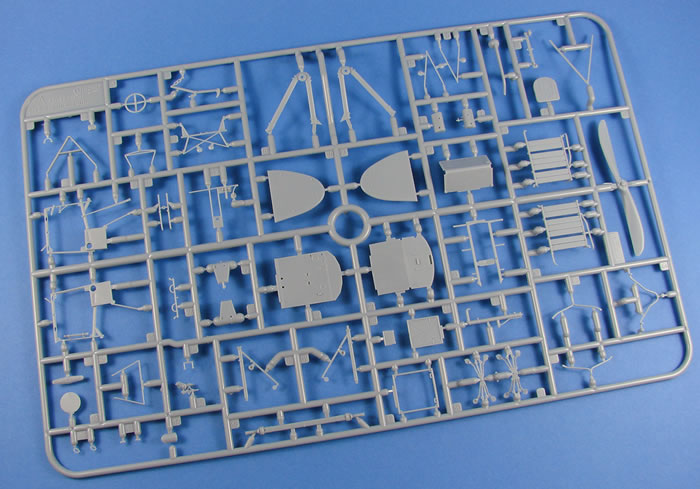 The Taube's cockpit is by its very nature, a simpler affair when compared to other aircraft of the period, and this is reflected here of course, but in amazing detail. All cockpit parts are to be found on this sprue, and the cockpit itself is built upon the lower fuselage floor instead of being a separate module. The floor is on Sprue F, but here you will find the rear and forward bulkheads, instrument board wall, fuel tank, map board, rudder pedal bar, magneto, tachometer and fuel filter frame, throttle, control column with separate wheel, seats and pilot's cushion, and the short sidewall frame that sits across the two crew positions. Detail is extremely fine, with nicely clean holes for rigging cables on the sidewalls. Instrument board detail has the bare gauges, with instrument decals being supplied for these, as well as a map decal for the map board.
Other parts on this sprue include the undercarriage V-struts and spreader bar, engine mount, external radiators, turnbuckle clusters, Integral propeller, engine side panels with fastener detail, optional access hatch for specific machines, parts for two different gravity-fed fuel tanks, and wing/fuselage mounted cabane struts etc.
---
Sprue B
We are firmly in Taube-land here with this sprue, containing just the two elegant wing panels, moulded as single piece, port and starboard units. These really have to be seen to be appreciated, but the elegance of the wings is entirely captured here with the thin panels and their under-camber, fabric and rib representation and the rib capping strips. Note the positions for the cabane struts and the two rods that extend from each tip, which are rigging aids for the wing warping system. You'll also see little pulleys on the leading edges.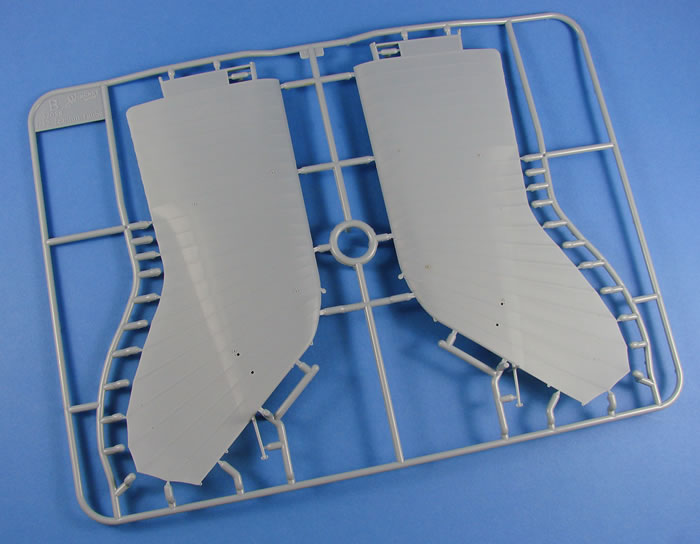 The trailing edges are a real feat of moulding. They are incredibly thin, and light is clearly seen through them when held to a window or my photography lamps. I've photographed this for you to see. Just make sure you don't damage these fragile surfaces as you construct/paint your model.
---
Sprue C
Here we have the only clear sprue, containing just two parts.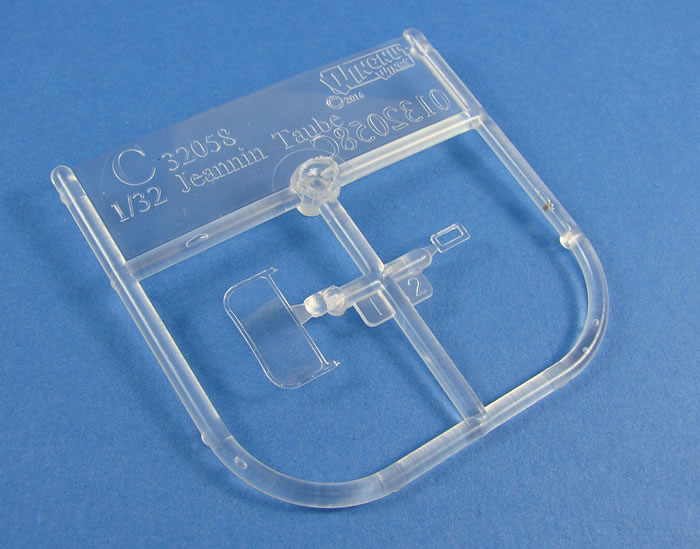 One of these is the windscreen with its delicate framing, and the other is a sight window for the fuel level in one of the gravity tanks. Both parts are crystal clear with no visual flaws.
---
Sprue D
You will note that this is an Albatros B.II sprue, but in reality, you will use very little from this set of parts, as most of them are NOT for use with this release. In fact, the only parts for use here are either the plastic spoke wheels (moulded as halves so to replicate the two rows of spokes), or the spoke-less type which enables use of the photo-etch spoke option, plus the hubs.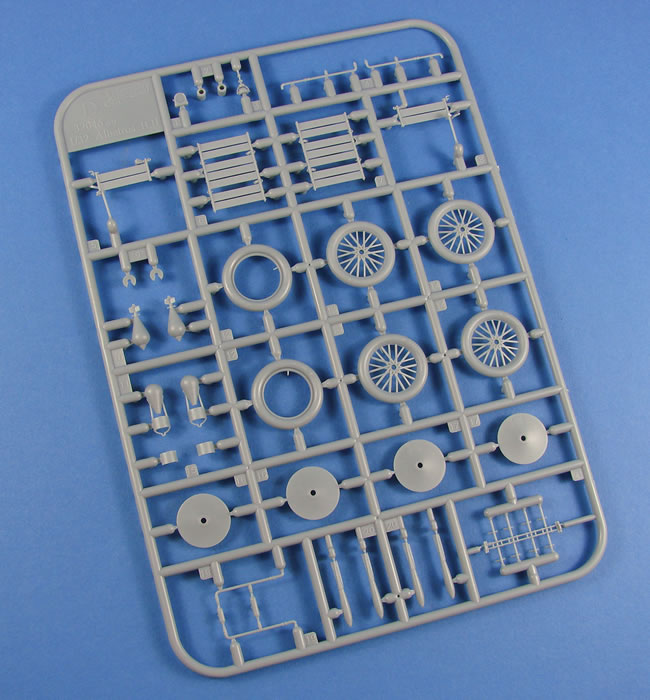 Oh, there are a series of bombs here too, but these are entirely optional as they were only every carried internally by the crew, and then lobbed over the side when they wanted to hit either a ground or air target. They certainly weren't standard issue!
---
Sprue E
This kit allows the modeller to build his/her Stahltaube with either a 100hp Mercedes D.1, or a 120hp Argus As.II engine, depending on the scheme you choose. Not only this, but scheme-dependent again, there will be a number of options for the exhaust (elephant, high and individual pipes), and also variation in the header tank plumbing.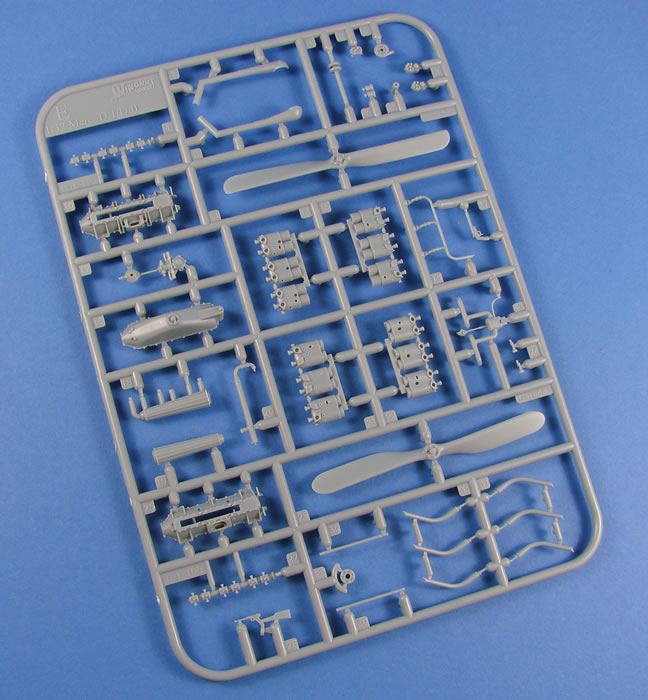 Both engines are very similar to assemble, with highly detailed crankcases, cylinder banks, magnetos, camshaft/rocker box, water pump, intake pipes, plug lead tubes, etc. A very small amount of surgery will be needed on a couple of parts to make these engines suitable for use on this machine, but this consists mostly of a little snipping and scraping. Nothing at all too taxing for the average modeller.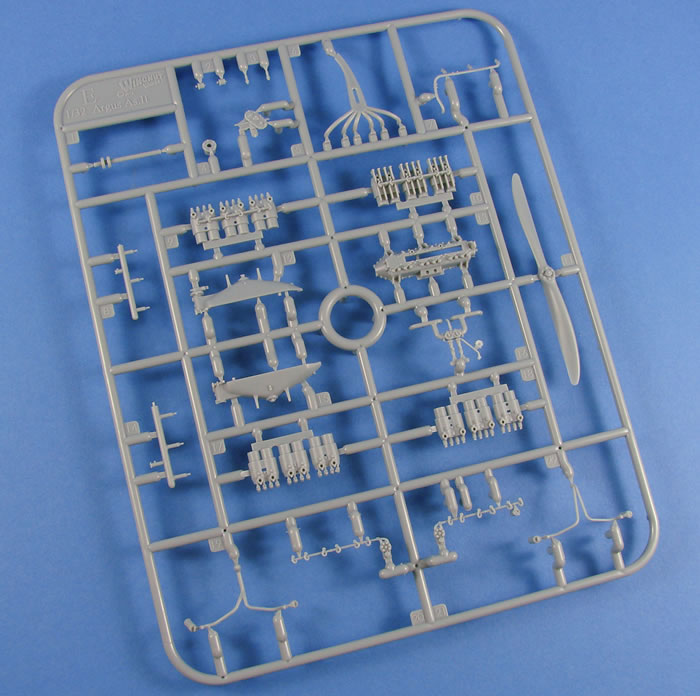 Each engine is a project in its own right, and you could maybe complete the other engine and display on a stand, or simply keep for spares. A small number of decals are set aside for each engine too, such as data plates. Alternative propellers are to be found here too, such as the Niendorf, Garuda and Reschke. To which scheme these are fitted, is clearly seen.
---
Sprue F
You tend to get an idea about the size of this model when you see the fuselage halves against the very long tail-plane. The exterior of the fuselage doesn't have too much in the way of detail due to the method of construction, but what detail there is, is finely executed, such as the lower edge stitching, the cockpit leather coaming, leather grommets, and the detail around the open engine panel area. Tabs are present onto which the wings will sit. A long slit exists where the super-thin tail-plane will slide into.
Fin and rudder detail is only moulded onto the port-side fuselage, due to how incredibly thin this is. Here you will also see the tail skid moulded in situ. One rigging bar on my rudder was snapped backwards, but this was easily fixed with a quick brush of extra thin cement. There isn't really much in the way of internal detail due to the method of construction, but you will note a series of location points for internal rigging/bracing wires to be added.
The fuselage is moulded with the front underside supplied as two separate, interlocking parts, containing the cockpit floor. These parts are also moulded on this sprue, with the forward most part having some excellent open louvre detail. A small number of Stahltaubes had a hole in the underside cowl, and sometimes this was in cross-form. Instructions, and a PE template are included for those schemes that had this feature.
You will also need to carefully trim the upper, forward engine cowl so that the Argus As.II engine fits without fouling the sides.
A crowning glory on this sprue is that seriously long but thin and streamlined tail-plane. As with the wing, this is very, very thin, with light easily being seen through the part. Detail is excellent again, with the flexible, warping portion clearly having the bamboo and fabric construction. Rigging posts and loops are present too. You sort of get a real idea for the rigging task ahead, and I feel this one will be time-consuming.
Other parts on this sprue are the pilot and observer's seats, and the single tube row of exhausts, with the ends being slightly hollowed out. You may want to go a little further.
---
Photo Etch
A set of lap belts are included for both the pilot and observer. Detail is great, and you'll just need to anneal them in a candle or lighter flame so that you can manipulate them into a realistic pose. The wheel spokes are also here, with a broken circumference that allows you to bend these into a very shallow cone shape before fitting to the wheels. There are then some outer wheel hub rims that sit over the circumference and hides the joins. These parts look quite delicate, so again, take your time here.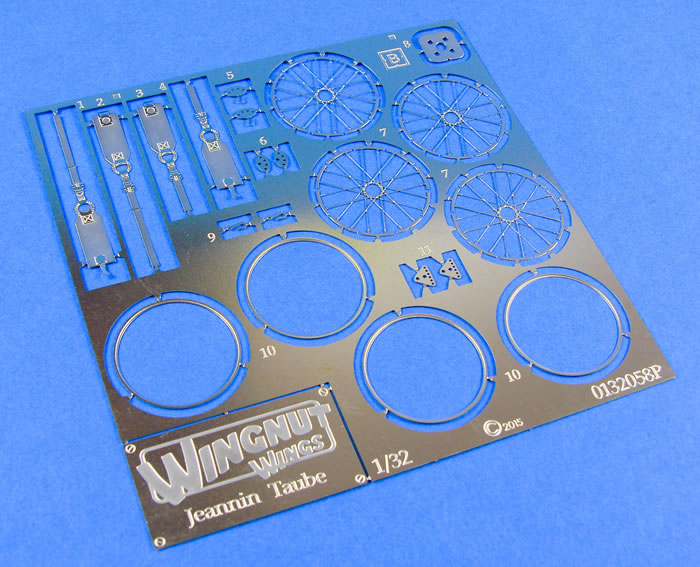 A small number of rigging aids are supplied here, through which collective lines will run, as well as the template for creating the hole in the underside of the engine cowl. Production of the PE is consistent with everything I've seen from WNW, and the gate attachment parts are suitably thin so that parts will be easy to detach.
---
Decals
A single, Cartograf-printed sheet is included (dated 2016!), and this contains all of the permutations of national markings and serials, including decals for the cockpit, engine, propeller, grommets and numerous other external areas. Printing is glossy, thin and with minimal carrier film. Colours are solid and authentic and the printing is in perfect register. Decals are provided for the following schemes:
Jeannin Stahltaube 172/14, Lt. Fritzlohn(?), Adlershof-Johannisthal, late 1914 - early 1915
Jeannin Stahltaube 180/14, Deutches Technikmuseum, Berlin
Jeannin Stahltaube 271/14, Emil Wendler, Adlershof-Johannisthal, late 1916 – early 1917
Jeannin Stahltaube 284/14, Adlershof-Johannisthal, 1915
Jeannin Stahltaube 319/14, Armee-Flug-Park 9b, early 1915
Please note that 271/14 can be built with alternative exhaust and header tank details.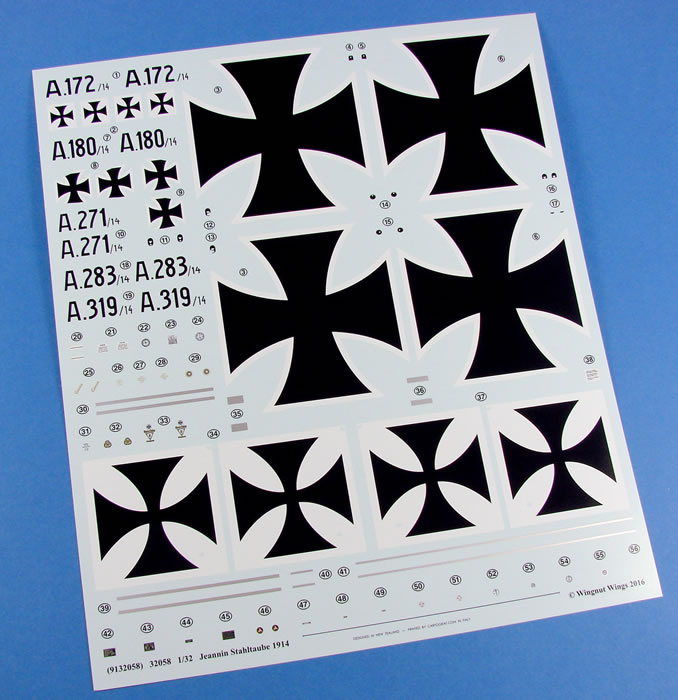 When WNW send review kits to websites, they always include a covering letter which contains some useful details. In the case of the Stahltaube, one piece of information is quite pertinent. This relates to the differences between machines, and that no two Stahltaubes were the same. This means that whichever machine you choose to model, ensure you have the photographic material for that specific machine. It simply isn't enough to have a photo of 'machine X', and then go onto build 'machine Y' using incorrect photographic references.
---
Instruction Manual
Wingnut Wings always produce the most gorgeous instruction manuals in the business, with a slick, glossy publication that starts with the history of the type and aircraft data, followed by a sprue plan and colour chart with paint references given for Tamiya and Humbrol paints, plus a series of FS codes.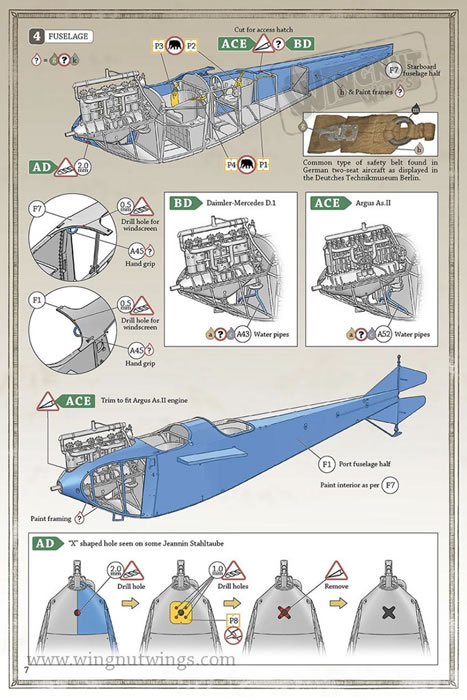 All constructional sequences are superbly illustrated in greyscale, with the use of colour for newly added parts, as well as defining photo-etch addition etc. Numerous full colour assembly illustrations are also supplied, and reference to paint colour is supplied throughout. Internal rigging is also tackled as the project progresses. Period images are used to illustrate specific areas of construction too, making things very easy for the modeller, as well as providing great historical interest.
The last pages of the manual are given over to the Ronny Bar profile illustrations, complete with more historical imagery. Ronny's work is clear to follow, and decal placement is clear and precise. Some historical and modeller-specific details are supplied with each profile illustration. A full rigging diagram is also provided.
A Taube is something I've wanted to see in my preferred scale for a long, long time, along with a Dr.I from WNW. I sure hope to still see the latter aircraft. This is a very, very nice kit, and the building should be quite straightforward, despite the amount of bare wood in the cockpit. Where the modeller will be challenged here is in making the thin wing trailing edges and wing section look translucent (paint shop trickery), and also the many, many rigging wires that warped the various flying surfaces. Detail is everything you've already come to expect from Wingnut Wings, and nowhere at all does this disappoint. I already plan to cut plastic for an article in Military Illustrated Modeller.
So, WNW….how about that Dr.I now, please!
Thanks to Wingnut Wings for the sample
---
Review Text and Images Copyright © 2017 by James Hatch
Page Created 22 November, 2017
Last updated 23 November, 2017
Back to HyperScale Main Page
Back to Reviews Page