North American FJ-3 Fury
Sword, 1/72 scale
S u m m a r y

Description and Catalogue Number:

Sword Kit No. SW72108 – North American FJ-3 Fury

Scale:
1/72
Contents and Media:

71 parts in grey plastic; five clear parts; one decal sheet with markings for three aircraft.

Price:

Available online from these stockists:

Review Type:
FirstLook
Advantages:

New mold FJ-3 Fury with nicely inscribed details, crystal clear canopy parts, and colorful, quality decals.

Disadvantages:

Being a limited-run kit: no locator pins, uneven panel scribing, and some flash on smaller parts. The upper lip of the intake will require adjustment for better accuracy.

Conclusion:

This is a very nice kit that will require some extra effort to get the most out of it. A patient approach to assembly will be rewarded with a nicely detailed model of one of the most svelte single-seat fighters of the 1950s.
Reviewed by John Miller
The North American FJ-3 Fury was a swept-wing carrier-capable fighter used by the United States Navy and Marine Corps until the early 1960's. The FJ-3 resulted from efforts to navalize the United States Air Force's F-86 Sabre through extensive modifications including folding wings, a different engine, a modified windscreen, and a longer nose gear strut to accommodate the stress of carrier landings.
---
Development
By 1951, the Navy's existing straight-wing fighters were inferior to the swept-wing Soviet MiG-15. Moreover, the swept-wing fighters then in development by US (Vought F7U Cutlass and F9F Cougar) were not ready for deployment.
As an interim measure, the Navy's Bureau of Aeronautics began a navalisation program to modify the swept-wing F-86E Sabre into the FJ-2 Fury. The urgency behind the program was such that 300 (later reduced to 200) FJ-2 fighters were ordered before the prototype had flown.
The first production FJ-2 Fury flew on 22 November 1952 and incorporated numerous revisions for carrier operations including a widened main undercarriage, the addition of outer, upward-folding wing panels, and a windscreen modified to give the pilot a better view during approach. The FJ-2 also featured an all-moving "flying tail" without dihedral.
Due to numerous issues including being too heavy and underpowered for carrier operations, FJ-2's relegated to mostly land-based Marine Corp squadrons until the type disappeared from front-line service in 1956. Retirement of the FJ-2 from reserve units occurred the following year.
---
The FJ-3 Fury
Concomitant with the ongoing development of the FJ-2 was development of a new version of the Sabre powered by the Wright J65: a license-built version of the British Armstrong Siddeley Sapphire. The Sapphire promised to deliver 28% more thrust than the J47 for little gain in weight. The new version, designated FJ-3, retained the name Fury and an order for 389 aircraft was placed in March 1952.
The first production FJ-3 flew on July 3, 1953. The only visible difference compared to the FJ-2 was a deepened intake to accommodate the larger mass flow required by the Sapphire. Early FJ-3's had the same wing as the FJ-2, but from 1955 onwards FJ-3's were built with the so-called "6-3" wing with a leading edge that was extended 6 inches at the root and 3 inches at the tip. This modification, enhanced maneuverability at the price of a small increase in landing speed since the leading edge slats were deleted. In addition, the "6-3" wing used on FJ-3's had a cambered underside to improve low-speed handling and leading edges that held extra fuel. From the 345th aircraft onwards, FJ-3 wings were modified further by the addition of four stations for external loads (1000 lb-inboard x2, 500 lb-outboard x2).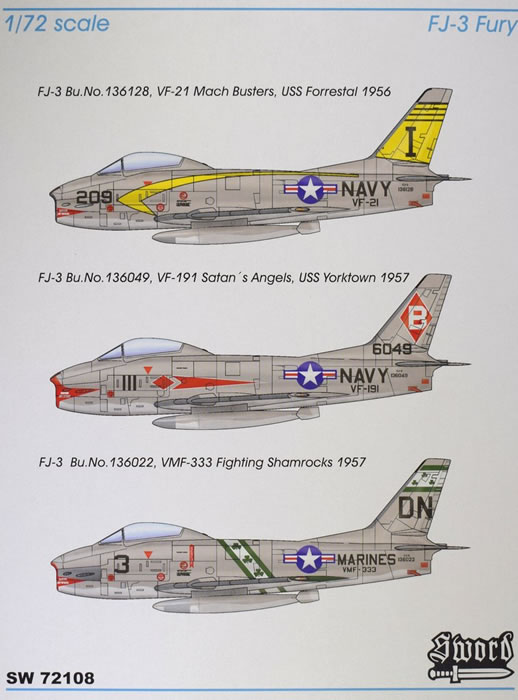 Deliveries began in September 1954 with the FJ-3 joining the fleet in May 1955. Notably, an FJ-3 Fury was the first fighter to land aboard the new super carrier USS Forrestal (CVA-59) in 1956. Despite ongoing engine problems, the Navy was satisfied with the FJ-3 and ordered an additional 149 aircraft in March 1954.
Because of its more powerful engine, the FJ-3 was superior to most models of the F-86, except the F-86H. A total of 538 FJ-3's were built and of these, 194 were modified to FJ-3M's with the ability to carry AIM-9 Sidewinder air-to-air missiles. Some FJ-3's were later modified to control Regulus missiles (KDU-1), and F9F-6K Cougar target drones. In 1956 the Navy retrofitted all its FJ-3's with probe-and-drogue air refueling equipment requiring a long probe to be fitted under the left wing. The Fury was retired from active service in 1962.
---
Variants
XFJ-2: Test and evaluation aircraft; three built.

FJ-2 Fury: Single-seat fighter-bomber aircraft, equipped with folding wings; powered by one General Electric J47-GE-2 turbojet, 200 built.

FJ-3Fury (after 1962 F-1C): Single-seat fighter-bomber version, powered by the more powerful 7,800 lbf (34.7 kN) Wright J65-W-2 or 7,650 lbf (34 kN) J65-W-4 turbojet engine; 538 built.

FJ-3M Fury (after 1962 MF-1C):Improved version of the FJ-3, with the ability to carry AIM-9 Sidewinder air-to-air missiles; 194 FJ-3 converted to this standard.

FJ-3D Fury (after 1962 DF-1C): Converted to control aircraft for Regulus SSM-N-8 missiles and KDU target drones.

FJ-3D2 (after 1962 DF-1D): Converted to control aircraft for F9F-6K Cougar target drones.
* Historical summary courtesy of Wikipedia.
Firstly, I'm a bonafide FJ-2/3 Fury fanatic and have been anxiously awaiting these new Sword kits for a while. In addition to the subject of this review, the FJ-3, Sword has also released kits of the FJ-2 (#SW72107) and FJ-3M (#SW72109). This is a typical Sword offering: limited production, diamond in the rough for those with a little experience and sufficient patience.
The grey styrene parts are arranged on two sprues and the plastic is slightly soft and easy to work with. The surface texture is very smooth and will require little preparation for priming/painting. There is a small amount of flash on many of the smaller parts and the fidelity in some areas is a bit soft.
The recessed surface details are very well done for the most part but stray into uneven in areas. Some lines are so shallow that a thick coat of primer/paint will obliterate them. The best solution is to re-scribe most of the lines to ensure consistent width and depth. As with many limited production kits, I resign myself to refreshing some/most of the inscribed details as part of the normal building process.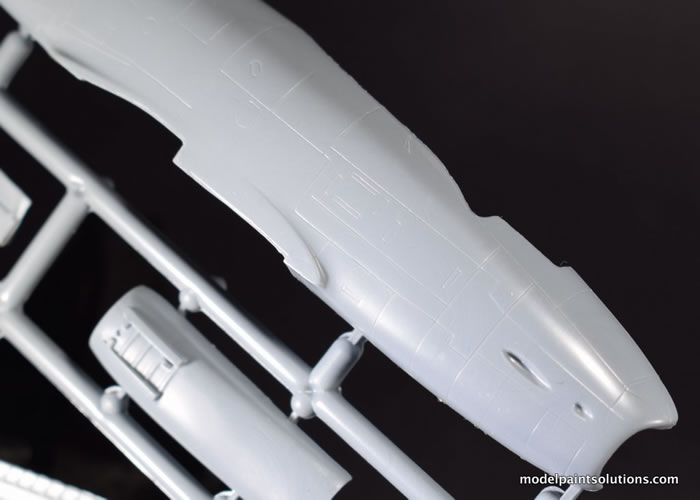 The model has a conventional layout with a straightforward assembly sequence. Construction starts with the cockpit (imagine that), which is compose of just 6 parts. The instrument panel is nicely detailed and well molded and will really pop with some steady-handed painting.
The cockpit tub is nicely detailed as is the two-part resin seat but there is no detail provide for the cockpit side panels.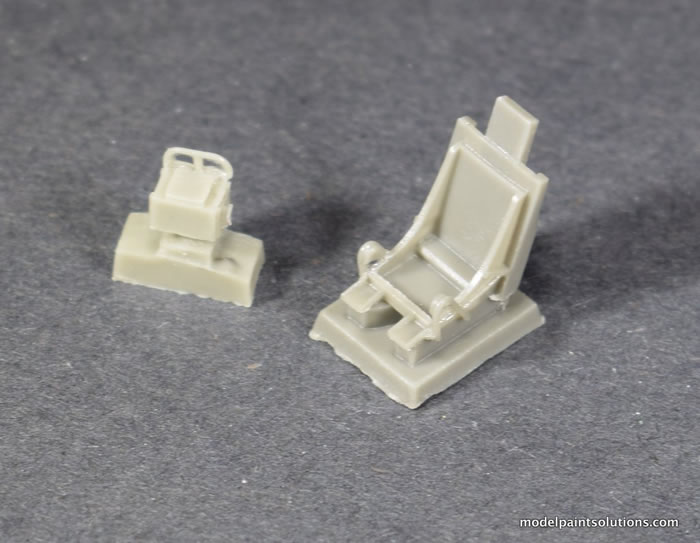 Likewise, the canopy decking behind the pilots head was pretty busy on the 1/1 scale Fury yet little detail is provided here. Time to reach for the spares box and dust off your scratch building skills, as this decking area will be quite visible through the nicely molded crystal clear canopy.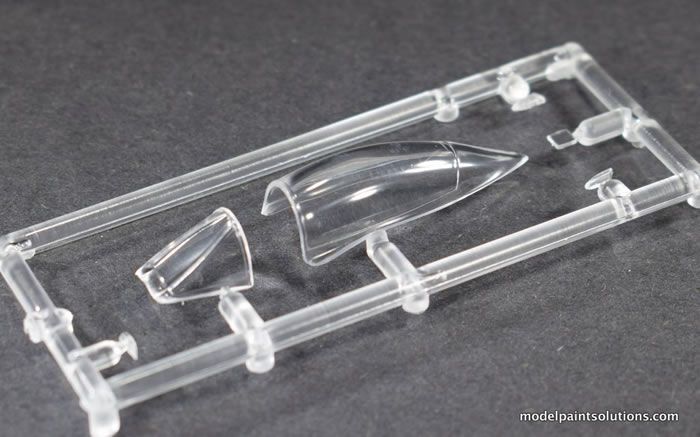 The cockpit assembly sits atop the intake trunk which will leave very little room in the nose for the placement of the required weight unless you prefer your Fury to sit on it's tail. With regards to nose weight, caution is advised here as I suspect this will be a tail-heavy model. This translates into "cram in as much as you can fit". That's my philosophy anyway and it's served me well so far.
With the cockpit, intake (2 parts), and exhaust assembly (3 parts) trapped between the fuselage halves the wing is next in sequence and is composed of a single piece lower piece with two upper halves. The trailing edges are scale if not a bit on the thick side.
Two sets of horizontal stabilizers (with and without stiffeners on the elevators) and two rudders (plus/minus stiffeners) are provided so check your references for the airframe you're building (if available). If not, use whichever set appeals to your modeling sense.
The nose gear parts (9) are nicely molded however the assembly seems as though it might be rather fiddly. Similarly, the main gear (6 parts per side) are well molded but accurate placement of the gear doors will be up to the builder's modeling karma.
Wing tanks with hard points are provided for each wing as well as a long in-flight refueling probe for the port wing. Of note are the wing leading edge fences that are provided as separate parts (as opposed to being molded in situ). Hopefully this will permit the builder to modify these parts so as to achieve a scale-appropriate look.
---
A Subtle Intake Issue
Being a long-time Fury aficionado I was pleased to see that Sword captured the svelte lines of the FJ-3 exceedingly well save one area: the upper lip of the main intake. As shown in the photo of a 1/1 scale Fury (taken by this reviewer) the upper lip of the intake is rather thin and comes to a subtle point that is angled slightly downward.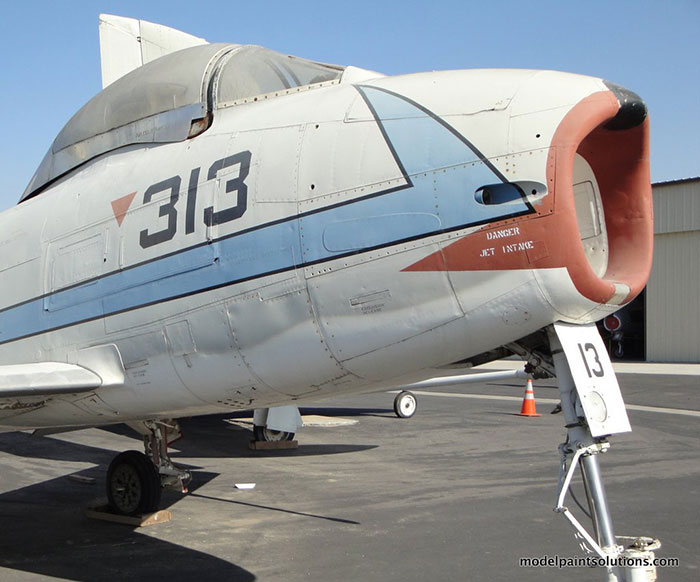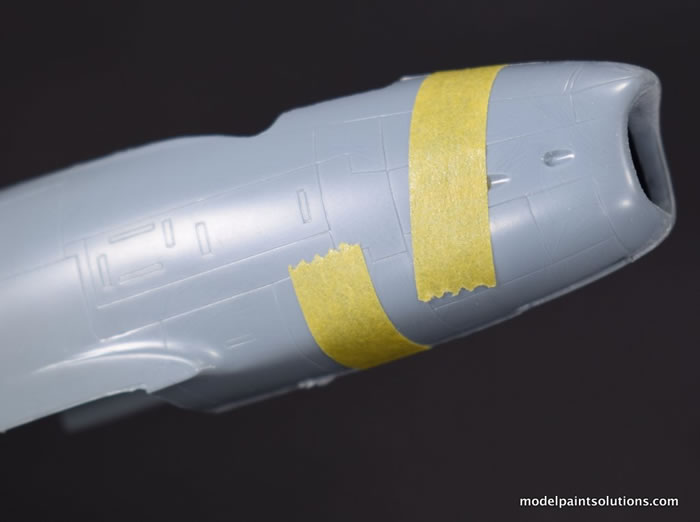 Unfortunately, this area in the kit is too thick and lacks the downward canted bump on the upper lip. I suspect this can be addressed satisfactorily by the application of thick putty (or my favorite: CA glue and talcum powder) followed by careful recontouring with files, sanding sticks, and sandpaper: some work but not a big deal.
---
Markings
The single decal sheet, printed by Techmod, features a particularly colorful trio of Fury airframes. The sheet has good register and scale appropriate colors.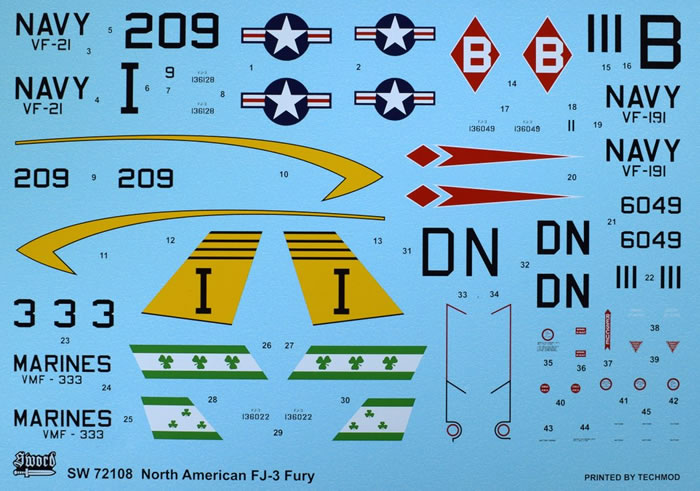 Markings are provided for the following aircraft:
FJ-3 Bu.No.136128, VF-21, Mach Busters, USS Forrestal, 1956.

FJ-3 Bu.No.136049, VF-191, Satan's Angels, USS Yorktown, 1957.

FJ-3 Bu.No.136022, VMF-333, Fighting Shamrocks, 1957.
This kit might stretch your abilities a bit and maybe force you to learn some new tricks but the result will be worth it. Sword kits, like any limited production model, require diligence, planning, and effort but reward you with rare, sometimes esoteric builds and better modeling skills as well: not a bad deal.
As a confirmed Fury fanatic this kit does a pretty good job of capturing the lines of what is arguably one of the sweetest single-seaters to ever take wing.
Highly recommended for Fury fiends and normal modelers everywhere!
For more on this review and 1/1-scale Fury pics visit Model Paint Solutions.com
Thanks to Sword Models for the review samples.
---
Text and Images Copyright © 2017 by John Miller
Page Created 6 November, 2017
Last updated 7 November, 2017
Back to HyperScale Main Page