Supermarine Spitfire Mk.22
Hi-Tech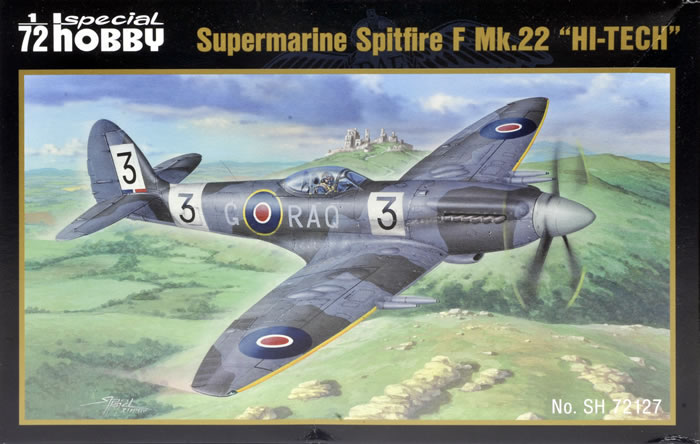 Special Hobby, 1/72 scale
S u m m a r y

Description and Catalogue Number:

Special Hobby Kit No. SH72127 – Supermarine Spitfire Mk.22 "Hi-Tech"

Scale:
1/72
Contents and Media:

Eighty grey and seven clear styrene parts, four resin parts, one coloured PE fret forty-nine pieces, a pre-cut vinyl canopy and wheel mask, and six decal options.

Price:

Available on-line from these stockists

Review Type:
FirstLook
Advantages:

Very nice surface detail, good cockpit detail, crisply moulded.

Disadvantages:

No mention illustration of the numerous PE parts in the assembly instructions. Numerous accuracy issues.

Conclusion:

Upon opening the box, the Special Hobby kit immediately impresses with its crisp moulding and fine detail, and goes on impressing as the coloured PE details, pre-cut canopy mask, plus resin exhausts and wheels are revealed. These features, combined with six decal options, all suggest that an enjoyable build and a nice model are in the offing; and this is pretty much the case.

A surprising oversight is that the instructions fail to give any indication of PE parts placement. A lot is obvious when it comes to the seat harness or instrument panel, but there are quite a few points that left me guessing. Special Hobby's "Hi-Tech" package has a way to go before it rivals Eduard's equivalent but slicker approach that is their "ProfiPACK" boxings.

It all sounds promising, but having accurate outlines is an important expectation for many, especially so with a subject as iconic as the Spitfire. Special Hobby really dropped the ball with this aspect of the kit; it fails on too many counts to even be considered as worthwhile for the accuracy-conscious. If accuracy of line is not of great concern, but fine detail and a straightforward build are, then Special Hobby's Spitfire Mk.22 could be for you.

If accuracy matters as well as a straightforward build with nice detail, buy the Airfix kit..
Reviewed by Mark Davies
Background
Griffon-engined Spitfires were an important part of the Spitfire family, although not produced in the large numbers of the Merlin-engined variants; they kept the Spitfire at the forefront of piston-engined fighter development. Key variants were the:
Mk.XII.
The MK. XII was the first Spitfire powered by a Griffon engine to go into service. The single-stage Griffon engine (II or IV) gave the aircraft superb low and medium level performance, although the MK. XII's performance declined at higher altitudes.
Mk.XIV & XVIII:
By 1943 Rolls-Royce engineers had developed a new Griffon engine, the 61 series, with a two-stage supercharger. In the end it was a slightly modified version, the 65 series, which was used in the MK. XIV. The resulting aircraft provided a substantial performance increase over the Merlin powered MK. VIII and IX.

Although initially based on the MK. VIII airframe, common improvements made in aircraft produced later included the cut-back fuselage and tear-drop canopies and the E-Type wing. The MK. XIV differed from the MK. XII in that the longer, two-stage supercharged Griffon 65, producing 2,050 hp, was mounted 10 inches further forward, whilst the increased cooling requirements meant that all radiators were bigger and their underwing housings deeper than those of previous versions. Also, the top section of the engine bulkhead was angled forward; creating a distinctive change of angle to the upper cowling's rear edge, and a new five bladed Rotol propeller of 10 feet 5 inches diameter was used.

The Mk 18 was a refinement of the Mk XIV. It was identical in most respects, but carried extra fuel and had a revised, stronger wing structure.
Mk.21:
By early 1942, it was evident that Spitfires powered by the new two-stage supercharged Griffon 61 engine would need a much stronger airframe and wings. The proposed new design was designated the MK. 21. At first the MK. 21 displayed poor flight qualities that damaged the otherwise excellent Spitfire reputation.

The wings were completely redesigned with a new structure and using thicker-gauge light alloy skinning. The new wing had 47% greater torsional stiffness, increasing the theoretical aileron reversal speed to 825 mph. The ailerons were 5% larger, and were no longer of the Frise balanced type, instead being attached by continuous piano-hinges. They were extended by eight inches, meaning that with a straighter trailing edge, the wings were not the same elliptical shape as in previous Spitfires. The MK. 21 armament was standardised as four 20mm Hispano II cannon with 150 rounds per gun.

The engine drove an 11 ft diameter five-bladed propeller, some 7 inches larger than that fitted to the MK. XIV. To ensure sufficient ground clearance for the new propeller, the undercarriage legs were lengthened by 4 ½ inches. The undercarriage legs also had a 7 ¾ inch wider track to help improve ground handling. The designers devised a system of levers to shorten the undercarriage legs by about eight inches as they retracted, because the longer legs did not have enough space in which to retract. These same levers extended the legs as they came down. The larger diameter four spoke main-wheels were strengthened to cope with the greater weights; post-war these were replaced by wider, reinforced three spoke wheels to allow Spitfires to operate from hard concrete or asphalt runways. When retracted the wheels were now fully enclosed by triangular doors which were hinged to the outer edge of the wheel-wells. In other respects, the first production MK. 21s used the same basic airframe as the MK. XIV.
Mk.22:
The MK. 22 was identical to the MK. 21 in all respects except for the cut-back rear fuselage, with the tear-drop canopy, and a more powerful 24 volt electrical system in place of the 12 volt system of all earlier Spitfires. Most of the MK. 22s were built with enlarged tail surfaces, similar to those used on the Spitfire's successor, the Supermarine Spiteful. A total of 287 MK. 22s were built: 260 at Castle Bromwich and 27 by Supermarine at South Marston (I have read elsewhere that the figures are 263 Mk.22's with 24 of the 287 ordered being completed as Mk.24's).

The MK. 22 was used by only one regular RAF unit, 73 Squadron based in Malta. However, twelve squadrons of the Royal Auxiliary Air Force used the variant and continued to do so until March 1951. The MK. 22 was also used at flying refresher schools. In May 1955 the remaining MK. 22s were declared obsolete for all RAF purposes and many were sold back to Vickers-Armstrong for refurbishment and were then sold to Southern Rhodesia, Egypt and Syria.
Source: Wikipedia
---
Previous Spitfire Mk.22 Kits in 1/72 Scale
Perhaps less graceful than earlier Spitfires, the Mk.22 is still a handsome machine, blending sleek lines with a powerful appearance. It is my joint-favourite Griffon powered Spit along with the daintier PR Mk.XIX. It obviously appeals to others too, as several kits of it have been released over the years despite the real plane's low production number. Here is a quick summary of each with links to examples:
Hawk (re-boxed by Testors): Released in 1967, it has early small tail surfaces, lacks wheel-wells or a cockpit; it has some shape issues and is covered in heavy raised rivets. Although far from terrible for its time, it now only makes sense as a collectable or nostalgia build.

Airkit: I have read posts where this old resin kit is mentioned, but no nothing more about it.

Pegasus: Dating from 1983, it is a simple and very rough limited run kit that needs a lot of work and donated detail parts to look half decent. It is best avoided in my opinion as it looks a bit like caricature of a Mk.22.

Ventura (re-boxed by Jays Model Kits): Released in 1995, it is a generally accurate limited-run kit with fine panel-lines. Cutting of mile-wide sprue gates, flash removal, plus thinning and trimming of parts is required; and donor detail bits can help too. It will give a better result than the Pegasus kit, but needs just as much work. Previously it may have made sense for those who lacked the funds to buy the CMR kit, but this is no longer the case.

Legato (part of the AZ Model brand stable): Dating from the late 1990's I suspect, this resin kit that apparently used Fujimi's Mk XVIII fuselage as master. Whilst I have only ever seen the kit's box-art I will still guarantee CMR's kit is a far better proposition.

CMR: Released in 2006, I would call it a mid-generation multi-media resin kit (reviewed here by Brett Green). It is regarded as accurate and well detailed; in fact, I could find no bad comments about it aside from cost relative to injected kits. It includes colour PE and canopy mask by Eduard, and is a breeze to build (click here for my build article on the almost identical Seafire Mk.46 from ten years ago).

Admiral/AZ Model: Dating from 2010, it is a generally accurate but traditional limited-run kit that can result in a nice model as this post by Fred Coulson on HyperScale shows. I have read of concerns about the shape of the cowling bulges. It requires some cleanup and fettling, PE seatbelts and torque-links are provided in both boxings; and price is very variable in different markets, from very reasonable to quite expensive. It has clearly been bettered by Airfix, as this side by side comparison on HyperScale by William De Coster indicates.

Xtrakit: Also released in 2010, it was manufactured by the MPM/Special Hobby conglomerate for Xtrakit. Nice detail, especially the panel lines, but comes with a dreadful propeller; it has wingtip shape and some other dimensional issues. Despite appearances in the box, it is still a limited-run build requiring fettling and refinement, some describing it as a "dog" to build. A nice looking model can result for a modest outlay, but possibly purists will not be happy with its overall appearance. For those interested, here is a link to face to face comparison of the Admiral and Xtrakit Mk.22 kits; it is in Italian, but has very good photos, and is translatable online.

Airfix: Dating from 2012, anecdotally, this seems to be the most accurate injected 1/72 Mk.22 kit, and typical of recent Airfix releases in style and quality. It is broadly on par with CMR's resin kit for outline and dimensions. It builds better than any of the limited run kits, although its panel lines, whilst acceptable, are not quite as fine as Xtrakit or Special Hobby. It is well priced and well regarded; check out Roger Hardy's build here on HyperScale.

Special Hobby: First released in 2012 with parts commonality across kits of Spitfires Mk.21,22 &24, and Seafires Mk.45, 46 & 47; the kit is often stated to be the 2010 Xtrakit Mk.22 with new parts. From what I can determine, given the totally different sprues, new prop and superior moulding quality, it is clearly a new tooling; although its design origins, CAD work etc, seem shared with the 2010 kit. New propeller(s) aside, this would seem to suggest that the Special Hobby kit is essentially a better moulded Mk.22 with the same good detail and shape questions as the Xtrakit issue. It still looks nice when built. As this kit in its "Hi-Tech" boxing is the subject of this "first look" I will cover it in more detail below.
The Contents
The kit comes packed in a top-opening box with attractive art-work. The four airframe sprues are in a re-sealable polythene bag, with the clear sprue, resin parts, decals and PE plus paint mask further enclosed in their own bags.
The instructions are an A5-sized stapled booklet printed in colour on gloss paper with a brief aircraft history in Czech and English. The instructions include a parts map that identifies a quite a lot of surplus parts, as some of the sprues are shared with Special Hobby's Spitfire Mks. 21 & 24 and Seafire Mks. 45, 46 &47 kits. The instructions are nicely produced, use diagrammatic assembly stages, and generally look clear enough to follow easily. Click here to view or download the instructions (but not the painting & markings guide).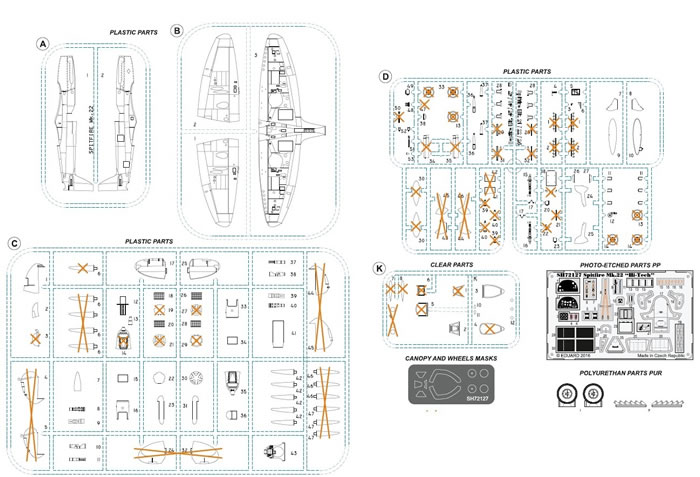 Detail colour call-outs are indicated by letters keyed to a table of colours with Gunze Aqueous, Mr. Color, and some Alclad II paint-codes. Four-view colours and markings diagrams are also provided as a separate stapled booklet. These are nicely done and printed in colour, with generic colour names plus Gunze codes.
Special Hobby was initially associated with limited run kits using epoxy tooling; however, recent Special Hobby releases indicate that metal-coated epoxy or all-metal tooling is now being used. This kit appears to be from all-metal moulds given the finesse of the mouldings.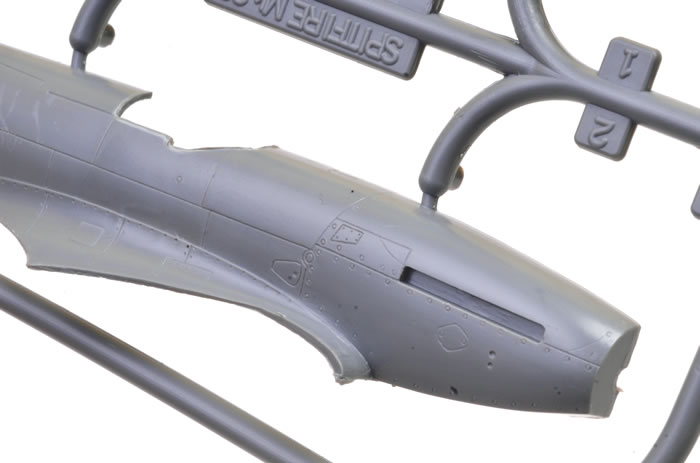 Although I no longer own a copy of the Xtrakit Spitfire Mk.22, I can definitely say that this is a different tooling due to the completely different sprues and more refined moulding. However, there are some distinct similarities in the design and outline of numerous parts, which leads me to believe that essentially the same plans and CAD renderings were used for the two kits.
The sprue gates are fine enough, and the mouldings are very crisp and clean. The clear sprues are likewise crisp, with an acceptably thin canopy. Some very finely moulded parts are evident. Being a "Hi-Tech" boxing there is a coloured PE fret with numerous detail parts, resin wheels and exhausts, and a pre-cut vinyl paint mask for the canopy and wheels. "The Hi-Tech" extras are all good quality, although some might prefer to have had a paper rather than vinyl mask.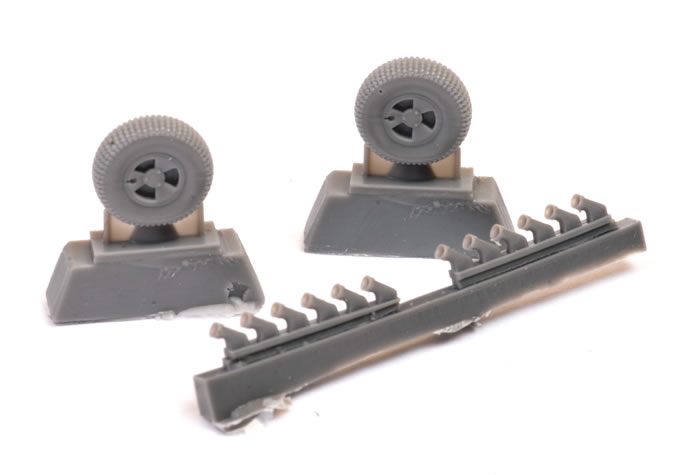 It is worth mentioning what is included on the PE fret, because aside from being illustrated in the parts map, none of the PE detail parts are included in the assembly drawings! This is a major instructional failure; despite the fact most modellers will be able to determine where the majority of PE parts go, and where moulded detail must be removed for them to fit.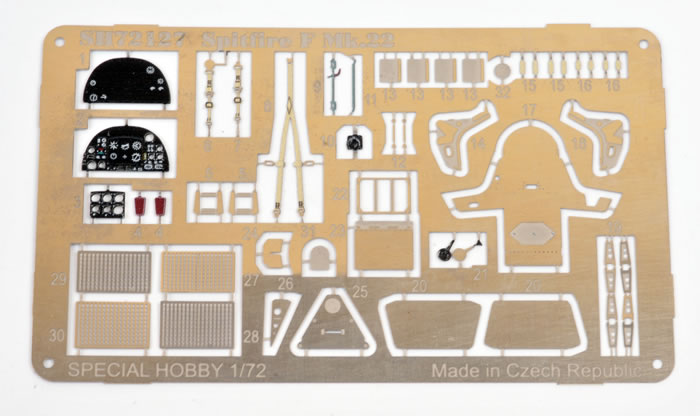 The fret includes a seat (with possibly two separate side pieces), pilot's harness, instrument panel, throttle lever, crow-bar for inside of fold-down door, compass repeater face, fold-down door with its internal structure, head armour and brace, radiator matrix faces, undercarriage torque links, rudder pedals, radiator shutters, what I think maybe rocket blast deflectors fitted beside each case ejection chute (if so, these need to be curved at their ends), and eleven tiny parts that I cannot say what they are or where they go.
---
The Kit
The parts breakdown is conventional for the type. The airframe surface detail is very nicely done with the delicate recessed panel lines Small detail parts are all crisply moulded and refined as well. This seems a very well engineered kit overall.
Cockpit detail is good for the scale, and even better if you figure out where to use the "hi-Tech" boxing's PE parts! A grey styrene gyro gun-sight is included, which can be improved by replacing its solid reflector with clear plastic. The cockpit canopy can be modelled open or closed.
Special Hobby's "Hi Tech" seems pitched to rival Eduard's ProfiPACK boxings; but they are fall short of the level of integration Eduard achieves. Although the instructions fail to mention how to use the PE, it is necessary with the Special Hobby kit to file away moulded instrument detail, cut off head armour and so on; whereas a ProfiPACK kit will normally include alternate smooth-faced plastic parts to combine with the PE detail.
The integrally moulded cockpit detail includes the angled cover on the starboard side for the chain-drive that opened the canopy on low-back Spitfires; but missing is the small circular panel on the outside below the windscreen, which when depressed disengaged the chain-drive so the canopy cold be slid open from the outside. The folding cockpit door is provided a separate styrene part, or this can be replaced with a folded and curved PE piece if modelled open.
The wings are tooled as top and bottom parts as would be expected, but unlike some kits, the ailerons and flaps are split between the wing halves, rather than moulded with one to give a sharp trailing edge. As a result, some thinning of the kit's wing trailing edges is needed for best scale appearance. Enclosed between the wings are four rectangular pieces per wing that line the main wheel-wells.
A nice touch is three holes with clear glazing, where the wing underside blends into the fuselage, representing the three coloured signalling lights. Another nicety is the separate clear wingtip navigation-lights.
The tailplane is the later type with two trim-tabs on the starboard elevator. The rudder and fixed bottom section are separate parts, as is the rudder's double trim-tab. The instructions only indicate fitment of the long Mk.II cannon barrels, although some Mk.22's had the shorter Mk.V cannons fitted. Parts for the Mk.V cannons are included with the sprues as surplus parts, presumably for the Spitfire MK.24 and Seafire Mk.47 boxings.
The engine and intercooler radiator housings come with separate styrene front and rear radiator matrix facings, and there is the option of using PE faces as well. I can see little benefit in using the PE parts here as the styrene ones are adequately detailed and will not be all that visible. The radiator shutters are moulded separately and are worth replacing with their PE alternatives, as these will add to overall finesse. The shutter actuator linkage is not provided but can easily be made from plastic rod or stretched sprue.
The undercarriage is straightforward enough, and being the "Hi-Tech" boxing there is the option of resin wheels and PE torque-links (the resin is mentioned in the instructions, whereas the PE parts are not). The small outboard undercarriage doors lack the thin retraction struts, although the axle-hinge for these is included as moulded detail on the wheel-well wall. They should be easy to make from stretched sprue.
Of greater concern is that the oleos seem to be moulded extended with no weight bearing on them, which will result in giving the model the wrong "sit". Photos of the real plane show that the topside of the tyre sits well above the undercarriage door, with the bottom of the door sitting below the wheel rim.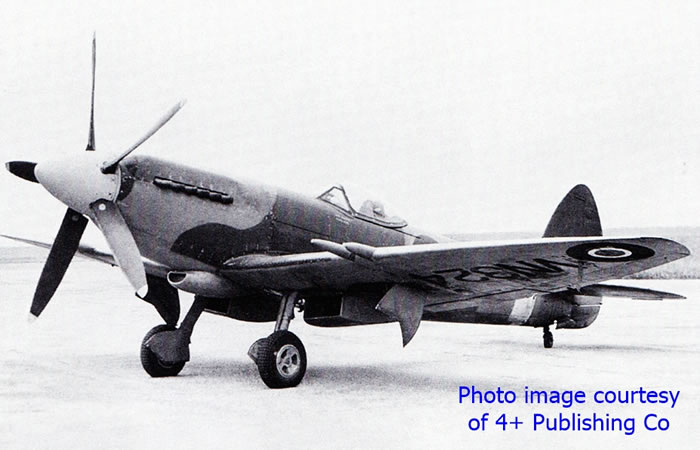 The photo of the finished model from Special Hobby's website shows the door sitting too high in relation to the wheel, implying that the oleos are probably too extended. If so, the fix is easy; simply shorten the oleos. More challenging may be the need to increase the forward rake of the undercarriage legs, which looks insufficient to me in the photo above. When compared to the real plane below: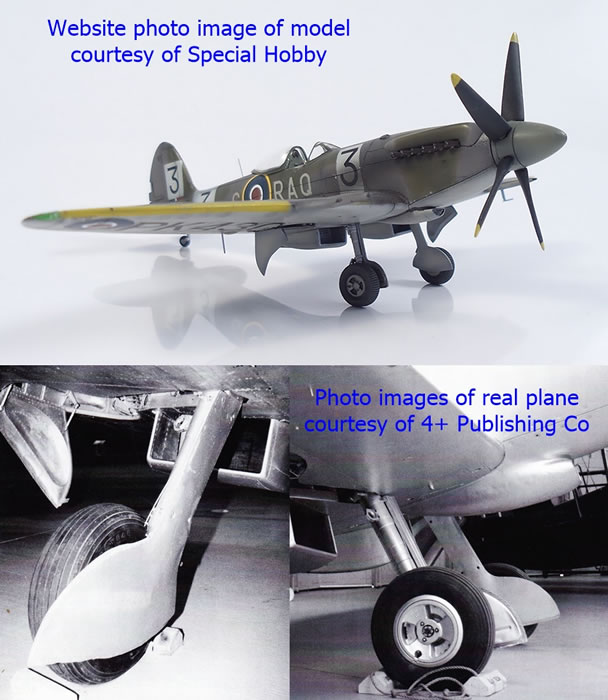 The cowling area is completed by an underside panel, the carburettor air-intake duct and the two bulges over the engine's cylinder heads. The five-blade propeller consists of separate blades, a spinner and its base-plate. Resin exhaust pipes replace the styrene parts, and are mentioned in the instructions.
An optional 80-gallon "torpedo-type" drop tank and MK.9 zero-length rocket mounts are included; the instructions giving dimensional positions for the latter. Rocket equipped Mk.22's often had slightly curved plates to shield the spent-case extraction chutes from rocket blast; sometimes all four had shields, and sometimes just the outboard chutes had them. I am unsure if these are provided as parts number 13 on the PE fret because the instructions fail to mention the PE details, but the image below shows what they look like: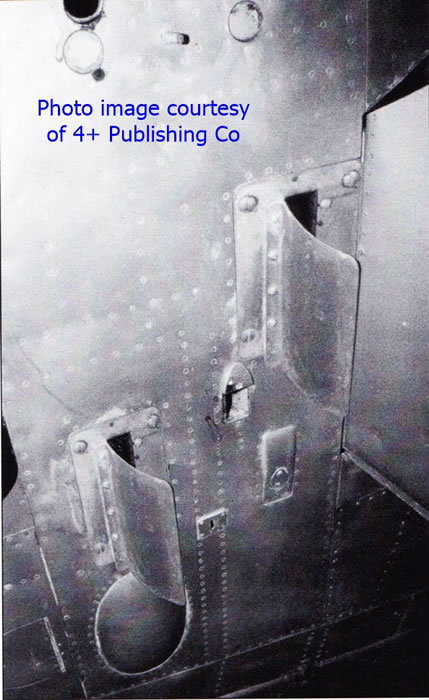 The kit looks as if it will build well, although I was surprised at how hard it was to find any build articles. I have read posts regarding the very similar Seafire kit that suggests few problems will be encountered, with just a little fit adjustment and filler perhaps being required.
I have deliberately made few comments about accuracy, having just touched on the sit of the finished model. However, I have distinct concerns about several shape issues, and have decided to cover these in a three-way comparison with the Airfix and CMR Spitfire Mk.22 kits; with the intention of identifying the best kit overall. This three-way assessment follows the colours and marking section below.
---
Markings
Six decal options are provided, scans of these can be found in the gallery image section above:
Spitfire F Mk.22 PK430/racing number 3, No. 610 Squadron, Royal Auxiliary Air Force, Cooper Air Race, Elmdon, July 1949;

Spitfire F Mk.22 PK519, No. 615 Squadron, Royal Auxiliary Air Force, Biggin Hill, 1950;

Spitfire F Mk.22 PK550, No. 615 Squadron, Royal Auxiliary Air Force, Biggin Hill, 1949;

Spitfire F Mk.22 PK570, No. 603 Squadron, Royal Auxiliary Air Force, Turnhouse, 1949;

Spitfire F Mk.22 SR65, No. 1 Squadron, Southern Rhodesia Air Force, Cranbourne, Southern Rhodesia, 1951-52; and

Spitfire F Mk.22 681, No. 2 Squadron, Royal Egyptian Air Force, El Arish, Egypt, 1950.
The decals are printed by Cartograf and appear to be very good in all respects.
Three-Way Accuracy Comparison
The more time I spent taking a "first look" at the Special Hobby Spitfire Mk.22 the more I found myself questioning its accuracy in several areas. My reading for the previous kits section that I include in my reviews had already revealed its overly pointed wing-tips, but I found little else in the way of criticism of it. As I already had Spitfire Mk.22 kits by CMR and Airfix a three way comparison seemed a good idea, especially as both of these other kits are well regarded.
I tend to not compare kits to plans, as plans are subject to as many doubts about accuracy the kits themselves. I prefer to compare the review kit to other kits of the same subject that have established a good reputation for accuracy; then, upon finding differences between the kits, I refer to photos and references to try and assess which is most correct. In this case I have used several references and on-line sources, and 4+ Publications' Mark I Guide on the Spitfire F Mk.22/24 in particular.
I shall break down those areas of the airframe I compared, and if some areas are not mentioned, it is because they are very similar across all three kits and agree with images of the real plane satisfactorily.
---
Fuselage
There is quite a bit of difference between Special Hobby's fuselage and the other two brand kits I compared it with.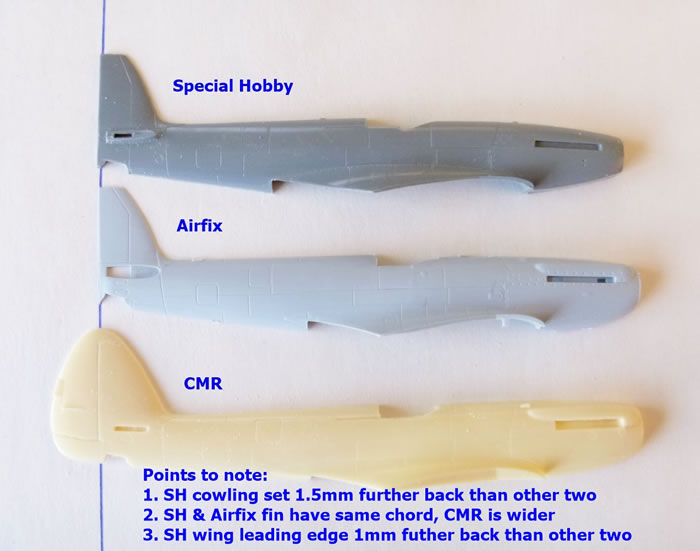 Airfix and CMR are in close agreement regarding fuselage shape, cockpit position, and length, although Airfix' rear fuselage is about 0.25mm deeper than CMR's. They do differ very slightly in the chord of the tailfin, CMR's being greater, but I cannot say which is best (I deal with the rudder separately later). As it happens, the tailfins of Airfix and Special Hobby are very similar.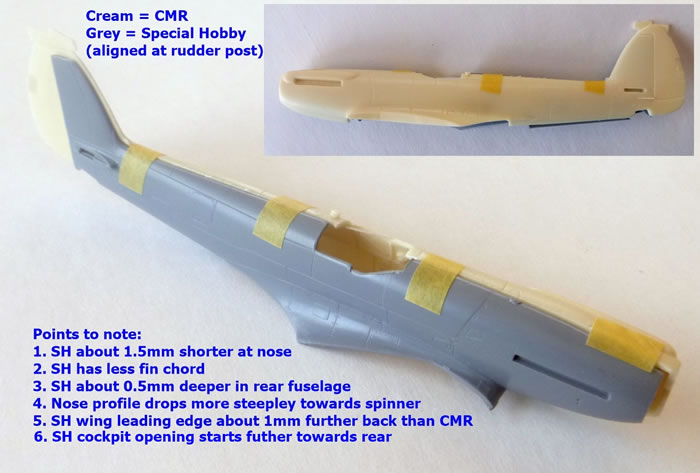 Given the similarity of the Airfix and CMR fuselages it is no surprise to find that Special Hobby exhibits essentially the same differences to both, the only real difference being its rear fuselage is 0.25mm deeper than Airfix's compared to 0.5mm more than CMR's :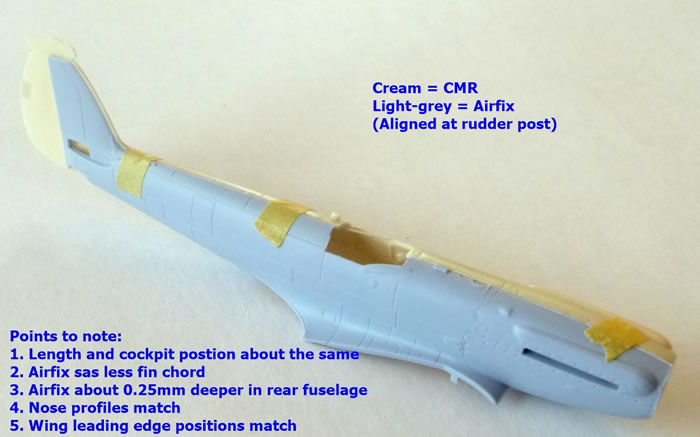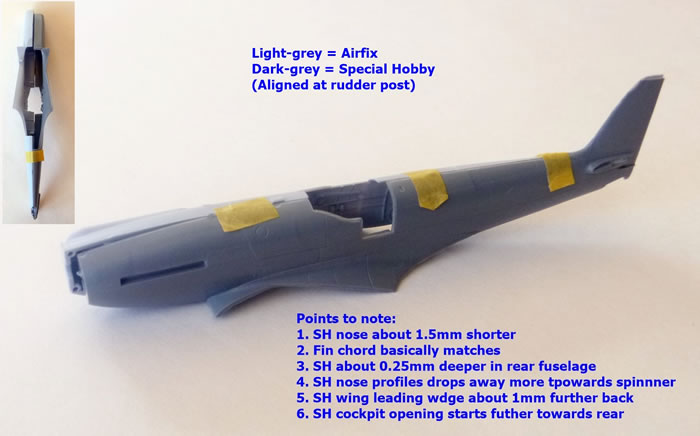 The shared differences of Special Hobby compared to CMR and Airfix are:
1.5mm shorter length, seemingly between the cockpit and rear of the engine cowl.

Wing leading edge set about 1mm further back.

Rear edge of cockpit opening starts further back.

Slightly deeper rear fuselage.

Nose tapers down more sharply towards the spinner.
I jointly favour Airfix and CMR for general fuselage shape.
---
Engine Cowl
All three differ in the interpretation of the engine cylinder head bulges; in particular in their length and shape after the rearmost exhaust pipe.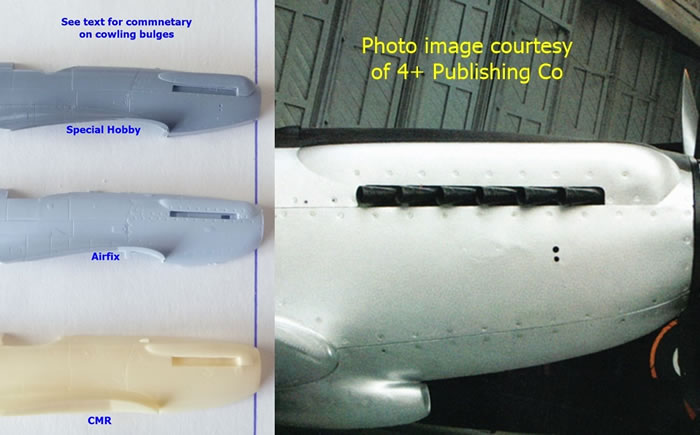 None get it exactly right; Special Hobby begins to taper up in this area too early; CMR extends to far to the rear; and Airfix begins the upsweep at the right point, but a little too steeply. As to the front shape of the bulge, Special Hobby begins it curve upward too early, Airfix looks right, and CMR begins the curve too late. I think Airfix is definitely the best here.
The look of the two bulges in situ is important, and for judging this I have used cropped images of the three kits completed and compared them to an image of the real thing (actually a Mk.21, but identical to the Mk.22 in this area):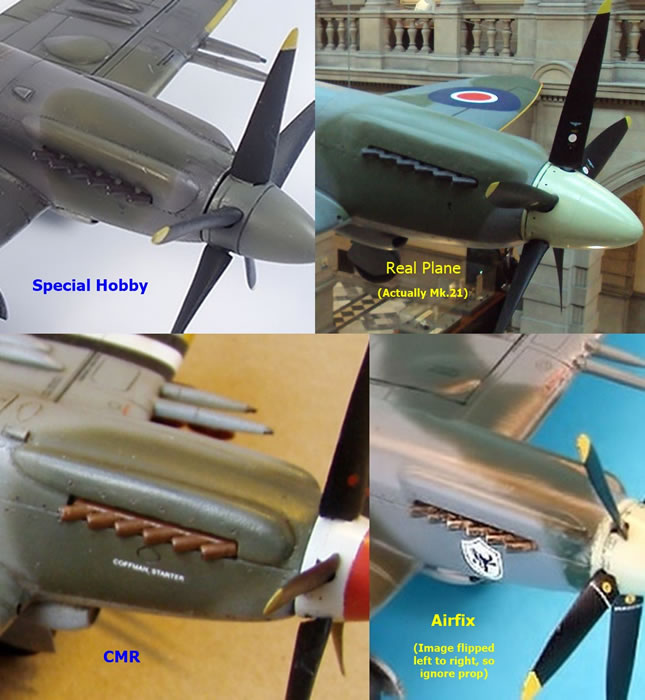 Although I could not obtain identical viewing angles, the above images (and others I looked at) show that the Special Hobby bulges converge too much going forward, and appear to be too angled as they emerge from the cowl just behind the spinner. I think this is mainly attributable to a greater downwards taper towards the spinner, as identified at the beginning of the section on the fuselage.
---
Carburettor Air-Intake
Because of the differences in kit parts breakdown across the three brands, and unhelpful camera angles in photos of finished models, it is hard to share comparative images of the carburettor air-intake. However, having looked at each in turn, I feel that CMR's is too large and bulbous, whilst Special Hobby and Airfix are quite similar dimensionally.
This said, I think Airfix has the best shape.
---
Cockpit Canopy
I found quite a lot of variation in this aspect of the three kits. Special Hobby has by far largest windscreen and sliding hood; CMR being next largest, although closer to Airfix than Special Hobby in size and shape. It is hard to judge CMR's canopy in the accompanying photos because I did not wish to cut it from its vac-form backing plinth. You can see what this canopy looks like however by checking out Petr Buchar's (the retired founder of CMR) essentially identical CMR Spitfire Mk.24: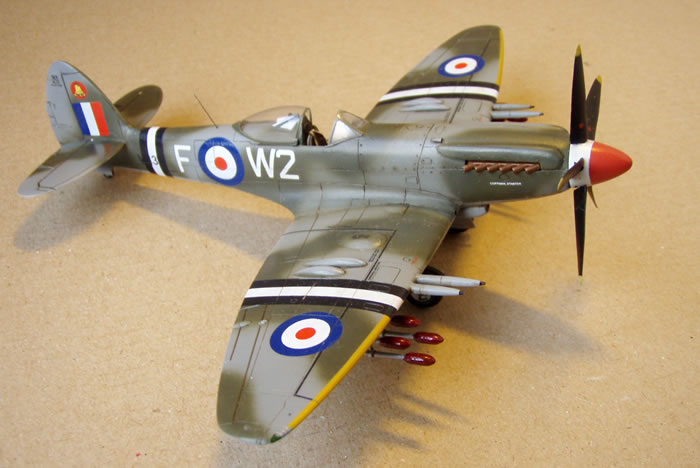 It is apparent from the above images that Special Hobby's sliding hood is not only the largest, but also the most curvaceous in plan-view. This is wrong, as the sides should be almost straight and parallel before tapering to a point at the rear.
I was surprised at just how small the Airfix canopy was compared to the other two, so I checked it against the canopy from Eduard's Mk.XVI low-back kit, which is considered to be extremely accurate (the Mks.IX, XVI & XIV low-backs, and Mks. XVIII, 22 & 24, all had the same canopy). Airfix and Eduard are in very close agreement as to size, although I feel Eduard has captured some subtle shapes like the blown bulge behind the windscreen a little better; please see below: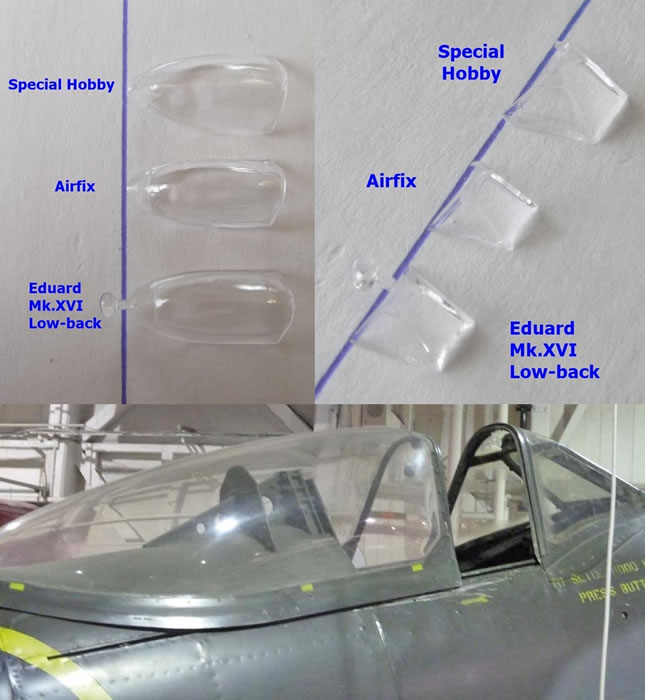 ---
Rudder
I initially thought there was more difference in CMR's rudder to the other two than there actually is, upon reflection. CMR appeared to have less chord, but I now think it seems so because the Special Hobby and Airfix rudders have a bevelled edge to slot into the groove of the rudder post. I have no preference across all three, but include my images for the reader to judge.
---
Propeller
Differences in blade and spinner sizes across the three kits were immediately apparent, so I checked my references. The Spitfire Mk.22 had an 11-foot diameter propeller, which the CMR prop matches almost perfectly in scale, whilst Airfix equates to 10-feet 6-inches and Special hobby to a fraction over 10-feet. Subtleties of blade shape are very hard to judge, I favour Airfix here, with CMR being possibly a little wide in chord, and Special hobby failing to capture the tip shape.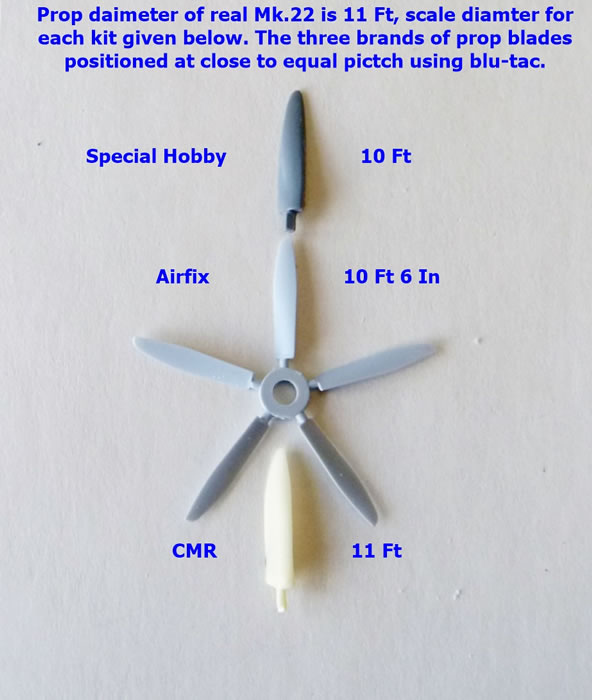 Spinners varied in diameter, with Specially Hobby being noticeably less than the other two, and CMR being a smidgeon wider than Airfix. As to shape, I think CMR is the worst, being too rounded and blunt, with Airfix being better but not having quite the right curve, and Special hobby looking the best of the three.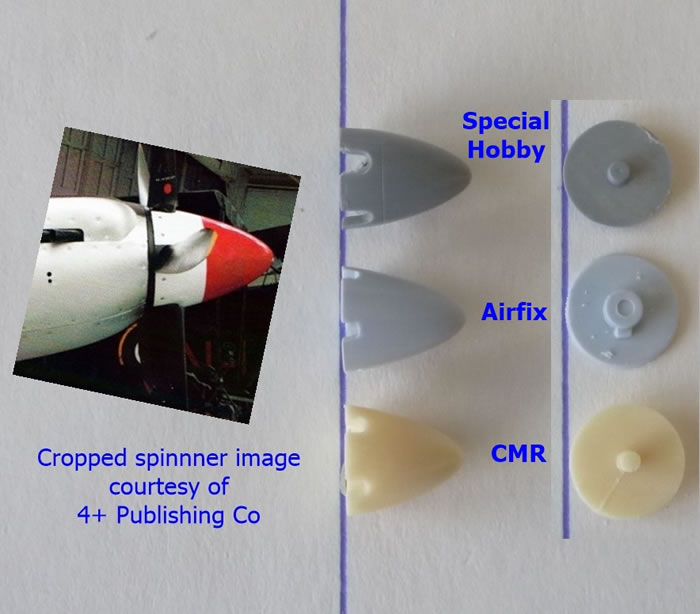 ---
Wings
All three kits agree on span, leading edge shape and cannon position. However, CMR has more chord to the trailing edge; a fraction more than Airfix, but considerably more than Special Hobby. I cannot say whether Airfix of CMR is more correct here, and the difference is quite small; but I am in no doubt that Special Hobby's is wrong.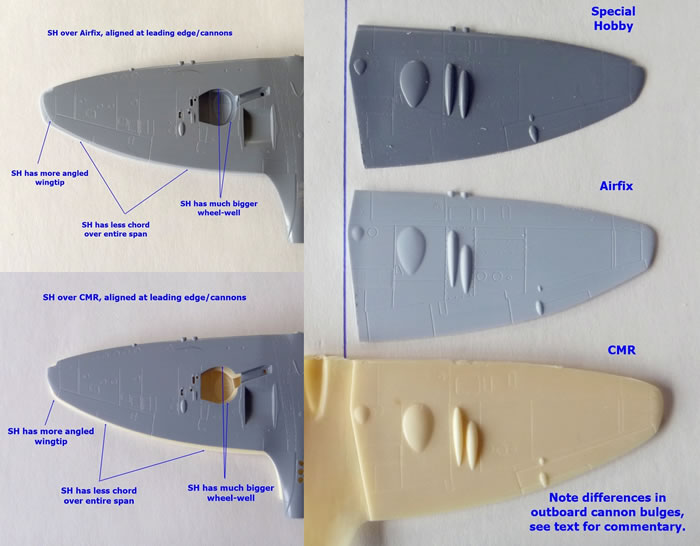 Very noticeable is that Special Hobby has the sharpest trailing edge taper to the wingtips, and is clearly wrong in this respect. Special Hobby also has much larger wheel-wells than the other two, which do seem too big.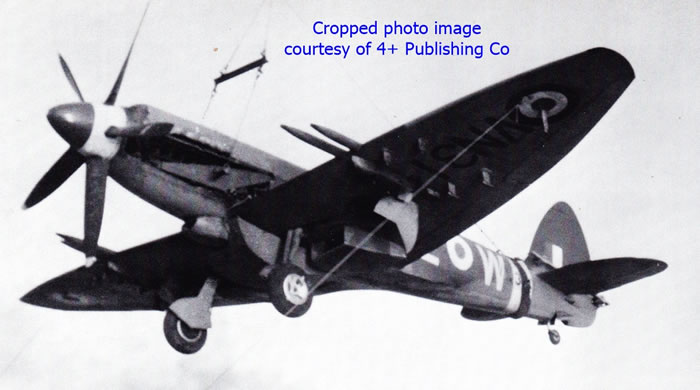 Of less significance is the slight difference between CMR's outboard cannon bulge and the other two which are more similar to each other. I think CMR may have a slight advantage.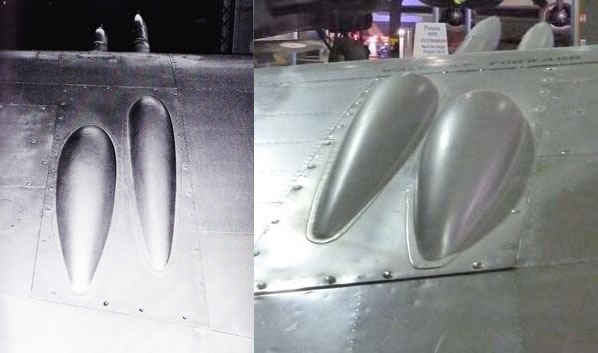 The best wing is really too close to call between Airfix and CMR, whereas Special Hobby's is a "fail".
---
Radiator Housings
For those interested - Although they looked the same, the starboard radiator housing enclosed the oil-cooler behind the engine's glycol radiator, whilst the port enclosed the intercooler's radiator ahead of the engine's other glycol radiator.
The housing shape is another area of variance between the three kits. Special Hobby's are the most straight-sided in plan-view and shallowest in profile, with CMR's the most curved and deepest, Airfix being in-between these, but conforming more to CMR. Special Hobby is clearly the worst representation, whilst Airfix beats CMR because it has an angled undercut in profile at the rear (as does Special Hobby), whereas CMR's rear profile is at a right-angle to the wing.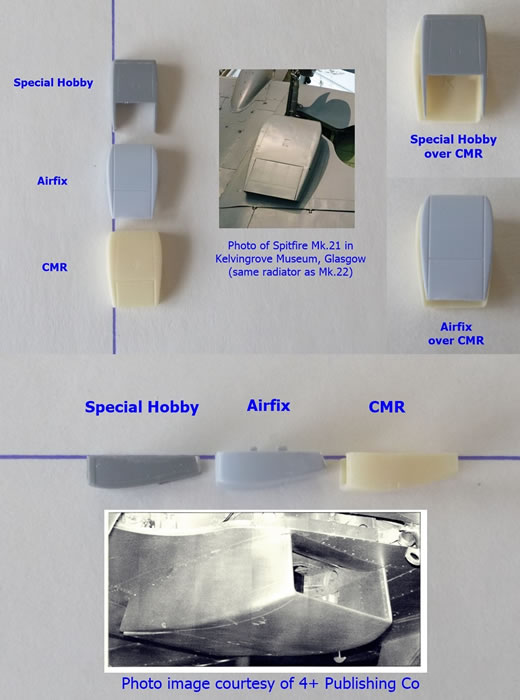 ---
Tailplane
There is strong agreement between all three kit brands, with only the most minor of differences (although CMR does offer the earlier tailplane with single trim tabs on both sides as an option). The examples in the image appear different at their roots because of the different ways the kits are engineered to fit the tailplanes to the fuselage. None is better than the other for all practical purposes; but I included the image below because the tailplane is a major airframe component readers may wish to compare for themselves.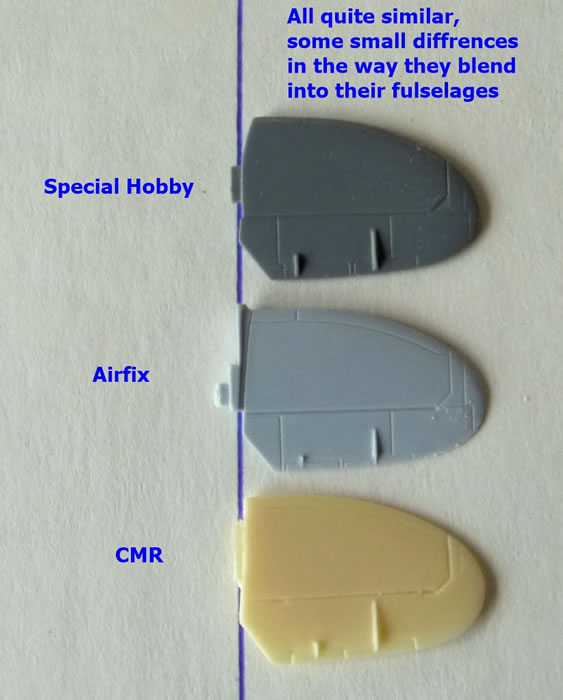 ---
Accuracy Assessment
Airfix in my judgement offers the best overall Spitfire Mk.22 of the three kits compared. Its only weaknesses is that the prop is a scale 6-inches (2mm) or about 4% undersize in diameter with a slightly off-shape spinner.
CMR is a reasonably close second that still captures the essential appearance of the Mk.22. It is let down by a slightly oversize canopy and carburettor air-intake, plus a spinner that is too blunt.
Special Hobby fails on too many counts to even be considered as worthwhile for the accuracy-conscious. It suffers from a significantly wrong wing shape, short nose with converging cylinder head bulges, undersized prop diameter, small radiator housings, grossly over-sized canopy, and wheel-well openings that look too big. Its best spinner shape of the three contenders, and equally accurate tailfin and tailplane, are not enough to redeem it.
As an aside, it seems safe to apply the same assessment to the Xtrakit Mk.22, since it appears to have been developed using the same base data, making it essentially the same other than having a different and worse propeller.
On reflection it is a pity I did not have a copy of AZ Model's Mk.22 kit to include in the comparison. Although less refined than the three contenders compared here, it would be interesting to know how it stacks up accuracy-wise. I feel safe saying it is more accurate than Special Hobby's kit from studying images of assembled models.
---
Other Factors
It is worth mentioning other factors which are equally or more important to some as overall accuracy is. These can include ease of assembly, quality of internal and external detail, range of markings options, and of course price.
Special Hobby's kit scores well in these areas, with very nice internal and surface detail, that is at least the equal of CMR's; it has better resin exhausts and tyres. The decal selection also rivals CMR's and betters Airfix, whilst it is significantly cheaper than the CMR it is more expensive than Airfix (in part because of its "Hi-Tech" goodies).
I do not think there will be much difference when it comes to assembly between the three. However, parts preparation will be different for each. Both Special Hobby and Airfix have fine mould lines to remove, plus Airfix suffers from quite wide sprue gates and very soft styrene that is easily damaged. CMR has moulding stubs and flash to remove, which is easy enough, but some may not like cutting the vac-form canopy out.
I think a judgement ignoring accuracy and just using the criteria of build-ability, detail refinement, decal options, and value (rather than just price) would favour Special Hobby.
Upon opening the box, the Special Hobby kit immediately impresses with its crisp moulding and fine detail, and goes on impressing as the coloured PE details, pre-cut canopy mask, plus resin exhausts and wheels are revealed. These features, combined with six decal options, all suggest that an enjoyable build and a nice model are in the offing; and this is pretty much the case.
A surprising oversight is that the instructions fail to give any indication of PE parts placement. A lot is obvious when it comes to the seat harness or instrument panel, but there are quite a few points that left me guessing. Special Hobby's "Hi-Tech" package has a way to go before it rivals Eduard's equivalent but slicker approach that is their "ProfiPACK" boxings.
It all sounds promising, but having accurate outlines is an important expectation for many, especially so with a subject as iconic as the Spitfire. Special Hobby really dropped the ball with this aspect of the kit; it fails on too many counts to even be considered as worthwhile for the accuracy-conscious.
If accuracy of line is not of great concern, but fine detail and a straightforward build are, then Special Hobby's Spitfire Mk.22 could be for you. If accuracy matters as well as a straightforward build with nice detail, buy the Airfix kit.
Thanks to Special Hobby for the review sample and
4+ Publishing Co for Image Use Permission.
---
Text and Images Copyright © 2017 by Mark Davies
Page Created 28 March, 2017
Last updated 29 March, 2017
Back to HyperScale Main Page