F/A-18A+ / B / CF-188
RCAF, RAAF, Spain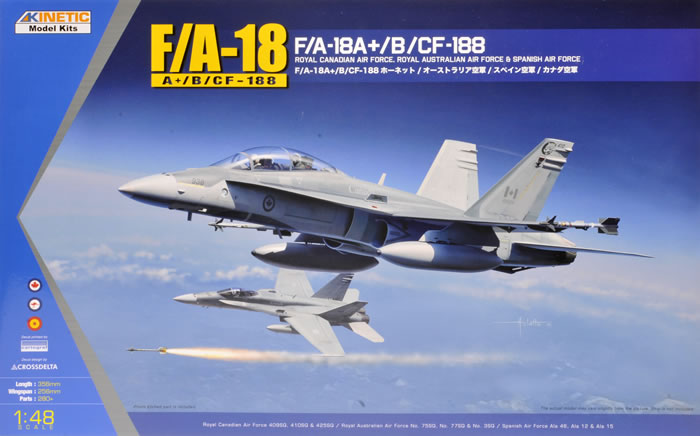 Kinetic, 1/48 scale
S u m m a r y

Item No.
Kinetic Model Kits Item No. K48030 - F/A-18A+/B/CF-188 Royal Canadian Air Force, Royal Australian Air Force & Spanish Air Force
Contents and Media:
343 grey injection moulded parts; 18 clear parts; 22 photo-etched metal parts; markings for at least nine aircraft.
Scale
1/48
Price:
USD$39.99 plus shipping available online from Lucky Model
Review Type:
FirstLook
Advantages:
High level of detail; excellent surface textures; extensive weapons load; high quality decals; great value.
Disadvantages:
Recommendation:

This is a great kit of the F/A-18A+/B/CF-188 Hornet and represents smoking hot value at just USD$39.99. Highly Recommended.
Reviewed by Brett Green

HyperScale is proudly supported by Squadron.com
The McDonnell Douglas F/A-18 Hornet is a twin-engine supersonic, all-weather carrier-capable multirole combat jet, designed as both a fighter and attack aircraft (hence the F/A designation). Designed by McDonnell Douglas (now Boeing) and Northrop, the F/A-18 was derived from the latter's YF-17 in the 1970s for use by the United States Navy and Marine Corps. The Hornet is also used by the air forces of several other nations and, since 1986, by the U.S. Navy's Flight Demonstration Squadron, the Blue Angels.
The F/A-18 has a top speed of Mach 1.8 (1,034 knots, 1,190 mph or 1,915 km/h at 40,000 ft or 12,200 m). It can carry a wide variety of bombs and missiles, including air-to-air and air-to-ground, supplemented by the 20-mm M61 Vulcan cannon. It is powered by two General Electric F404 turbofan engines, which give the aircraft a high thrust-to-weight ratio. The F/A-18 has excellent aerodynamic characteristics, primarily attributed to its leading edge extensions. The fighter's primary missions are fighter escort, fleet air defense, Suppression of Enemy Air Defenses (SEAD), air interdiction, close air support, and aerial reconnaissance. Its versatility and reliability have proven it to be a valuable carrier asset, though it has been criticized for its lack of range and payload compared to its earlier contemporaries, such as the Grumman F-14 Tomcat in the fighter and strike fighter role, and the Grumman A-6 Intruder and LTV A-7 Corsair II in the attack role.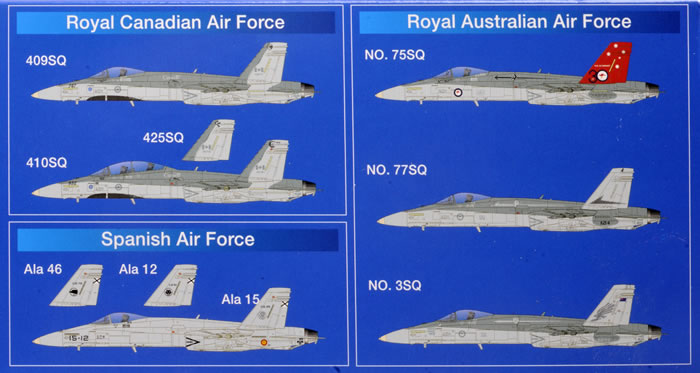 The Hornet first saw combat action during the 1986 United States bombing of Libya and subsequently participated in the 1991 Gulf War and 2003 Iraq War.
The F/A-18A is the single-seat variant and the F/A-18B is the two-seat variant. The space for the two-seat cockpit is provided by a relocation of avionics equipment and a 6% reduction in internal fuel; two-seat Hornets are otherwise fully combat-capable. The B-model is used primarily for training.
In 1992, the original Hughes AN/APG-65 radar was replaced with the Hughes (now Raytheon) AN/APG-73, a faster and more capable radar. A-model Hornets that have been upgraded to the AN/APG-73 are designated F/A-18A+.*
* Historical summary courtesy of Wikipedia
Kinetic released their 1/48 scale F/A-18C Hornet to justified acclaim in May 2016. Mick Evans conducted a detailed review of this initial release.
Kinetic has now expanded the family with this versaile new kit allowing the modeller to build an F/A-18A+, a Canadian CF-188 or an upgraded F/A-18B two-seater. As far as I can tell, all the parts needed to build and arm an F/A-18C are still in the box too.
The kit contains 343 parts in grey plastics, 18 clear parts, 22 photo-etched metal parts and markings for at least nine different aircraft.
Surface detail is excellent, with a combination of very fine crisp panel lines and rows of rivets. Raised details are also present as appropriate.
The fuselage is a horizontal split construction with the upper fuselage containing the upper wing surfaces to which is added the lower wings and optional nose sections.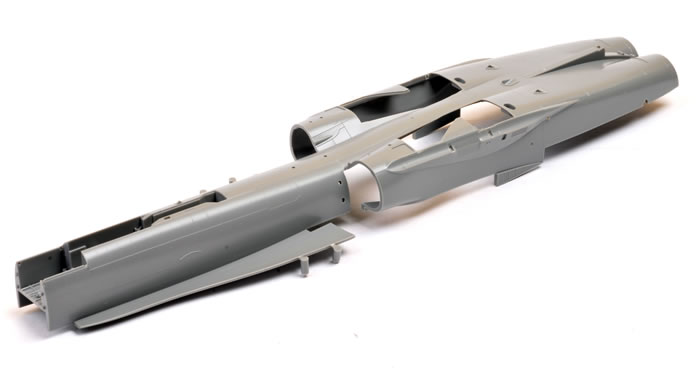 Intakes are full length and two closed burner cans are included. Several sources have confirmed that this is the apprporiate configuration for a parked F/A-18.
Cockpit detail is good straight from the box, both for the single seat and two seater versions.
The wheel well detail moulded to the main parts looks terrific.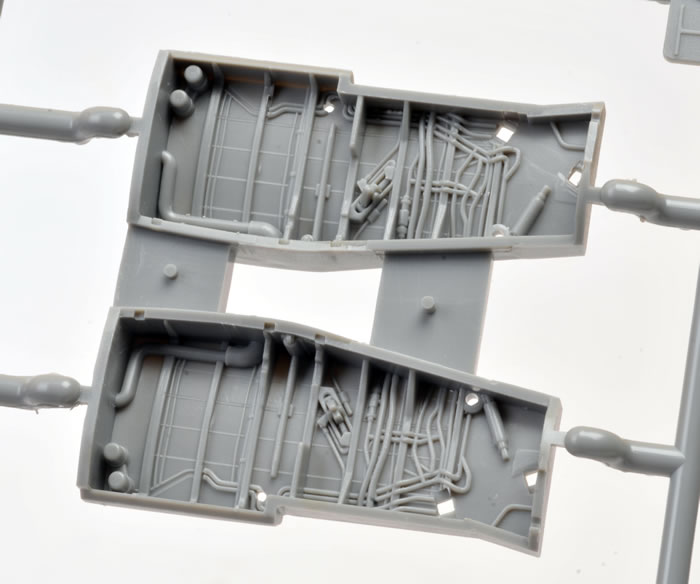 A number of brand new parts are supplied for the new versions, including fins with separate rudders, port side nose with slime lights and detail parts.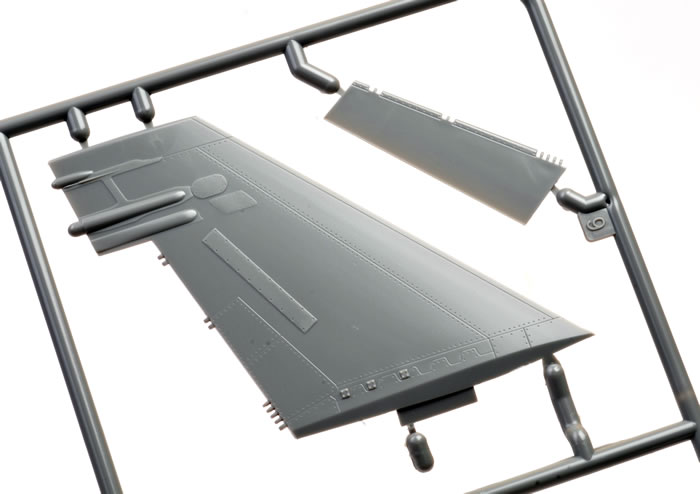 The original fin and nose parts are still in the box.
New main undercarriage legs for the CF-188 are included too.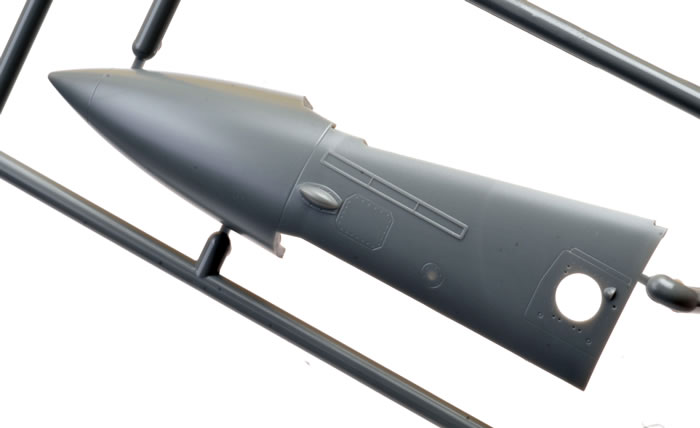 You'll need to check your references for RAAF options. Early Australian Hornets had the catapult launch bar removed, but upgraded RAAF Hornets had a similarly sized and shaped dummy, because they had problems with nose wheel shimmy cause by its absence (thanks to Shane Weier for this information).
Control surfaces including leading edge flaps and upper fuselage speed brake are all provided separately and may be posed to taste.
The kit's photo-etched fret includes detail parts for chaff dispensers, gunsight mount, canopy handles / mirrors and more.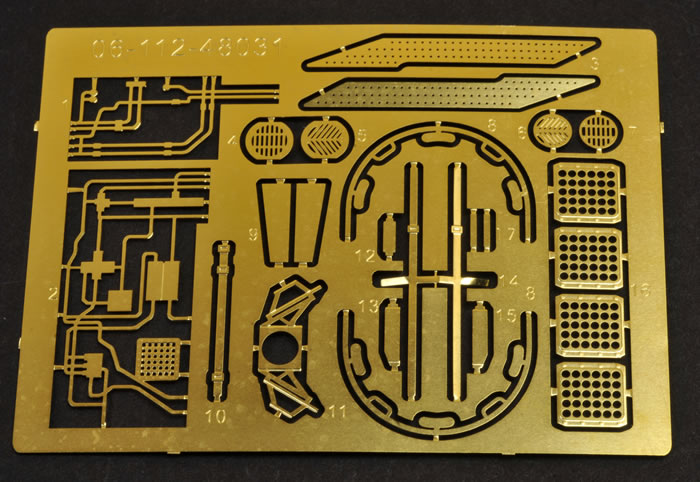 The clear parts are spread over three sprues and include both the single seat and two-seater canopies.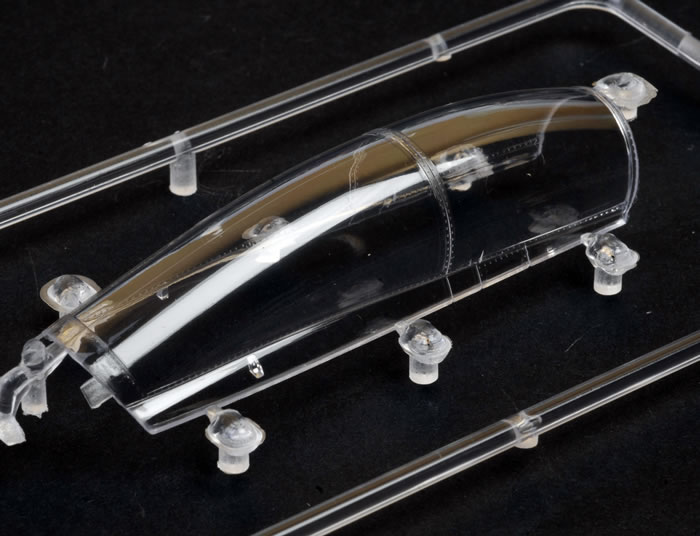 The clear parts are nice and thin and free from distortion. There is, however, a raised centreline seam on the canopy and windscreen parts that will have to be scraped and sanded off.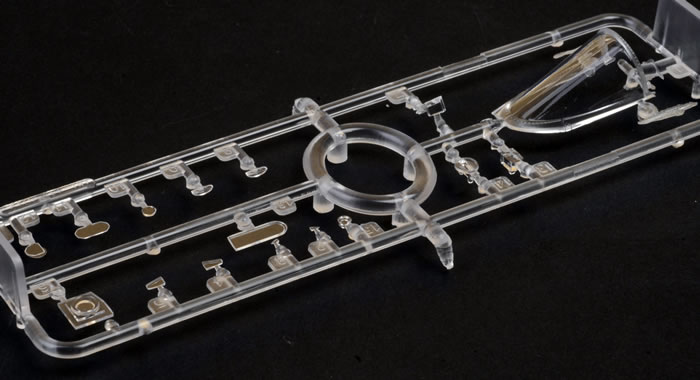 Stores are very extensive and will provide a boon for your spares box.
In addition to three external fuel tanks, the following stores are supplied:
CVER

AIM-9X

AIM-120B/C

GBU-12

CBU-20

AAQ-13/14

AAQ-28/Sniper
The instructions offer guidance for configurations.
---
Markings
Nine schemes for RAAF, RCAF and Spanish Hornets are provided on the large and colourful decal sheet, printed by Cartograf and designed by Crossdelta Decals.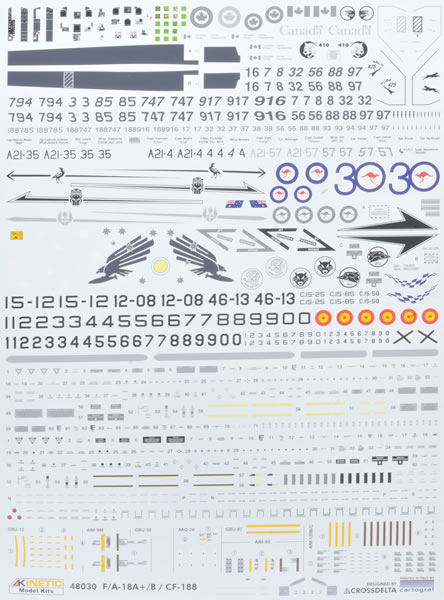 The markings supplied are as follows:
Royal Canadian Air Force 409SQ, 410SQ & 425SQ.

Royal Australian Air Force No. 75SQ, No. 77SQ & No. 3SQ.

Spanish Air Force Ala 46, Ala 12 & Ala 15.
With the number jungle supplied on the decal sheet, you'll be able to depict many other Canadian and Spanish options too.
Markings for the ordnance is included on the large decal sheet.
The decal sheet is printed perfectly in register and colours look great.
This is a great kit of the F/A-18A+/B/CF-188 Hornet and represents smoking hot value at just USD$39.99.
Highly Recommended.
Thanks to Lucky Model for the samples
---
Review Text and Images Copyright © 2017 by Brett Green
Page Created 13 January, 2017
Last updated 16 January, 2017
Back to HyperScale Main Page
Back to Reviews Page