IAI Kfir C2/C7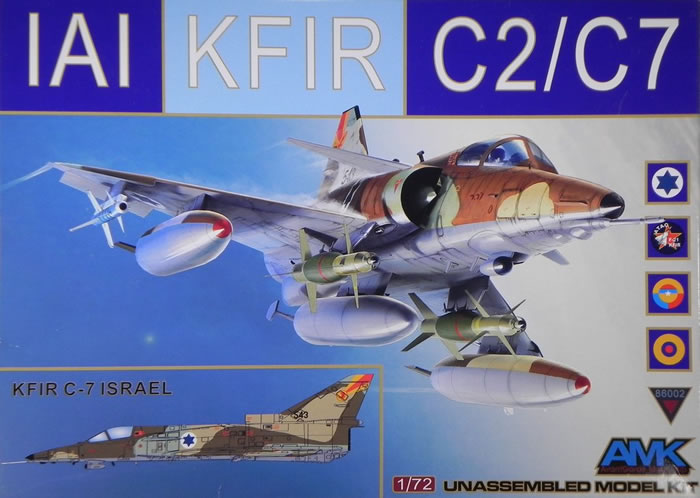 AMK, 1/72 scale
S u m m a r y

Description and Catalogue Number:

AMK Kit No. 86002 - IAI Kfir C2/C7

Scale:
1/72
Contents and Media:

147 parts in light grey plastic (not all are used), 6 parts in clear plastic, and one decal sheet covering five subjects.

Price:

Available online from Hobby Link Japan for USD $13.89 plus shipping

and from Mega Hobby for USD $16.96 plus shipping


Review Type:
FirstLook
Advantages:

Well engineered, straight forward build with a great selection of underwing stores and nice decals.

Disadvantages:

Some recessed details are shallow/soft.

Conclusion:

This is a good kit of a really nice looking airplane: great for the beginer as well as an old hand.
Reviewed by John Miller
The project that would give birth to the Kfir (Hebrew: Lion Cub) can be traced back to Israel's need for developing a successor to the imported Dassault Mirage 5J Nesher (Hebrew: Vulture) then in service with the Israeli Air Force (IAF).
Facing a French embargo, Israel decided to produce the Kfir domestically. To that end, efforts to reverse engineer and produce components of the Mirage were stepped up and aided by Israeli espionage efforts to obtain technical assistance and blueprints from third party Mirage operators.
Two power plants were considered: the General Electric J79 turbojet and the Rolls-Royce Spey turbofan. In the end, the J79 was selected, in large part because it was the engine used in the McDonnell Douglas F-4 Phantom II, which the Israelis had acquired from the United States in 1969 (along with a license to produce the engine).
In order to accommodate the power plant in the Mirage III airframe and to deliver additional cooling required by the J79, the Kfir's rear fuselage was slightly shortened and widened, its air intakes were enlarged, and an air inlet was installed at the base of the vertical stabilizer to supply extra cooling needed for the afterburner. The engine itself was encased in a titanium heat shield.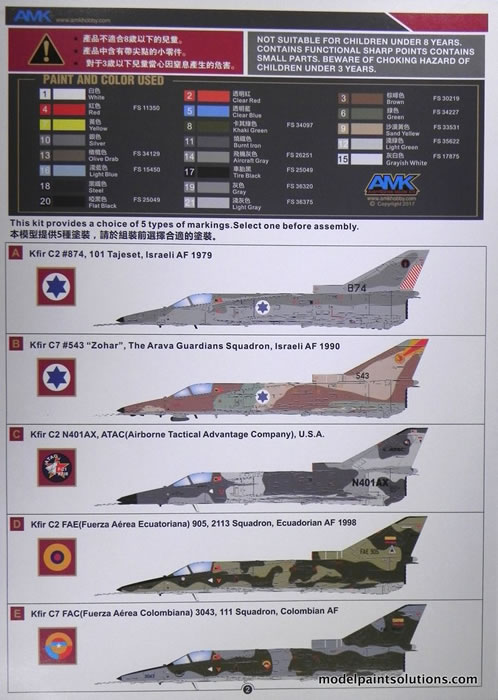 The Kfir entered service with the IAF in 1975 with the first aircraft being assigned to the 101st "First Fighter" Squadron. Several other squadrons received the new aircraft in the following years. The role of the Kfir as the IAF's primary air superiority fighter was short-lived however, as the first F-15 Eagles from the US were delivered to Israel in 1976.
The Kfir's first recorded combat action took place on November 9, 1977, during an Israeli air strike on a training camp in Tel Azia, Lebanon. The only air victory claimed by a Kfir during IAF service occurred on June 27, 1979 when a Kfir C2 shot down a Syrian MiG-21.
By the time of the Israeli invasion of southern Lebanon in 1982, the IAF was able to field both F-15s and F-16s for air superiority roles leaving Kfirs to carry out unescorted strike missions. Shortly afterwards, all IAF Kfir C2's were upgraded to the C7 version with enhanced weight performance more suitable to its new fighter-bomber role. During the second half of the 1990s Kfirs were withdrawn from active duty in the IAF after almost twenty years of continuous service.
---
Foreign Service
Since the J79 turbojet engine is a U.S design manufactured under license in Israel, all export sales of the Kfir are subject to approval from the U.S. State Department. This arrangement has limited sales of the Kfir to foreign nations. As of 2006, the IAI Kfir has been exported to Colombia, Ecuador, Sri Lanka, and the US.
Between 1985 and 1989, the United States Navy and United States Marine Corps leased 25 examples of the Kfir C.1, which was officially designated the F-21A Lion. These aircraft were modified for use as unarmed adversaries in "dissimilar air combat training" or DACT and had narrow-span canards and a single rectangular strake on either side of the nose which considerably improved maneuverability and handling at low speeds.
The Kfir was utilized for the DACT program because it was fast (Mach 2+) and capable of fast-acceleration but had relatively poor maneuverability: traits all shared with the Soviet MiG-23.
Six Kfirs are also used by the US firm Airborne Tactical Advantage Company (ATAC): a civilian defense contractor that provides tactical adversary aircraft services, tactical training, threat simulation, and research & development to the US military.
(Edited from Wikipedia)
First impressions are decidedly positive if not a bit chaotic: there's a lot of plastic crammed into this box. All the sprues come bagged and what's immediately noticeable are the stacked, individually bagged underwing stores: more on those later.
The light grey plastic parts are beautifully molded with practically no flash. The plastic has a nice feel as well: not too fragile. The sprue gates are restrained making parts removal and preparation easier.
For the most part, the inscribed details are nicely rendered if not a bit on the heavy side. Some areas have inscribed lines that are shallow and a bit soft in execution. This is not a big deal, as careful re-scribing will sharpen these areas sufficiently for painting.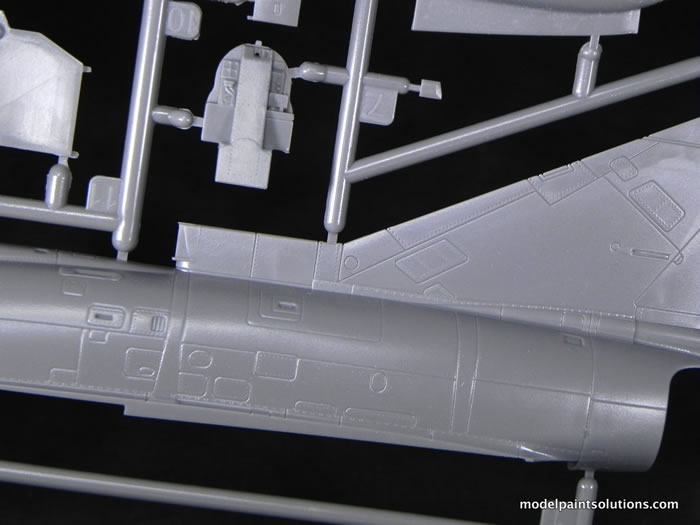 The instructions or booklet (it's 12 pages) provides easy to follow drawings of the sequential assemblies starting (not surprisingly) with the cockpit, which is nicely detailed and composed of 7 parts (not including the seat).
Two complete seats are provided giving you the option of a MB JM6 (for C.2 versions) or Mk.IN10LH (for the C.7). In addition, two different instrument panels appropriate for a Kfir C2 or C7 are provided along with separate decals for each: very nice.
Construction is conventional incorporating left and right fuselage halves with upper and lower wing halves. Both the nose and main wheel wells are very nicely detailed for this scale. The intakes, comprised of single inner and outer pieces, obviate the normal annoying seems in these areas: very much appreciated, AMK.
The engine entire assembly inserts into the rear of the completed fuselage making the painting and detailing of both much easier. This is a nice piece of engineering.
The two-piece canopy is crystal clear, crisply molded, and can be posed opened or closed.
The sprue gates on all the clear parts are small allowing for easy removal. The canopy framing is restrained scale-appropriate.
---
Underwing Stores:
This is one area where the kit really shines. Arranged on neatly stacked interlocking sprues are Mk.82 bombs (x6), GBU-12 (x4), Griffon (x4), and Python-3 AAM (x4). All four munitions are single piece parts that require only removal from the sprues for use: no annoying seems. This is a really nice piece of engineering.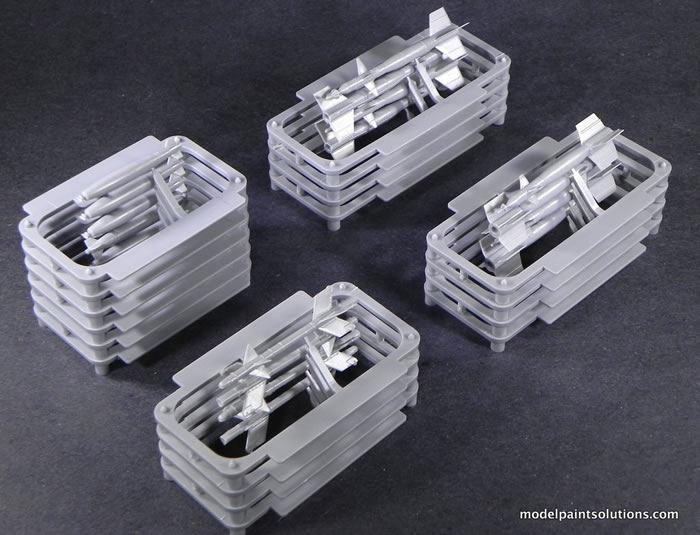 In addition, wing pylon triple ejector racks (TER) are provided, along with a centerline MER (NAPGACH), plus wing subsonic fuel tanks and one centerline supersonic fuel tank. To assist you in loading out your Kfir C2 or C7 accurately, weapons configurations for both marks are provided.
---
Markings
The decals, printed by AMK, are crisp, have very little carrier film, good registration, and appropriate color intensities.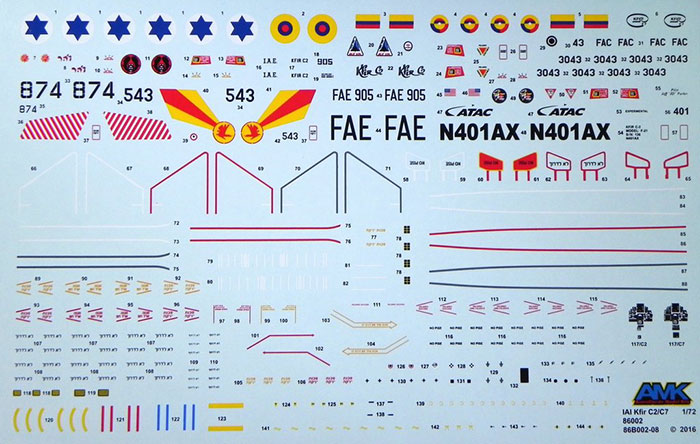 Markings are provided for 5 aircraft as follows:
A) Kfir C2 #874: 101 Tajeset, Israeli AF 1979

B) Kfir C2 #543 "Zohar": The Arava Guardians Squadron, Israel 1990

C) Kfir C2 ATAC (Airborne Tactical Advantage Company), USA

D) Kfir C2 FAE (Fuerza Aerea Ecuatoriana) 905 2113 Suqadron, Ecuadorian AF 1998

E) Kfir C7 FAC (Fuerza Aerea Columbiana) 3043, 111 Squadron, Colombian AF
This is a nice kit of a sleek single-seater. To some, the inscribed details may be a bit soft in some areas but this is easily remedied with a little re-scribing. This kit has ample detail and construction should be straightforward and simple. In addition an amazing array of very nicely detailed wing stores are provided enabling you to outfit your Kfir to your liking.
This is a good kit for experten and beginner alike: Highly recommended!
Cheers!
For more information on this review go to Model Paint Solutions.
Purchased by reviewer.
---
Text and Images Copyright © 2017 by John Miller / Model Paint Solutions
Page Created 9 October, 2017
Last updated 10 October, 2017
Back to HyperScale Main Page