Gloster Meteor F.8 Korea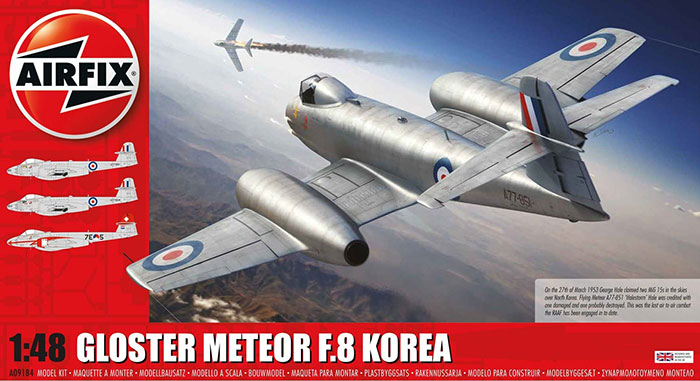 Airfix, 1/48 scale
S u m m a r y

Catalogue Number:
Airfix Kit No. A09184 - Gloster Meteor F.8 Korea
Scale:
1/48
Contents and Media:
See details below.
Price:

£36.99 EU Price (£30.83 Export Price) plus shipping available online from Hannants

Also available from P&S Hobbies for £36.99 and model retailers worldwide and online

Review Type:
FirstLook
Advantages:
High level of detail, approach and buildability.
Disadvantages:
Some soft detail here and there.
Recommendation:
These current kits have everything…..lots of superb and finely portrayed detail, good parts options and some attractive schemes.

Reviewed by James Hatch


Revell's 1/72 Do 17 Z-10 will be available online from Squadron.com

The Gloster Meteor was the first British jet fighter and the Allies' only jet aircraft to achieve combat operations during the Second World War. The Meteor's development was heavily reliant on its ground-breaking turbojet engines, pioneered by Sir Frank Whittle and his company, Power Jets Ltd. Development of the aircraft began in 1940, although work on the engines had been under way since 1936.
The Meteor first flew in 1943 and commenced operations on 27 July 1944 with No. 616 Squadron RAF. The Meteor was not a sophisticated aircraft in its aerodynamics, but proved to be a successful combat fighter. Gloster's 1946 civil Meteor F.4 demonstrator G-AIDC was the first civilian-registered jet aircraft in the world. Several major variants of the Meteor incorporated technological advances during the 1940s and 1950s.
Thousands of Meteors were built to fly with the RAF and other air forces and remained in use for several decades. The Meteor saw limited action in the Second World War. Meteors of the Royal Australian Air Force (RAAF) fought in the Korean War. Several other operators such as Argentina, Egypt and Israel flew Meteors in later regional conflicts. Specialised variants of the Meteor were developed for use in photographic aerial reconnaissance and as night fighters.
The Meteor was also used for research and development purposes and to break several aviation records. On 7 November 1945, the first official air speed record by a jet aircraft was set by a Meteor F.3 of 606 miles per hour. In 1946, this record was broken when a Meteor F.4 reached a speed of 616 mph. Other performance-related records were broken in categories including flight time endurance, rate of climb, and speed. On 20 September 1945, a heavily modified Meteor I, powered by two Rolls-Royce Trent turbine engines driving propellers, became the first turboprop aircraft to fly.
On 10 February 1954, a specially adapted Meteor F.8, the "Meteor Prone Pilot", which placed the pilot into a prone position to counteract inertial forces, took its first flight.
By the 1950s, the Meteor was becoming increasingly obsolete as more nations introduced jet fighters, many of these newcomers having adopted a swept wing instead of the Meteor's conventional straight wing; in RAF service, the Meteor was replaced by newer types such as the Hawker Hunter and Gloster Javelin. As of 2013, two Meteors, WL419 and WA638, remain in active service with the Martin-Baker company as ejection seat testbeds.
The Kit
Airfix released their newly-tooled Meteor F.8 in 2016, and until I walked into P&S Hobbies in York a few days ago, I had no idea that a new incarnation had just been released. In fact, it was fresh into the shop and in the owner's hands! I thank them for the review kit seen here.
This is a reasonably large and very sturdy box with an artwork depicting a No.77 Sqn. Royal Australian Air Force Meteor F.8 having successfully engaged a North Korean MiG-15. The whole package has a superbly glossy and high-quality finish.
The box sides depict the three schemes available, as well as some CAD renders of the completed model. It really does take patience to remove the lids of the new Airfix kits, such is the sturdiness and tight fit of things. Once inside, all SIX frames are packed into the same bag which is folded and heat sealed. I sound like a cracked record, but I really so wish they would bag frames in separate sleeves to prevent damage. There are a couple of very minor marks on my sample, and they will need a little buffing out. Nothing lost, but hey! Last year's original F.8 release contained only 5 frames of plastic.
The whole kit is identical to the previous release with the exception of this having a frame that contains the rockets. We now get chance to use the older, faired canopy, and to make use of the flashed over rocket positions on the wings.
Note also that this styrene is darker than what we are currently seeing from Airfix, including their brand-new P-51D that I examined earlier this week. Certainly strange in the current scheme of things, so perhaps an indication of a new moulding facility being utilised?
There is a single clear frame, within its own sleeve. The windscreen has come adrift from the frame, but all is still in good order. In the bottom of the box is the now familiar styled Airfix instruction manual, some glossy sheets for the schemes, and a single decal sheet.
---
Sprue A
As certainly tends to be the case with Meteor kits I've seen, Airfix also adopts the full span lower wing approach. They have moulded the landing flaps in the retracted position, but Eduard do have a very set of PE alternatives if that floats your boat. Airbrakes are moulded separately and can be posed, as can the ailerons. Note that the nacelles are without the front intake portion. We'll look at the reasons a little later. Surface detail is very fine, as befits the improved trend that Airfix has adopted with their new releases. One thing I will mention is that the parts have the same slight patina as their light grey-moulded counterparts of recent, i.e. they haven't polished the tools as much as Tamiya, Eduard or Hasegawa etc. I find it reminiscent of the degree that Revell polish their tooling to.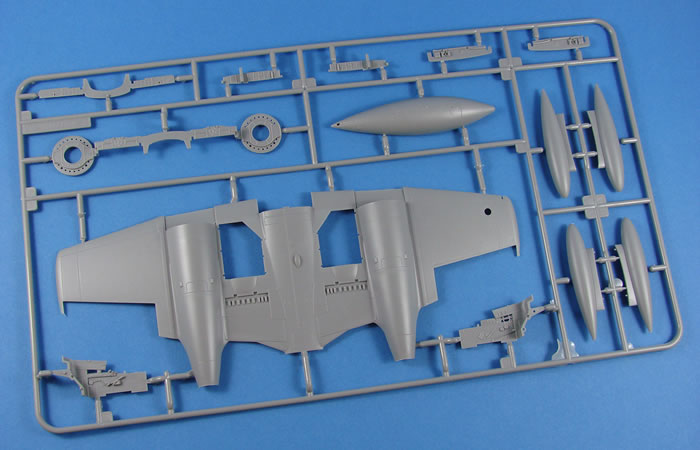 Into the interior of the wing fit two spars, with rear one incorporating the rear engine bay firewalls. Yes….engine bay! This model comes complete with two reasonably detailed Rolls-Royce Derwent 8 turbojets. A very nice touch. This spar, as with the shorter front spar, also contain detail that makes up two walls of the main gear bay. The remaining gear bay detail is moulded across four ribs that can be found on this frame.
The first two cockpit parts are also moulded here and these form the port and starboard office walls with detail that is certainly commensurate with the larger scale HKM 1/32 kit. As a cockpit aficionado, I'm certainly more than pleased with what Airfix has presented here. Note that these connect at the rear, where the walls form the rear cockpit wall.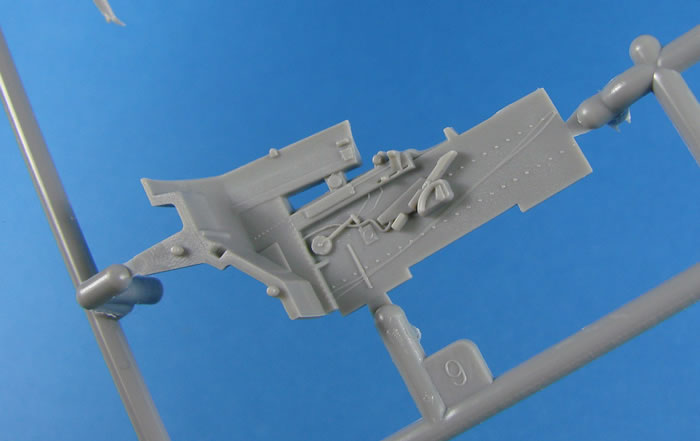 Also on this frame are optional underwing drop tanks. To accommodate these, or the rockets included in this release, you will need to open up the moulded location points that exist inside the main wing lower plate.
---
Sprue B
The eyes are immediately drawn to the fuselage halves.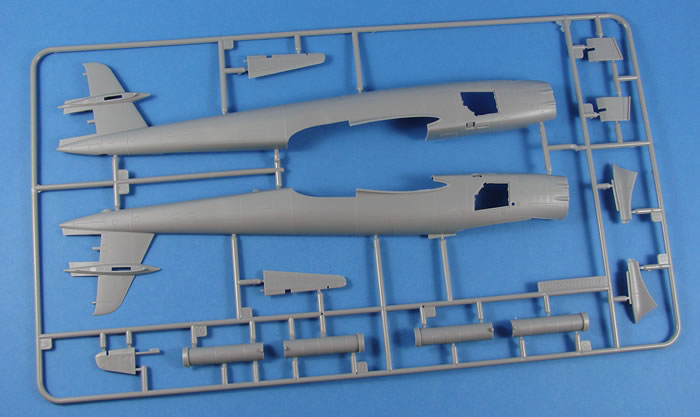 These are moulded sans nosecone, weapons panels and rudders. The MG fairing panels have a very slightly rippled texture, representative of stressed skin, and this also appears on the panel to the rear of the weapons bays. I originally thought they were minor sink marks, but can confirm they are not. The effect is very subtle and should look very nice with the high-speed aluminium that will be applied to this particular release. External details are extremely fine, including panel lines and access ports. Whilst the model isn't riveted, it does have various fastener lines reproduced. Something I have noticed is the raised circumferential line which runs around the fuselage from the point of the trailing edge fairing. I must admit that I've not noticed this on a Meteor before. Internally, it also coincides with a stepped ridge. I really don't know the reasons for this, nor the external raised line. No other internal detail is moulded as everything is added from the modular cockpit and gun bays. Also provided as separate parts are those rear wing roots. These are also moulded here with a raised rivet detail.
Other parts on this frame include the exhaust pipes for each nacelle (split into halves and with scribed internal detail), rudder parts with more raised riveting, and also the elevators. These have the same raised rivet detail, and something I can't discern…..this is whether they have stressed skin finish or maybe small sink marks. If they are the latter, then I'm not overly concerned as the finish looks quite nice.
---
Sprue C
You can clearly see from the upper wing panels that the nacelles are moulding with separate engine access covers so you can display those Derwent engines. Note those engine panels moulded on this frame. Again, more airbrake area detail to facilitate the positioning of those parts. The wing leading edge extends across the intake area, as this forms a vane for the intake. All remaining wing flying/control surfaces are moulded here too, with the later having the same raised rivet detail that we saw before.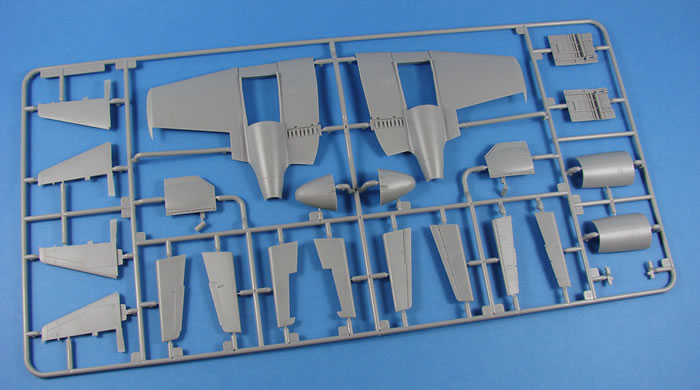 Note that the nosecone is moulded here, as halves, with their forward gun channel trough.
You will need to decide from the outset whether you will build your model with the gear up or down. This is because Airfix had designed the closed bat doors to fit from within the wing and inner cone. If this is your preferred mode, then also note that you may not be able to have the engine bay opened without surgery (and why would you with a model in flight!), because the main gear door looks like it would foul the spar areas for the other option. Should you wish to pose gear down, then note the two main gear bay ceilings on this frame. Again, detail really is excellent.
---
Sprue D
This frame concerns itself almost entirely with parts that are required for either the cockpit, gun bays, and undercarriage. The cockpit tub itself, is constructed from the sidewalls we previously saw, fitted to a lower floor onto which the nose gear bay sits and the well protrudes into the pit, and the two gun bays that flank the outside of the cockpit walls. Onto this fits a nicely detailed rear turtle deck. Those gun bays are also very nice with some excellent constructional/plate/rivet details within. The guns themselves are separate, as are the ammunition drums and ammunition feeds.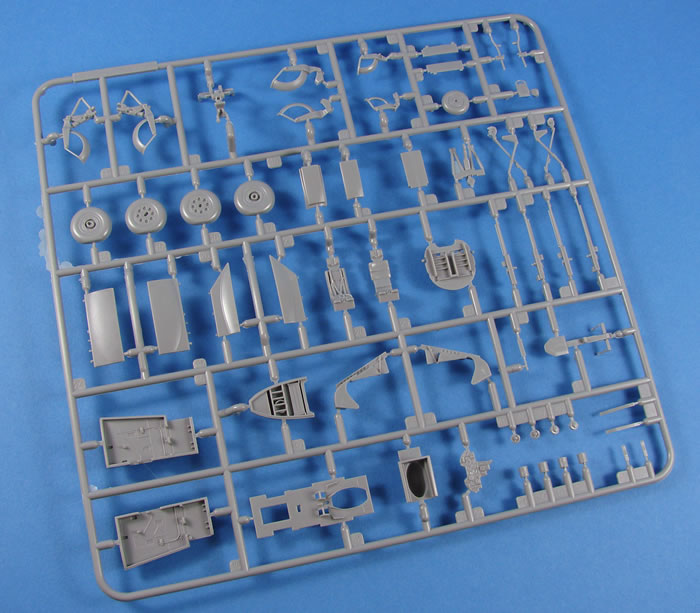 I quite like the moulded instrument panel in this release, but Airfix also supplies a decal for this. You'd struggle to get it to conform to the raised details, I fear. Eduard also has a colour PE option in one of their aftermarket sets. I also think the seat is a very nice representation, and two are included; one with and one without seatbelts.
It appears that the undercarriage itself is simplicity when it comes to construction, with all units have a left and right half that includes the mudguard etc. I also think there will be enough spring in these units to allow them to be prised apart so that the completed wheels can be put in situ later in the build. Those wheels are also supplied weighted, and are moulded with hub detail. Other undercarriage-related parts here are the doors for open bay options as well as closed nose bay parts, nose gear mount frame and bulkhead, main gear door actuators and other well details.

---
Sprues E
You can clearly see that Airfix has provided this kit with two different intake options. These are for the short-chord intake, and the narrower opening long-chord variety. Which you use will depend on which scheme you decide upon, and the options are clearly stated within the instructions. Both options have a common intake liner that must first be inserted before being fitted to the model.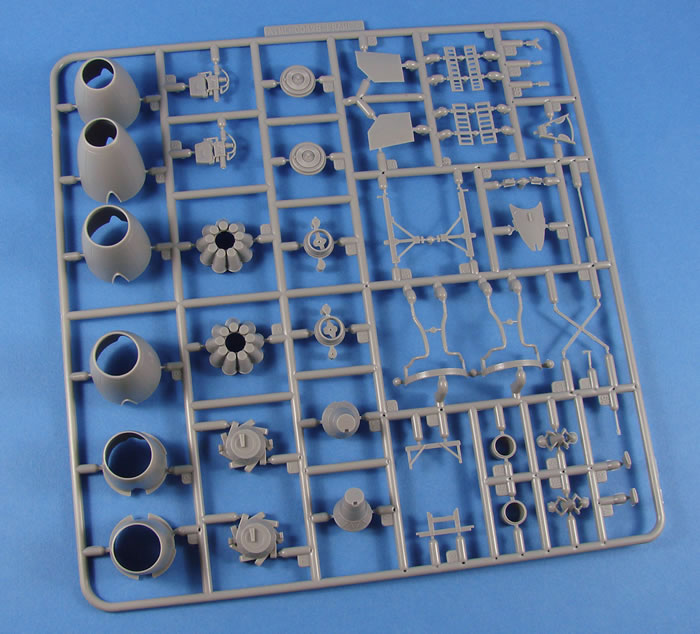 Apart from the gun bay doors and a very small number of other parts (internal and external), everything else here is dedicated to the engines, including a rather nice service cart onto which you may display one of these. Whilst the engines might not be the most detailed, they certainly do pass muster, with the majority of parts being more than adequately represented in styrene, along with ancillary pipework, exhaust vane, starter motor, pump, filter and oil tank. More than an admirable effort for an out-of-box build. The parts themselves are very nice with the combustion chamber depiction and the mesh filter intake area. A dark wash over a metal coat, should make this pop.
---
Sprue F
Here we have the clear parts. Unlike the original release in 2016, we now get to use the faired canopy. This was included last year, but not slated for use. The windscreen on my sample has come adrift, but nothing is damaged, thankfully.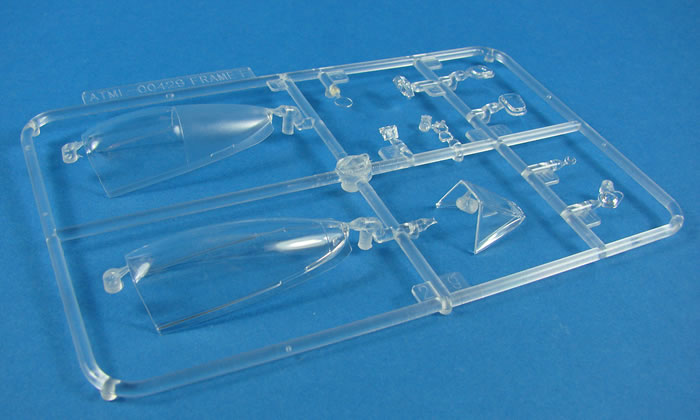 All clear parts are beautifully thin and crustal clear. On the canopy parts, framing is very good, and it shouldn't be difficult to mask these parts. Interestingly, there are a couple of clear parts here which look like they are scheduled to be used in a future PR version….or at least I'd like to think so.
---
Sprue G
This frame is the real difference between this and last year's initial release. In fact, apart from the decals (of course), it's the only difference in plastic. Eight rockets are provided, along with their pylons. The rockets are provided as two parts each, with one part being a separate cross-fin. One of those fins is missing on mine, unfortunately, so I'll need to contact Airfix's spares dept.
The only non-rocket part on this frame is an additional framework that sits underneath the windscreen, and is only applicable to the rocket-equipped versions (not surprisingly).
---
Decals
A single sheet is provided, printed in Italy (probably Cartograf), and this includes not only national markings for three schemes, but also a comprehensive set of stencils, and I really mean that! I've not counted them, but I imagine there are over 200 small decals here.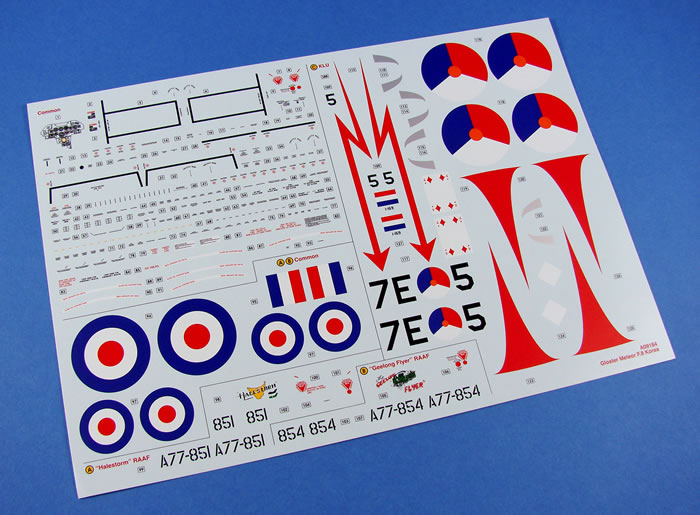 There is quite a lot of orange on the Dutch machine, and forward fuse arrows and nacelle flashes. My own concern here is matching your orange paint to these, especially the flashes where the colours meet. I would perhaps mask and airbrush these instead. Decals have a satin finish, and are thinly-printed. They have solid and authentic colour and minimal carrier film.
Decals are included for:
Meteor F.8, A77-851, flown by Sergeant George Spaulding Hale, No.77 Sqn, Royal Australian Air Force, Kimpo, Korea, March 1953

Meteor F.8, No.77 Sqn, Royal Australian Air Force, Kimpo, Korea, 1953

Meteor F.8 (Fokker-built), No.327 Sqn, Ruiten Vier (Diamonds Four) display team, Koninklijke Luchtmacht (Royal Netherlands Air Force), Commando Lucht Verdediging (Air Defence Command), Soesterberg Air Base, The Netherlands, 1952
---
Instructions
I quite like Airfix's new style of instruction manual. They are clear, concise and whilst printed in greyscale, a good use of red ink denotes new parts placement. Humbrol colour references are supplied throughout. Parts options for specific schemes are posing modes, are easy to follow. Colour schemes are supplied on two glossy sheets, along with a stencil placement guide.
I really do like the Meteor, having recently built the HKM kit with the T.7 Fisher conversion set, for the current issue of Military Illustrated Modeller.
When I was handed this new release in York a few days ago, I really couldn't say no, even though it wasn't in my usual 1/32 format. I have quite a liking for the new Airfix 1/48 range, having recently reviewed the 1/48 Walrus that I'm now building, so I really couldn't resist this.
These current kits have everything…..lots of superb and finely portrayed detail, good parts options and some attractive schemes. They also play on my heartstrings for subjects that I fondly remember from my childhood, but being created in a state of the art way that I could only have dreamt of back then.
Bravo Airfix! I really want to see more kits of this standard.
My sincere thanks to P&S Hobbies for the review kit seen here. To purchase, contact them via their website, here, or visit them on Walmgate in York, or Castle Road, Scarborough, UK.

---
Review Text and Images Copyright © 2017 by James Hatch
Page Created 2 November, 2017
Last updated 2 November, 2017
Back to HyperScale Main Page
Back to Reviews Page