The de Havilland Mosquito
Part 2
Fighter, Fighter-Bomber and Night-Fighter (including Sea Mosquito)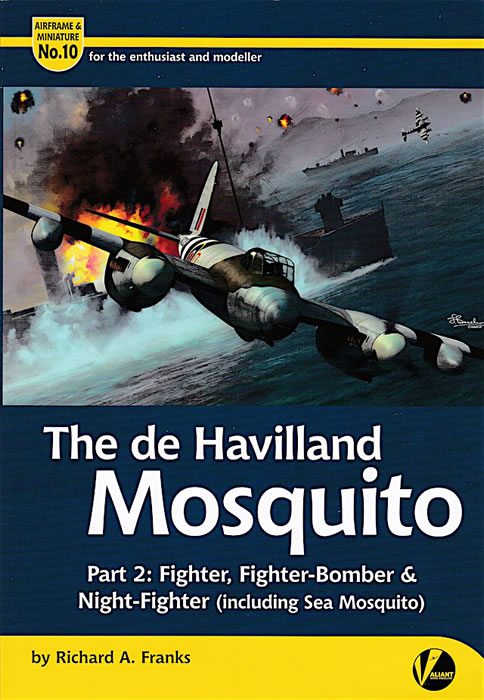 Valiant Wings Publishing
Airframe & Miniature No.10
S u m m a r y

Publisher and Title:

Valiant Wings Publishing – The de Havilland Mosquito Part 2: Fighter, Fighter-Bomber and Night-Fighter (including Sea Mosquito)

ISBN:
978-0-9935345-8-4
Media:

Soft-cover A4 format; 208 pages; black and white and colour drawings and photographs; 1/48 fold out plans.

Price:
£18.95 plus postage available online from Valiant Wings
and stockists worldwide.
Review Type:
First Read
Advantages:

Comprehensive coverage; well-written text; high quality photographs and illustrations.

Disadvantages:
Conclusion:

This excellent book brings together a vast quantity of material that is aimed directly at modellers. Very highly recommended for anyone interested in modelling or understanding the development history of Mosquito fighters, fighter-bombers and night-fighters.

Reviewed by Brad Fallen


HyperScale is proudly supported by Squadron.com

Seven years ago when I was building Airfix's 1/24 Mosquito kit, I found that the most keenly sought Mosquito reference was Modellers Datafile No.1 from SAM Publications. Published in 1998, it was hard to find and commanded extravagant bids on internet auction sites. After tracking one down for a reasonable price I discovered what the fuss was about: author Richard A. Franks had produced a definitive guide to Mosquito variants, packed with seemingly all the information a modeller could ever need.
Twenty years later and now lead author of Valiant Wings' Airframe and Miniature series, Franks has surpassed his own earlier work. In 2016 he tackled Mosquito bomber and photo-reconnaissance versions in Airframe and Miniature No.8, which Mark Davies reviewed and concluded was "a real must for historians and Mosquito phones from all genres. The details provided across the entire airframe is second to none".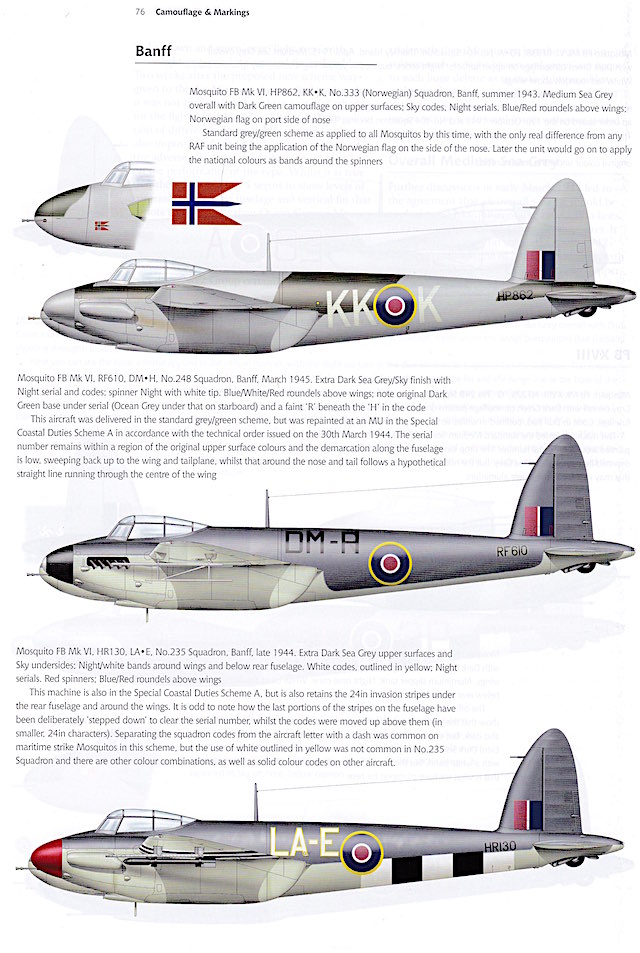 In Airframe and Miniature No.10 Franks now turns his attention to the numerous Mosquito fighter, night-fighter and fighter-bomber variants. The book's structure follows the tried-and-tested formula from earlier volumes in the series, starting with a clearly laid out contents page and glossary – in my view, both of which are essential for a useful reference book.
Next up is the arguably misnamed 'Preface', which at 36 pages long is a comprehensive introduction to these Mosquito variants. Subjects covered include night fighter, photo-reconnaissance, anti-shipping and airliner development; experimental airframes; the decision to produce a fighter-bomber version; foreign production and operators; and selected details of Mosquito operations. Accompanying the text are plenty of well-captioned and generally high quality black and white photos.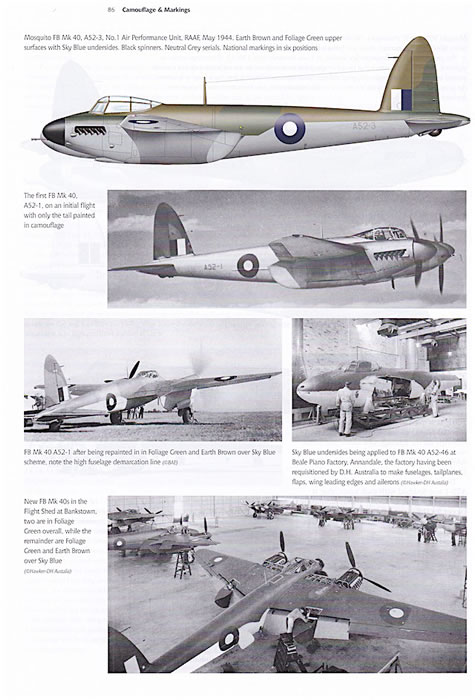 The following chapters are divided into 'Airframe' and 'Miniature' sections. The Airframe section is broken down as follows:
Chapter 1: Evolution – the Fighters (including Night-Fighters) works its way through each iteration of Mosquito fighter, starting with the F Mk II prototype from May 1941 to the NF (Met) Mk.38. Each version receives a description, which includes camouflage and markings where appropriate, and there are also line drawings and photographs of most sub-types.
Chapter 2: Evolution – Fighter-Bombers and Photo-Reconnaissance receives the same treatment. A useful inclusion at the front of each chapter is a list of relevant production blocks/serial numbers, which in the case of FB and PR Mosquitos is quite long.
Chapter 3: Evolution – Trainers, Target-Tugs and the Sea Mosquito covers these less well-known sub-types, including five distinct Sea Mosquito variants.
Chapter 4: Camouflage and Markings. The range of schemes covered in this chapter will pleasantly surprise anyone who thinks Mosquitos were mainly Medium Sea Grey with Dark Green upper surface camouflage. Differences between various role- and theatre-specific schemes are discussed in detail, along with postwar and non-RAF liveries. The chapter concludes with a one-page guide to Mosquito stencilling, which includes information on roundel types and dimensions.
The remaining 'Miniature' chapters focus on modelling the Mosquito. Given its popularity as a subject, they have a lot of ground to cover.
Chapter 5: Mosquito kits analyses most if not all kits of the subject that have been released to date. Each kit is dissected in terms of boxings, accuracy and markings, concluding with a final verdict on its desirability as a modelling project.
Chapter 6: Building a Selection. This chapter presents five full kit builds. Libor Jekl builds Hasegawa's 1/72 FB Mk XVIII Tse Tse and converts Tamiya's 1/72 FB Mk VI to a postwar Czechoslovakian B-36. Steve A. Evans does a fine job with Airfix's venerable 1/48 FB Mk VI before having an easier time converting Tamiya's 1/48 FB Mk VI to a BOAC machine. The final build is, of course, of Tamiya's superlative 1/32 FB Mk VI that Dani Zamarbide finishes in RAF SEAC markings. All of the builds are well described and photographed – I can see myself returning to this section regularly during future Mosquito projects.
Chapter 7: Building a Collection. This chapter uses 54 front three quarter view line drawings to highlight the differences between Mosquito subtypes. These illustrations will prove invaluable in ensuring modellers are aware of the correct details to include in their builds
Chapter 8: In Detail uses contemporary drawings and black and white photos, and colour photos of restored airframes, to deliver a complete Mosquito walkaround. Coverage is broken down into the following sections:
cockpit and canopy
radio and radar
cameras
access panels
wings
mid and aft fuselage
tail
engines, propellers and cowlings
undercarriage, and
armament, ordnance, and drop tanks.
The book's remaining pages are broken down into four Appendices, all of which are useful references if you are looking for more information or a specific item for your build.
Mosquito decal and mask list
Finally, tucked inside (and firmly attached to) the back cover are fold out 1/48 scale plans. Subtypes included here are the FB Mk VI, FB Mk XVIII, NF Mk II, NF Mk XII, NF Mk XVIII/XIX, NF Mk 30, NF Mk 36, Sea Mosquito Mk 33, and PR Mk 41.
I have a large collection of Mosquito reference books, and this is the most comprehensive by a considerable margin. Some others have better contemporary photos, while others have larger walk-around photos. None, however, offer the breadth of detail that Franks includes here, all of which is aimed directly at modellers. Very highly recommended for anyone interested in modelling Mosquito fighters, fighter-bombers and night-fighters, or understanding their development history.
Thanks to Valiant Wings Publishing for the sample.
---
Review Copyright © 2017 by Brad Fallen
This Page Created on 20 November, 2017
Last updated 20 November, 2017
Back to HyperScale Main Page
Back to Reviews Page