S u m m a r y :

Catalogue Number:

Royal Aircraft Factory S.E.5 Owners' Workshop Manual
by Nick Garton

Haynes Publishing

ISBN 978 0 85733 846

Contents & Media:

Hard-cover format; 164 pages; black and white and colour photographs and line drawings.

Price:

£ 25 plus postage. Available online from Haynes Publishing at https://haynes.com/en-gb/royal-aircraft-factory-se5a-owners-workshop-manual and specialist book and hobby shops..

Review Type:

First Read.

Advantages:

Popular WW1 subject for modellers; well written and copiously illustrated; very useful modelling reference source.

Disadvantages:

None noted.

Conclusion:

Well presented, easy to read and profusely illustrated guide to a classic WW1 British fighter aircraft.

Reviewed by David Wilson


HyperScale is proudly supported by Squadron

It was 1966 and Leutnant Bruno Stachel had just downed a British observation balloon in his Pfalz D.III. As he exulted in the victory he suddenly looked up as two RFC SE5a's swooped down on him. And so was born a lifelong fascination for this iconic British WW1 fighter.
The 1966 movie "The Blue Max" played a significant role in reigniting this modellers' interest in WW1 aircraft which continues to this day. Although the Sopwith Camel is perhaps the best known British fighter, the SE5a is regarded as a classic, sturdy and dependable and a powerful dogfighter.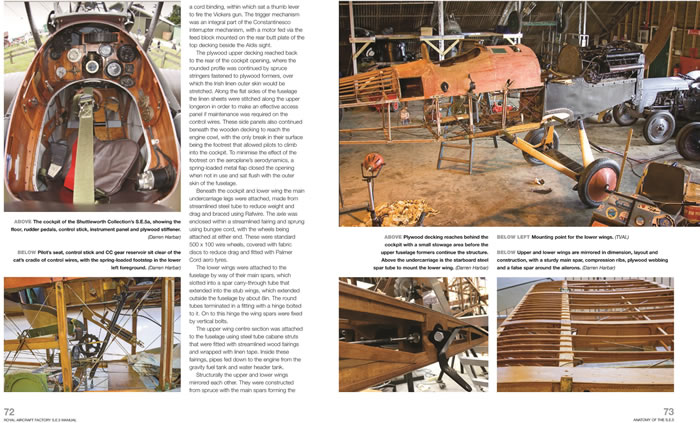 It is now regarded as the Royal Aircraft Factory's best design and in some aspects a better performer than the Camel.
From its initial development in 1916 as the SE5 the type evolved from troubled Hispano-Suiza engines to higher performance Hispanos and then the Wolseley Viper, a British-made variant of the Hispano engine and in it was this configuration that the SE5a is best known today.
The SE5a equipped 30 squadrons in the RFC/ RAF and also equipped the Australian Flying Corps as well as seeing service in Canada, Chile, Ireland, Poland, South Africa and the USA among others.
The cream of the RFC flew SE5a's, among them aces such as Albert Ball, Mick Mannock, James McCudden, and Keith Caldwell.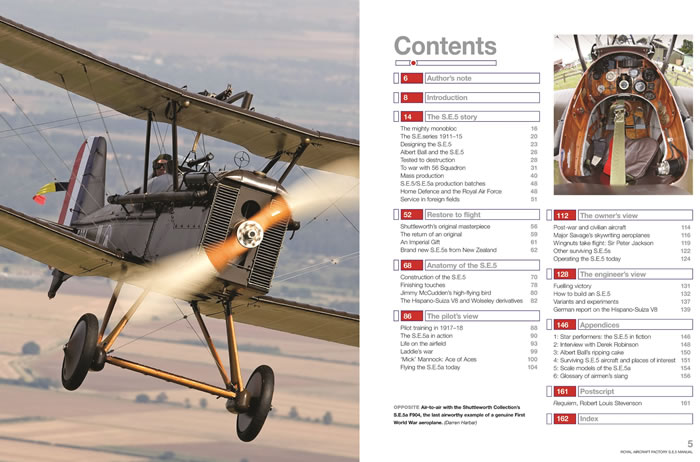 The SE.5 entered service with No.56 Sqn RFC, during April 1917 and more than 5200 SE5as were manufactured. Several original SE5as survive to this day; one of them is a star at the Shuttleworth Collection in Britain.
As a plastic model the SE5a has been a staple of the hobby since the golden days of Aurora in the 1950s. It is represented in numerous catalogues in scales as diverse as 1/8th to 1/24th scale as well as all the conventional scales. Most recently the SE5a was released as a state of the art kit in 1/48th scale from Eduard.
Given the number of SE5a kits on the market, there's an inevitable market for good, well illustrated reference titles. So it's a special welcome to Haynes Publishing's latest "owners' workshop manual".
The Haynes people are best known for their ongoing series of automotive workshop manuals which date back to the mid 1960s. More recently they have branched into a wide range of "lifestyle" manuals traversing an eclectic range of subjects including a growing library of military related titles. The owners workshop manual for a WW1 tank, for example. In fact they play on the historical theme of Haynes' titles but are really a general history and walk through of each specific subject.
A pleasing aspect to the Haynes style is that their books are always written with a more general reader in mind.
The SE5a volume does not baffle or bore the reader with complex and dry technical data. Author Nick Garton works in the PR world and writes for the historical aviation and motor racing markets.
He writes in a comfortable style delivering a useful history of the SE5a's design and development, squadron use, and brings the story up to date with accounts of the construction, maintenance and restoration of the type and even a nicely rounded section on SE5a scale models.
The photos and illustrations used throughout are a huge plus in illustrating the SE5a story and are in themselves an invaluable reference source for modellers.
As is typical with Haynes' titles, the chapters are presented in clearly defined groupings traversing the history of the SE5a, the restoration of significant examples and the building of new replicas in NZ, a detailed anatomy of the type, pilots' and owners' thoughts, an engineer's view and a detailed appendices.
It's pretty much a one stop book for modellers and the impressive number of historical, detailed and modern photos are packed with visual detail to satisfy both the aviation enthusiast and the detail-obsessed modeller.
This is a welcome addition to the reference library for WW1 modellers and especially useful for those making an SE5a.
Thanks to Haynes Publishing for the review samples.
---
Review Copyright © 2016 by David Wilson
This Page Created on 9 November, 2017
Last updated 9 November, 2017
Back to HyperScale Main Page
Back to Reviews Page