S u m m a r y :

Catalogue Number:

Rolls-Royce Armoured Car Owners Workshop Manual 1915-44
by David Fletcher

Haynes Publishing

ISBN 978 1 78521 058 7

Contents & Media:

Hard-cover format; 156 pages; black and white and colour photographs and line drawings.

Price:

£22.99 plus postage. Available online from Haynes Publishing at https://haynes.com/en-gb/rolls-royce-armoured-car-owners-workshop-manual and specialist book and hobby shops.

Review Type:

First Read.

Advantages:

Detailed reference work for modellers and historians; well written and illustrated; Good modelling reference title.

Disadvantages:

None noted.

Conclusion:

A good go-to book for anyone interested in the classic WW1 British armoured car. An essential modelling reference work too..

Reviewed by David Wilson


HyperScale is proudly supported by Squadron

World War 1 is now regarded as the first truly mechanised war and the armoured car, like the tank, was a genius idea for reconnaissance units needing something highly mobile but perhaps better protected from enemy fire than a horse.
A number of cars were converted for military use, and the best known and most widely used were the vehicles mounted on Rolls-Royce chassis.
The Rolls-Royce armoured car has come to be regarded as the standard WW1 armoured vehicle and while there were others developed, It's the Rolls-Royce vehicles we now associate with all WW1 armoured cars.
The full story is much wider than that and it's nicely represented in Haynes Publishing's latest "owners' workshop manual".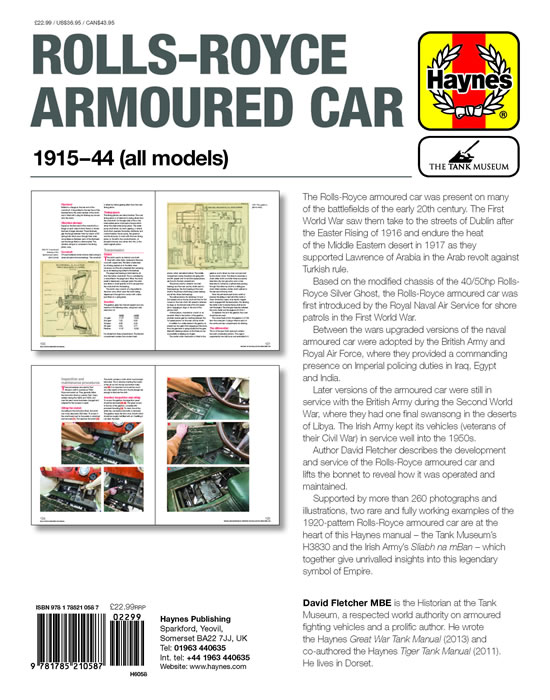 The Rolls-Royce Armoured Car was introduced by the Royal Naval Air Service in 1914 for shore patrols while later modified versions were still in service during the Second World War with the British Army's 11th Hussars in the North African desert.
Between the wars upgraded versions were used for policing duties by the Royal Air Force in Iraq, Egypt and India.
The Haynes people are well known for their series of automotive workshop manuals which date back to the mid 1960s. More recently they have branched into a wide range of "lifestyle" manuals traversing a wide range of subjects including a growing library of military titles. The owners workshop manual for a WW1 tank, and the recently reviewed SE5a owner's workshop manual are two examples.
In reality the Haynes titles are really a general history and walk through of each specific subject, with a more general reader in mind.
The Rolls-Royce Armoured Car 1915-44 (All Models) to give it its full title, has been produced in conjunction with the Tank Museum at Bovington which has a carefully preserved and restored example in its astonishing collection.
Author David Fletcher is the former Librarian at the Tank Museum and a respected world authority on armoured fighting vehicles. He is also a published author, including the Haynes Great War Tank Manual (2013) and co-author of the Haynes Tiger Tank Manual (2011).
In this 156 page lavishly illustrated account featuring more than 260 photos and illustrations, we learn of how the chassis of the Rolls-Royce Silver Ghost was adapted into an armoured car that served in diverse areas such as the Western Front, Ireland during the Irish Civil War of the 1920s, and supporting Lawrence of Arabia's Arab forces against the Turks in the desert of the Middle East.
Upgraded Rolls-Royce armoured cars continued in service between the wars, especially in Iraq, Libya and India and later versions were still in use with the British army in World War 2.
As the title indicates, David Fletcher's book traverses the years 1915 to 1944 and thus covers all variants of the vehicle.
Mr Fletcher's writing style is comfortable and informative and gives us a useful history of the Rolls-Royce Armoured Car's development, and service use, and incorporates a detailed look at the construction, maintenance and restoration of the vehicle.
Like Haynes' recent SE5a book, the photos and illustrations used throughout are a huge benefit and an invaluable reference source for modellers, especially anyone tackling the detailed Roden 1/'35th armoured car kit.
As an endorsement I am currently making the Roden kit and the Haynes' book is frankly better than the kit's instructions.
Like all Haynes' titles, the chapters are presented in clearly defined groupings. There's some background on Messrs Rolls and Royce, separate sections on the armoured car's service use in WW1, the interwar years and WW2, and a detailed anatomy of every part of the vehicle.
Further sections detail driving and maintenance and the restoration of "Sliabh na mBan", the Irish machine which is the centrepiece of this manual. The Irish Army's 1920 Rolls-Royce Armoured car 'Sliabh na mBan' was restored jointly by the Irish Defence Forces and specialist historic Rolls-Royce restorer James Black Restorations between 2012 and 2015.
Highly detailed photos are invaluable for modellers and give general motoring history enthusiasts a clear insight into how these classic vehicles were made.
It's pretty much a one stop book for modellers and the impressive number of historical, detailed and modern photos, many published for the first time, are packed with visual detail to satisfy both the aviation enthusiast and the detail-obsessed modeller.
A welcome addition to the reference library for WW1 modellers and especially useful for those making the Roden Rolls-Royce Armoured Car kit. Highly recommended.
Thanks to Haynes Publishing for the review samples.
---
Review Copyright © 2016 by David Wilson
This Page Created on 9 November, 2017
Last updated 6 December, 2017
Back to HyperScale Main Page
Back to Reviews Page