Kitty Hawk's 1/32 scale
OS2U-1 Kingfisher
by Larry Goodell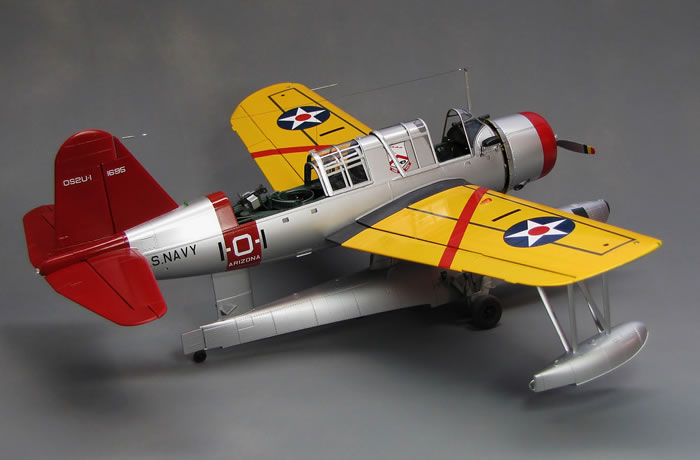 OS2U-1 Kingfisher
in the prewar markings of VO-1, USS Arizona

Kitty Hawk's 1/32 OS2U Kingfisher is available online from Squadron.com for $79.99
I saw this kit at the 2016 Nats in Columbia, SC and had to have it. It is quite frankly one of Kitty Hawk's best offerings to date. Accurate in dimensions & shape and the interior is loaded with detail right out of the box. I added some extra scratch detail in both compartments but a well detailed interior can be had as is. Fit is good with no major misalignment but a good dry fitting is always recommended. I had to open up just about every locator pin hole on the parts.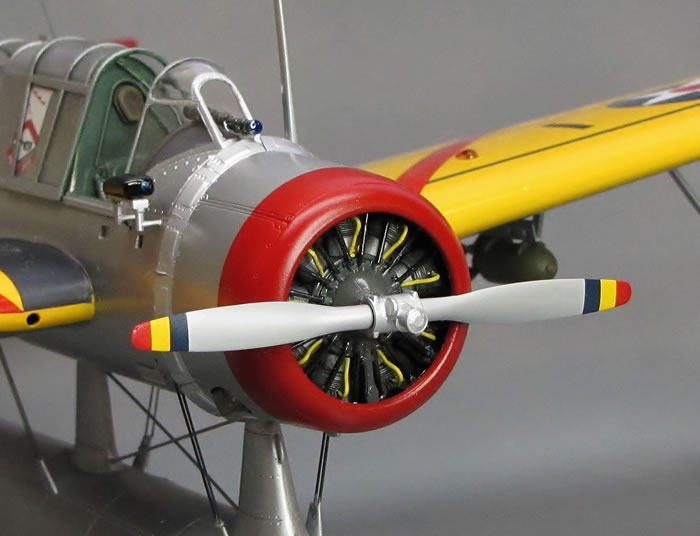 Exterior detail is very defined and not much detail is lost cleaning seams. Rivet detail is refined and only where it matters. Kitty Hawk still wants to give you more parts for small assemblies than one cares to fiddle with and a small PE fret rounds out the parts breakdown with teeny weeny bits of brass that I didn't bother with ie seat belts and some buckle parts.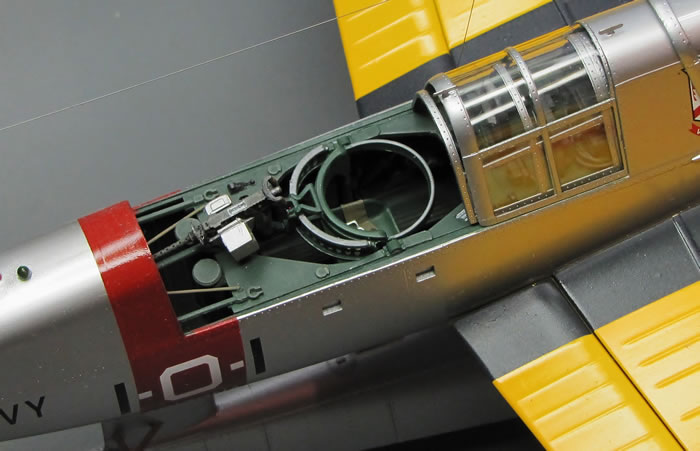 I used lead foil for my lap belts with some of the kit buckles. Prewar OS2U-1s used lap belts only and shoulder harnesses were introduced in war time deployment. I must say that the wings and tailplanes fit rivaled Tamiya.
Instructions are poor – i.e. wrong part number call outs, call outs for non existing parts and location misinformation particularly in the wing float inboard strut assembly. I used brass tubing for the pitot and added more detail to the beaching gear using references from Dana Bell's book.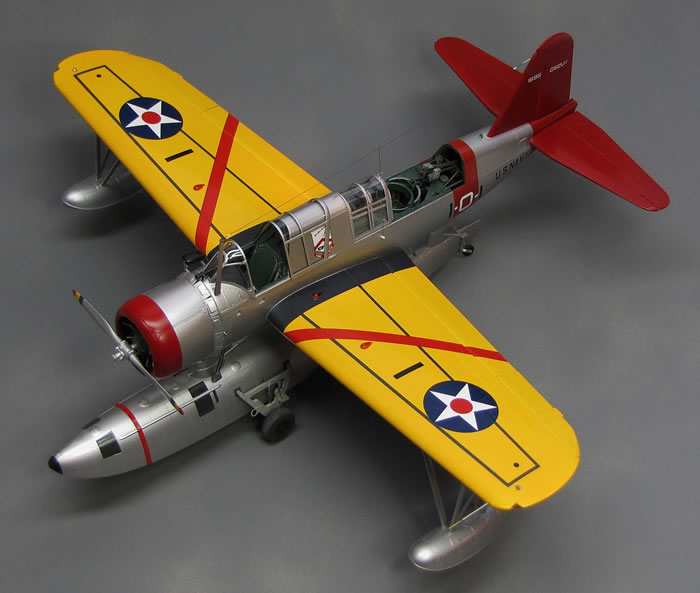 The kit decals allow for four or five schemes but the reds are too bright. I'm not particularly fond of Kitty Hawk decals anyway so I went with Yellow Wings sheet 32-024. The set contains complete markings for two aircraft, USS Arizona, V0-1, early 1941 and for the USS Washington BB-56, early 1942 in a Blue Gray scheme.
I used Tamiya AS-12 for the aluminum paint finish, Model Master Insignia Red for the squadron colors and Model Master Chrome yellow with a touch of Testor's Orange misted in for the tops of the wings. I pooched the fuselage band decal so I had to resort to painting it on. I added a trailing antenna weight to the fuselage fair lead and the antenna wire is 6 mil ceramic rigging fiber.
All said and done it builds into a beautiful replica of an important early Naval aircraft.
---
Model, Images and Text Copyright © 2017 by Larry Goodell
Page Created 22 September, 2017
Last Updated 22 September, 2017
Back to HyperScale Main Page