Hobby Boss 1/72 scale
Mitsubishi A5M4 Claude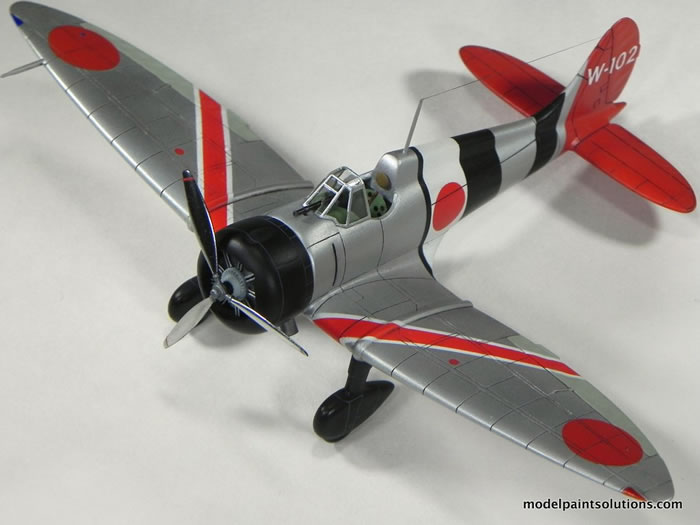 Mitsubishi A5M4 Claude
by John Miller
S u m m a r y

Catalogue Number:
Hobby Boss Kit No. 80288 - Mitsubishi A5M4 Claude
Scale:
1/72
Contents and Media:
19 parts in light grey plastic (17 used), 1 part in clear plastic, and one decal sheet with markings for two aircraft (not used in build).
Price:

USD$11.99 plus shipping available online from Squadron

GBP£7.99 EU Price (£6.66 Export Price) plus shipping available online from Hannants

USD$9.00 plus shipping available online from Roll Models

and hobby retailers worldwide

Review Type:
Build Review
Advantages:

Finely inscribed details, good fit, reasonable accuracy-all with two major parts: fuselage and wing! This is a quick, straightforward and simple build that's a lot of fun.

Disadvantages:

Some shape issues and canopy is clear but a bit thick.

Conclusion:

This is a fun, quick-build kit of a very pretty airplane. With very little effort the builder is provided with a nice 72nd scale palette for any one of many colorful schemes worn by aircraft of the A5M stable. Highly recommended for beginners or experten needing a break from more complex and demanding builds.
Hobby Boss' 1/72 A5M4 Claude is available online from Squadron for only $11.99!
In 1934, the Imperial Japanese Navy issued a specification for an advanced fighter with a maximum speed of 350 km/h (220 mph) at 3,000 m (9,840 ft) and able to climb to 5,000 m (16,400 ft) in 6.5 minutes. This 9-shi (1934) specification elicited designs from both Mitsubishi and Nakajima.
Mitsubishi assigned the task of designing the new fighter to a team led by Jiro Horikoshi (later responsible for the famous A6M Zero). The resulting design, designated Ka-14 by Mitsubishi, was an all-metal low-wing fighter with a thin elliptical, inverted gull wing, and a fixed undercarriage.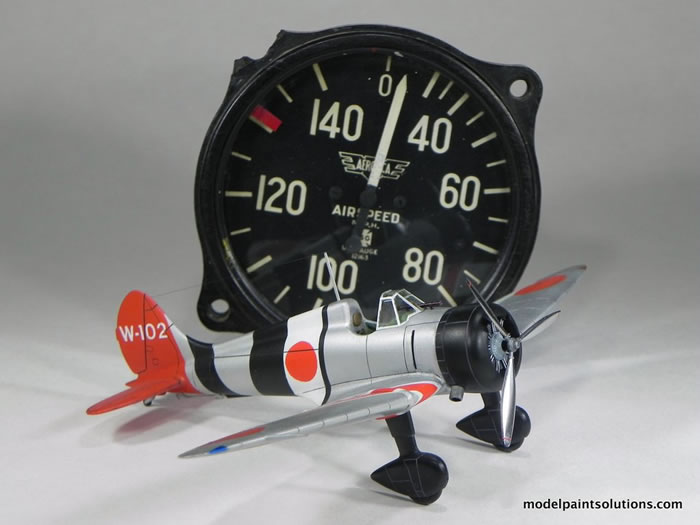 The first prototype, powered by a 447 kW (600 hp) Nakajima Kotobuki 5 radial engine, flew on 4 February 1935. The aircraft far exceeded the requirements of the specification with a maximum speed of 450 km/h (279 mph) being reached. A second prototype, fitted with a revised conventional wing and modifications to increase maneuverability and reduce drag, was ordered into production as the A5M (Allied reporting name Claude).
The A5M entered service in early 1937 and soon saw action at the start of the Second Sino-Japanese War. This entailed air-to-air battles with the Republic of China Air Force's Boeing P-26C Model 281 "Peashooters." Although armed with only a pair of 7.7 mm machine-guns, the new fighter proved effective and damage-tolerant, with excellent maneuverability and robust construction. Later A5M's also provided much-needed escorts for the then modern but vulnerable Mitsubishi G3M bombers.
Almost all A5Ms had open cockpits and a fixed, non-retractable undercarriage. Wheel spats were a feature of standard fighters but not training aircraft. The Mitsubishi team continued to improve the A5M culminating with the final version, A5M4, which carried an external underside drop tank for extended range.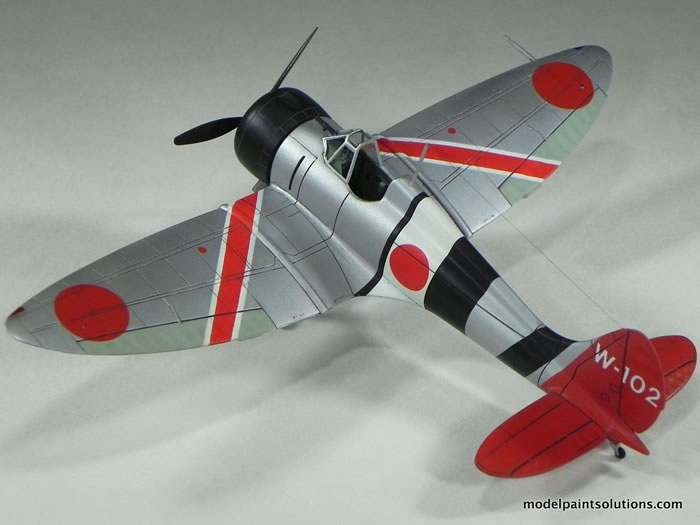 Some A5Ms remained in service at the end of 1941 when the United States entered World War II. US intelligence sources believed the A5M still served as Japan's primary Navy fighter, when in fact the A6M 'Zero' had replaced it on first-line aircraft carriers. Some Japanese carriers and K?k?tai (air groups) continued to use the A5M until production of the Zero caught up with demand.
The last combat actions with the A5M as a fighter took place at the Battle of the Coral Sea on 7 May 1942, when two A5Ms and four A6Ms of the Japanese carrier Sh?h? fought against US aircraft that sank their carrier. In the closing months of the war most of the remaining A5M airframes were used for kamikaze attacks.
Edited from Wikipedia
This is the Hobby Boss "Easy Assembly" kit and boy, it sure is. Since I opted to not fit the drop tank, this build took a whopping 17 parts to complete!
Like many of these "Easy" Hobby Boss kits, the molding of the major parts is very well done with little-to-no flash and nicely rendered inscribed details that are scale appropriate. The fit of the one-piece fuselage and wing is spot on although the joining does result in seams on each side of the fuselage that should be dealt with prior to painting.
The one area that required slight re-shaping is the dorsal fuselage decking just behind the cowl, ahead of the windscreen. This area was re-worked with sanding sticks and then buffed to smoothness with Micromesh 3600.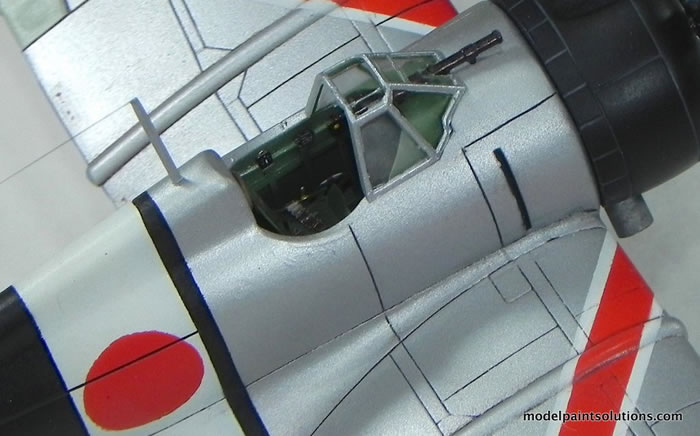 Although I swore to take advantage of the "Easy Build" nature of the kit and build it straight out of the box (OOB), I just couldn't help myself and installed a PE seat and harnesses from the spares box. While I was there I went ahead and added additional details to the sides of the cockpit. I mean, while I was there; so much for the out of box build.
The only additional changes were to hollow out the exhaust stubs and thin, slightly, the propeller blades with sanding sticks.
The model is painted with Vallejo and LifeColor acrylics as the A5M4 Claude flown by PO1c Matsuo Hagiri of the Soryu Fighter Squadron, circa 1939.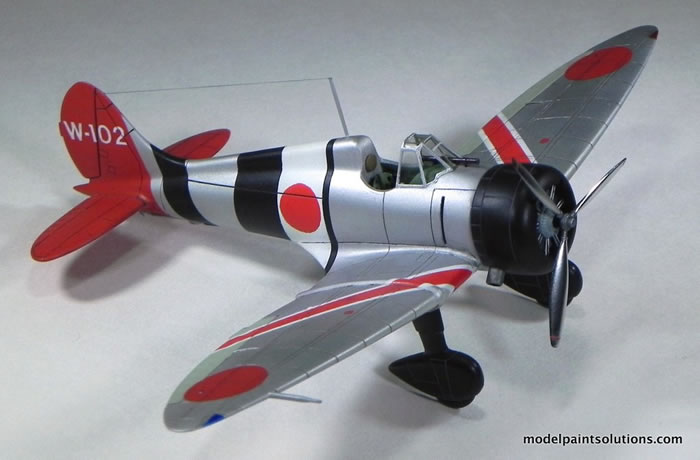 Details of the scheme are provided in the excellent book on the type "Mitsubishi A5M Claude" by Mushroom Models (reference below).
If you like spraying paint but don't want to pay the price of a long, arduous build, try one of these "Easy Assembly" kits for a change. From cutting parts off sprues to a completed model (with all the additions) was about 10 hours: not bad at all. Then it was just hassle-free painting and masking for 3-4 days and the final result is more than worth it to this modeler.
What a lot of fun!
---
Reference:
Mushroom Models Yellow Series Books "Mitsubishi A5M Claude" #6107 (eISBN 978-83-61421-99-3)
For more information on this build visit ModelPaintSolutions.com
---
Model and Text Copyright © 2017 by Model Paint Solutions Inc.
Page Created 22 December, 2017
Last Updated 22 December, 2017
Back to HyperScale Main Page