Bristol Blenheim Mk.IVF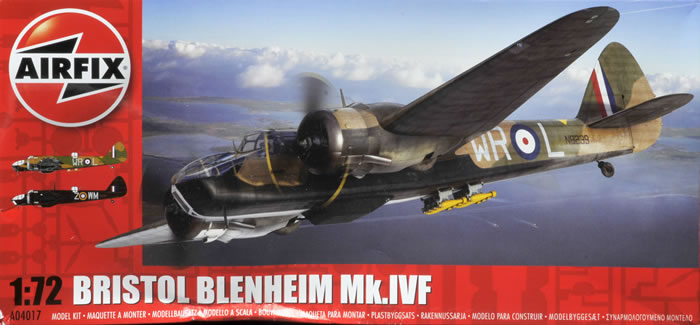 Airfix, 1/72 scale
S u m m a r y :

Catalogue Number:

Airfix Kit No. A04017 - Bristol Blenheim Mk.IVF

Scale:

1/72

Contents & Media

148 grey and nine clear styrene parts, with decals for two colour schemes.

Price:

£12.49 (Export) or £14.99 (EU Price) plus shipping available online from Hannants

and numerous other stockists worldwide.

Review Type:

First Look

Advantages:

The most accurate 1/72 Blenheim Mk.IV, plenty of good constructional options, nice surface detail, good engines and interior detail, good quality decals, attractive price.

Disadvantages:

Incorrect nacelle shapes on upper wings.

Conclusions:

A worthy Blenheim Mk.IV kit indeed! This is a superb effort from Airfix, and tremendously good value too. It has some very nice assembly options, refined panel detail, very well executed engines, good cockpit, great undercarriage, superb decals, and generally very good outline shape.

It is not perfect, with some unwanted Bolingbroke features included. The worst of these is the overly swollen nacelle shape, which I think most modellers will live with, although it is clearly fixable. Fortunately, the Bolingbroke's cockpit warm-air inlet pipes ahead of the exhausts can be easily removed.

Airfix's new tool Blenheim Mk.IV is clearly the best kit of this variant in the "One True Scale" so far; I highly recommend it.
Reviewed by Mark Davies

Airfix's 1/72 Hurricane Mk.I Fabric Wing is available online from Squadron.com
Background
The Bristol Blenheim was a British light bomber aircraft designed and built by the Bristol Aeroplane Company that was used extensively in the early days of the Second World War.
It was adapted as an interim long-range and night fighter, pending the availability of the Beaufighter. It was one of the first British aircraft to have all-metal stressed-skin construction, to utilise retractable landing gear, flaps, a powered gun turret and variable pitch propellers. A Canadian-built variant named the Bolingbroke was used as an anti-submarine and training aircraft.
The Blenheim Mk I outshone most biplane fighters in the late 1930s but stood little chance against the German Messerschmitt Bf 109 during daylight operations, though it proved successful as a night fighter. The Mark IV variant was equally unsuccessful in its daylight bombing role, suffering major losses in the early stages of the war.
---
Design and Development
In 1934, Lord Rothermere, owner of the Daily Mail newspaper, challenged the British aviation industry to build a high-speed aircraft capable of carrying six passengers and two crew members. At the time, German firms were producing a variety of record-breaking high-speed designs, such as the Heinkel He 70, and Rothermere wanted to recapture the title of fastest civilian aircraft in Europe. Bristol had been working on a suitable design as the 'Type 135' since July 1933; and further adapted it to produce the Type 142 to meet Rothermere's requirements.
Named 'Britain First', this first flew at Filton on 12 April 1935, and proved to be faster than any fighter in service with the Royal Air Force at the time. The Air Ministry was obviously interested in such an aircraft and quickly sent out Specification B.28/35 for prototypes of a bomber version; the 'Type 142M' (M for military). The main change was to move the wing from a low-wing to a mid-wing position, allowing room under the main spar for a bomb bay. The aircraft was all-metal with two Bristol Mercury VIII air-cooled radial engines, each of 860 hp. It carried a crew of three - pilot, navigator/bombardier and telegraphist/air gunner. Armament comprised a single forward-firing .303 in Browning machine gun outboard of the port engine and a .303 in Lewis Gun in a semi-retracting Bristol Type B Mk I dorsal turret firing to the rear. From 1939 onwards, the Lewis gun was replaced by the more modern .303 in Vickers VGO machine gun of the same calibre. A 1,000 lb bomb load could be carried in the internal bay.
To achieve its relatively high speed, the Blenheim had a very small fuselage cross-section, with its upper front glazing all at one angle in the form of a "stepless cockpit"; that used no separate windscreen panels for the pilot. The pilot's quarters on the left side of the nose were so cramped that the control yoke obscured all flight instruments while engine instruments eliminated the forward view on landings. Most secondary instruments were arranged along the left side of the cockpit; with essential items like propeller pitch control actually placed behind the pilot where they had to be operated by feel alone. Like most contemporary British aircraft, the bomb bay doors were kept closed with bungee cords and opened under the weight of the released bombs. Because there was no way to predict how long it would take for the bombs to force the doors open, bombing accuracy was consequently poor.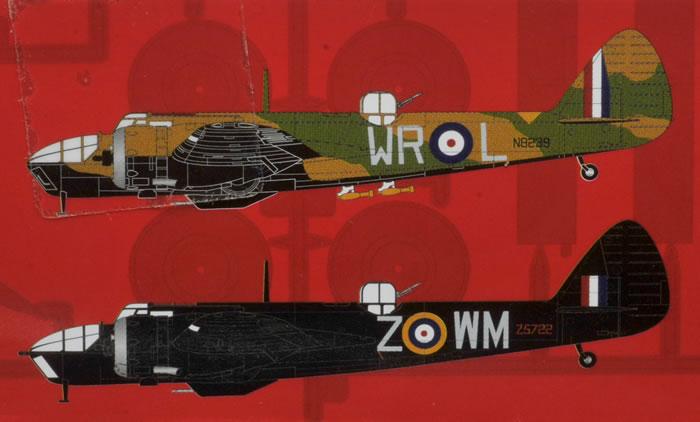 The aircraft was ordered directly from the drawing board with the first production model serving as the only prototype. The service name then became Blenheim Mk I after the famous battle during the War of the Spanish Succession. Subsequent deliveries started on 10 March 1937, with 114 Squadron being the first squadron to receive the Blenheim. The aircraft was built under license by countries including Finland and Yugoslavia, which built 60 aircraft. Other countries bought it, including Romania, Greece and Turkey. Total production of the Blenheim Mk I in England was 1,351 aircraft.
Work on an extended-range reconnaissance version started as the Blenheim Mk II, which increased tankage from 278 gal to 468 gal, but only one was completed. Another modification resulted in the Blenheim Mk III, which lengthened the nose, and thereby dispensed with the "stepless cockpit" format of the Mk.I in introducing a true windscreen in front of the pilot, to provide more room for the bombardier. This required the nose to be "scooped out" in front of the pilot to maintain visibility during takeoff and landing. However both of these modifications were instead combined, along with a newer version of the Mercury engine with 905 hp and the turret acquired a pair of Brownings instead of the Vickers K; creating the Blenheim Mk IV. A total of 3,307 were produced.
Another modification led to a long-range fighter version; the Blenheim Mk IF. For this role, about 200 Blenheims were fitted with a gun pack under the fuselage for four .303 in Brownings. Later, the Airborne Intercept (AI) Mk III or IV radar was fitted to some aircraft in use as night fighters; these were the first British fighters to be equipped with radar. Their performance was marginal as a fighter, but they served as an interim type, pending availability of the Beaufighter. About 60 Mk IVs were also equipped with the gun pack as the Mk IVF and were used by Coastal Command to protect convoys from German long-range bombers.
The last bomber variant was conceived as an armoured ground attack aircraft, with a solid nose containing four more Browning machine guns. Originally known as the Bisley, (after the shooting competitions held at Bisley), the production aircraft were renamed Blenheim Mk V and featured a strengthened structure, pilot armour, interchangeable nose gun pack or bombardier position, and yet another Mercury variant, this time with 950 hp. The Mk V was ordered for conventional bombing operations, with the removal of armour and most of the glazed nose section. The Mk V, or Type 160, was used primarily in the Middle East and Far East.
Source: Wikipedia
---
Previous 1/72 scale Bristol Blenheim Kits
There have been only three brands of Blenheim kit in The One True Scale so far (ignoring Frog Penguin), although near constant production and regular re-boxing has kept them generally readily available. The brands are:
Airfix Mk.IV from 1968. Covered in rivets, it suffers from shape issues, particularly the rudder, engine nacelles, and wing-tips; plus the engine cowls lack detail. A better Mk.IV can be had by cross-kitting with Frog's Mk.I kit, or by purchasing MPM's Mk.IV. I shall not bother mentioning this kit in any further comparisons due to these better alternatives.

Frog Mk.I from 1969; it's almost a case of who hasn't re-boxed it? Companies that have include - AIRMoulds, Chematic, Classic Plane (Japanese version with resin Sakae-engines), Cooperatavia (included PE details), Donesk Toys Factory, Eastern Express, Intech, Modelcraft, Model Hobby, Novo, Revell, and ZTS Plastyk. Released only a year after Airfix's Mk.IV, Frog's effort was really very good for its time, with far better outline shape, and nicely restrained surface detail. It is still capable of being built into a decent looking model without too much effort. If you don't have a Frog original go for the Revell boxing, as they cleaned up the moulds and the decals are better than Russian re-boxes.

MPM (some Special Hobby Boxings too) MK.I from 2001, Mk.IV from 2000, and MK.V from 2001. True limited run kits, all three marks share common tooling and need a lot of work refining parts and making things fit. They have fine recessed surface detail, nice resin engines, PE details, good injected clear parts, plus excellent decals. They have reasonable but far from perfect shapes; their wing and tailfin/rudder outlines do not look quite right, and the engine nacelles are far too pointed. A lot more work to build than Frog's, they at least offer all major Blenheim marks, and have more refined detail overall. I have built their Mk.V, but am unconvinced that they captured the nose shape of this last Blenheim version correctly.
The main-wheels of all of the above 1/72 Blenheim kits are significantly undersized; and are best replaced by BaracudaCast resin wheels of the correct size and pattern.
Contents
The kit comes in a top-opening box with attractive artwork. Five grey sprues are enclosed in a single heat-sealed plastic bag, with the clear sprue further protected in their own smaller bag. All sprues have acceptably thin attachment points.
The multi-lingual instructions are an A4 booklet of twelve pages. The painting and markings guide is well done in colour with four views per subject. Colours are described using RAF or generic names where applicable, with paint codes that correspond to the Humbrol range.
The superbly printed decals are loose in the box with their tissue cover sheet.
---
The Kit
Cockpit detail is quite adequate for the scale, provided you add some seat harnesses. It captures the features of a Blenheim's cockpit rather well, but is a little simplified in style. There is some moulded detail on the cockpit sidewalls, a rear bulkhead, pilot's seat-frame with integral engine controls, pilot's seat, control column, instrument panel (with decal instruments), navigator's seat (made from three parts), plus his forward bomb-aiming crawl-space and a bomb-sight; but surprisingly, there are no rudder pedals. A pilot figure is also provided, but as no navigator or gunner/telegraphist figures are included this lone pilot seems a bit pointless.
The cockpit glazing consists of four clear sections neatly located by small tabs, two of which form the small side-windows behind the crewmen's seats. The entire cockpit section is separate from the main fuselage halves as a result of the shared tooling with the recently released Blenheim Mk.I, (the common grey sprues include the Mk.I's nose parts and single-gun turret, but not its cockpit glazing). The instructions advise attaching the cockpit sub-assembly to the already joined fuselage halves and wings; however, I think most will choose to join each cockpit half separately to its corresponding fuselage section to avoid any potential step issues with the join.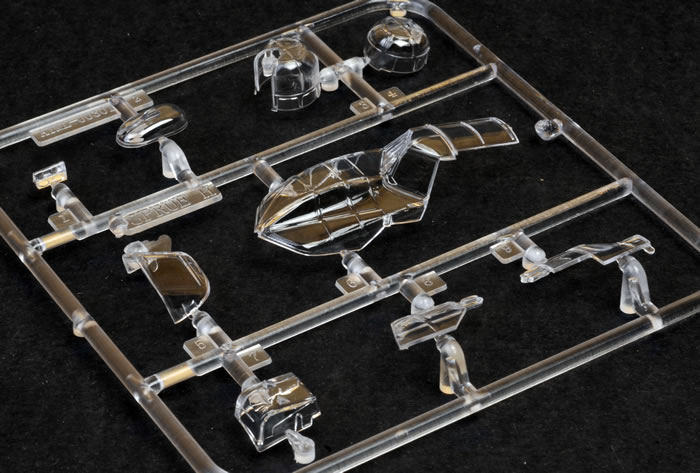 The simple turret is adequately captured, and features a finely moulded pair of Vickers K guns. Separate clear parts cover the option of having the turret deployed or retracted, which is nice to have.
Before discussing the airframe components I will comment on surface detail in general. The panel lines are very good indeed, and a big improvement over Airfix's initial releases under Hornby's ownership. However, the rib detail on the fabric covered control surfaces is a little over pronounced, and will benefit from being sanded back a tad, as this image of the real tail illustrates, when compared to one of the kit parts below: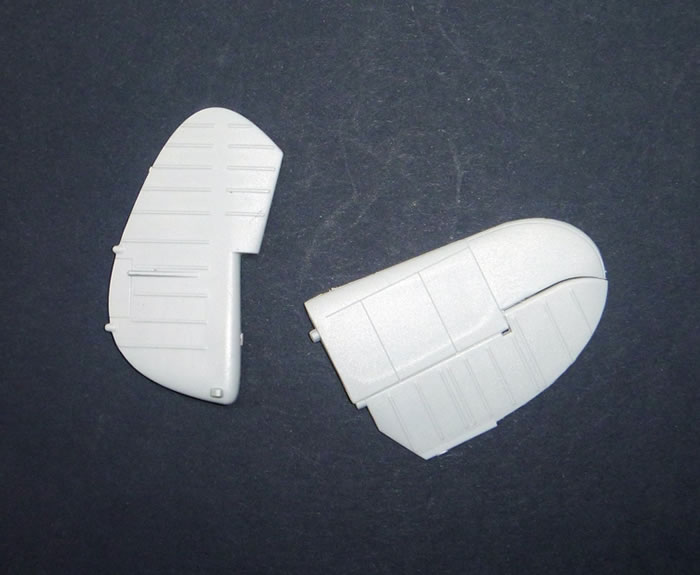 Airfix has been notable for adopting some unusual but none-the-less worthwhile approaches to kit breakdown in their recent releases. This is also the case here, where the upper wings are joined as one piece, as are the lower wings by the integral bomb-bay. This is a first for a Blenheim kit, where the norm has been for separate wings to fit to the fuselage sides.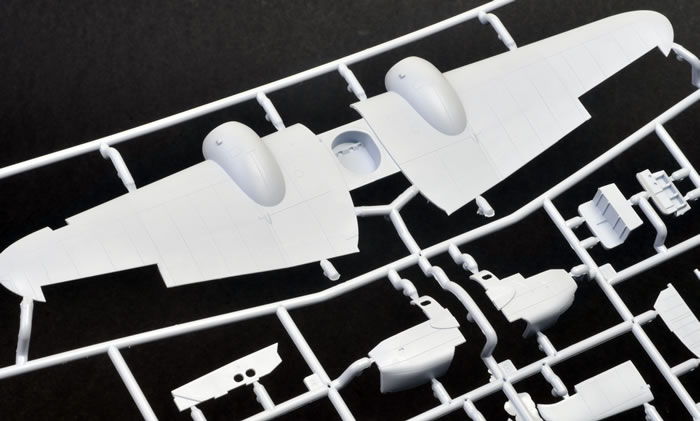 Enclosed within the wing sections are a front a rear spars that span past the wheel-well openings, and include the oil-tanks that will be visible through these. Airfix also provides some undercarriage frame structure to flank either side within the wheel-wells. Staying with wheel-wells, it is worth mentioning that Airfix have done a very nice job overall of the undercarriage, and for Blenheim kit first, they have reasonably correct sized wheels with weighted tyres and nice hub detail. The landing gear can be modelled extended or retracted.
Another nice touch with this kit is the option of lowered or raised flaps. The internal flaps structure is included, although the prominent lightening holes evident in this image are not represented. They could be drilled out, although I think black decal dots would probably suffice if you are bothered by their absence. No doubt Eduard or others will soon offer more detailed aftermarket alternatives. Separate ailerons are welcome, as are the individual elevators and rudder. A clear part provides the leading-edge landing light, but the wingtip navigation lights are moulded solid, which is a bit of missed opportunity.
The kit actually provides two styles of gun pack, but the shallower of the two is applicable to the Mk.IF (a boxing yet to be announced I think). The four .303 gun barrels that insert into the gun-pack are acceptably fine and convincing, but can obviously be improved on using Quickboost resin or Master machined brass replacements. Eight small anti-personnel bombs are provided along with their racks to mount behind the gun-pack, although these are only applicable to one of the kit's decal options.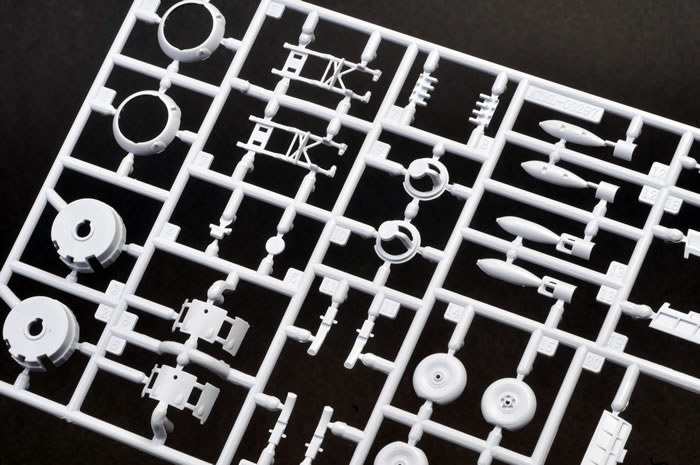 The review kit is of the fighter variant, so the bomb-bay is intended to be closed in order for the gun-pack to be fitted. However, I am sure many will buy this kit to finish as a Mk.IV bomber, so I shall still describe the bomb-bay.
I previously mentioned Airfix's slightly unconventional approach to the assembly of the wings, and their inclusion of the small bomb-bay. This enables a quite creative and effective way of locating the mid-mounted wing by inserting it from below the fuselage. In doing so, it fits between the cockpit bulkhead, which also forms the front of the bomb-bay, and the rear bomb-bay bulkhead that is inserted between the fuselage halves earlier in construction. There is a centreline structural member to fit in the bomb-bay, and the bay doors are provided separately as either open or closed items. The bomb-doors include two subtle bulges, which is the first time a 1/72-scale kit has captured this feature. Two quite acceptable bombs with their racks are provided to go in the bomb-bay, along with two racks of four anti-personnel bombs that mount externally behind the bomb-bay. (Ensure you drill out the plugged locating holes for these before joining the fuselage halves if you plan to use them.)
I should also mention that the kit's clear sprue includes surplus parts representing fairings for either the single or paired rearwards firing guns that mounted under the nose of some bomber variants, along with their guns. So obviously Airfix plans to release a Mk.IV bomber boxing and, judging by some arrow antennae on the sprues, a night-fighter too.
The engines and their cowlings are very well rendered for the scale, and consist of quite complex sub-assemblies. There is a very nice choice of open our shut cooling gills, followed by the inlet manifold, single-piece engine crankcase and cylinders, and separate reduction gear cover with three cowl bracing struts (only the centre struts are provided, but it's worth adding the two angled ones that flank each of these from scratch). The engine is enclosed by three cowl panels that do a good job of capturing the shape and size of the rocker-gear clearance blisters (unlike previous kits). Two separate exhaust pipes interleave with the bottom cowl panel as per the original. There are also the two "trumpet-mouthed" oil-cooler air inlets that insert between the engine cylinders. All is capped off with a collector ring that includes the exhaust manifold pipes leading forward from the cylinder heads. If only more kits of British radial-engined subjects would capture this feature when applicable.
The outside of the kit's collector rings feature a cooling air intake and bulged segment ahead of the exhaust pipes that is incorrect for a Blenheim. This feature is apparent on at least one of the extant restored examples, but relates to the Canadian Bolingbroke, and supplies warm air to the cockpit. Fortunately it should be easy to remove with some quick sanding.
Staying with the engines and the Bolingbroke theme, it is worth mentioning that Airfix seem to have confused the nacelle shape by including some of the Bolingbroke's more swollen upper nacelle shape, particularly in plan view. I think the effect is possibly due to basing the kit (in part) on a Bolingbroke restored to look like a Blenheim, as the nacelles are too bulged and swollen for a Blenheim, but not enough for a Bolingbroke! Fellow HyperScaler, Simon Wolf, has made several very interesting and informative posts on this point as he tackles building the new Airfix Blenheim Mk.IVF. The image below comparing the kit part to the real thing illustrates the point: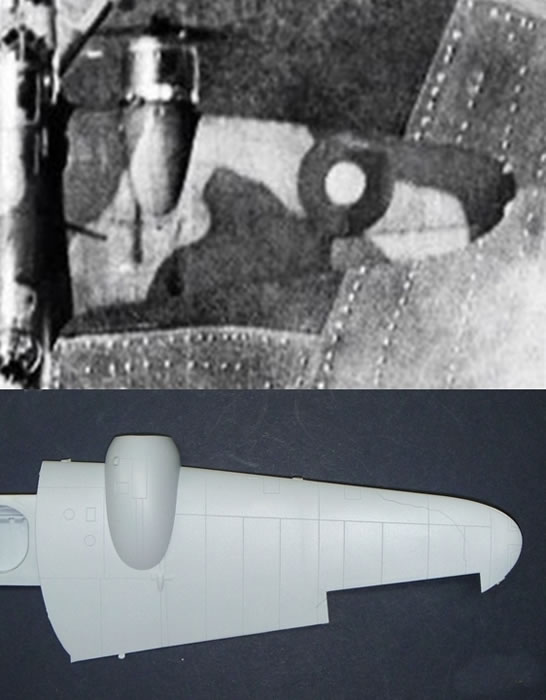 Simon has made six sequential posts as he has progressed in tackling the issue, and I have linked to a couple of Simon's images showing the correct shape drawn in pencil onto the kit parts here and here. I encourage readers to check his posts in full using the links provided below:
Not much remains to mention; just a venturi and fixed pitot, plus an antenna mast to fit to the fuselage.
---
Buildabilty

Brett Green built Airfix's very similar Mk.I kit and posted images on HyperScale's Airfix group build forum here. He reported:

"What a lovely little kit! The big glasshouse split down the middle looked a little dangerous at first, but the fit of the canopy parts was very good. The only less-than-stellar fit areas were the engine nacelles and the closed bomb bay - although I suspect that Airfix expects most will pose the bay open to display ordnance."

I have read forum comments that the kit tolerances are very fine when it comes to fit, some modellers having found this aspect to be a bit demanding. Online build comments indicate that the bomb-bay may need a tiny bit of fettling to fit correctly, but perhaps surprisingly, that the separate nose section fits well. Overall, I think being forewarned is forearmed, and that generally this kit should build very well
---
Colours & Markings
The kit has two markings options:
No 248 Squadron Coastal Command, RAF North Coates, Lincolnshire, England, 1940.

The aircraft flown by Wing Commander John William Maxwell "Max" Aitken, Commanding Officer No 68 Squadron, RAF High Ercall, Shropshire, England, 1941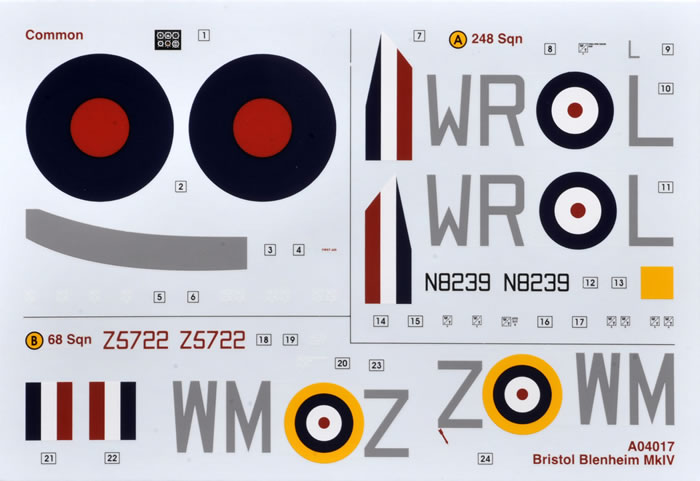 Check out this Xtradecal Blenheim/Bolingbroke Mk.IV/Mk.IVF sheet if the kit options do not appeal.

A worthy Blenheim Mk.IVF kit indeed! This is a superb effort from Airfix, and tremendously good value too. It has some very nice assembly options, refined panel detail, very well executed engines, good cockpit, great undercarriage, superb decals, and generally very good outline shape.

It is not perfect however, with some unwanted Bolingbroke features included. The worst of these is the overly swollen nacelle shape, which I think most modellers will live with, although it is clearly fixable (as Simon Wolf has proven!). Fortunately, the Bolingbroke's cockpit warm-air inlet pipes ahead of the exhausts can be easily removed.

Airfix's new tool Blenheim Mk.IV is clearly the best kit of this variant in the "One True Scale" so far; I highly recommend it

Purchased online from Hannants
---
Review Text & Dark-blue Background Images Copyright © 2015 by Mark Davies
Kit Contents Images Copyright © 2015 by Brett Green
Page Created 14 April, 2015
Last updated 15 April, 2015
Back to HyperScale Main Page
Back to Reviews Page